CHECK HIM OUT: Philip Warren Gertsson, Filipino-Norwegian Football Freestyler
Meet the newest freestyle football sensation.
(SPOT.ph) Watching a video of football freestyle tricks on the Internet spawned 19-year-old Philip Warren Gertsson's interest in the sport. Like most Europeans, the Sweden-based half-Pinoy started playing football at a young age. It wasn't until a severe knee injury in 2007 that he decided to drop football and focus on freestyling.
Freestyle football, the art expressing oneself by performing tricks with a football, has taken him all over the world. He's been to Prague, Poland, Dubai, and most recently, the Philippines, his father's homeland.   On his recent visit, Gertsson braved the streets of Manila to teach the less-fortunate kids of Tondo a thing or two about football freestyling.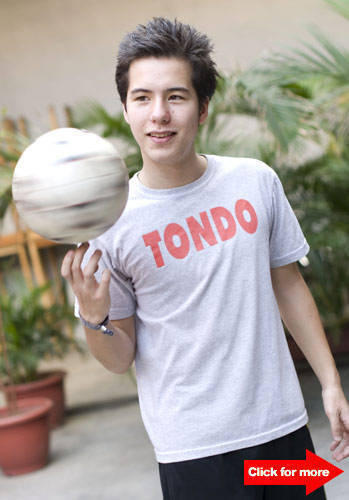 Philip shows off a few tricks. Click for more.
SPOT.ph got up close with Philip to chat about his sport, returning to the Philippines, and his plans for Tondo.
On the Philippines:
"I don't know much about the Philippines. My father never taught me Tagalog and I grew up with my mother who is from Norway. The first time I was in the Philippines was when I was 16. That's why I'm here, I want to learn more about the Philippines."

On stumbling upon Futkal:
"The second time I came [here], I stayed with my grandmother, but after three days I felt like doing something so we started calling up people who knew about football events and that's when we got redirected to a Futkal (Futbol sa Kalye) event at Mall of Asia. That's when I met the kids from Tondo and Futakleros (a group that promotes football and teaches the sport to kids in depressed areas)."

On shifting from football to freestyling:
"I started playing football at four. Freestyling came later on when I was around 14 years old. One and a half years into freestyling, I got a knee injury while playing football. A goal keeper landed on my right knee. When it was okay to go back to football after the injury, I decided to do freestyle instead."


ADVERTISEMENT - CONTINUE READING BELOW
Philip freestyled at a football event last year in Mall of Asia
On freestyle football:
"I've been freestyling for five years. I like it because I can do it everywhere, anywhere, and whenever I want. I get to meet so many people. In football there's always a coach telling you what to do and I've been raised to be independent. I've always wanted to do something by myself, that's why I enjoy freestyling."

On his training:
"You have to practice everyday to keep up. I always try to learn new things, invent new tricks."

On being a European freestyle football champion:
"There was a competition in a small city in Poland, one of the biggest competitions in the world. I had no ambitions of making it far in the competition but I managed to win the whole competition. What got me thru to the first round was being chosen as the audience's favorite."

On freestyle football's future in the Philippines:
"There's definitely a future. The kids need a push to continue doing what their doing. They need motivation and inspiration, that's what I didn't get, so I want to pass it on to them. When I see the kids in Tondo, I appreciate even more what I have, I want them to realize they have the potential to be like me or even bigger."
CONTINUE READING BELOW
Recommended Videos
Watch him work that football
On teaching kids in Tondo:
"Many people are afraid of Tondo, they say that it's a bad place to be. But, you know, when you're with the right people there, when I'm with the kids, it feels like a huge family."

On his long term plans:
"I want to try to come back as frequently as possible, maybe three to four times a year to conduct clinics. Hopefully I can get a sponsor who will help out with the project."
ADVERTISEMENT - CONTINUE READING BELOW
Photos by Charly Collado and Monica Barretto
Share this story with your friends!
---
Help us make Spot.ph better!
Take the short survey
Load More Stories