On the Spot: Tweet Sering
The <em>Astigirl</em> author on her new book, the joys and pains of being a writer, funny fan mail, and more. Plus, check out her recommended reads!
What started out as a blog three years ago has now materialized into Palanca award-winning writer Tweet Sering's stellar second book. Astigirl-"a grown girl living on her own terms," as defined by its author-is Sering's journey toward self-knowledge and the freedom to live the life she wanted, told through post after post of honest storytelling. The blog-turned-book touches on life, love, family, politics, writing, and reveals realizations not everyone might be brave enough to admit. SPOT.ph blogger Ria Limjap wrote, "Generous in her revelations and insightful with her realizations, she will laugh at herself but find the central lesson and apply it."
In 2000, Sering was the recipient of the 2000 Carlos Palanca Memorial Award for Literature for her one-act play The Tuesday Club. To date, she has had several titles to her name: copywriter, contributing editor for Preview magazine, associate creative director for GMA Network Inc., executive producer for Brew Productions, voice talent for radio, and on-cam talent for television commercials. In 2004, she wrote her first book, Wander Girl, a riveting read about a successful publisher's rocky journey to self-discovery. Sering is also a writing coach-In 2006, she started conducting writing workshops for aspiring writers who want to jumpstart their creative projects.
SPOT.ph grilled the Astigirl author on her new book, what she loves (and hates) about being a writer, her favorite hangouts in Manila, and more.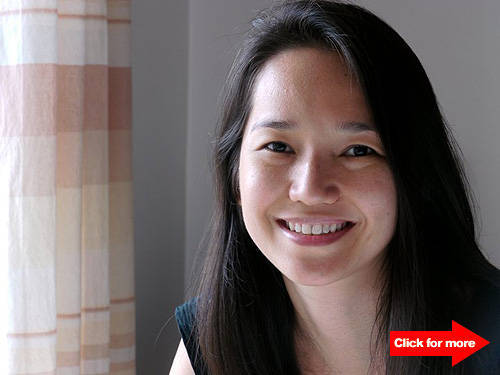 Astigirl author Tweet Sering. Photo by Mark Meily. Click for more.
ADVERTISEMENT - CONTINUE READING BELOW
What made you decide to turn your blog into a book?
I think it might have been inevitable because I already had a book published years before and some friends were wondering when my next one would be. I began to wonder myself. Then some friends who were following my blog would say things like, "When will this be a book?" or "Turn this into a book na nga!" Then, it didn't feel like a book yet. So I just kept blogging-kept at it for three years-until one day it felt done as a blog, and I thought, Hello, book!
CONTINUE READING BELOW
Recommended Videos
What was the most challenging thing about creating Astigirl?
If you mean the blog-it was getting it started, because I'm kind of a technophobe (some friends will laugh out loud when they read this because that can be an understatement) and by the time I started, about everyone else I knew had already been blogging for years. Then there was the tone. I didn't know who I should be addressing it to or how I should be writing my thoughts. It felt like I was flinging open my journals, possibly to people who couldn't care less what I thought or might misconstrue and twist the things that were very important to me.  It was scary. So that was tough to get over in the beginning.
Who are other Astigirls you know?
Personally, I know a lot and you will get to know them soon because I'll be writing about them.
ADVERTISEMENT - CONTINUE READING BELOW
You talked a lot about your past romantic relationships in Astigirl. If you had to impart just one life lesson about love, what would it be?
The answer is one whole essay and it's entitled "The How of It" in my book because I don't think your readers will be satisfied with "It's difficult."
You once sent a letter to Tom Schulman congratulating him for an Oscar win for the film that "changed your life," how do you feel now that you're changing other people's lives through Astigirl?
That maybe Tom and I should meet because now we have something in common? Hahaha! I don't know. It's incredibly affirming, that's for sure.
Have you received fan mail? Tell us about the most interesting one you've received.
Yes, I have. And they're all really personal, people writing to me as though to a long-lost friend. Which makes them all not just interesting, but really moving.
What's the most flattering response you've received about your book?
Recently, I saw a gay friend whom I hadn't seen in a while and he told me that after reading my book, he realized, "I am an Astigirl!" Hahaha! I really loved that.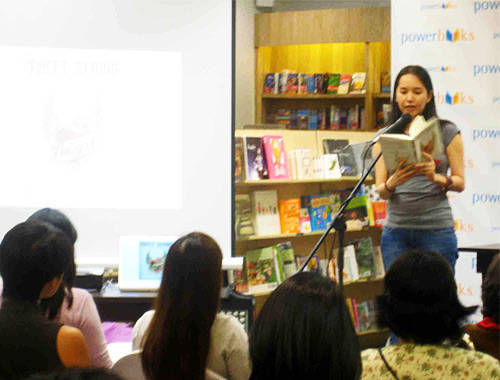 Tweet Sering at the launch of her book Astigirl on March 8.
ADVERTISEMENT - CONTINUE READING BELOW
Describe your writing process-what gets you excited to write? How do you conquer writer's block?
An idea just comes up, usually when I'm doing something I enjoy like reading a book or leafing through a magazine or talking to a friend or traveling. That's why it's very important to my writing that I'm doing things I love. My writing/work is like a kid-give her ice cream and ask her to sing or dance and she'll do it. Neil Gaiman said that he conquers writer's block by not believing there's such a thing, or by not feeding that belief too much. I've kind of been trying to follow his advice. So when the work is not flowing very easily for me, I try not to panic, I try not to think, "Oh, shit, it's a block." I try to take it as a sign that I should probably take a break, go have some tea or watch a DVD. It usually works.
Name three things you love about being a writer.
It makes me feel that I'm doing myself a great favor-it's feels incredibly healthy. I can take this work anywhere with me. I can spend all day reading or chatting with a friend and justify it to my strict must-be-productive self as "research".
Name three things you don't love about being a writer.
I only have one thing, actually: What seems to be the common perception in this country that writers don't care about money and that we're happy to be paid a pittance for something we poured hours and effort and thought into. I'm no longer completely shocked at the monetary value people put into a writer's work, but since it's something I really don't agree with I try to make sure that the people who work with me know the value of my work. I've wanted to be able to live off doing what I most love and I'm happy to be getting there.
ADVERTISEMENT - CONTINUE READING BELOW
What do you love most about being a teacher?
It's the chance to be around people who are curious and open-the most wonderful people to be around. The teaching, then, goes both ways: they have things to teach me as much as I have things to teach them. It really becomes sharing, then. With me as moderator. And we all learn so much from one another.
What else do you enjoy doing aside from writing and teaching?
Traveling. Eating at a new place, discovering a new dish. Meeting people who are fired up and doing things they love.
Any advice to aspiring writers?
Get out there and live with as much awareness-of yourself and of the world-as you can and then write your observations with utmost honesty. Allow yourself to actually experience things, even unpleasant ones. Try not to play it safe too much or too often. I've noticed that people who fully engage in life, including its inherent messiness, are those with real things to say and share with others. Keep writing, even if it's only to yourself in your journals or private blogs, rather than just thinking about what you'll write. It's constant practice that gives you more and more confidence about your ability at expressing your thoughts on the page. When you've gained enough confidence, you'll find that you have a bit more courage and trust about sharing your writings with others.
What three things have you crossed off your bucket list?
ADVERTISEMENT - CONTINUE READING BELOW
The three things here are pretty random because I have happily crossed out many things from a wish list I wrote in my mid-20's. These are just the first things that came to mind: Live on my own. Travel by myself. Become a publisher.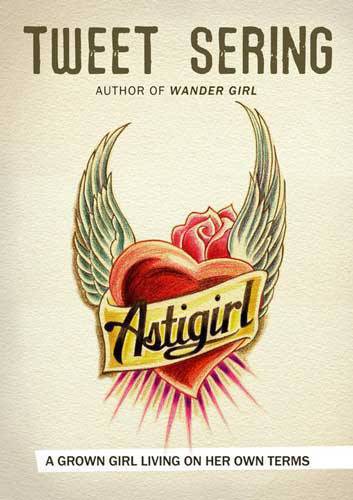 Tweet Sering's Astigirl is available at Powerbooks Greenbelt 4 and Alabang Town Center for P799 (hardbound) and P585 (paperback).
What book/s would you recommend to someone who wants to excel in writing?
There are many different forms/kinds of writing-scriptwriting, news writing, feature writing, technical writing, copywriting, etc.-and each has its own conventions and books that tell you just what these conventions are. Study the conventions, get good at working within these parameters so that you will know how best to break them and innovate. But it's ultimately your creativity, your own innovative spirit, your own unique vision of things that will allow you use these conventions in the most unconventional, most authentic way, in a way that's not been seen or done before. So the books I highly recommend are those that help nurture our inherent creative spirit, our authenticity, by reminding us that we are all creative; that we are, in fact, meant to create. But I believe that, as Po Bronson, said, "anything that gets people to read is worthwhile." Any book that excites you engages your imagination and so feeds your creativity. That said, here are some of the books I've suggested and/or gifted to the people in my life:
ADVERTISEMENT - CONTINUE READING BELOW
What I Talk About When I Talk About Running by Haruki Murakami
Creativity: Where the Divine and the Human Meet by Matthew Fox
The Princessa: Macchiavelli for Women by Harriet Rubin
What Should I Do With My Life? (True Stories of People Who Asked the Ultimate Question) by Po Bronson
Whatever You Think, Think the Opposite by Paul Arden
It's Not How Good You Are, It's How Good You Want To Be by Paul Arden
The Artist's Way by Julia Cameron
If You Want to Write by Brenda Ueland
A Creative Companion by SARK (and all the SARK books)
Bird by Bird (Some Instructions on Writing and Life) by Anne Lamott
The Alchemist by Paulo Coelho
The Dance of the Dissident Daughter by Sue Monk Kidd
Care of the Soul by Thomas Moore
Women Who Run With the Wolves by Clarissa Pinkola Éstes
Revolution From Within by Gloria Steinem
All books by Pico Iyer
All books by Elizabeth Gilbert
All books by Thomas Moore
All books by Matthew Fox
You once wanted to leave Manila for New Zealand or New York but you reconsidered. What about life in Manila do you think you would have missed the most had you not changed your mind?
Definitely my family and friends. And my parents' garden at the back of the house with the abundant mango tree. It's such a great hang-out place. So many lovely memories.
Where in Manila do you go when you want some R&R? Any favorite restos?
I love the Ayala Triangle Gardens and really wish we can have more parks and gardens open to the public in our city. I can hang out at a coffee shop there for hours. People seem to be so much more relaxed around nature and laugh easily, so the vibe there is infinitely more energizing than the mall's. A favorite restaurant is Corner Tree Cafe along Jupiter St. I can close my eyes and point at anything on the menu and I know I can't miss. I also love Omakase along the Ayala Triangle Gardens strip, Bizu and Apartment 1B for the their wonderful breakfast menu (I'm a big breakfast person), Cafe Mediterranean and Cyma. And I am really loving the Starbucks along Valero St., behind Paseo Center in Salcedo Village. The baristas and people behind the counter are so nice. I know it's their job, but you can tell when people are being obligatory or genuine, and these people are genuine. Oh, and Persia Grill in Salcedo Village. The wait staff there are lovely people, too.
ADVERTISEMENT - CONTINUE READING BELOW
Where do you go from here?
On to more exciting things, I hope.
Gallery photos courtesy of Tweet Sering. For more photos of the book launch, visit the author's blog:
astigirl.blogspot.com.
Share this story with your friends!
---
Help us make Spot.ph better!
Take the short survey
Load More Stories