On the Spot: Samantha Sotto, mompreneur-turned-Random House-published author
Meet the Pinay mom who wrote <em>Before Ever After</em> every afternoon at Starbucks Katipunan while waiting for her son to get out of school.
(SPOT.ph) What's it like to have your first novel published by Random House, the largest English-language trade book publisher in the US? Samantha Sotto, the 38-year old Pinay author of the much-talked about novel Before Ever After, knows.
Born and raised in the Philippines, Sam Sotto never imagined she'd be where she is today-doing radio guestings, posing for magazine shoots, and very soon, promoting her first book in the US. "You know it's like those dreams you have when you're a kid but you don't really pay attention to it because natatabunan ng real life. So, you just become practical, you do what you're supposed to do. I was just very fortunate to discover my love for writing again. After college I had not written for pleasure, it was always for business for work," shares the Ateneo graduate.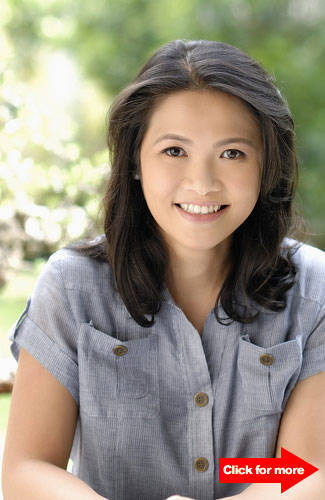 Born and bred in the Philippines, author Samantha Sotto. Click for more.
ADVERTISEMENT - CONTINUE READING BELOW
After a stint in the corporate world and running a business, the Manila-based novelist finally decided to sit down and start writing her first book. Then, armed with an Idiot's Guide to Publishing, Sam set out to find an agent and eventually got an offer from book publishing giant Random House.
In between what Sam describes on her blog as the "craziest week of her life" she finds time to sit down with SPOT.ph for a quick Q&A:
What's your background?
Samantha Sotto: I studied communications in Ateneo. I also studied marketing in Webster University in Holland.
Were you born and raised in Manila?
CONTINUE READING BELOW
Recommended Videos
SS: Yes, I was born in the Philippines then I went abroad when my dad was expatriated. He was working for a multinational company at that time so the whole family moved with him when he was assigned to Holland. We lived there for a year. I took my second year of college there but since they didn't have communications, I took up marketing and accounting. I graduated from Ateneo then worked for Unilever for three years, then Johnson & Johnson where I worked for six years. I don't know how I wound up there but my life is full of detours. When my son turned one, I stopped working because I felt that I needed to spend more time with him.
Was that when you started writing Before Ever After?
SS: After I stopped working, my husband and I put up a business. When my son started going to school, that's when I started writing the book. I started writing the book when my son was prep, he's grade three now. That's how long it takes to publish a book. It's like glacial ice time.
ADVERTISEMENT - CONTINUE READING BELOW
Did you always know that you wanted to be a writer?
SS: No, not at all.
What was the turning point that made you decide to start writing the book?
SS: I had not written anything before this. After I stopped working, I said, okay, what am I going to do? What are the things I want to explore? So, I started the business but there was still something missing, the creative part. At one point Johnson & Johnson commissioned me to write a coffee table book for them. I thought, check, I wrote a book. But it felt fake, there was still something missing. Then, what happened was, I had read The Time Traveler's Wife and I was so depressed about the ending. I was walking around with a dark cloud over my head and I was thinking, 'oh my God, if I was gonna write a book...'It started from there.
When did the actual writing start?
SS: It just so happened my son had started school and I was the one driving him to school. Since we live in Parañaque and he studies in Ateneo, I would wait for him in Starbucks, Katipunan. There was no way that I could drive home and make it back in time to pick my son up. I just didn't want to make tunganga there in Starbucks for three hours. I really wanted to do something while I was there to make better use of my time. So I decided, stop wishing, start doing. That's when I started writing the book. And it was fun. It was like taking a European vacation while sitting down there.
ADVERTISEMENT - CONTINUE READING BELOW
Before Ever After's official book trailer
What was your writing process like?
SS: The novel has a lot of historical periods and I knew nothing about those periods. What I would do, because I was too cheap to pay for wifi, was do all my research at home over the weekend so that I would have stock in my head to write about during the week. From Monday to Friday it was just pure writing on my laptop for three hours. I don't write with an outline. I was just winging it the whole time. All I knew was, for the story, I needed to go from this country to this country, how do I get there and what countries are along the way. Google Maps was a big help. When I would research about a certain country, for example, Slovenia, I'd type "strange chicken fact" and if something popped up, that was inspiration, that's what I would build a story around. Now I have all these useless chicken facts in my head.
Why chickens?
SS: Wala lang. I wanted to add a quirkiness to Max, one of the main characters.
How did you get into the groove of writing?
SS: I guess that's where my corporate background kicked in, because I thought of it as going to the office. I told myself, I'm going to sit down and I'm not going to get up from this table until I write something down. Sometimes I'd have only a paragraph to show for my three hours sitting there but everyday I would write at least something down.
ADVERTISEMENT - CONTINUE READING BELOW
It's good you have a balance of the creative and the corporate world...
SS: I felt that that's where it helped. Maybe that's why naligaw ako ng landas when I was in the corporate world, for that reason. That's how I thought of it, I'm going to clock in at Starbucks, sit down and work, then after work, pick up my kid.
Where did you get inspiration?
SS: I couldn't wait for inspiration. If you wait for that, you'll be sitting there forever. You just kinda have to sit down whether inspiration comes or not.
Where did you get the idea for the story?
SS: It's a mix. First, the idea of the love story came from The Time Traveler's Wife because I was hung over from that story and I wanted to write a love story where I could control the ending. Second, was from my experience living and travelling in Europe. I first fell in love with Europe when I lived there, then again during a crazy backpacking trip with my best friend when I was I my 20s. We had no itinerary, just our plane tickets, our Eurail pass, and a second hand book titled Europe on $50 a Day. We had no bookings, sometimes we'd have a place to stay and sometimes we were homeless, literally sleeping on bridges. We had one bag of Maxx cherry candy and Hershey's miniatures. Pag nanginginig na kami sa gutom, we'd eat that.
Why did you decide to go on that crazy backpacking trip?
ADVERTISEMENT - CONTINUE READING BELOW
SS: We were inspired by the movie Before Sunrise. We said, oh my gosh, we have to do this. We even bought the dress the girl was wearing. It looks better in the movie, in real life it's less glamorous.
In the novel, you singled out certain places in Europe, did you visit those places?
SS: I visited all of the coutnries in the book except for Slovenia. All the places mentioned in the story are Google-able. The hotels, the apartments they stayed in, etc.
So, what's the recipe for the baked eggs in the book?
SS: I'm never ever going to say what it is. There are two secret ingredients which make it different.
Baked eggs teaser
How long did it take you to finish the book?
SS: About a year. The whole time that my son was in prep. Half of that was research. The book is so research heavy I almost felt I was writing a term paper.
Is it true that you bought an Idiot's Guide to Publishing book?
SS: Yeah. I finished the book without a clue what to do until I bought a sale copy of Idiot's Guide to Publishing. That's the only time I found out I needed a literary agent. I figured pinaghirapan ko na rin siya for one year I might as well do something about it.
What was it like getting an offer from an agent?
SS: Finding an agent was a rollercoaster ride. I don't think I've ever been more emotionally stressed in my life. Siyempre, you get rejections, and you think, oh my God, I'm never gonna get an agent who's going to like this book. Then I got the email at 4 a.m. I was crying. Agent pa lang yon. Times 100 when we got the offer from Random House.
ADVERTISEMENT - CONTINUE READING BELOW
Before Ever After's virtual tour
How do you feel about the positive response you received for your first novel?
SS: I'm humbled, overwhelmed, and thrilled. Some people will like the book, some people won't, but what my hope is that for every Filipino, whether they like the book or not, I just want them to see the possibility of what can happen if you follow your dream and if you dare to dream big. I have this favorite quote from one of my husband's teachers in high school, he said, "Mangahas mangarap at ipaglaban ng capa at espada." Translated,  "Dare to dream and defend it with cape and sword." That's our motto in life.
Are you more nervous or excited?
SS: Both nervous and excited. It's a new experience. I've never ever gone through anything like this before in my life, I've never even dreamed about it. Everything that's happening now is just slightly overwhelming but super fun. I have no complaints. I wouldn't want it any other way even if I feel I need a Valium every other hour. My husband is my punching bag; he gets all my stress. I wouldn't change a thing. I'm enjoying the ride.
You're set to launch the book in the US. Tell us more about that.

SS: It's launching on August 2 in the US but we're leaving the second week of August because there are exams in Ateneo and I have to help my son study for final exams. My brain is Jell-o. I'm supposed to be finishing my second book, my agent's expecting it. Sabi ko "pause" first.
ADVERTISEMENT - CONTINUE READING BELOW
Are there any offers to make the book into a movie?
SS: None at the moment. Random House has my film rights. So it will be up to them.
You're working on your second novel?
SS: Yeah, I am. I've been 80 percent done for a long time now. I've been writing this book longer than I wrote the other book. It's just taking longer because I've had to juggle other things. Even before the book came out here, my publisher already encouraged me to have a strong online presence. I think more people in the US know about me than the people here.
What's the second book about?
SS: All I will say is, it's based in Europe. Its primary setting is a house boat in Amsterdam and it's a love triangle between two people, and that's not a typo. We're hoping to put that out, at the latest, two years from now.
How about a story set in the Philippines?
SS: I would definitely want to do that in the future, maybe a third or fourth book. Although, I did make it a point (in Before Ever After) to have a Philippine setting in Before Ever After, which is Boracay. I wanted in my own small way, even though the nature of the story required it to be set in Europe, to still be able to slip the Philippines in.
Who are your favorite authors?
SS: Neil Gaiman, for sure. I love Audrey Niffenegger, kahit sad siya magsulat. I also like fantasy authors like Anne Rice, David Eddings.
ADVERTISEMENT - CONTINUE READING BELOW
What books are on your bedside table?
SS: I've been trying to finish The Swan Thieves by Elizabeth Kostova because I liked The Historian. But right now, I cannot write and read at the same time. Now that I'm ending the second book, I don't want to be influenced by somebody else's voice because I might start copying them. I don't want to rip somebody off inadvertently.
How do you feel when people compare Before Ever After to Juliet or The Time Traveler's Wife?
SS: Oh, wow. I'm thrilled. It's like being compared to your idol. It's beyond flattering.
When you're not busy writing, what else keeps you busy?
SS: Two kids and a husband. My afternoons are spent helping my son with homework. In the mornings, I bring my daughter to school. I'm a full-time mom and full-time writer now.
Any advice to aspiring writers?
SS: Stop aspiring, do it. I'm serious when I say that anybody can do it. There's so much talent in this country, it's crazy. The only puhunan you need at most is a laptop. You can write long hand. The most you need is a pen and paper, that's the easiest.
Before Ever After (P499) is available in National Bookstore and  Powerbooks
Photos used with permission from Samantha Sotto
Share this story with your friends!
---
Help us make Spot.ph better!
Take the short survey
Load More Stories