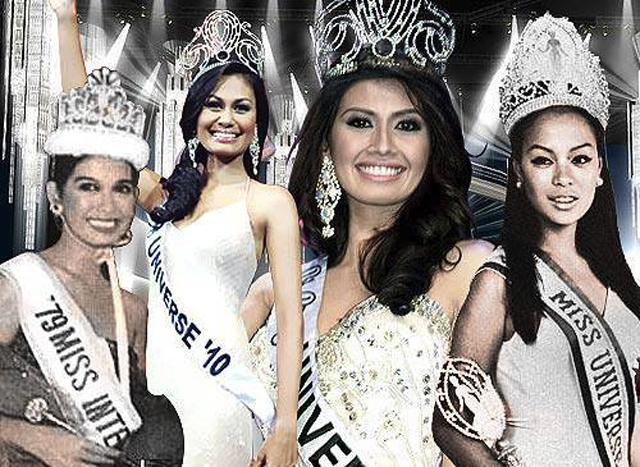 Q&A Queens: Melanie Marquez, Venus Raj, Shamcey Supsup, Gloria Diaz
(SPOT.ph) The most watched, most entertaining, and most dreaded (for contestants anyway) part in any beauty pageant has to be the question and answer segment. Candidates are put on the spot in a global fishbowl under the watchful eyes of one billion viewers, and the make-it-or-break-it moment determines their fate-usually in a minute or less-and whether or not their ability to think on their feet can win them the coveted crown. Yup, it's tough and certainly nerve-wracking out there... perhaps it only goes to show that winning is not just about looking great in a bikini and trying not to trip on that figure-hugging, floor-length evening gown, no?


At the height of Venus Raj's "major major" brouhaha in 2010, Miss Universe 1969 Gloria Diaz speculated that the Bicolana beauty "thinks in Tagalog then answers in English," leading her to suggest that Pinay beauty queens should have interpreters. English professor Jose Wendell Capili backed Diaz and told TV Patrol World that Raj should've have been allowed to speak in Bicolano, "not because she's unintelligent or incapable of speaking in English," but because having an interpreter would have allowed her the "opportunity to think about her answer twice or thrice." Meanwhile, Raj was unmoved by the controversy. She said in an ABS-CBN report that she had no regrets about her answer, and that she would say the same thing if asked again.


ADVERTISEMENT - CONTINUE READING BELOW
This list compiles the most memorable Q&A moments of beauty pageants past—where memorable isn't always a good thing.
10. Jeannie Anderson, Binibining Pilipinas Pageant, 2006
The Scene: The one when she says, "Quiet please!"

The Question: "If you were given a chance to choose to become beautiful but not too smart or very smart and not too beautiful, what would you prefer to be and why?"
The Answer: "Well, um, quiet please! Okay. Well, I'd rather choose to be, uh, beautiful. Um, because, um, to be beautiful like, um, it's natural. But, um, being smart, you can learn. You can learn, um, a lot of things. You can learn from the experience. You can learn from a lot of things to be smart."
Looking pale as a ghost and like she was about to faint, Anderson appeared to be scared sh*tless when 1969 Miss Universe Gloria Diaz asked her the question (and we don't blame her). In theory, she had a point-how she got to it was the problem. We don't know where she is now, but we sure hope she's doing well.
9. Miriam Quiambao, Miss Universe Pageant, 1999
The Scene: The one with the roundabout answer that cost her the crown
The Question: "If Miss Universe were to become pregnant during her reign, should she be allowed to continue as Miss Universe?"
The Answer: "That's a very difficult, um, situation to be in and I believe that if Miss Universe, if ever she becomes pregnant, I believe she should continue with her reign if she has been a good example to be a Miss Universe, if she has pursued all the... all the goals that she has, that she had, in the first place. And I believe that she should continue."
She could've been our third Miss Universe-they say Quiambao almost had the crown in the 1999 Miss Universe pageant as a frontrunner early in the competition, and not even her infamous fall during dress rehearsal could slow her down (which, she milked by the way, in her winning Top 5 Q&A). During the final moments of the pageant she unfortunately clammed up and choked on the final question, stammering her way to becoming first runner-up instead.
ADVERTISEMENT - CONTINUE READING BELOW
8. Margie Moran, Miss Universe, 1973
The Scene: The one when she was just being honest.
The Question: "Let's make believe that all of a sudden, you had a million dollars, what's the first thing you would buy and why would you buy it?"
The Answer: "A house and lot because it's the most expensive thing and I can't afford it. If I had a million bucks, I'd buy a house a lot and live by myself, and other people, of course."
A visibly nervous Margie Moran looking gorgeous in an Auggie Cordero creation during the 1973 Miss Universe pageant gave a spontaneous, simple answer that made her the "most beautiful woman in the universe." She stood out as an early favorite and was noticed for her fluency in English. It might not have been the most memorable Miss Universe answer in history but she walked away with the crown nonetheless.
ADVERTISEMENT - CONTINUE READING BELOW
7. Gloria Diaz, Miss Universe Pageant, 1969

Q&A starts at 2:25
The Scene: The one when she pointed out the obvious-and won.
The question: "If a man from the moon landed in your hometown, what would you do to entertain him?"
The answer: "Oh! Uh, just the same things I do. I think if he has been on the moon for so long, I think when he comes over he wants a change, I guess."
Among all the other finalists, an 18-year-old Gloria Diaz was the picture of confidence during the 1969 pageant at Miami Beach, Florida, when she nonchalantly answered Bob Barker even while she looked like she was searching for an answer. Her candid reply had Bob Barker saying, "Very good!" It also earned her the top spot, making her the first Philippine title-holder to win the Miss Universe crown.
Diaz earned the ire of Cebuanos last year with her controversial comment on Venus Raj's "major major" answer when she told TV Patrol World, "I think (Venus) thinks in Tagalog and answers in English. I can relate to that because I used to think in English and answer in Tagalog, and it was very difficult for me... When you think about (it), a Cebuana can hardly speak English and, of course, Tagalog. Maybe she should answer in Bisaya." She was declared persona non grata (personally unacceptable) and was banned from Cebu.
ADVERTISEMENT - CONTINUE READING BELOW
In a PEP.ph interview, Diaz later on clarified what she meant, saying that "People should have the right to say or to answer (questions) in whatever language they want to say it in. If they're Cebuanos, they can say it in Cebuano. I did not say that they did not speak English."
6. Ruffa Gutierrez, Miss World Pageant, 1993


The Scene: The one when she quoted Antoine de Saint-Exupery
The Question: "How would you tell a girl who's suffering from low self-esteem to feel better about herself?"
The Answer: "Well, I'll tell her to believe in herself because it's not only physical beauty that's important but also inner beauty. Like what the Little Prince said, 'What is essential is invisible to the naked eye.' And I believe that character and personality are more important than physical beauty."
An intelligent, pageant-perfect answer without missing a beat? Yup, Ruffa Gutierrez pulled it off without breaking a sweat (or an interpreter) in the 1993 Miss World pageant in Africa. Her answer earned cheers from the audience and won her third place.
ADVERTISEMENT - CONTINUE READING BELOW
5. Melanie Marquez, Miss International, 1979
The Scene: The one about the legs.

The Question: "What part of your body would you like to change?"
The Answer: "I won't change my legs because I'm contented with my long-legged."
Who doesn't know Melanie Marquez-beauty queen, supermodel, personality development coach, and now Lawyer (she's married to a man named Adam Lawyer)-for her wacky English? Remember "Don't judge my brother, he's not a book"? She's probably the top resource person when it comes to beauty pageant Q&A booboos, and has always been there to defend Pinay beauty queens slammed by critics for bad Q&A moments. In the 1979 Miss International pageant, Marquez proved it's not all about fluency but fighting spirit-and this was probably what the judges were thinking when they gave her the crown anyway.
4. Janina San Miguel, Binibining Pilipinas, 2008

ADVERTISEMENT - CONTINUE READING BELOW
The Scene: The one with "p" and "f" problem
The Question: "What role did your family play to you as candidate to Binibining Pilipinas?"
The Answer: "Well, my family's role for me is so important because there was the ... they're, they was the one who's... very... Hahahaha... Oh, I'm so sorry, uhhmm... My pamily... My family... Oh my god... I'm... Okay, I'm so sorry... I... I told you that I'm so confident... Eto, uhhmm, wait... Hahahaha, uhhmm, sorry, guys because this was really my first pageant ever because I'm only 17 years old and ahahaha I, I did not expect that I came from, I came from one of the top 10. Hmmm, so... but I said that my family is the most important persons in my life. Thank you."
After besting other candidates in the long gown and swimsuit competitions, and confidently saying, " I don't feel any pressure right now," 17-year-old San Miguel looked like she had nothing to worry about... until judge Vivienne Tan asked her the question, that is. Many would say it was painful to watch her search for words as she fumbled her way to a Bb. Pilipinas crown while others were more forgiving and chalked it up to her youth. Rumor has it San Miguel was so traumatized by the incident that she backed out of the Miss World competition but cited the death of her grandfather as her reason for quitting.
ADVERTISEMENT - CONTINUE READING BELOW
3. Shamcey Supsup, Miss Universe Pageant, 2011
The Scene: The one that spawned an Oprah rumor

The Question: "Would you change your religion to marry the person you love? Why or why not?"
The Answer: "If I have to change my religious beliefs, I would not marry the person that I love because the first person that I love is God, who created me. And I have my faith and my principles and this is what makes me who I am. And if that person loves me, he should love my God too."
The 25-year-old architect, University of the Philippines Diliman magna cum laude graduate, and Architecture board topnotcher was the only contestant in this year's Miss Universe pageant who braved the Q&A sans interpreter. Netizens and celebs expressed disappointment over Supsup placing fourth despite being an early favorite, so much so that a rumor spread online that media mogul Oprah Winfrey supposedly went on record and said that Supsup should've won. Oprah's camp later on denied the story.
ADVERTISEMENT - CONTINUE READING BELOW
2. Charlene Gonzales, Miss Universe Pageant, 1994
The Scene: The one where she answers the question with another question-and wittily so.
The Question: "How many islands are in the Philippines?"
The Answer: "High tide or low tide?"
It wasn't just home court advantage that got Charlene Gonzales into the top 6 of the 1994 Miss Universe pageant, which was held in Manila. Even before the actual Q&A,  Gonzales charmed the audience with her witty one-liner in what would later on be known locally as one of the most famous quotable quotes ever. We bet you've used the line yourself once upon a time.
1. Venus Raj, Miss Universe Pageant, 2010
The Scene: The one when her answer was printed on a T-shirt
The Question: "What is one big mistake in your life and what did you do to make it right?
The Answer: "In my 22 years of existence, I can say that there is nothing major, major, I mean, problem that I've done in my life. I am very confident with my family, with the love that they are giving to me. Thank you so much that I am here, thank you, thank you so much."
ADVERTISEMENT - CONTINUE READING BELOW
The answer of statuesque Venus Raj in 2010's Miss Universe Pageant was hands down, the most memorable, if not, most controversial answer in local Miss Universe history. The term "major, major" became a catchphrase, appearing on T-shirts and tote bags, as part of a gas station promo with gas station attendants donning shirts saying "Major Major Thank You!", and now, as the name of Venus' column in The Philippine Star. Raj's answer was featured in several news outlets abroad, including ABC'S World News with Diane Sawyer where Sawyer said the Pinay beauty queen was not the first one to be stumped by that particular question.
Wherever you stand on the "major, major" spectrum-disappointed that Venus became so flustered she had to say the word "major" twice, or proud of the dusky Bicolana who made it that far into the international competition-you can't deny that Venus stood tall through it all. "At least naging part ako ng everyday conversation nila," she later told media.
ADVERTISEMENT - CONTINUE READING BELOW
Artwork by Warren Espejo
Share this story with your friends!
---
Help us make Spot.ph better!
Take the short survey
More Videos You Can Watch
Load More Stories