On the Spot: Edric Mendoza
SPOT.ph sits down for a chat with 2012's cutest newsman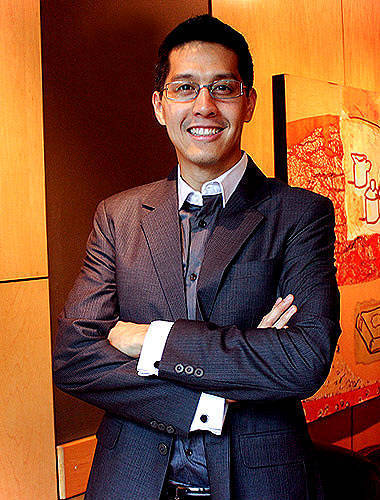 The On the Money host has just been on the job for two weeks.
(SPOT.ph) Edric Mendoza got a call last Monday morning from one of the producers of his ANC show, On the Money. Are you available for interview that afternoon for ANC Alerts, he was asked. Why, he was clueless. You topped Spot's list of the 10 Cutest Newsmen for 2012, he was told. Edric was caught by surprise.

"Throughout the day, I just kept on getting texts about it and it just went on and on and on," he smiles. He is really rather cute. Spot.ph met up with Edric Mendoza the day after the story was published to get his reaction. He was no longer as red but he certainly is as cute.

Congratulations! What are your thoughts about being Spot's cutest newsman this year?
This is completely unexpected. You know the show is only two weeks old? So we were so surprised about this, uh, honor. I was so embarrassed because nobody saw this coming. This is really a surprise.

How did you find out?
I got a call from one of our producers Monday morning asking me if I was free to do an interview for ANC Alerts. I topped nga daw the cutest newsmen list. I was like, "Huh?!" We had taping for On the Money, I said, so if we're done by then, okay I'll do it. And then it snowballed throughout the day. I kept on getting texts and calls about it.

We saw your interview on ANC Alerts and you were clearly very embarrassed.
I was! (Laughs) I was thinking, sana Most Helpful or something, anything! Parang of all the things I could get recognized for, cutest pa talaga! (Laughs) I was very embarrassed because it really came as a surprise. And everyone at work kept on teasing me about it! The whole day, they kept on teasing me. Kasi nga, we've only been on air two weeks and then the first recognition comes in the form of Cutest.
ADVERTISEMENT - CONTINUE READING BELOW


What did your wife tell you? We saw her blog entry about it.
I have yet to see her blog entry! I will tonight when I get home. But she really just affirmed the love between us. She said cutest newsman or not, she was lucky to be married and have a family with me. We have four children and I love her and my family so much.

Well, if not cutest what would you rather be recognized for?
Ako really, I'd like to be known for being a God-fearing man. I am very passionate about God and I always try to live a life centered around God. I really prayed before I signed to do On The Money because everything was happening so fast and this is something I've never done. Save for a few commercials, I've always been in marketing so everything is new. So when the offer came, I really prayed hard. So that's one. The other one is about being a family man. I love my family, I love my kids. I do On the Money because I feel the show can help a lot of families. I feel if we can help people handle their finances, then they'd have more time to devote to their families. So in a way, the show is still in line with my advocacies.
CONTINUE READING BELOW
Recommended Videos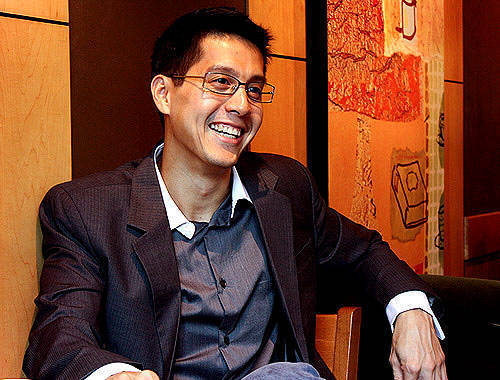 ADVERTISEMENT - CONTINUE READING BELOW
"This is completely unexpected...I was so embarrassed."
Admit it: Have you ever used your looks to get away from something or to get your way?
Never! Maybe charms? (Laughs) It helps when you're charming, like when we're shopping and we try to get a discount so diba, "Ate, pahingi naman ng discount." (Laughs) It helps diba? But to get away from something, no. I remember though, once, I got pulled over by a cop. I'd never reason out if I knew I was wrong but this time, I wasn't so I asked, "Boss, ano po ba ang abala?" He asked for my license. One of his colleagues came, looked at me, looked at my license, told the first cop, "Ano ka ba? Artista yan e!" Everyone in the car was turning red, trying hard not to laugh! 

Good one. Last: We're just about ready to do our cutest female newswomen. Who's on your list?
I'm with ANC now, so...! (Laughs) To be honest, I am not very in-the-know. I only get to watch the morning shows. Eh diba I know you guys will be doing fresh faces, people who've never been featured in the list? So I won't be able to contribute anything! (Laughs)
Photos by Warren Espejo
Share this story with your friends!
---
Help us make Spot.ph better!
Take the short survey
Load More Stories