(SPOT.ph) Year in and year out, we discover more and more newswomen firing up the screen with their wit, grace, and beauty. Yes, beauty, something that seems to be a requirement in TV journalism du jour. And 2012 has been no exception. We've come up with another 10 gorgeous reasons why watching the news-despite the gore, depression, and dirty politics-is always interesting. Not every woman, after all, can make wading through contaminated floodwaters look oh so hot.

Just like last year, every one on this list has not made a previous appearance in our other newswomen rankings.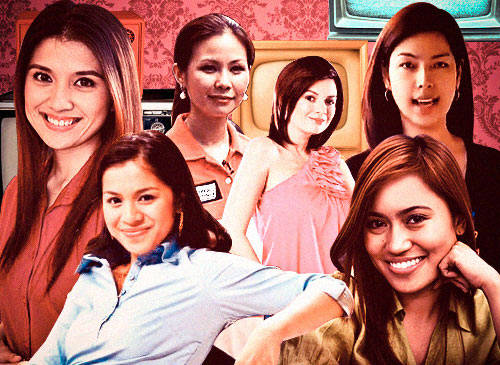 ADVERTISEMENT - CONTINUE READING BELOW
Hottest Newswomen, Batch 2012

Also check out:
Top 10 Cutest TV Newsman: 2012 Edition, Top 10 Cutest TV Newsmen: 2011 Edition, Top 10 Cutest TV Newsmen: 2010 Edition, Top 10 Hottest Newswomen: 2011 Edition, Top 10 Hottest Newswomen


10. Mariz Umali

Aspiring doctor turned reporter turned, well, head turner. That's Mariz Umali for you. In fact, she's been turning heads for over a decade now. Umali started reporting when she was only 21-shortly after graduating cum laude from the University of the Philippines Diliman. Her bright smile, which has enamored many a male viewer, makes you think she's a darling-and though she probably is, she's first and foremost a hard-hitting reporter.
Umali has been on on the front line in events like the Nida Blanca murder and the Manila Peninsula siege. From self-confessed pampered kid to hardcore journalist, she admitted in a Philippine Star article that she has had to sacrifice a lot for her craft, including dating and friends. But it was all worth it. "News has become my passion. I live and breathe news," she said.
And she's found someone who can keep up with her fast-paced journalistic lifestyle. To the heartbreak of many young men out there, Mariz is engaged to fellow anchor Raffy Tima (they have a pretty rad save-the-date video). They are set to marry in December.

9. Paola Palma

Admittedly, Solar isn't our go-to channel for our daily news fix, but Palma may change that. Solar News has yet to "celebritize" its reporters, so we rarely see Palma except in a few short but sweet clips. It's these fleetingly rare moments, however, that make us appreciate her beauty and make us want...more.
The sultry vixen looks like the typical girly girl, but Palma's definitely not your damsel in distress. She's strong, athletic, and can probably run circles around most guys in basketball. Oh yes, she'll sweep you off your feet and not just because of her good looks.
ADVERTISEMENT - CONTINUE READING BELOW

8. Bettina Magsaysay

This young reporter first caught our attention when she filled in for Kim Atienza on TV Patrol. Since then, blogs clamoring for her to replace the veteran newsman permanently have been set in motion.
We'd say that's a long shot. Magsaysay, one of ANC's youngest anchors,  may not be ABS-CBN's top weather girl yet, but her 15 minutes in front of the green screen has made hearts pound and not surprisingly, tuned in to the (weather) channel more often.
She handles the police beat now, but we'd love for her to do weather again. The air's so much hotter when this former cheerleader's around.
7. Marieton Pacheco

You may not recognize her, but in the 90s and early naughties, Pacheco was one of ANC's main newscasters. Her colleagues considered her "one of the most beautiful faces in broadcasting," and we agree. Pacheco has that girl next door vibe that's both commanding and charming and radiates beautifully on screen.
ADVERTISEMENT - CONTINUE READING BELOW
In 2009, she moved to Canada after 10 years in the broadcast industry; Mornings@ANC was her last local program. But alas, when Muhammad can't come to the mountain, the mountain comes to Muhammad. In Canada, Pacheco continued working as a freelance correspondent for TFC's Balita sa Canada. This April, she announced that her show, Balitang Canada, will start airing weekly. Her colleagues really weren't kidding when they talked about her relentless work ethic even when she's miles away.
During her last Mornings@ANC episode, Atty. Midas Marquez (Pacheco used to work the justice beat) bid her a farewell with this: "With your work ethic and personality, I am very confident that you can thrive in any environment. Indeed, you will be an asset to any organization you choose to join. Your passion for work, coupled with your intellect, unassuming ways, charm, will be difficult to parallel."

6. Gigi Grande
ADVERTISEMENT - CONTINUE READING BELOW

Cute may not be the word Grande would pick to describe herself, but let's isolate the no-nonsense journalist from the eyeful scene stealer for a moment. With her short bob, perfectly oval face, and wide eyes, she reminds us of a less obsessive-compulsive, less squeaky Emma Pillsbury (played by Jayma Mays). It's when she talks-her voice loud, clear, and authoritative-that you realize she isn't some anal guidance counselor. This woman's a ball-busting anchor who can keep up with anyone, including Libyan dictator Muammar Gaddafi, and makes it look good.

5. Maviel Gonzales

Gonzales' physical appearance betrays her. Her hazel doe eyes, light brown hair, effervescent glow, and svelte physique exude glamor girl more than news reporter.
She graduated from college only last year, but she already has a resume that veteran reporters would envy. Gonzales started spreading her byline while still in school, contributing to online sites and magazines on top of maintaining her academic scholarship (she was top 20 in ACET) and performing for various school organizations (she did everything from athletics to theater).
ADVERTISEMENT - CONTINUE READING BELOW
Shuttling between sports and news, Gonzales has been a host of GMA's For the Win, a courtside reporter for PBA, and a sports and news reporter for GMA News. She started her career early but this humble hottie is only beginning. "It's something that I see myself doing 10, 20 years from now," she says in an interview with Paz magazine.

4. Lexi Schulze

Sweet-faced Schulze has graced the small screen for some time now and her good looks need no introduction. A model, TV host, news anchor, one-time actress, writer, artist, and let's not forget wife and mother-this woman does it all and without a hair out of place too.
What we love most about Lexi isn't her lovely exterior. This woman has that sweet pixie thing going for her but her interviews (remember her Cityscape days?) are sharp, intelligent, involved, and engaging. A classy cutie with wit to match? Now that's a winner.
ADVERTISEMENT - CONTINUE READING BELOW
3. Grace Lee

We don't doubt Lee's blushing Korean beauty; if she was pretty enough for the most important man in the Philippines, then who are we to question it?
This year, she went full circle-from profiler to topic then back to profiler. A Communication graduate from the Ateneo de Manila University, Lee was a radio jock for Magic 89.9 as well as guest anchor for several GMA News programs. Now she's part of TV5's Andar ng mga Balita while moonlighting as the Manila correspondent for a Korean news show.
At the moment, being P-Noy's ex-girlfriend unfortunately overshadows her other achievements. But we have to hand it to her: despite the flak she received for being the President's "flavor of the month," the stunner held her head high and soldiered through. Talk about grace under pressure. She would've made a great First Lady.
ADVERTISEMENT - CONTINUE READING BELOW

2. Apples Jalandoni

Apples. The name fits. Sweet but with a hard edge because you know, you have to have some semblance of toughness if you want to be a reporter. No wonder she's the go-to for human interest stories.

When she's not working the field, Jalandoni teaches television and radio journalism at the Far Eastern University where she has easily become a student favorite.  She's also a bookworm-so much so that she tried to start a book club with her fellow reporters.

A true Filipino at heart, the perennially smiling Jalandoni is extremely proud of her Negros upbringing. "She would always recommend [that] people visit Negros," her colleague says, adding that she's also very religious and close to her family.
What do we say of this "nerdy" and passionate dalagang Filipina? Two thumbs up!

1. Zen Hernandez

Take her anywhere, any time and she'll do an awesome job. That's perhaps the only constant in Hernandez's hectic work as a reporter. Always calm and collected in front of the camera, one colleague describes her as the "picture of elegance when reporting." Her delivery-whether in English or Filipino, at Malacañang or at a disaster site-are always pitch perfect. Really, Hernandez can do no wrong, and we haven't even started talking about her beauty.

Screen presence? Absolutely. In fact, we would find it hard to concentrate on her reports if she weren't so good with delivering information, too. Yes, this Angel Locsin look-alike has a charm that makes you interested-in her, in what she's saying, in current events in general. Now isn't that what watching news is about? Her appeal hasn't gone unnoticed either. Hernandez is currently being groomed to become anchor. With a radiance that already shines au naturel in the field, we can imagine how she'll look all dolled up.
ADVERTISEMENT - CONTINUE READING BELOW
Share this story with your friends!
---
Help us make Spot.ph better!
Take the short survey
More Videos You Can Watch
Load More Stories