On the Spot: Marty Syjuco, Producer of Give Up Tomorrow
"We had a compelling and outrageous story, but the real challenge was piecing it together in a coherent and engaging manner."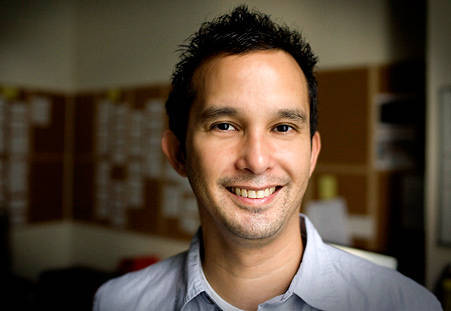 (SPOT.ph) The award-winning documentary Give Up Tomorrow, directed by Michael Collins,  has finally reached Philippine shores. The film traces the arrest, trial, and incarceration of Paco Larrañaga and seven other men convicted of the rape and murder of Marijoy and Jacqueline Chiong in July 1997.  


After the local premiere at the Cinemalaya Film Festival last July and a few of private screenings, the film has gained wide attention and has provoked strong reactions from the audience. This week the documentary is released in selected theaters in Manila and Cebu, and will have its American television premiere on POV.
Complex, painstakingly crafted-it took the filmmakers five years to shoot and two years to edit-and ultimately compelling, Give Up Tomorrow is a horrific story of how injustice can engulf one man's life and how hope will never die. Spot.ph puts film producer Marty Syjuco on the spot.
This is your first documentary-what were you doing before working on Give Up Tomorrow? Did you ever think you would end up making a film? Do you see yourselves making more?
Yes this is our first feature documentary, seven years in the making!  Michael and I both quit our jobs in New York to work on this project full time.  At the time Michael was working as a Creative Art Director at a communications company, and I was the East Coast Film Booker at Focus Features.  We both had desk jobs and were looking for a project we could be passionate about.  In our own little way we wanted to make a difference and change the world.  We knew this was possible with film, which is such a powerful medium.
ADVERTISEMENT - CONTINUE READING BELOW
Seven years ago we were both such green filmmakers, and had no idea it would take so long to complete this project.  We knew we had a compelling and outrageous story, but the real challenge was piecing it together in a coherent and engaging manner. That's why we took our time, to make sure we got it right.  Plus since this was our first film, it felt like on-the-job training.  When we first started I don't think either of us had any idea what it really meant to produce and direct a documentary.  We were just two guys with a camera and a microphone and a story that had to be told.

Yes absolutely we look forward to collaborating again on a new project. And this time it won't take seven years!  For now we're focusing on Philippine distribution. This week Give Up Tomorrow is playing in cinemas all over Metro Manila, and in Cebu, where it all began.  After our commercial run I will focus on school screenings and releasing the DVD before Christmas.  


ADVERTISEMENT - CONTINUE READING BELOW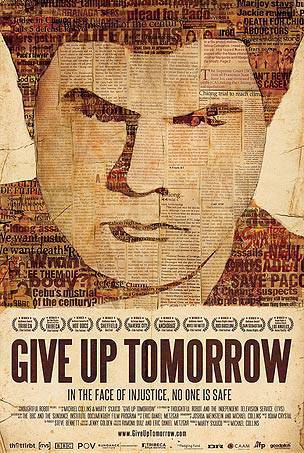 What lead you to do a documentary on Paco Larrañaga's case?
When the Supreme Court sentenced Paco to death by lethal injection, back in 2004, I was stunned beyond belief.  I had no idea it would get this far.  Paco's family waited for four years for the Supreme Court to deliberate on the case, hoping that once they reviewed the appeal and considered the lack of due process and the violations during the trial (Paco was denied the right to testify in his own trial, his lawyers were jailed, his witnesses weren't allowed to testify... the list goes on and on) that Paco would be acquitted or at the very least granted a fair trial.  But then the total opposite happened and I was shocked.  Immediately I felt a sense of responsibility that I had to do something.  Until then I hadn't gotten involved, [I was] too preoccupied in my own life. Paco's death sentence made me realize I had to take a stand.... and so we picked up a camera.  


ADVERTISEMENT - CONTINUE READING BELOW
What was it like when you first met Paco? How old was he and how many years had he been in prison?
My brother is married to Paco's sister Mimi.  So I first met Paco at my brother's wedding in Cebu in the mid 90s.  He is much younger than me, about 10 years difference.  But it was only when I started visiting him on death row in Bilibid Prison that I got to know him.  At that point he was so burned by the media, who twisted all the words and interviews that he gave, that he was completely distrustful of all cameras, including ours.  We also wanted to get to know him first. After 4 months of regular visits, we realized we couldn't tell the story without Paco's personal voice.  Luckily, by then, he trusted us and agreed to open up to our camera.


Paco Larrañaga was arrested 15 years ago and is now serving his sentence in Spain - how has he been changed or molded by this whole experience? What is his present state of mind?
Paco was so grateful to be transferred to Spain in 2009 for many reasons.  First, the Spanish prison is a much safer and healthier environment. The prison in the Philippines is a very dangerous; it is more like a walled city run by gangs with occasional deadly riots and gang-wars. Secondly, the Spanish politicians, media, and public had been championing Paco's case for many years.

Paco believed moving to his father's homeland, where he is known to be innocent, to be a huge step towards freedom.  But Paco arrived under the impression that he would be out of prison within a matter of months.  It has now been almost 3 years since he was transferred, and Paco is having a difficult time.  Although he is very healthy and taking every opportunity to study and work in prison, he is very lonely.  He misses his family terribly and is afraid that all those in Spain who fought so hard to get him here, have now forgotten about him.  He feels somewhat abandoned and is growing very tired of fighting what has been a losing battle for 15 years now.


ADVERTISEMENT - CONTINUE READING BELOW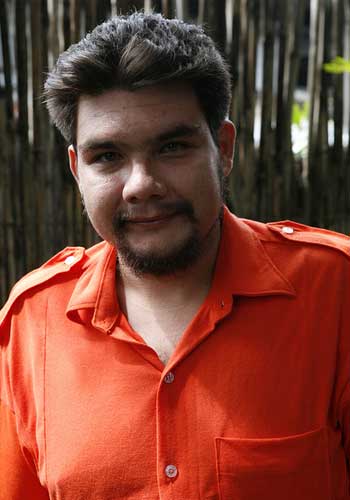 Paco Larrañaga today. Photo Credit: Thoughtful Robot.
Paco always tells us "There is always hope, because I am innocent!"  He hopes that with the release of the film there will be a renewed interest in his case and that he will be able to start a new life in Spain soon.  He told us that he really wants to pursue his culinary career that was cut short when he was illegally arrested at a cooking school Manila 15 years ago.

Paco was 19 when he was put in jail, and he will turn 35 this year.  He is still young enough to have a second chance at life, but we could see from our recent visit with him that he is growing very tired of fighting.  Paco has always tried to appear strong, but all the years in jail are really catching up to him and we see more and more despair in his eyes.  We're not sure how much longer he can be expected to endure this injustice.


ADVERTISEMENT - CONTINUE READING BELOW
What was the most difficult or challenging part of doing this film? Did you feel overwhelmed by the scope of the project and how did you keep pushing on? Did you ever feel like giving up?
As first time film makers, we sure had our fair share of challenges!  We had to learn how to secure funding, and manage the logistics of filming a documentary in 3 different continents.  Also, having your main subject reside in a maximum security prison was not easy.  It was months after we arrived in Manila with the intention to begin shooting before Paco was comfortable enough with the idea of being filmed.  Then there was the "adventure" of smuggling a camera into Bilibid Prison.  The equipment was buried in horrendous conditions and sometimes we would bring out tapes and find out we lost hours of footage!


But the biggest challenge of all was the editing. We had four hundred hours of footage, over a 100 interviews, and 15 years of a legal mess to craft into a 90 minute film.  At that point, we realized we had to bring an experienced, veteran film editor to help us tell this story well.  That's why it took us 2 years to edit.  Here was this complex 15 year story that had to be compressed to 90 minutes in a clear and compelling way and that was really tough!  We thought about giving up a lot but every time we did we would think about Paco and his family and how they never gave up all these years.  This gave us the strength to carry on.


ADVERTISEMENT - CONTINUE READING BELOW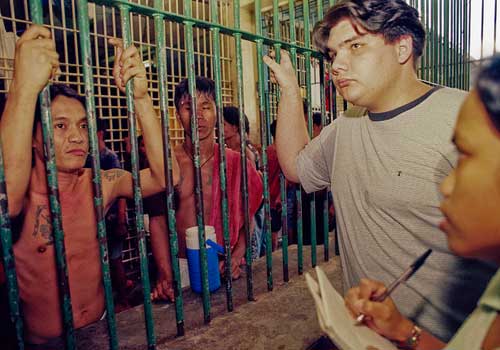 Paco Larrañaga behind bars, being interviewed by a news reporter, shortly after he was arrested for the kidnap, rape and murder of two sisters in the Philippines. Photo Credit: Arni Aclao
Tell us about the first time Give Up Tomorrow was screened.  What was the response and how did you respond to it?
The first screening was a year ago at the Tribeca Film Festival. What an emotional experience! Our family, Paco's family, Paco's lawyer, witnesses and a lot of people who supported the film came to New York from around the world for this event. It was a bittersweet moment because we had always envisioned Paco to be with us when the documentary premiered. Being first time filmmakers and having your film premiere in Tribeca Film Festival was a thrill and the fact the it won the Heineken audience award was the best validation that we could ever have hoped for. Here was a story about injustice that happened to a boy in the Philippines and the New York audiences got it and appreciated it! It made us realize that this story is universal and that gave us the motivation to screen it all over the world. There are Pacos everywhere, from America to Egypt.
ADVERTISEMENT - CONTINUE READING BELOW
The documentary is now being released in selected Philippine theatres. How do you think the audience will respond to it? What are your hopes for the commercial release?
Our ultimate goal was for this film to shown in the Philippines.  It was important for us to tell Paco's story but more importantly for everyone to examine the Philippine justice system and media and see the cracks where the innocent fall through.  We hope that the Filipino audience will be open to documentary films.  Being in Cinemalaya last July, playing to two sold-out screenings gave me hope that perhaps the Philippines is ready for this type of story- telling.  Our hopes for commercial release is not just that more people will become aware of how our justice system fails us, but also to create an impetus for change - especially now with the President Aquino, who is prioritizing fixing our justice system. As filmmakers, we hope that this film will inspire aspiring Filipino filmmakers to pick up a camera, use it as a weapon, to tell stories.
ADVERTISEMENT - CONTINUE READING BELOW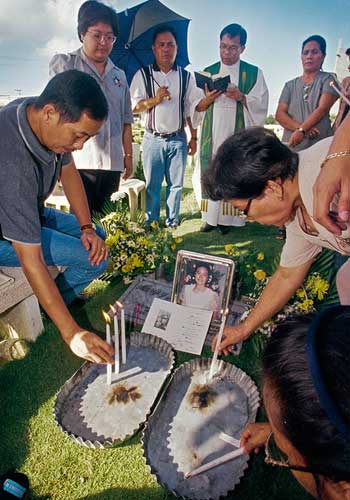 A scene from Give Up Tomorrow. Photo Credit: Alex Badayos
The film is also being released commercially in Cebu, where it all went down-how do you think Cebuanos will react to the film?
I am really hoping that after 15 years, the heightened emotion and mob mentality that we saw in the news footages and read in the Newspapers has passed and that Cebuanos will look at this documentary with fresh eyes. Only if we open our hearts and minds to the truth can real change start to happen. I sincerely hope that that this film can serve as a wake up call for Cebu and that people there will become vigilant so that an injustice like this never happens again.
ADVERTISEMENT - CONTINUE READING BELOW
Do you think the Chiongs (and those on their side) should see Give Up Tomorrow?
I can't really say if they will. I hope they do. They are the victims of injustice too, just like Paco. After all, having 7 innocent men pay for a crime they did not do is not justice.
How do you respond to criticism about the film-particularly about it being one-sided (that is, favoring the Larrañaga side)?
Yes, this is going to be what anybody who wants to detract from the real issues of the film would say.  What we want people to realize is this: Why would we devote 7 years of our lives, stake our careers, go through all the hardships that we did, and show this film in over 30 countries just to protect a monster?  In making this film we used actual news footage and newspaper articles as well as interviews of both the Larrañaga and the Chiong family. We really made an effort to have everybody have a voice in this.
ADVERTISEMENT - CONTINUE READING BELOW
Why did it take two years to edit?
We had over 400 hours footage and over 100 interviews. It is such a complex story to tell and it was a huge responsibility to make sure that, not only did we need to make a thorough investigation and follow every lead, but equally as important we tell the story through film in a clear and compelling way. You have to remember that we had been working on this film for several years and we had waded through so much legal documents and had uncovered so any anomalies, not to mention we so many amazing scenes that it was tough to sift through all that material and craft a film that was only 90 minutes long! This was truly the biggest challenge in the film. That's why we brought in a veteran, experienced editor who could look at the material dispassionately and help us create a film that is honest and easy to understand.
ADVERTISEMENT - CONTINUE READING BELOW
Do you consider the documentary finished?
Since documentaries are about real life, the stories are often still unfolding and you never know what's going to happen. Give up Tomorrow is a prime example of this. Anything can happen on any given day.  Paco's story is still unfolding.  We hope for a happy ending in which justice will finally prevail.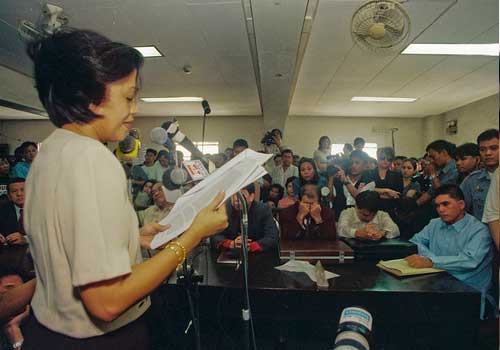 A scene from Give Up Tomorrow. Photo Credit: Alex Badayos.
ADVERTISEMENT - CONTINUE READING BELOW
CONTINUE READING BELOW
Recommended Videos
Share this story with your friends!
---
Help us make Spot.ph better!
Take the short survey
Load More Stories