On the Spot: Michael David
On the eve of Komikon, we have a laid-back chat with one of its three featured artists.
(SPOT.ph) It takes a lack of concern for what others think to eschew a sense of decency and create something like the comic book Kubori Kikiam. Variedly described as "obscene," "offensive," and "vulgar"-all of which are true, by the way-Kubori is also hilarious, witty, and cut-to-the-core relatable.
Revolving around the misadventures of three sentient (not necessarily intelligent) fried fish sausages or "kikiams," as these are known in the Philippine street food scene, it was created by Michael David with two others while they were still in college in UP Fine Arts. The two, however, have long since dropped out, leaving David with sole creative control.
Left with sole creative control of Kubori Kikiam, David has produced four compilations' worth of online strips (the first of which has sold out and been reprinted), some of which have been converted to e-books. In this weekend's big comic book event, the annual Komikon, to be held at the Bayanihan Center in Pasig City, he will be one of the three featured guest artists. Let's all raise our glasses to Komikon for having the guts to choose Michael David as a special guest at their event! Thanks to his... unconventional subject matter, he probably won't be chosen by the traditional award-giving bodies anytime soon. Small bother, since David doesn't do what he does for the awards anyway. On the eve of Komikon, we have a laid-back chat with David about unwinding from the stress of producing an indie comic book.
ADVERTISEMENT - CONTINUE READING BELOW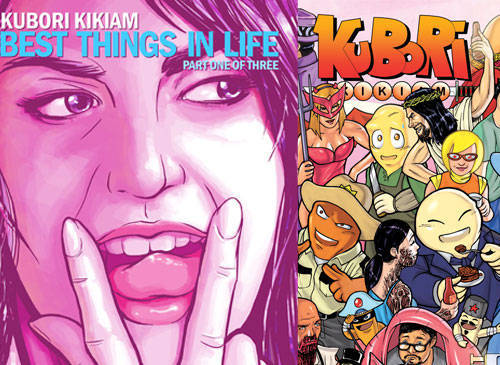 Two Kubori Kikiam covers: the e-book on the left, and issue #8 on the right
We imagine a freelance artist like you must be crazy busy since you handle not just the writing and drawing, but the printing and distribution as well.
Most definitely, especially during the production of Kubori #8, my mind was at different places at once.
ADVERTISEMENT - CONTINUE READING BELOW
Would you call yourself a workaholic? What do you do to relax?
Even though schedules are really tight, I take the time to step aside and get my mind off things by watching some of my favorite TV series. Then, after watching, I'll realize, now I have to cram harder, hehe.
When you get the chance to go out, where do you like to go?
Iba-iba, where there's good company and a good selection of greasy, carcinogenic food and alcohol.
And what's an unusual place we might find you?
Inside a John Robert Powers class studying social graces and visual poise. Surprisingly, I won a scholarship, though I have yet to claim my prize.
That is unusual. Speaking of alcohol, what's your drink?
Jack on the rocks.
How many to get you sloshed?
I think half a bottle of Jack would do the trick, assuming I'm just sitting around, talking and listening. If I'm moving then it would probably be more than a bottle.
ADVERTISEMENT - CONTINUE READING BELOW
How about if you're singing? What's your signature videoke song?
"Summer of 69" by Bryan Adams.
Sorry, that song's already taken. Second choice?
No, it's not. It's a rare videoke song, hehe. I always thought that that song was popular enough to be in almost all videoke places but, to my disappointment, it's not. Next pick would be "You Shook Me All Night Long" by ACDC.
What's your favorite budget restaurant?
Yoo-Hoo Bar-b-que. 1 BBQ + 1 cup of rice = SOLB!
How about your favorite fancy restaurant?
Cyma. I like their appetizers (and Mediterranean food in general).
What's the last hedonistic pleasure you treated yourself to?
David: Firing 150 .45-cal rounds at the shooting range. I thought that was a good number of rounds until the range officer said "Mga 200 tama lang, 200 at least."
What's the last luxury item you bought for yourself?
I can't, I need the money for printing Kubori Kikiam #8.
ADVERTISEMENT - CONTINUE READING BELOW
Komikon will be held on October 27, 2012, Saturday at the Bayanihan Center, United Laboratories Compound, Pioneer Street, Pasig City. Michael David will be selling the four Kubori Kikiam compilations as well as releasing a new special issue, #8.
CONTINUE READING BELOW
Recommended Videos
Share this story with your friends!
---
Help us make Spot.ph better!
Take the short survey
Load More Stories