On the Spot: Bea Ledesma and Ria Prieto, founders of Curious Setting
We ask Curious Setting founders Bea Ledesma and Ria Prieto what "cool people" and "interesting spaces" mean.
(SPOT.ph) While the rest of the Web is on to the next phase, producing books based on design/space blogs (hello there, The Selby) Manila has yet to have that one solid website focusing on art, design, and all things in that realm that, say, more than two people know and talk about. Enter Curious Setting.


It is, we read on its description page, about "cool spaces and interesting people." It went live in September with none other than Lesley Mobo's home in London, and in its two-month existence, has so far featured the homes of Hindy Weber-Tantoco, Celine Lopez, as well as working spaces of 13 Lucky Monkey and Josie Natori.


Bea Ledesma and Ria Prieto of Curious Setting



ADVERTISEMENT - CONTINUE READING BELOW
Bea Ledesma and Ria Prieto, the two women behind Curious Setting, do not shy away from sharing personal thoughts on design and goings-on they've encountered during their travels, which, we reckon, can most certainly do our own city, good. Read: Vertical gardens!


It's had such a strong start and a steady flow of good-looking posts, so it's no wonder Curious Setting is slowly creeping up the radar. We walk to Bea and Ria and ask about their plans for the blog.


Tell us about Curious Setting. How'd you come up with it? How long did it take you from eureka moment to turning live? Which part of the process took the longest?
Bea Ledesma: It's not like I woke up one morning and said "EUREKA THIS WEBSITE IS THE ANSWER TO MY LIFE." The idea was percolating for a long time until we finally sat down and hammered [out] the details: We're going to shoot spaces. It's not just re-hashing material on the Web but creating our own content. Suprisingly, it took us longest to figure out the name. It's like a baby: you spend nine months gestating, you don't want to just toss it a name.
ADVERTISEMENT - CONTINUE READING BELOW

Also, I was mainly inspired by The Selby (my idol! Raya Manaquil just bought me a copy of his new book, Edible Selby) who approaches his shoots in such an organic authentic manner that just struck me as so obvious. Like, yes, why haven't we been doing that? I'm also a regular visitor to sites like Coolhunting, Backyard Bill (another great site!) and the Coveteur. They each bring something new to the table and I can only hope we can accomplish a tenth of what they've done for the lifestyle sites.

Ria: Bea and I share an interest in interiors and how people put things together. We would spend afternoons going though books and thrift shops looking for accessories. Eventually we figured we should put up a blog on interesting spaces, mainly so we would be allowed in people's homes. It took sometime before we were able to put up a blog but thinking of a name took longer.
ADVERTISEMENT - CONTINUE READING BELOW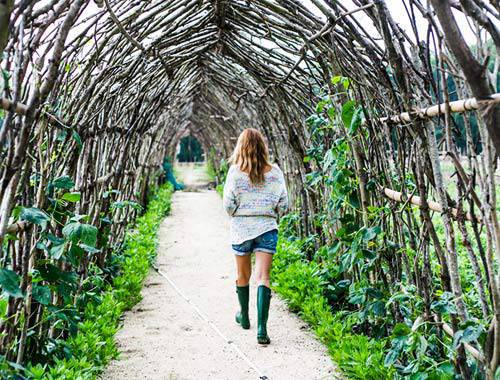 What would you like Curious Setting to be?
Bea: The online version of Tito Sotto- much talked about (and oft-shared on Facebook and Twitter)- minus the reviled part. I'm kidding. Tito Sotto is great! (nervous *law-abiding* laugh.)

Ria: I would like Curious Setting to be a blog that celebrates individuality and makes people confident to express themselves in their space, be it home or office.
ADVERTISEMENT - CONTINUE READING BELOW
You mentioned on the website that Curious Setting is about "cool spaces, interesting people." So, what is cool? What is interesting? What would it take for someone to get on your website?
Bea: Anyone who sends us chocolates is cool in my book. (I like Royce chocolate covered potato chips, just FYI.) I can't define what's cool or interesting. To paraphrase Potter Stewart, "I know it when I see it."
I'm far from cool - miles, leagues, a galaxy of distance separates me from the cool kids. But what often strikes us about a space is what makes most people curious. Like what kind of space do the bikers/silversmiths behind 13LuckyMonkey work in? I think it's a healthy mix of being creative and real. If the space speaks volumes about the people who live and work there, in a way that's authentic, then it's a space worth seeing.

Also, it helps if they have chocolate.
ADVERTISEMENT - CONTINUE READING BELOW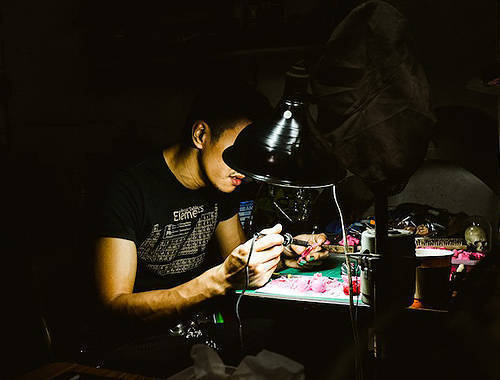 13LuckyMonkey hard at work. Photographed by Edric Chen


Ria: Truth is, what is "cool" is very subjective. Luckily, I think Bea and I share the same aesthetic. I think what makes something cool would be how people translate who they are in a visually appealing way in a space that is equally functional.

Both of you are writers for competing brands. Has Curious Setting become something of a concern in the workplace?

Bea: Not at all. We are partners on another project (our jewelry line Narra, available at AC+632, Greenbelt and Itsie Bitsie, Joya Building, Rockwell - shoutout!) as well as friends.

Ria: No. I think if anything it makes us happier in our work environment when we are free to do things that we love.
ADVERTISEMENT - CONTINUE READING BELOW
So far, you've featured six people on your website. Or five  if you don't consider EWWS (as it's about their wedding). Has there been a trend/common theme you've noticed among them? Similar attitude, same aesthetics, etc?

Bea: Well, one thing is that they are all friends or people we've worked with. We know they are talented people who bring the same creative spirit they're known for to the spaces they inhabit. Plus they are all really, really good looking.

Ria: Personally, I think the homes we've featured are very different aesthetically from each other. Their commonality would be [that the space] reflects the type of people they are. They are not "showroom" spaces.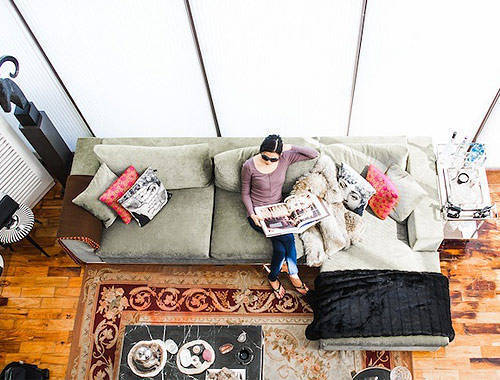 Celine Lopez at home. Photographed by Edric Chen


ADVERTISEMENT - CONTINUE READING BELOW
Has there been a piece that you've seen in more than two people's homes? What is it, and why do you think it's popular?
Bea: There's no particular piece as almost every space we've featured has its own aesthetic. but books are a common theme - people invest in books, still. And as someone who earns a living from writing (it's a newspaper, I know. But still), it's nice to see.

Ria: Most of the homes have items from their parents. Not that I think it is popular but I think it is natural to keep some things from loved ones. Besides mixing old with new things bring character to a home, I think.


What do "interesting people" obsess over?
Bea: Curious Setting, duh. Seriously though (I was also serious about the previous statement), I noticed a lot of Fornasetti, cool coffee table books, and good coffee. If I had coffee right now, I would've thought of a better answer.

Ria: Obsession? I guess sticking to who they are. It's so easy to get influenced by trends but I find these "interesting people" are not into following trends but march to the beat of their own drums.


ADVERTISEMENT - CONTINUE READING BELOW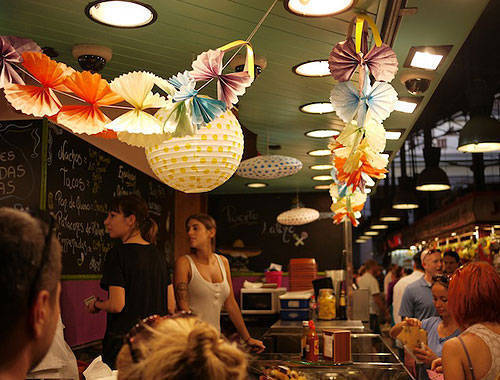 A photo from when Bea visited Barcelona. Photographed by Bea Ledesma
There are also a lot of stories from your travels abroad. Anything you've seen abroad that you'd like to see (more of) here in Manila?
Bea: Ria has the best answer! Personally, I'm a fan of everything I've photographed. But some of the best things are the ones I didn't shoot because I was too busy taking it in: the magnificent architecture, the Jamon Serrano I was too busy snarfing to photograph, and the decor, oh sweet lord, the beautiful decor.

Ria: Cleanliness!

What/who else can we expect you to feature in the future?
Ria: We would like to feature more Filipino artists.


ADVERTISEMENT - CONTINUE READING BELOW
Whose house would you like to feature in your website?
Bea: Shitloads of people, I can't remember them all.
Ria: Daniel Romualdez.

What's the most interesting thing you've seen so far? Tell us about it.
Bea: Tough question. I'm hoping the most interesting is yet to come.
Ria: The idea of having a plant in a beautiful glass jar amazes me. I love terrariums. I have two at home. Not only are they beautiful and warm up a space but it is low maintenance so it works for me!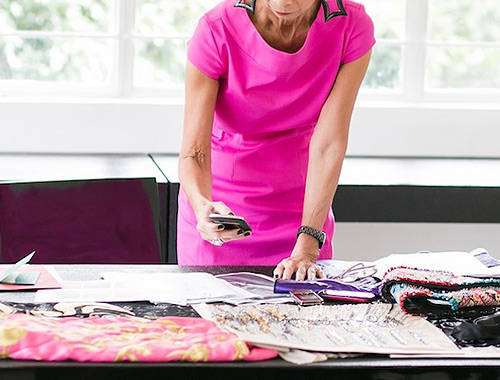 Josie Natori at her desk. Photographed by Edric Chen


ADVERTISEMENT - CONTINUE READING BELOW
Who's the most interesting person you've featured so far?
Bea: We just shot Josie Natori in her factory. I greatly admire her,  not only for her accomplishments (35 years in the fashion business is nothing to sniff at), but because she's one of those hard-hitting, tough ladies who forge their own path. She's a concert pianist, one of the first women to make a mark on Wall Street, and a leader of a global business (Natori will be opening stores in Japan in the coming year). There should be more women like her.

Ria: They all are in their own way. Maybe when we feature Daniel my answer will change. ;)
Recommended Videos
Load More Stories