On the Spot: MMDA Traffic Discipline Director Yves Gonzalez
The traffic czar gives us the lowdown on those tweets, the closest solution to Metro Manila traffic, the most stress-free route during payday Friday, and more!
(SPOT.ph) The last time we chatted for an On-the-Spot feature with Metro Manila Development Authority (MMDA) Traffic Discipline Director, lawyer, former teen star and TV host, and one-time Candy Cutie Yves Gonzalez, he spilled the beans on his Twitter alter ego @PCOSmachine. Who can forget the downright hilarious satirical account that gave voice to the otherwise dull and lifeless election machine? Three years later and Gonzalez is still at it, bringing his own brand of humor to the Twitter account of the office he serves.
Aside from being traffic director, Gonzalez heads the MMDA Twitter team, a seven-man group responsible for traffic updates and occasional comic rellangief on the social-media platform. Remember their advisories during the Justin Bieber and J. Lo concerts? With over 400,000 followers, the agency's Twitter account has become one of the most active and in-demand public-service channels on this side of the Internet. This doesn't come as a surprise as Gonzalez did say early on, when he was appointed MMDA Traffic Discipline Director, that the agency will utilize technology to ease Metro Manila traffic. Apart from Twitter and Facebook updates, motorists and commuters can get the latest on traffic situations across the metro with the Traffic Navigator app.
SPOT.ph sits down with Gonzalez to get his take on social media, road rage, Metro Manila commuters, and more. Plus, we visit with the MMDA Twitter team at their headquarters to hear their quirkiest encounters with followers...yet.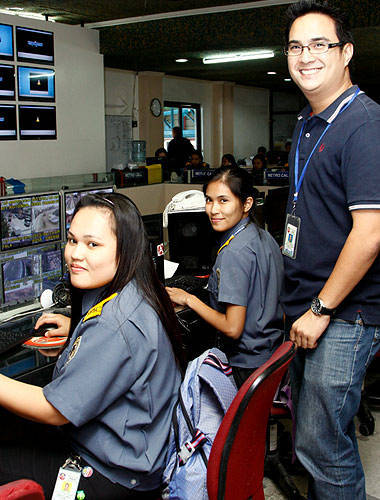 ADVERTISEMENT - CONTINUE READING BELOW
Gonzalez with some of his team at the MMDA Headquarters
Describe how your traffic-update system works-from sourcing information to disseminating them.
We have three general sources of information. Number one is, of course, the CCTV cameras. These provide the most accurate and the most real-time traffic information because the moment it happens on the street, in real time in Metrobase, the command center, we [see it]. Number two is, of course, our enforcers on the ground. This is the more old-school one in which we have enforcers-we have about a total of 1,600 enforcers all over Metro Manila-and they report to us the traffic situation. They throw it to the Metrobase either through radio-the issued radios-or through SMS. And number three, which is also fast becoming one of the main means of gathering information, is public reports. Public reports come in to us via the hotline 136, SMS, as well as Twitter. Twitter has fast become one of the main means of reporting to us by the public because you can already attach a picture or a video and even the location of the incident or the event that is being reported. So, all these together form MMDA's monitoring system for Metro Manila.
CONTINUE READING BELOW
Recommended Videos
How do you go about filtering and verifying the reports you receive?
Number one, if the report is somewhere within the possible view of the camera, then we can just pivot the camera [or] tilt the camera and focus it on the area that's being reported. For example, if right now the camera is looking at EDSA-Ortigas-along EDSA-and there's a report that there's a rally at POEA, then all we need to do is to tilt the camera. Number two would be, of course, to treat the report as an initial report and have one of our enforcers, or one of our ambulances, or some personnel from the MMDA verify the report. For the public reports, we do have some trusted "public reporters." And we do have some banned people-the opposite of trusted-even if they're telling the truth now, their previous track record of making up reports would actually ban them or block them. Aside from our trusted [sources], we do have some hierarchy. For example, if you're a media personnel reporting to the MMDA, we do acknowledge that most probably your report to us would be more accurate than if you were a person who has no avatar and whose username is @hotmomma55.
ADVERTISEMENT - CONTINUE READING BELOW
How effective is social media in your operations?
It's been really very effective. We are fortunate to be living in a time when all these tools are available to us, for the government to utilize. We are also fortunate to be living in a place wherein our citizenry is very active and very participative when it comes to governance. And the final component is that we're fortunate to be living under an administration, the President himself, who espouses the use of these social media tools. So, all these together bring about a very effective and efficient information-gathering-and-dissemination mechanism.
How would you describe your team? What's your number-one rule for them when it comes to handling the MMDA Twitter account?
The one word I could use is they're a team. That's number one. From the very start, they were built as a team, meaning to say they have to work together, they have to have the same culture, they have to have the same methodologies, and they really have to jive with each other whether they're from a.m. shift, p.m. shift, or graveyard shift. The character of the team is the same because they're a team. That's number one. Number two, a lot of our policies are molded on the fly. There were some initial instructions, but a lot of our team's personality and character has evolved and has been molded organically and naturally.
One of our guiding principles is that if you hit the heart of your audience, then you will be able to reach more of them. A good example would be if there's a concert in a certain location, say SM MOA, if you just blandly announce that there's a concert there, maybe at a certain time, your tweet will be viewed by, let's say, 20,000 people. Because your message was bland, they had no incentive to echo it or to retweet it. Your 20,000 people, that's the only number you reach for that period, but if you add some humor, add some relevance to your message, add some surprise to your message, then instead of 20,000 people, you reach 50,000 or 100,000.
ADVERTISEMENT - CONTINUE READING BELOW
We hope that there's a spill-over effect that it's not just believing in the MMDA but believing in the fact that the government, number one, can work for them. Number two is that the government is not their enemy but rather it is there to help them, to watch over them, to attend to their needs. And number three, just the fact of getting the public to believe in government again-that's a big challenge and that's a big task that we want to accomplish because it's really hard to get anything done if your public does not believe in you, in their government. With us, even in our small way, the fact that the public can say that in Twitter there's a team that will reply to you within two minutes, small things like that can make a big difference.
What's the top traffic violation metro drivers commit?
Number one is obstruction. Obstruction is the most basic violation in the sense that-because it is mostly committed by public utility vehicles that stop in the middle of the road and load or unload. So, that's number one-obstruction. Number two is disregarding traffic signs. It's also a general violation in which there is a lane marking, no left turn, no right turn, and you disregard it. Number three is UVVRP or number coding.
How would you describe the different types of people on the road? Which one is your pet peeve?
Public-utility-vehicle Operators
They have a tendency to be self-centric, and this is exemplified by the phrase: "Naghahanap-buhay po kasi ako," or "Naghahanap-buhay lang po." For a lot of public-utility-vehicle operators, the act of driving is their livelihood. Because of that, they tend to neglect and they tend to forget that they're part of a bigger network, that the action of one has an effect on a lot of people. Even if you [think you're just] a bus driver or a jeepney driver , you have the ability to change other people's lives as well. You determine whether the guy next to you dies or lives because if you're a reckless driver, you can kill him. But because they have tunnel vision in the sense that they only see what's right in front of them, and their only priority is, "Kailangan kong kumita ng pera." That's the general mentality of public-utility-vehicle drivers, which is, "Kailangan kong kumita ng pera. Ang nandito lang sa harapan ko ang iisipin ko."
ADVERTISEMENT - CONTINUE READING BELOW
Private-vehicle Drivers
With the private-car drivers, we have the "utak wang-wang" mentality. More often the SUVS, the bigger ones, they're road bullies. They have this feeling of impunity from the law. They disregard lane markings; they disregard enforcers. The big private vehicles are usually the ones who bully enforcers, who disregard traffic laws, and they think that they're above the law.
Motorcycle Riders
Now, motorcycle riders they're interesting in the sense that a lot of people criticize them, but motorcycle riders are a very obedient group. They do obey. You have your pasaway, but in general, when we set out motorcycle lanes, in general they obeyed. As a motorcycle rider, you're in a weird position. Unlike other cars that when you get into an accident, you have property damage, for a motorcycle rider, it literally is a matter of life and death. They are more obedient to laws in general. They are more cautious at the same time.
What are your top three tips for Metro Manila commuters?
My number one tip for Metro Manila commuters is that they have the ability to determine what time they get home. I mean it this way: There comes a time, often, when the commuters, in their anticipation of wanting to get home fast, they realize-say there's a shortage of buses, what they tend to do is to wait for their bus on the street because they're getting impatient. Now, because they're doing that, they're causing more traffic, and because they're causing more traffic, it takes a longer time for their ride to get back to them. They're making the problem worse by doing what they think is helping them. So, when there's no ride, when there's no bus arriving, try your best to not stay on the road because that will actually make things worse and worse and worse. Let's say there's really a scarcity of buses-maybe there was an accident that's why there are not a lot of buses arriving-to actually go on the road and block the road will actually cause you to get home later than if you had just stayed on the loading bay and waited properly. That's number one.
ADVERTISEMENT - CONTINUE READING BELOW
Number two is they have the ability to affect traffic. I'm not just talking about staying on the road. Commuters should realize that they are not stuck in traffic; they are the traffic. A lot of motorists already know this, but commuters they think that because they are commuters, they have no effect on the traffic. When you have a jeep that stops five times because five commuters got off within the distance of 100 meters, then you have an effect. Don't think that just because you're a commuter, you have no role or you have no participation in traffic. You do. This applies whether you're waiting on the road or you're boarding at the wrong place. Say sa paa ng flyover doon ka bababa, papara ka doon, so the bus stopping there for two seconds unloading you, that has an effect on the whole network of EDSA.
Number three is that you have an effect on public-transport discipline as well. Again, you are not passive players; you are active players. Your money is powerful. If commuters realize that bus company X is not safe because it always has accidents, and they stop patronizing bus company X, then that has an effect. The problem is when they don't realize that, and they still ride bus company X. Even worse: They ride bus company X because it will get them faster to their destination because bus company X is a reckless company. You make a difference with your money.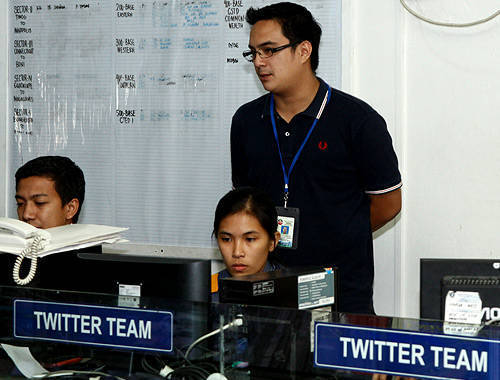 ADVERTISEMENT - CONTINUE READING BELOW
Where's the most traffic-free place in Metro Manila during payday Friday afternoon?
I would have to say Roxas Boulevard. Unless there's an event in Quirino grandstand, even if it's payday, there's no traffic in Roxas Boulevard.
And the most congested one?
Well, actually the most congested, I would say is C5. EDSA has a reputation of being traffic, but EDSA is always moving. C5 has a tendency to not move at all for hours, for minutes, for a long time. So, C5 is really more of a problem because EDSA, most of the time, is always moving. That's OK because if the traffic is moving, it's better for the psyche of the driver. When it's not moving, that's when drivers really lose their minds.
Share this story with your friends!
---
Help us make Spot.ph better!
Take the short survey
Load More Stories