On the Spot: Patch Dulay of The Spark Project
Looking for funds for a project? This site might just have your answer.
(SPOT.ph) While crowdfunding has long been a popular Internet concept elsewhere in the world (kickstarter, anyone?),  it has remained under the radar in our shores. But, you might want to brush up and read on the concept of crowdfunding because it's just about ready to burst in the mainstream.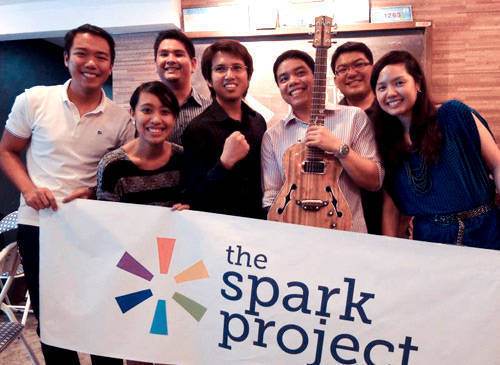 Patch Dulay (left most) with the TSP team. Photo courtesy of Jen Horn
ADVERTISEMENT - CONTINUE READING BELOW

The Spark Project (TSP), launched late February, is a local crowdfunding site that aims to put the culture of crowdfunding on the Philippine map by supporting passion projects of Filipino start-ups that do not have enough moolah to get a headstart. Unlike other existing crowdfunding websites that cater to niche markets, the only bias that TSP has is towards Philippine-based projects. And unlike other existing crowdfunding websites, The Spark Project boasts of having two of its four pioneer projects achieve completion-less than two months after its launch. We speak to TSP's Chief Collaborator Patch Dulay about The Spark Project, the crowdfunding culture, and what he's learned about the country from TSP so far.
CONTINUE READING BELOW
Recommended Videos
Why a crowdfunding site?
To date, there is still no Philippine-based crowdfunding website that has the same traction as those crowdfunding sites in the West. Crowdfunding as a technology has gained popularity because of its ability to raise funds for projects that do not have access to traditional funding channels like banks, venture capitalists, angel investors, contests, and grants. Finally bringing this locally will definitely encourage more Filipino start-ups to take charge in bringing their innovative ideas to reality.


ADVERTISEMENT - CONTINUE READING BELOW
Do you think the Philippines is ready for this?
Crowdfunding uses technologies like social media and online payments to raise funds for a project. And for this to work, its users must be able to leverage on these technologies. The Philippines is one of the most socially dynamic countries in the world. We spend an average of eight hours a month in social media alone. The emergence of daily deal sites and low-cost carriers the past years have really paved the way for more and more Filipinos to be comfortable in transacting online. I think it's time for us Filipinos to turn our social networking and online shopping activities for good and use it to back worthwhile projects. Filipinos are innately generous [towards] ideas they resonate with, we just need to direct them to a place where they can make an impact with just a mouse click.


Is there a particular thing that inspired you to do this? (A book/movie/person? Something you saw abroad? A personal experience?)
ADVERTISEMENT - CONTINUE READING BELOW
I developed a fascination for the web and online start-ups a few year back. Having had the chance to work for one in Paris made me want to start my own. Why isn't there a startup culture in the Philippines; when our skills are at par, or even better than those I have worked with abroad? Since college I've known quite a few leaders, social entrepreneurs and change makers wanting to create positive change in society. And it's frustrating that we all struggle in making our ideas happen because we lack resources. It's such a waste to see these ideas [go] down the drain. So if I were to make my dream of building an online startup happen, I must be able to use what I know to help my fellow innovators too.
How long did you brew the idea in your mind? How long did it take you to translate your idea into an actual thing?
ADVERTISEMENT - CONTINUE READING BELOW
I can date this back [to] 2009 when I stumbled upon an interesting tweet by my friend based in the US. She tweeted about Kickstarter.com (a US based crowdfunding platform) having just launched. I went to the site and was immediately sold on the idea. I would visit Kickstarter.com from time to time and check on its progress. I remember being inspired by the site and its projects, thinking of how awesome it would be if Filipinos have the same access to crowdfunding too. So when I came home after taking my masters degree abroad in November 2010, I started looking into this possibility. For most of the two years, I worked on the website by myself. It became a challenge to find the right team mates who, more than just skill, share the same passion for the project. It was only in 2012 when I found the people I'm with now. From the time we joined forces, everything was just faster.
ADVERTISEMENT - CONTINUE READING BELOW
You picked four pioneer projects. What were your reasons for choosing those, in particular?
We wanted to pick projects who we know and can vouch for personally. With these four, we wanted to give everyone a feel [for] the type of projects we are looking to crowdfund. Projects that are creative, innovative, and passion-driven. Not limited geographically because we have a projects from Visayas (not just Metro Manila). And also not limited in size, we have a project that's funding for resources needed to paint art on a hospital wall. There are many ways to make a difference, and we want to be able to represent that through our pilot spark projects.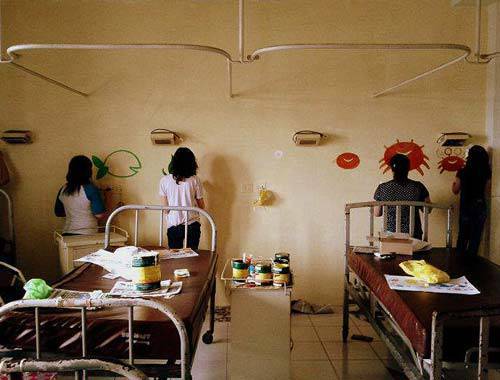 Paint-Some-Happy Project: A project that aims to paint pediatric wards of hospitals. Photo is courtesy of TSP.


ADVERTISEMENT - CONTINUE READING BELOW
The four pioneer projects seem to be a hike around the Philippines--guitars from Iloilo, that travel video guy. Is there a bias toward the Philippines, or nagkataon lang?
We definitely have a bias towards Philippine-based projects. Our aim is to showcase untapped Filipino talent across the country. This platform has a soft spot for the "marginalized innovator" because it's these grassroots start-ups and off-the-radar projects that need funding the most.


Care to share all the new things you've learned about our country from the four pioneers?
The Philippines is not short of great ideas out to build this nation. Contrary to the apathy and entitlement that this generation is notoriously known for; we have projects like Hinabi sa Pilipinas and Lagon Guitars that are doing what they can to preserve what's left of a our dying culture and heritage. We have the Offbeat Pursuits project determined to change the Filipino mindset. [So] that when we talk about a beautiful place, it shouldn't be "parang wala ka sa Pilipinas" but "it must be in the Philippines." And we have the Paint Some Happy project showing us that making a difference in someone else's life can also be done in the simple giving of time and talent. This is only the start, I am positive that there are more projects out there waiting to be sparked.


ADVERTISEMENT - CONTINUE READING BELOW
Any new projects in the pipeline?
The goal is to launch new spark projects every week. We are currently monitoring our beta site's performance so we decided to limit the number of projects for now. But once we have stabilized the platform, we'll be ready to accommodate more projects on a regular basis.
Share this story with your friends!
---
Help us make Spot.ph better!
Take the short survey
Load More Stories