What's in a Name? The People Behind Some of the Most Popular Filipino Food Brands
Andok, Mang Tomas, Rodic: are they real people?
(SPOT.ph) We eat in their restos and drizzle condiments labeled with their faces all over our food, but are those household names actually real names? Turns out each of them is really named after an actual person-or, in the case of one resto, two actual people. We find out the story behind the names of the most familiar brands in the local food biz.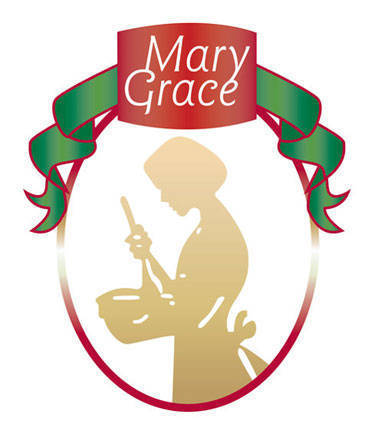 Photo from the Mary Grace Café Facebook page
Who is Mary Grace of Mary Grace Cafe?
Mary Grace Peckson Dimacali began "Mary Grace Cafe" as a small series of kiosks called, simply, "Mary Grace." She had just come back from a baking course in the US, and in 1994, she began selling her signature ensaymadas and cheese rolls around the bazaar circuit.
"Setting up the business entailed a lot of sacrifice," Mary Grace says. "My weekends from September to December were spent in bazaars from eight in the morning till nine in the evening. My husband and children never had a quiet Christmas! They spent the holidays weighing, shaping, and wrapping ensaymadas up to midnight."
ADVERTISEMENT - CONTINUE READING BELOW
Those sleepless holiday nights have paid off: She opened their first mall kiosk in 2002 in Glorietta, and then their first dine-in restaurant, Mary Grace Cafe, at Serendra in 2006.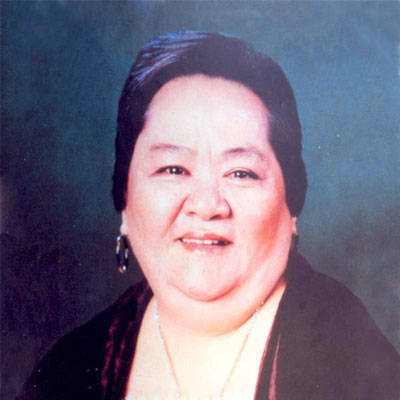 CONTINUE READING BELOW
Recommended Videos
Photo from the Kusina ni Mama Sita Facebook page
Who is Mama Sita?
"Mama Sita" is actually Teresita Reyes, a member of the Reyes clan, who have been involved in the resto business since the husband-and-wife team of Alex and Asiang Reyes set up The Aristocrat in the 1930s. Teresita was the couple's oldest daughter.
Mama Sita would later branch out from the restaurant business to set up a line of mixes and sauces that would bear her name. "Mama Sita grew weary of  seeing overseas folks [settling for the] burger and hot dogs diet and missing the taste of Filipino food," says Ramon Reyes, her son and current corporate liaison officer of the company. "She suggested that her son-in-law, a scientist, come up with food mixes that could deliver the authentic taste of favorite local fare."
ADVERTISEMENT - CONTINUE READING BELOW
Mama Sita certainly loved the kitchen. "She liked preparing leche flan," says Ramon. "She had a dozen versions for this. Her signature adobo is everyone's favorite: slow cooked and rich."
Though she passed away more than a decade ago, her legacy still continues. This year, the National Historical Commission will release a commemorative stamp honoring Mama Sita's contributions to the food industry.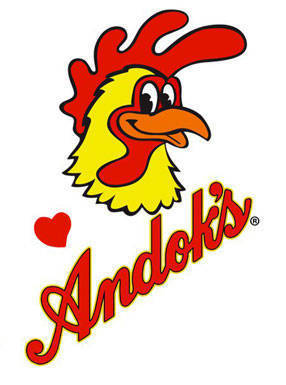 Photo from the Andok's Facebook page
Who is Andok of Andok's?
Andok's takes its name from the nickname of owner-slash-founder Sandy Javier Jr.'s father. The elder Sandy seems to have had a run of good luck when it comes to his progeny: APO Hiking Society's Danny Javier and "Na-Onseng Delight" rapper Dyords Javier are also proud to call him "dad."
Sandy the younger didn't have it easy when he first started out Andok's, however. On his first day of operation, he bought 12 chickens from his mother's friend, but was only able to sell two. In this ABS-CBN news article, Sandy Jr. acknowledges his roots: "Ang sikreto talaga diyan ay kung saan ka nanggaling sa kahirapan.You have to get out of the difficulty in life kaya kailangan you have to set your target. Kailangan labanan mo 'yung kahirapan."
ADVERTISEMENT - CONTINUE READING BELOW
The success of Andok's has brought him a long way, though. He became mayor of Javier, Leyte, his ancestral town, and is an avid racing and horsebreeding aficionado.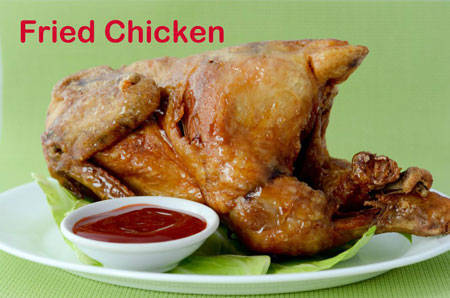 Photo from the Johnny's Fried Chicken Facebook page
Who is Johnny of Johnny's Fried Chicken?
Thanks to the resto's tongue-in-cheek tagline ("The Fried of Marikina"), it's impossible not to mention Johnny's Fried Chicken and Marikina in the same breath. Johnny Cotangco actually grew up and raised a family in the riverside city, though the family moved to Antipolo in the 1990s.
"He started Johnny's as take-out counter around 1967 at the corner of A. Mabini and J.P. Rizal Street in San Roque, Marikina," says Pamela Ann Cruz, Johnny's daughter. "In the early '70s he bought a lot near that corner space he used to rent and built a four-storey building for the restaurant."
ADVERTISEMENT - CONTINUE READING BELOW
That original branch is no longer standing, but the famous chicken recipe that Johnny cooked up remains one of the city's must-taste dishes.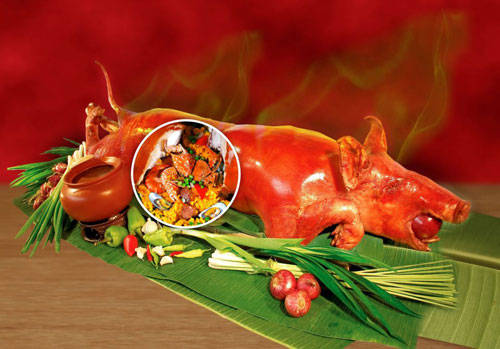 Photo from the Lydia's Lechon Restaurant Facebook page
Who is Lydia of Lydia's Lechon?
Lydia and Benigno de Roca founded Lydia's Lechon back in 1965, with a starting capital of P500, an amount given as pakimkim to one of their sons by a kindly ninong. From selling lechon on the sidewalk in front of Our Lady of Perpetual Help in Baclaran, Lydia's name has now become almost synonymous with lechon.
In an interview in Mel Tiango's "Powerhouse", Lydia herself gave the secret to her success: "Mas malaki ang pag-asa ng mga taong wala kung ito'y masikap sa buhay."
Zeny, the secretary of Lydia's Lechon's head office in Tandang Sora, has been with the company since the '90s, and tells us that Lydia is still very involved with the business. "Hindi na siya full-time nagma-manage, pero dumadalaw at tumatawag pa rin. Sobrang bait po niya."
ADVERTISEMENT - CONTINUE READING BELOW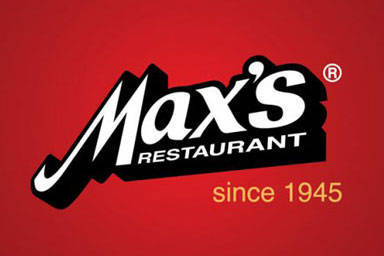 Photo from Max's Restaurant's Facebook page
Who is Max of Max's Fried Chicken?
Max's Restaurant actually started as Max's Bar, when Maximo Gimenez of Scout Tuason in Quezon City opened up an eatery beside the American military camp stationed in the Diliman area. This was in 1945, the war had just ended, and the soldiers were looking for a place to hang out. They prevailed on Maximo to cook up something to go with their beer, and Maximo's niece, Ruby Trota, came up with a recipe that would become the foundation of the "house that fried chicken built."
"If it started for the Filipinos, it would've been called 'Maximo," says Jim Fuentebella, Ruby Trota's grandson, to Entrepreneur's Peter Imbong. "But because the Americans couldn't pronounce his name properly, they decided to call it Max's."
Today, Max's is run by four different families and multiple corporations-the third generation of relatives of the original founders.
ADVERTISEMENT - CONTINUE READING BELOW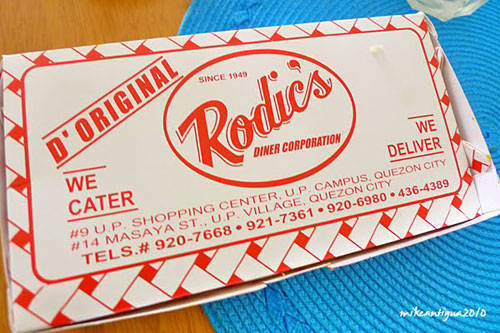 Photo by Mike Antigua of chewingdafat.blogspot.com
Who is Rodic of Rodic's?
Rodic's, the University of the Philippines' most famous tapsilogan, isn't named after just one person-"Rodic" is actually two people. As revealed in the Manila Bulletin, Rodic's is the combination of the names of Rody and Dick Ariola, grandsons of one of the restaurant founders.
Founded in 1949 by Herarda Ariola, Eduviges Ariola Ceralde, Juliana Francisco and Pacita Ariola Tecson, Rodic's is as much a UP institution as the statue of the Oblation. In illustrator Larry Alcala's classic send-up of UP in his "Slice of Life" series of cartoons, Rodic's is a nipa hut-like outdoor affair, where a waiter serves up a gigantic tub of halo-halo. Nowadays, Rodic's is most popular for its shredded tapsilog, but what hasn't changed is the number of people that regularly squeeze into the small space to try out the food.
ADVERTISEMENT - CONTINUE READING BELOW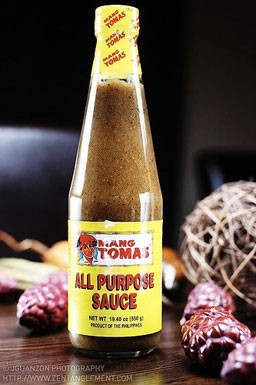 Photo from the Mang Tomas Facebook page
Who is Mang Tomas?
Mang Tomas is such an indispensable condiment that one of the best compliments a lechon could receive from a Pinoy is "Masarap siya kahit walang Mang Tomas." But is he an actual person?
Mang Tomas is the creation of one of Manila's first lechoneros: Tomas Delos Reyes. Aside from setting up a pioneering lechon restaurant in La Loma, Quezon City, Delos Reyes also produced "Sarsa ni Mang Tomas" to go with his famous roast pig.
Dennis Villegas of the Philippine Online Chronicles says that the rights to Sarsa ni Mang Tomas were "eventually bought by Justice Alex and Asyang Reyes who owned the Aristocrat chain of restaurants."
At present, Mang Tomas, as the sarsa is know simply known, is being manufactured by NutriAsia. Unfortunately, NutriAsia couldn't divulge to SPOT.ph the details of their acquisition. Over at their website, NutriAsia attributes their company's growth to a "series of brand acquisitions...nurtured with innovation and brand-building investments." Aside from Mang Tomas, NutriAsia also got the rights to Datu Puti vinegar and Papa banana catsup.
ADVERTISEMENT - CONTINUE READING BELOW
And now for two restaurants not actually named after people, despite all assumptions to the contrary...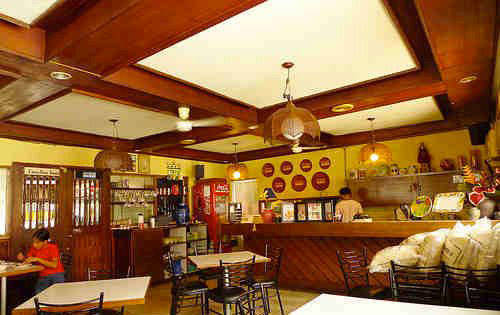 Photo from the Three Sisters' Restaurant Facebook page
Who are the Three Sisters of the Three Sisters' Restaurant?
Since its founding in 1941, Three Sisters is known for being one of the best barbecue joints in the metro. We assumed-just like most everyone else, we suppose-that their name comes from the founder or owner's familial connections.
Not so. It turns out that founder Rosa Francisco named the restaurant after a pre-war talcum powder brand she'd heard over the radio."Yung great-grandmother ko, may narinig siya sa radio na jingle na Three Beauties na powder," says Paul Jonathan Pike, one of Rosa's descendants who now manages the restaurant. "Yung brand na 'to, matagal na sigurong patay iyan, pero nung pumunta ako sa Singapore, may nakita akong ganyan na kaparehong-kapareho sa font namin."
The 'Three Beauties" jingle provided the inspiration for Rosa to set up the first Three Sisters restaurant in Kapasigan. It now stands in its present site in Kapitolyo, Pasig.
ADVERTISEMENT - CONTINUE READING BELOW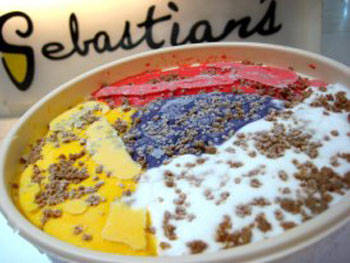 Photo from Sebastian's Facebook page
Who is Sebastian of Sebastian's Ice Cream?
The founder of Sebastian is named Ian Carandang. Lots of people assume that his full name is Sebastian Carandang, but Ian's full name is actually Jose Feliciano Carandang. So where did Sebastian's come from?
"Back then, I was still in a partnership with my two business college classmates, and after a long day of planning, one of them said, 'We still haven't come up with a name'," recalls Ian. "We didn't want anything too literal like 'The Ice Cream Barrel' or 'Scoops' or 'Swirls'. It [had] to evoke more of a feel, like it sounds like it fits our brand. He said, 'Something like...Sebastian's.' It just felt right."
During the heyday of the yoghurt craze ("Sebastian's darkest hours", as Ian calls it), his partners sold their stake in the business. Sebastian's is now run full-time by Ian and his family.
ADVERTISEMENT - CONTINUE READING BELOW
---
Help us make Spot.ph better!
Take the short survey
Load More Stories