Ransom Riggs on Miss Peregrine's Home For Peculiar Children, Tim Burton, and being called Handsome Ransom
The bestselling author indulges his Filipino fans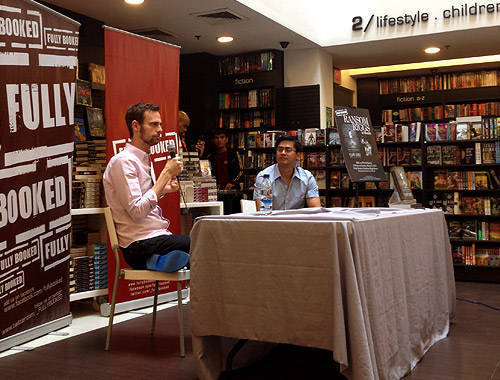 "Handsome Ransom"

(SPOT.ph) Ransoms Riggs enters the closed-off section of Fully Booked High Street bearing none of the mystery and darkness that his name or his book implies. He's tall, thin, and astonishingly "ordinary-looking" though slightly veering towards charming nerdiness. Minutes earlier, at a separate media conference, someone had remarked that he resembles Hugh Laurie. He takes it as a compliment, as he should. Hugh Laurie was named one of People Magazine's Sexiest Men Alive in 2005. But whether he knows this, he doesn't let on. "I like House," he said with a smile. He has a bit of Jesse Tyler Ferguson mixed in there, too.

Riggs is in the country to promote his book, Miss Peregrine's Home For Peculiar Children, a paranormal fantasy centered on 16-year-old Jacob as he tries to decode his grandfather's inexplicable death. The haunting story is interspersed with eerie photographs that Riggs collected over the years and serve as a visual and thrilling complement to the plot. It spent an impressive 63 weeks on the New York Times Bestseller list (four of those weeks at No. 1).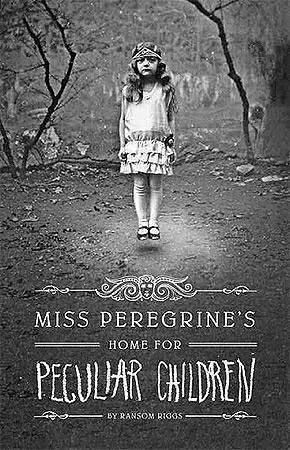 ADVERTISEMENT - CONTINUE READING BELOW
A thrilling tale reinforced by haunting imagery


As he enters, his eyes bulge a little as they scan the crowd which extends until the third floor. In response to the fans busy soaking in every bit of their favorite with cell phone cameras, SLRs, and camcorders, Riggs whips out his iPhone and proceeds recording and taking photographs of the sight before him. "Say hi to the camera!" he calls out.

One excited fan, who carefully sets up her phone to a perfect angle before asking her idol a question, looks up in surprise to see Riggs with his phone poised toward her as well.

Fan: "Oh! You're taking a video! Are you?"
Riggs: "Don't let that stop you!"
Fan: "I was going to take a video of you taking a video of me!"
Riggs: "Is that weird?"
Fan: "It's okay. Can you say hi to the camera?"
Riggs: "HI!!!"

This is a man who's more careful than unaccustomed of his newfound fame. He blinks whenever reminded that the Tim Burton is set to direct the film adaptation, as if he has yet to believe it; he shakes his head at any exaltation, as if that could jinx his good fortune. He smiles at his fans as if they're friends, jokes with them.

Read on as the filmmaker-photographer-turned-writer talks about the Miss Peregrine sequel, Tim Burton, and more!
CONTINUE READING BELOW
Recommended Videos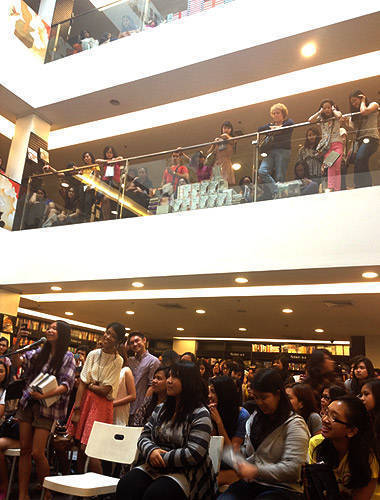 ADVERTISEMENT - CONTINUE READING BELOW
More than a hundred fans crowd Fully Booked BHS. The ordinarily huge store suddenly seemed small and cramped.
On which character he relates with the most in Miss Peregrine's Home For Peculiar Children
Jacob, definitely. He's the lead. It's set in the town that I grew up in and talks about a boy who dreams of finding more exciting things in life. I also wrote it in first person so there's definitely a bit of me in him.

On which "peculiar" power he'd want to have for himself
It'd be cool to have fire in my hands though I'd probably burn down a lot of stuff. I don't know. I think the Peculiar Children, it's a mixed blessing. It seems like their powers all have a dark side and a problem and they paid a great price for having them. (They're) outside of society and living in this beautiful prison. I'm okay with being a Muggle, I guess.

On his reaction when he found out that Tim Burton was slated to direct.
I went "Pfft! What? Hmm... Really?!"

On finding photographs to accompany his books
The photos I really love, I do remember where I found them. A lot of the photos I found in the collections of collector friends of mine who are way more serious than me. They've been doing it for years and years obsessively. A lot of the experiences of finding them was like sitting in my friend Robert's living room, looking at albums, and I'd say "Hey, this is awesome." Then they'd say, "You can use it in your book if you want." So yeah, it's great!
ADVERTISEMENT - CONTINUE READING BELOW
As for the hunt for photos for my second book, I have so many photos now that it could be like 10 books. It was a great way to procrastinate, actually. I would say that I can't write it yet, I need more pictures! (Laughs) I'm in the middle of writing Book Two, I'm nearing the end. It's going to be full of photos, many of which I wanted to use in Book One.

On casting preferences for the film adaptation
I love thinking about this stuff but I feel weird commenting because they're actually casting for the movie. So if I say I want Angelina Jolie, the person they cast for the role might feel bad. So many characters from the book are young. I don't know a lot of 16-, 17-year-old actors. You guys probably do.

On being called "Handsome Ransom"
Yes. But usually in jest.

On directing the film version himself (Riggs was a film student and a director short films) like Stephen Chbosky in Perks of Being A Wallflower
Well, Chbosky had a whole career. He created the show, Jericho, and he's worked on TV and a bunch of other stuff. He has like cred. I don't know. Me...er...I went to film school. I think part of the thing with the Miss Peregrine movie since the actors are so young, it's not like a George Clooney movie. There are probably a lot of people who've never heard of the book. You need clout, something to brand it, someone like Tim Burton is perfect for it because, you know, it's Tim Burton-y. People will go see it because of him! People will not go see it because of me. I mean I'd love to direct a book or a story that I wrote at some point. But I'm happy that Tim Burton's directing this movie.

On his series being touted as the next Harry Potter (according to CNN)
ADVERTISEMENT - CONTINUE READING BELOW
What?! The next Harry Potter? Nobody told me! Don't jinx me!
---
Help us make Spot.ph better!
Take the short survey
Load More Stories