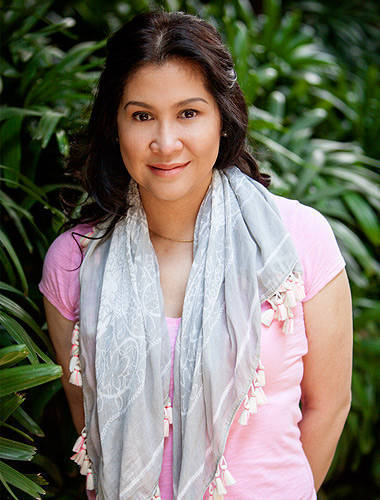 (SPOT.ph) When Mons Romulo signed up for an endorsement deal that had her recounting getting over a broken marriage, she didn't think it would garner so much attention. Alas, it practically sent the whole of Manila talking.
It's difficult to imagine Mons Romulo going through her much-talked-about crisis. Three years ago, her husband of 21 years left her, and not just for another woman, but for one of her friends. Her world fell apart. "I couldn't eat, I couldn't even get out of bed," she tells SPOT.ph of those very trying times. In her webisode, she recounts how she knelt down and begged him to come back to her.
Those in the know-those who knew what happened three years ago-finally heaved a sigh of relief after seeing the webisode, seeing Ms. Romulo looking absolutely fine, candidly talking about how her marriage crumbled, clearly already at peace. Those who only found out from the webisode were shocked, especially with the fine print-Wow?! Did this really happen? And to someone like her, too?! Those going through the same ordeal found somebody they could finally relate to. "I didn't expect this positive feedback," she says happily.


ADVERTISEMENT - CONTINUE READING BELOW
But it's a different story now. Now, she laughs heartily and often. There's a genuine sparkle in her eyes. "I'm just happy. I've forgiven them na e. There's no more bitterness in me," she smiles.
Your webisode really got people talking.
Whenever I go around now, people always ask me, or tell me that they like to watch it because it helps them. [I think what I went through] applies to any heartache, not necessarily just from break-up but from whatever circumstances you're in. When you don't get what you want, when you don't get the job you want, you get your heart broken. I think I was able to express how I was able to cope.

What are some of those lessons?
I tell married couples now, you have to look outside the box. I mean, my thinking that time, 'We're married, it should be us forever.' Because 'di ba [while married] your life would revolve around your husband? [When I was married] I was always thinking of somebody else, of him [before myself]. But you have to keep an open mind. I realized, the situation became a blessing in my life. Now, I can put myself first. Also, I realized, had he not left me, I wouldn't be where I am now, I wouldn't have the friends I have now. I maintained my old friends but I gained more friends. At least I am not accountable to anyone. And my world is not dependent on anyone.

How long since the breakup?
Almost three years, on June 30. I remember because that was the time the President took his oath.


CONTINUE READING BELOW
Recommended Videos
In hindsight, what were the signs you wished you didn't ignore?
It was really kept well eh. He showered me with affection, we went to trips abroad... Ah, he was  fixing himself much better. He was extra meticulous about how he looked.

So the myth of receipts, and second phones...
I didn't look at receipts, my God! He had a password on his phone, which I didn't know because naman, you have to respect the person. You have to give them that space. You have to trust. Alam mo, I realized pag mawawala ang isang tao, mawawala. No matter what you do. If it's meant to be, it's meant to be. This was how it would've happened.
In your interview, you said everything fell apart.
Yes, I couldn't eat and I couldn't stand up from my bed. I was out of circulation for a year.

At which point did you feel you were better?
I'll be honest with you. I can tell you I became better just this year. But that's a slow process. After self pity, I tried to save my marriage-I did everything that's why I have no regrets now. It's my three children that made me move on. I have two girls. I want to set an example to them. If I didn't do anything for myself, then my children will react that way when faced with any problems. They were my strength to stand up and move on, especially my girls.

So they were your main motivation to stand up.
Yes. I needed to work because we didn't have any money. I needed to gain back my self-confidence. Because for someone to reject you-that was rejection eh. I couldn't eat so I lost 20 pounds. So every time I go out, people will compliment me that I look good. That helped. I counted it as a blessing. So now when people say I look good, I always thank them.

You're enjoying your new freedom?
You have to accept whatever situation you're in. You have to accept. You have to give yourself a deadline and then accept. And then trust that something better will come along. You have to have that frame of mind. If you don't accept it, nothing will happen. I didn't accept it for so many months, almost a year.
ADVERTISEMENT - CONTINUE READING BELOW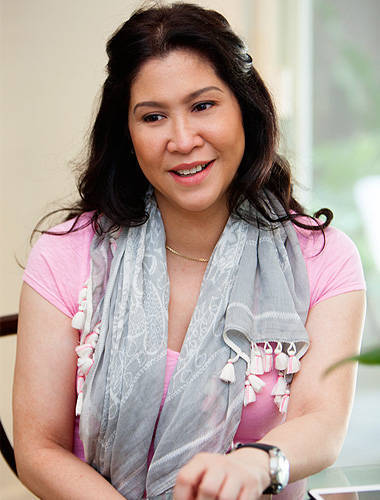 What made you finally file the annulment?
In 2010, he left. A year after, I filed na, no turning back na. I said I already have take care of myself. No turning back na. Many people will say never say never but for me, talagang never na talaga. Because self-respect na. It's the PDA that they were doing, the trips that they'd go take together. At the wake of a relative, it was the girl he'd introduce to everyone and to think my kids were there. I said, 'yon na yon.' If he did it discreetly, which was my request, it would've been better. Pero pag lantaran, at mga anak ko na...I have to give myself naman the respect.

Was it extra difficult because you're a Romulo, and your wedding was such an event?
Yes. You know, if you asked me this a year ago, I'd say no because it was my ego but now, truthfully, I'd say yes. We headed marriage encounter retreats  in Pasig. We were very active in marriage retreats so there was that extra pressure. I thought I'd be ostracized, parang marked woman, I thought there'd be the stigma na iniwan ng asawa. But I had to tell myself, I can't think of others, anymore. I have to survive already. I'm left with no choice, so I had to face it.

And people gave me the care and attention that I didn't expect. It was really a blessing. I really thought I'd be ostracized because I was a single mom and my husband left me but it didn't happen that way. I thought of women who were in the same situation, like Loren Legarda, like Doris Magsaysay-Ho, who is a good friend of mine. I thought of women who were able to move on and still maintain the respect that they deserve. They became my inspiration.


ADVERTISEMENT - CONTINUE READING BELOW
You had a support group!
Yes, but they never knew they were my support group. I had to look for and be guided by women whom I can look up to. If they were still respected after their separation, then maybe I can also have that respect, too. And my good friends were there for me, like Ben Chan and my editor Millet Manaquil. Gretchen Barretto is still really very supportive of me. I'm so lucky talaga. Aivee Aguilar Teo. I realized it's because of our friendship before. Siguro if I were a negative person, I wouldn't have these friends. It was, kung ano ang tinanim mo, babalik sa yo. They were all there.


What's it like having Ben Chan, so many famous and fabulous folks as your support group?
I feel so blessed. Ben is always abroad but when he's here, he'd find time to have dinner with me. And they, my friends gave me the space. There was a time when, even if I repeated my stories over and over again about how I want my husband back, they were there to listen. But at that time, I stopped talking about my husband already, and think things on my own, they never questioned it. They never asked me, they never told me what I should do.

What advice can you give people going through a broken heart?
What I did was, I diverted my attention to charity work and then I'm very fortunate that Roman is in Pasig so when he can't make it to certain events...I started "womenserye" in Pasig. It was supposed to be [a series of seminars] for women in depressed areas who also need guidance. There'd be a judge who'd talk about their rights, an inspirational speaker, for one whole afternoon. I rechanneled my energies. And then it was more the charity work. I kept away from socials because I couldn't face, may hiya pa. I'm good friends with the editors of Philippine Tatler but I couldn't go to their ball because, my ego, my self-esteem was shaken.

What are some of the bigger adjustments from being married to being single?
I realized what my strengths are, which I'd never realize if I had still been married. I couldn't even buy a cellphone for myself before because it was always my husband who did it for me. That's why I feel more liberated now. I remember the first time I bought a computer for myself, I was walking in Podium and I saw Gang Badoy, and I told her, "Gang, I'm doing this. I'm not used to this but I'm having it fixed." And she said, "You go girl!" and it really felt good. Technology, buying electronics-I'm now the mom and dad of the family e. Pag nasisiraan yung car ko, now it's me na, ako na nagpapaayos.

What was the most difficult thing about this whole adjustment?
Not having him in the house. Traveling abroad without him. It was hard because I felt I owed my kids-we both grew up in happy families so we felt we owed that to my kids. So that was the hardest, going abroad tapos kulang. My sister told me, go to places you've been with him to help you forget. You don't avoid-diba that's the normal reaction? You avoid. But, she said, face it. So for our first family trip without him, we went to Bangkok where we used to go with him too, and we were able to be happy without being complete. Or rather, we were complete even if he wasn't there. That was really the hardest, and different. Financially, with him, when we shopped, sky's the limit. We'd go out, kanya-kanya, hindi na kami nagkikita. This time, I just gave my kids small amount each to spend but it turned out for the better because we were able to spend quality time together. It's about our relationship as a family, together. Even if you don't have that much, you can be happy.

Your kids play a big role in this transformation. What's the advice you give to your kids?
I tell this to friends also, it's an old advice but: Never make your world revolve around one person. Never make your happiness just one person, because nothing is permanent. Your happiness should not be based on someone else. Most of the time, we do things to make our parents happy, to make our children happy. It's to make someone else happy. This time, you do it because you know it's right, and it should make you feel fulfilled and happy.  It's just you. It's you talaga.

How are the kids with him? Have they forgiven him the way you have?
I'm sure they have. He's their dad. I encourage them to spend as much time with their dad, because he's their dad eh. Like what I said, we had 21 happy years together. I can't be ungrateful to my former husband by forgetting everything he did for us.

How did you know you've forgiven him?
Wala nang pain when I talk about it. There's no more pain in my heart and in my stomach when I talk about them. The girl, this year lang talaga.

Did they even attempt to say sorry?
No. To their minds, they didn't do anything wrong. But that's their issues to deal with. If you look at it na nga, it's all a blessing. If she didn't come in his life, then I wouldn't be experiencing this happiness I'm experiencing now.

Wow, that's a difficult thing to admit.
I'm happier now than when I was married. He probably would never have left me if it weren't for her. Now, I'm able to feel that peace and happiness.

Was there a point when you lost your ability to trust people or you questioned God?
No. I never questioned God because it was him I turned to. If I questioned him, wala na. And how can I lose my trust towards people when at my lowest moment, I had my best friends there. I was never alone. I was never alone.

Are you seeing anyone?
No. People wanted to give me dates but I feel at my age, parang it's not...makiki-compete ba ako sa mga anak ko na magda-date din mommy nila? I just believe if that person will come, I'll meet him wherever. I'm not seeking but I'm going to welcome, if he's the right guy. I will not push him away but I will also not look for him, diba? Makiki-date? Parang it's not me, I'm very conservative.
ADVERTISEMENT - CONTINUE READING BELOW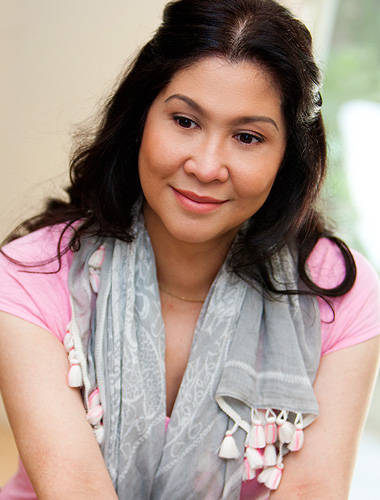 Because you look like you're in the market! You're really looking good! What is your age tolerance?
I don't like young guys but like what my friends and I were saying, in love there are no rules na. But since you asked, I don't like a young guy. Please, not someone younger than my son. I don't want to embarrass my son. The guy who I'll date should not be younger than my son, not the age of my son-he's 22. Siguro not younger than 35, not older than 60. That's another heartache, if he dies! Ha ha ha!

What do you think is the best way to cope?
It's as simple as feeling good and looking good and moving on. My goal now is to be able to double and even triple whatever life he gave me before. I'm more inspired to work and be a better person. Not to prove to him, but to prove to myself that I can do it.

But when you said feel good and look good-how?
When people would compliment me.  But you know, I remember before when people would tell me I look good, I'd tell them, gusto niyo palit tayo? Ha ha! But in the end, you just have to make the most of it. Whatever situation you're in, you have to make the most of it. And think of what positive things can come out with what's happening. 'Di ba they say, only you can control your mind? I went through a lot of, I went to seek advice, a lot of counseling, I went to priests, read a lot of books. I feel like I can counsel others but in the end, it's really you. No one can teach you to move on.

For your how many thousands of fans on Twitter-did you make any changes in diet or regimen?
State of mind is number one. But even my diet now, I have to take care of myself primarily because of my kids. If anything happens to me, kawawa naman my kids. I'm more careful now. I see a nutrionist because if I won't take care of myself, who will take care of them? And they're still young.


A lot of people are fans of your quotes, especially on Instagram and Twitter. Can you name a quote that really helped you?
This too shall pass.


ADVERTISEMENT - CONTINUE READING BELOW
How about one that explains where you are now?
Now, there's one-"just when the caterpillar thought the world was over, it became a butterfly." When you think it's over, there's always something positive. Take my brother for an example. I've always wondered why he was unmarried at 44. And then at 45, he met the most perfect match, the most perfect wife for him. So you just have to be patient, which is how my brother was. If he had been in a hurry like me, maybe he would've been separated by now. But he found the perfect girl.


What is it like having Shalani as sister in law?
We love her so much. We haven't been able to hang out because she's busy because it's election but after hopefully we can have more quality time together. I cannot ask for anyone better for my brother. I'd like for my son to meet someone like her. Simple and elegant lady.
What's your advice to Shalani on marriage?
Always prioritize your husband because your career will not be there forever. But then again your husband also eh. When you take care of your loved ones, you won't have guilt feelings in the end. Give your best in any relationship or anything you do. But more than your job, prioritize your relationships, without losing yourself. When my husband left me, it was my relationships with my friends and my family that saved me.

Do you still pray? What do you pray for?
After what happened, because I asked God, begged God to return my husband to me and He didn't give it. From that time on, I changed my prayers already-Thy will be done, whatever it is. I would ask but in the end, I don't think about it anymore. He knows better than me. He knows what's best. They say, you have to voice out what you want but in the end, hindi rin eh. I begged, I screamed, I cried.

You're very positive, but do you still get off days?
Yes I do. I got off days when I was having a hard time with my annulment. But when I get off days, I just move around. I go around.

Shopping?
There's no more fulfillment in shopping. Before, I wanted it all, designer bags, the latest, the newest, pero hindi na ngayon. That's why it was really a big help losing my husband. It was really a wake up call. He really taught me a lot. That's why I'll be forever grateful to him.

When you say move around...
I was very spoiled before. And impatient. But now, the mere fact that I can't control the very person I love, and I gave my life to, then it means there's nothing you can control in your life.

So during your off days...
Chocolates. But it's more, charity work talaga. During my off days, I'd go down to my true friends. I go down to constituents who've become family na, I talk with them. The smiles on their faces always brighten my day.

But how about regular women who don't have these opportunities. What advice can you give them?
Turn to God. Go to a priest. I went to a lot of retreats. It's hard to [calibrate] your positive thoughts. But just keep busy, and in positive ways. Others kasi they turn to drugs or DIs. Keep busy in a positive way, that's my advice. Do crochet, cook, paint, garden, basta keep busy. Do something. Walk to church.

Is there a book, movie that helped?
That book, Father Martin's Jesuit's book, Everything you Need to Know About Jesuits. Even now, when I'm assisting my brother, and something doesn't go my way, I turn to that. Do good. Try not to hurt others. Pero wag ka rin naman magtitiis. Walang martyr; I was one [before]. You really have to get out of your shell. Find where you can be good at. It's really you in the end. You cannot just sit down and cry. You cannot just sit down and get a boyfriend. And put your world around him for him to make you happy. It's no one's obligation to make you happy.


What advice do you give your daughters, especially about marriage?
The later [you get married], the better. Because you evolve, your tastes, your likes, your views. I think the best time to get married is the age Shalani got married-30 to 35. By then, you've found yourself na. You're a whole person na. I got married at 25, I was still searching. Before you get into a relationship, you have to be a whole person.


ADVERTISEMENT - CONTINUE READING BELOW
How about for people looking to get married?
Just trust that the right person will come. Never hurry. Patiently wait. For as long as you're here, living, there's a chance to meet that person. If there's a tomorrow, there's a chance to meet him. Just like how my husband had the chance to meet "the true love of his life." You know how I was able to move on? Diba sabi nila if you love someone, set him free. If you love someone, you want that someone to be happy. I was saying how I love him. But if I love him, I should want him to be happy diba? Eh he's happy with that person. He's happy without me. That should make me happy, right? You can't control a person. Like your son, he gets married to a girl you don't like but he loves her and you want to see him happy, so what do you do? Set him free, right?


What would you say to your 25-year-old self?
Don't get married. Wait. Wait until you're somewhere between 30 and 35. Your taste will change. Your life view will change. You'll become more mature when you turn 30. A lot of marriages fail because of immaturity. So to my 25-year-old self: Wait until you're 30, and then decide by then. Don't rush things, especially marriage.  


Share this story with your friends!
---
Help us make Spot.ph better!
Take the short survey
Load More Stories