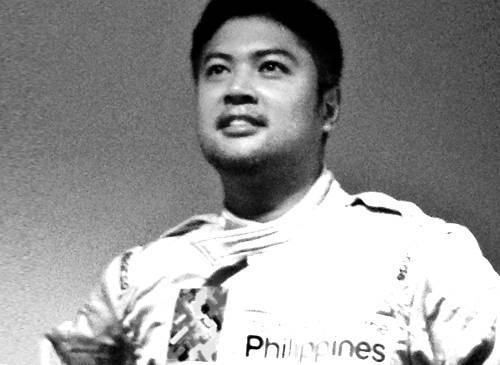 (SPOT.ph) NASCAR (National Association for Stock Car Auto Racing)-one of the most-watched sports franchises in the US-recently became controversial among Pinoy racers. A group-which included Gaby dela Merced, Stefan Marcelo, Carlos Anton, Michelle Bumgarner, and Pia Boren-was invited to race in the Charlotte International Motor Speedway last May 9. Alas, there was no race. The Philippine Star columnist (and editor-in-chief of C! Magazine) James Deakin has written extensively about it in two columns, imaginatively titled the "The NASCAM experience" and "The NAS-T-CAR experience."
As Dela Merced revealed in a message posted on her Facebook page: "When given an opportunity to do something you are passionate about, you take it. The world of NASCAR is unchartered. Promises were made and expectations unmet. Shit simply happens in life. While things didn't go as planned, what matters is how you take the next step. This trip did get us in touch directly with the right people in NASCAR that opened new avenues."
ADVERTISEMENT - CONTINUE READING BELOW
Despite the controversy, Pinoy racing is edging back into the international spotlight, especially with Marlon Stockinger getting a genuine shot at entering the F1 via Lotus Formula 1.
Another Pinoy racer, Ferdinand "Enzo" Pastor, has just revealed that he has been invited to become the first Filipino to race in a US NASCAR (the real deal this time) regional series. He's all set to compete in the K&N Pro Series East-a two-race series in the Virginia International Speedway on August 24 and in Road Atlanta on October 18.
Son of Tom Pastor, one of Pinoy racing's grand patriarchs, Enzo has been making his mark in the scene since 1999 in Asian Formula Renault, Formula 3, and the World Touring Car Championship.
Enzo's latest achievement was last April's fourth-place finish (just one spot shy of the podium) in Nogaro, France for the Euro-Racecar NASCAR Series. Soon after, his father received an invite from Creation Cope Racing for him to race in NASCAR's K&N Pro Series East. In a candid interview, the soft-spoken Enzo tells us what that means to his career-and how he's preparing for what could be his biggest break yet.
Enzo in 2010
Let's get this out of the way first. Is your NASCAR invite in any way related to the ongoing NASCAR controversy in the Philippine racing scene?
No, it's totally separate. They had a one-event deal in the US. Actually, I was invited to it last year. What I find surprising is, the other drivers-syempre seasoned [sila]-why didn't they do their research? I knew from the start that that was the type of event that was being sold, na-manipulate lang yung wording .
As a racecar driver, what's your view on driving in Manila?
We'd save so much time kung...driving one lane, you see a guy na singit nang singit. He's not really moving, and each time he makes singit, he's slowing everyone else down. He's saved maybe five seconds. Unlike in Japan or the States where everyone stays on their lane, dito, parang, "I have the right to be there! Bahala kayo!" Tapos pag mag-o-overtake ka, bibilisan [niya]! It becomes a domino effect.
ADVERTISEMENT - CONTINUE READING BELOW
And jeepney drivers are good...just not proper.
How does one get invited to race in US NASCAR?
Everyone knows F1, right? Not just anyone can jump into Formula 1 just because they have money or experience. You have to be chosen. For example, during my time, you do Formula Renault, and the top three would likely be sponsored to F3, and the top three from that maybe gets chosen to join their program in F1. So there's a ladder to F1. Same way in the States.
There was a scout...I think he watched me in Circuit Park Zandvoort two years ago. Through the Euro NASCAR series, which is under the umbrella of US Nascar, the winner gets a test in the US, and then, well, of course, you need sponsors to run through the rest of the series. But we received word last month, and-well, we're lucky to receive that chance to race in the States.
ADVERTISEMENT - CONTINUE READING BELOW
NASCAR is famous for being raced in an oval. How do you transition to that kind of racing style?
In Euro NASCAR, out of a total of seven races, we only had one in an oval. It's a totally different feeling. In a normal track, you have one corner na small. It's brake, turn in, throttle out. Now, [in oval courses], it's a really wide turn. So it's still the same, pero you're moving everything slower. From flat-out, imbis na let-off, then brake...ngayon, it's flat-out, and then very slowly bibitawan mo so that the weight goes to the front. You can't just let off kasi mag-a-unsettle.
What's good about the K&N is that it's not going to be all ovals. It will be a mix of regular road course and oval. But it's going to be big. I think there will be 40 drivers on the grid.
How would you describe your general attitude behind the wheel?
ADVERTISEMENT - CONTINUE READING BELOW
I like giving myself a hard time. It would be boring if I were racing and I won all the time. I would rather put myself [in a position] where my brain is always working on how to improve, which I get out of racing internationally. The level of racing, especially in Europe, parang it's their P.E. It's natural for them.
As a Filipino racer, what do you think is your biggest advantage?
It's never easy naman, but what I think my biggest advantage is when it's raining. 'Cause it always rains in the Philippines, so siguro nasanay. (Laughs) That's where I excel. It's funny that I excel in the wet, because I hate the wet. My advantage on wet [surfaces] is, sa takot ko, masyado akong nagiging sensitive, and I move slower, which is good for [that surface].
In the Philippines, where are you more at home-the Batangas Racing Circuit or the Clark International Speedway?
ADVERTISEMENT - CONTINUE READING BELOW
For me, BRC is a driver's track. I grew up with it. I've been driving it since 1996, when it opened. Clark for me is more of power track. If your car is strong, and you can make up for more than one second down the straights, [and you're against] a good driver who will make up for more than one second on the technical side, lugi pa rin ang good driver. Kasi puro stretch-hairpin, stretch-hairpin. It's not like the BRC, na mas may long corners.
Have you ever felt the attraction to motorcycles?
When I was younger, I had a dirt bike. But, nah. I knew my life would end soon. Kung as a kid, ganun na nga ako, if I stayed on a motorbike, delikado e.
What's your take on Philippine racing?
In the country, it has gone up maybe 300% in the past five years. I organized a race series in the Philippines where you don't need a race car...you can bring your daily driver to the racetrack, as long as you have a helmet, four-point seatbelt, and basic safety requirements. So it's more accessible to the masses, because not everyone can afford a separate car just for racing. In our last leg, we were able to bring in over a hundred new participants. Hopefully, from that group, they go racing the national series, and hopefully move on to international races.
ADVERTISEMENT - CONTINUE READING BELOW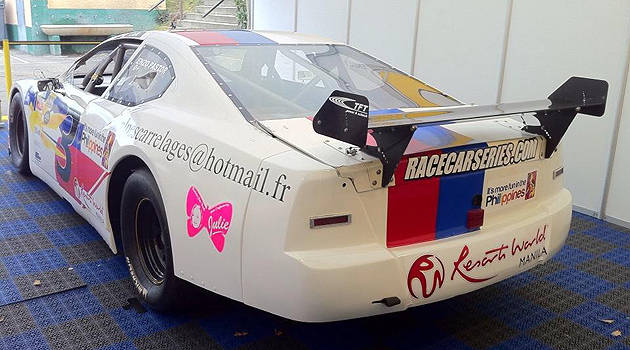 Enzo's current ride for the Euro NASCAR. (Image from his Facebook page)
Do you think racing is heading into an "Azkals" moment?
I won a championship in 2002, and nothing really happened. I was offered in 2004 by two Formula 1 teams. Nothing happened. So I want to keep my expectations low. (Laughs) You know, racing was big in the '60s and '70s for Filipinos. May cycle rin iyan e. Hopefully now is the time. I don't know.
ADVERTISEMENT - CONTINUE READING BELOW
Ever got in trouble on the road?
Naiinis lang talaga ako sa mga sumisingit sa road, e! I was on the leftmost lane sa may Megamall pa lang all the way to Guadalupe. There was this one guy in a RAV-4 who kept going like that (makes weaving motions with his hand). I was thinking, "What's wrong with him? What's this guy's problem?" At first, I saw an MD sticker, so I thought, "Okay lang, nagmamadali." Pero he kept on doing that. So I overtook and went down. I go, "What's the problem?" Siya naman, he goes, what's wrong with my driving daw, I kept weaving. "I've been on my lane the whole time!" E dala ko pa baby ko. Yung Toyota 86.
Any other dream races you're thinking of joining?
I want to do Le Mans. I want to end up in endurance races-mga 24 hours. Like in Nürburgring. I want to try driving Nürburgring hopefully soon. Monza is always part of my top five tracks, and I'm going to be doing it in two or three months. Unfortunately, I wanted to join Spa (a long distance race in Belgium's Circuit de Spa-Francorchamps) last year...wasn't able to do that. That's also part of my top five.
ADVERTISEMENT - CONTINUE READING BELOW
Who are your racing idols?
I have always liked Alain Probst. He was called "The Professor" because he never needed to win races to win the championship. He just placed himself properly all the time. Of course, when you win a race, it's always great-but the bigger picture is who is the champion in the end.
Locally, of course, it would be my dad. He pretty much taught me everything. Compared to most drivers, I never really went to racing school. Also, Jojo Silverio. Of all the drivers I've met, he's one of the guys who you just throw him into any car and he'll be fast. Most of the drivers rely on equipment or take a while to develop. Not Jojo.
Was there any advice your father gave you for this upcoming race?
Wala pa. (Laughs) I have a feeling that it will be, "Stay out of trouble."
ADVERTISEMENT - CONTINUE READING BELOW
Share this story with your friends!
---
Help us make Spot.ph better!
Take the short survey
More Videos You Can Watch
Load More Stories