(SPOT.ph) It seems that lately, the Catholic Church has had a say in everything from Charice to ovaries. They've even condemned inanimate objects like motel billboards. But ask them to lift their robes up a bit so we can see what's going on under there? You're better off waiting for the resurrection itself.
We dare say that it has a hint of hypo-something but pigs have said it in a way that we never could. The Church has painted quite a large target on its back and while everyone has taken a stab at it, Aries Rufo took his time to aim and hit where it matters most, especially to the faithful. How should a man of faith act? What would Jesus really do?
In Altar of Secrets: Sex, Politics, and Money in the Philippine Catholic Church, Rufo tells stories that will reveal the human behind the divine. Fourteen chapters that read like a crime show but instead of the usual suspects with the usual complaints and conclusion, the words will encourage you to be more vigilant about what you really believe in.
ADVERTISEMENT - CONTINUE READING BELOW
We don't want you to be caught cheating on your own test of faith so we won't spoil you the pleasure of reading the book. Instead, we give you this short conversation we had with the rather quiet author right before rain poured heavily at BGC during the book launch. A sign from the heavens? Who knows.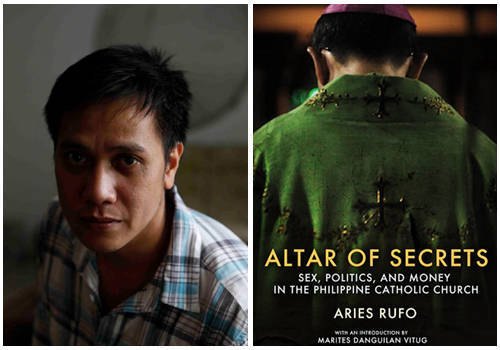 What's your favorite memory as a Catholic?
Actually, when I was in high school, I thought I had this calling. I joined the choir, I was active in church activities, and I studied hard in religion classes. I thought it would be good to be a priest as a way of serving God.
But then that stage passed and eventually I just decided to become a journalist.
When you became a journalist and after you wrote all of these pieces about the anomalies in the Church, how did you manage to keep your faith?
As a beat reporter for the Church, I know that there are many Church leaders, Church officials, priests, and bishops who are still faithful to the dogmas and to the teachings of the Church. [But] there are bad eggs in a basket.
I would like to point out that reforms are now [ongoing] within the church. It's a slow reform but change takes time. There are church officials who are not open to being scrutinized by the media and by other groups. The media scrutinizes other institutions, including politicians and the judiciary. [The Church] sees the media as a watchdog but when [it's their turn] to be scrutinized, they shoot the messenger.
ADVERTISEMENT - CONTINUE READING BELOW
What do you say to those who have lost faith in religion and the Church?
Whenever I sign autographs, I always say, "Keep the faith."
The Church is a human institution. It has its own weaknesses and frailties. Of course, it has its own strengths, too. The strength of the Church depends on its divine origin and the people who trust it. But because it is a human institution, you can't [prevent] people from going astray.
There are those who violate the vow of chastity or charity. But I have met Church men and Church leaders who are true to their calling. The ones I related in the book are among the few who have gone astray or who have violated the trust [that was given to them].
How do you address the issues regarding Carlos Celdran and Pol Medina, Jr. whose civil liberties became endangered because of what they said about the church?
ADVERTISEMENT - CONTINUE READING BELOW
It's a tricky thing because in their case, it borders on Freedom of Speech and Freedom of Expression. I think [we] have here a Church that is conservative and very sensitive whenever its stand on an issue is being attacked or [forced into a] compromise.
But we are in a cusp of change where people are trying to push the boundaries and I think engaging with the Church more could somehow broaden the playing field for those who want to push for change and reforms against those who want to maintain the church's orthodoxy.
What about changes on things like same sex marriage and divorce, which were brought up during the last election period? How much say do you think the Church should have on those things?
The Church will always protect its own dogma. It's like someone having his or her own principles and opinion.
I don't blame the Church for doing that. It's their job because it belongs to the moral sphere or moral aspect of what they're supposed to teach the public. That's their role.
ADVERTISEMENT - CONTINUE READING BELOW
It seems like what you're really against is the abuse of that role or power.
Yes! Also, when they impose their own faith or when they affect the crafting of national policies like their stance on the RH Law. They were imposing their dogma on the entire [population of the] Philippines. Where do you draw the line? It's a constant battle.
Did you attempt to include the other religions in the Philippines?
No, that would take an encyclopedia. I just focused on the Catholic Church, as it is currently most dominant in the Philippines.
Do you see yourself doing pieces on the anomalies in the other religions?
I will have to do that when I have the time and resources.
Share this story with your friends!
---
Help us make Spot.ph better!
Take the short survey
More Videos You Can Watch
Load More Stories