Top 10 Hottest UAAP Basketball Players (2013 Edition)
To welcome the most anticipated collegiate game of the season, we round up 10 of the hottest players!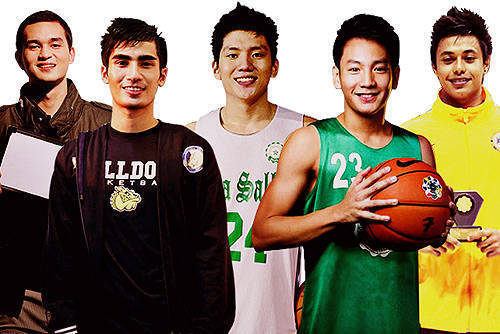 We give you our top 10 hardcourt hunks from the eight teams!
(SPOT.ph) Whether you're rooting for the players or screaming your school's chant together with the team's cheerleaders, it's safe to say that we're not just watching the UAAP Basketball games to support our beloved alma mater. We will shamelessly admit it: we're in it for the eye candy as well. The basketball players on the court have us going gaga with their three-pointers, amazing alley-oops, and yes, their charming faces whenever they score a point.
With the 76th season off to an exciting first round, we'll help you get ready to ogle at these smokin' hot players. Here's our 2013 list of the UAAP's 10 hottest basketball players based on looks, charm and their attention-grabbing presence when they're busy on the court.
Note: Van Opstal, Jeric Teng, and Joseph Marata were not included as they were part of our 2010 list.
ADVERTISEMENT - CONTINUE READING BELOW
Photos from PinoyExchange.com, GoArchers, TheLaSallian, Cosmo.ph, Mawi Dagdag, and Jan Dizon.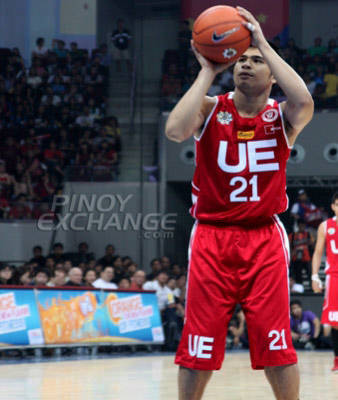 10. Jairold Flores (UE Red Warriors)
This 6'3" hottie from Negros Occidental has what it takes to be one of the best on the court. Basketball scout Dexter Dy has this to say about him: "He is a muscular power forward who jumps very high." With his team's impressive pre-season win at the recently concluded Fil-Oil tourney, Jairold will definitely fight harder during the UAAP games. We agree that his prowess on the court translates to his looks as well. A bonus for all the ladies: his sexy bod (no they aren't like John Lloyd's famous abs!)
Photo by PinoyExchange.com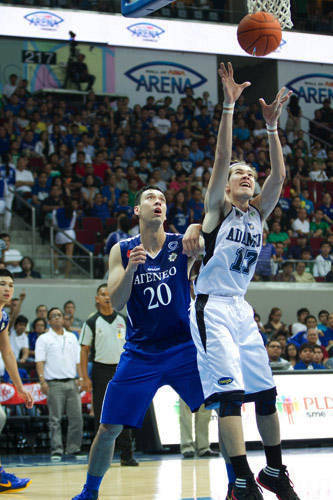 ADVERTISEMENT - CONTINUE READING BELOW
9. Rodney Brondial (AdU Falcons)
The very fact that his twitter handle is a word play on his name (Follow him at @roadknee17) means he can loosen up and poke fun at himself. We like! We also like how he tweets his fans and thanks them for all their support. We love a guy who shows humility and can be fun at the same time. The more we talk about him the more we're smitten! From a second-stringer to becoming one of the best rebounders for the Falcons, this knockout is stopping at nothing to be the one of his team's best assets.
Photo by Mawi Dagdag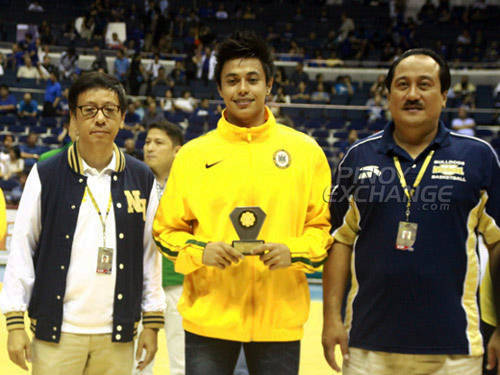 8. Terrence Romeo (FEU Tamaraws)
A 5'11" shooting guard of the FEU Tamaraws, Terrence certainly fits the stereotype of a bad boy sans the leather bike jacket and Ray-Ban aviators.  His spiky hair says "I'm a rebel, stay away" but this just attracts more women. Who cares about nice guys?
ADVERTISEMENT - CONTINUE READING BELOW
Photo by PinoyExchange.com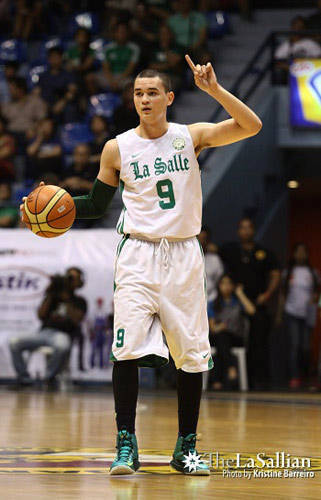 7. Gabby Reyes (DLSU Green Archers)
Despite the fact that he rarely made an appearance in last season's game, Gabby Reyes is proving to be one of the best in his team as proven by his presence and quick feet. Did you see him during the Fil-Oil Flying V Pre-Season Premiere Cup? Scoring double figures in every game last month, he's scoring high in our ranking too! His good looks and perseverance just adds to the whole package. This 6' 3" standout from De La Salle Zobel Green Archers won't stop at nothing to play the sport he's been so passionate about since high school. In a recent The LaSallian interview, he fondly talks about his rookie year in Zobel, where he scored impressively despite playing with a sprained ankle. A go-getter, Gabby is one to watch for this season, both on and off the court.
Photo by TheLaSallian.com
ADVERTISEMENT - CONTINUE READING BELOW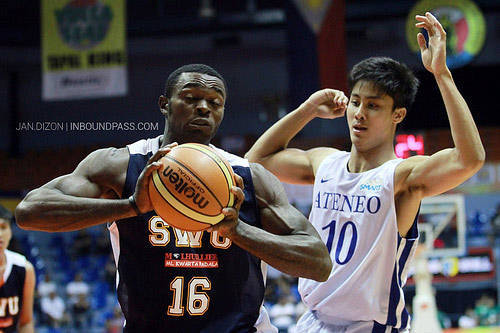 6. Earl Murphy (AdMU Blue Eagles)
No stranger to the intensity and pressure of Ateneo basketball games, this 5' 11" baller has been promoted from Team Be Glory (Team B) and is now off to a great start with his impressive five-point turnout under four minutes in one game during Fil Oil's tourney. His commanding presence on the court and his baby-faced smile has girls captivated whenever he dominates on the hardwood. We'll definitely be watching for him in the weeks to come.
Photo by Jan Dizon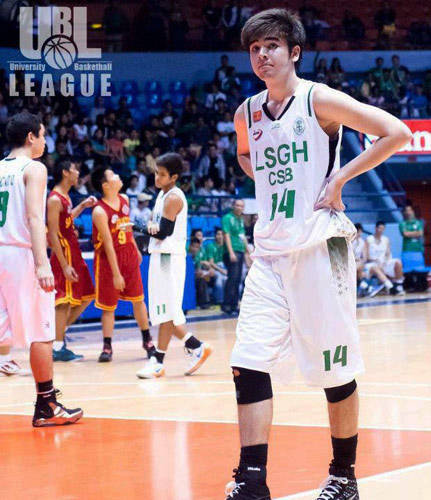 ADVERTISEMENT - CONTINUE READING BELOW
5. Andre Paras (UP Fighting Maroons)
As the son of PBA Legend, Benjie Paras (who led the UP Maroons to win their one and only championship in 1986), Candy Cutie Andre certainly has big shoes to fill. Hailing from La Salle Greenhills, he has chosen to follow his dad's footsteps by taking on the big leagues for the State University. Coach Ricky is glad Andre chose UP: "We were impressed with his potential and his work ethic," Coach says. Blessed with boy-next-door good looks and an impressive height of six foot four, he also dreams of becoming a director (as a back up). We certainly do hope he appears on cam instead though but we're still rooting for him on the court.
Photo by the University Basketball League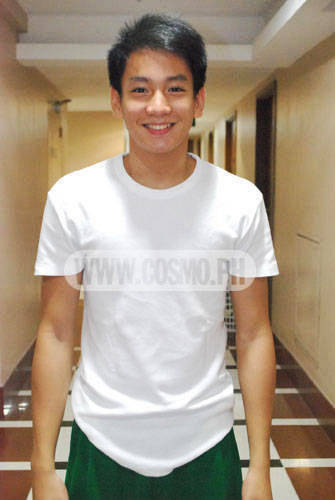 4. Thomas Torres (DLSU Green Archers)
This good-looking La Sallian recruit has already proved he is more than just a pretty face. Back in high school, his impressive stats helped lead his La Salle Greenhills team to its first NCAA Junior Championship.
ADVERTISEMENT - CONTINUE READING BELOW
Not only does he have an impressive track record but he also has an angelic heart to boot! Just last year, he showed fans that when it comes to the game, sportsmanship is more important. In a pivotal game against their long-time rival, Thomas went out to help Juami Tiongson, an Atenean, when he fell to the floor due to cramps. Who doesn't want a good-looking guy with an even bigger heart?
Photo by Cosmo.ph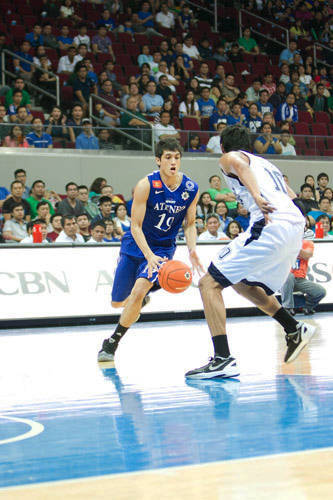 3. Von Pessumal (AdMU Blue Eagles)
We know you're probably wondering why he's in our top three when his fellow batch mate Keifer Ravena (who is in our 2010 list) deserves a second mention. Well, girls, as Pio Garcia of Philippine Star points out, "he's back." And we think it's with a vengeance. To prove that he's not just a dormant second-stringer with mediocre game play, his impressive and improved performance in the recently concluded Fil-Oil Flying V Premier Cup tells us that he still has what it takes - and he'll take it further. And girls, doesn't his perseverance to get better at the game add to his hotness meter? We like his lanky and laid-back swagger and his brooding look.
ADVERTISEMENT - CONTINUE READING BELOW
Photo by Mawi Dagdag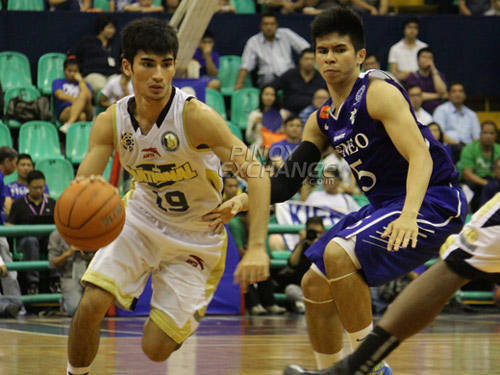 2. Robin Roño (NU Bulldogs)
It's pretty easy to get lost in the steely eyes of this 5'8" hottie. Armed with amazing skills and a gorgeous smile that has gotten girls kilig, the veteran point guard for the NU Bulldogs is definitely something else. His confidence and passion for the game is admirable. He wants nothing more for his team than to be this season's champions. In a recent interview on ANC's Hardball, he says that "Hindi kami pwedeng maging kumpyansa, kasi lahat ng teams malakas." His team's upset victory over Ateneo last Sunday is a good start for this hottie and his team!
Photo by PinoyExchange.com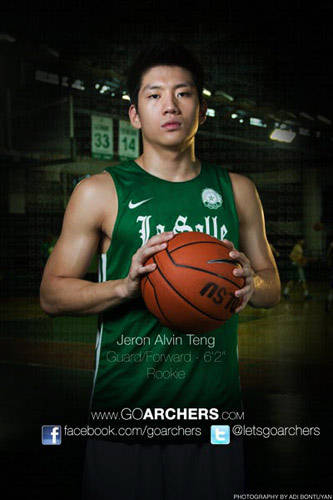 ADVERTISEMENT - CONTINUE READING BELOW
1. Jeron Teng (DLSU)
Move over Jeric, it's your younger brother's time to shine this year.
While sharing good genes with his brother Jeric (of the UST Growling Tigers) and his dad Alvin (former San Miguel Beer ace player), Jeron, who has been crowned by many as the new King Archer, managed to outshine both of them with his phenomenal basketball performance last season and during the Fil-Oil pre-season championships. This high scorer not only manages to lead his team to winning games but his charm and good chinito looks, no matter where he is (in court, on TV, on a glossy magazine), wins our hearts as well.
Girls, take note, his ideal girl is tall, sexy, and pretty.
Photo by GoArchers.com
Load More Stories