On the Spot: Jessica Hagedorn, bestselling writer and editor of Manila Noir
The award-winning writer launches an anthology that features some of today's best Filipino authors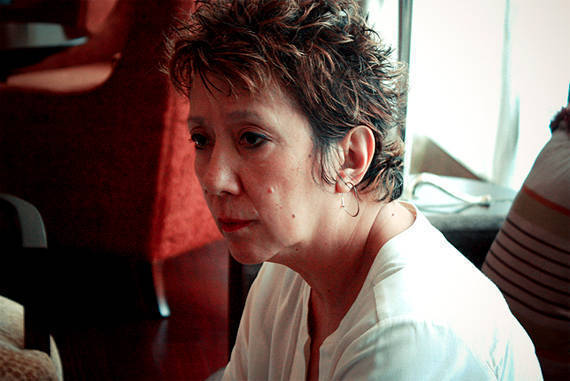 (SPOT.ph) Metro Manila, 2013. The sky is transitioning from ominous to bizarrely bright, a temperament that matches the city's personality. A woman has her back to the light that has been creeping into the flamboyant room, sitting like she has been in this space all her life. She reaches for a book from a pile beside her and grips a pen with telling familiarity.  She moves with precision, hand gliding over the first page as she writes a name. Her name. The mention of which might cause some discomfort to the timid. Because although her plain white top moderates her imposing stance, nothing can hide the universe inside this woman's head. She has her own story to tell about Manila but she knows that there are more. Hidden in the dark alleys and open spaces. They need to be told now, all at once. The city in all its grit and wit, contained in words.
She was born here but that was a long time ago and she has gone beyond that. Now she is someone you can identify not by geography but by passion and profession. She is a writer; it is she who defines places and not the other way around.
This is Manila Noir and she is Jessica Hagedorn. She won't stay long but she will leave a book for you to find... or be haunted by. She is here for the launch of the book, an anthology of stories set in various Manila neighborhoods, featuring writers like Butch Dalisay, F. H. Batacan, Budjette Tan and Kajo Baldisimo, and Lourd de Veyra. We sat down with Hagedorn and talked about writers, happy endings, and how Manila is still pretty much the same as it was in the 70s.
ADVERTISEMENT - CONTINUE READING BELOW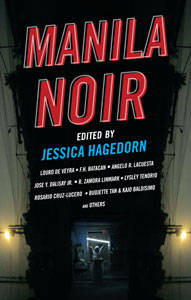 How did you round up this particular selection of writers for the book?
CONTINUE READING BELOW
Recommended Videos
I already had a list of people I had worked with before-a lot of the Fil-Am writers were in my Charlie Chan anthologies so I knew their work, I knew they were terrific writers and [each of them was] going to come up with  a story that was terrific, original, and well, they know how to work with a deadline. In terms of the local writers, I am a fan of Butch Dalisay's work and I know him in a professional way, so I knew I wanted to approach him. The whole Noir series is about original stories-they can't have been published previously. And it had to be short form. So you can't make it an open call; I [was] responsible for everything, I [was] working alone as an editor so I didn't have time to sift through stuff or ask people who maybe are great novelists but don't know how to do the short form.
ADVERTISEMENT - CONTINUE READING BELOW
I asked writers and lit professors I knew who travel back and forth [between the US and the Philippines] to recommend the new writers to me. "Bring me back some books; let me look at these new writers, and I'll choose." For example, F.H. Batacan is a crime writer; because I was like, "Aren't there crime writers in Manila? Because it's such a great genre." And they sent me her novel and I knew [she had to be in the book].
I could only do 14 [writers] so it was important for me to have a mix of the folks in the US and the diaspora and here-but all writing about Manila.
Did you have a certain vision or idea for how you wanted the book to turn out?
Well, it had to conform to the genre. Noir is kind of bleak and there's violence in it, there's betrayal-I know the genre well because I'm a fan of it, I'm a fan of the films and I think it's really, really powerful. I wrote to all the writers and I said to them, "Just remember: no happy endings." They're professionals. They're acclaimed writers. They know what noir is, so I just said, "You have to pick a neighborhood." What I was looking for was to have the city, in all its diversity and all its wide-ranging personalities, represented.
We read that the last time you were in Manila was in 2007. Had you been here before, or have you been back since?
ADVERTISEMENT - CONTINUE READING BELOW
Oh, a lot, before, but my parents have passed and my one brother has also passed away so there was less and less reason for me to come back.
Were you at all worried about how realistic your story would be, given that you hadn't been to Manila in a long time?
No, because I have such great connections and I have these really great friends who are writers who come here every year, sometimes twice a year, and there's nothing that you can get away from anymore. I read papers online, so I'm very in touch, but I also am a writer who I think has to trust my instincts. I don't know every little thing that's going on here, of course not. My nieces come visit me in New York and they'll say, "It's not like that anymore," and of course it's not. But sometimes I read papers online just to get a portrait of the city and you know what? Some of it hasn't changed at all. It's the same shit-politically, the headlines are the same.
What kind of picture of Manila did you have in your head when you were writing your story?
I was trying to keep my story grounded in the more recent memory of Manila that I have...but I'm a writer. That's my job. I'm not going to write a 1970s version of Manila. My task was to write a story that was set in present-day Manila. But people are still the same-they have the same class differences, [except] now they're dressed in Uniqlo.
ADVERTISEMENT - CONTINUE READING BELOW
I think language has changed, the outward things have changed, and who's running things has changed, as opposed to when I was a little girl. Maybe [those in power] just have different faces but it's the same-it's not just the Philippines I'm talking about. I think around the world, you're going to see a structure where maybe the players are different, but the dynamics are kind of the same. Now, Manila is certainly not the Manila of my childhood, but neither is New York the New York of when I first moved there. It's completely different.
What do you think you'll be doing during the free time that you have while you're in Manila? Are there new things that you would want to try? Any Filipino dishes that you miss?
It's the same in New York. I think the obsession with food is-enough already. I think food is taking the place of sex and drugs. It's now food, food, food. And I love food.  I've had bangus for two days straight, I love it. But I'd rather see my artist friends who live here, reconnect. Last night, my friends came and we walked across the street and I said, "I want more bangus...or something more Filipino," so they said, "Oh, there's this little place in the mall..." That's interesting to me, that everything's in a mall, which is kind of depressing, but that's okay. I accept. We couldn't even finish [what we ordered] but I wanted to taste every little thing.
ADVERTISEMENT - CONTINUE READING BELOW
Do you think there could be a Part 2 of Manila Noir?
Oh, they'd have to get me some help! It was great. I think there could be. I think people are really interested in this book, also because of the graphic noir that's in there that I was so excited about. Every review right now-so far-chooses that to talk about. It's so different and I thought it was so Filipino. What is quintessentially Filipino is visual, for me.
Manila Noir is available at National Book Store outlets for P395.
Share this story with your friends!
---
Help us make Spot.ph better!
Take the short survey
Load More Stories