Kobe Bryant on Recovery, Social Media, and Sage Advice for Gilas
"I'm not only on track...I'm way ahead of schedule."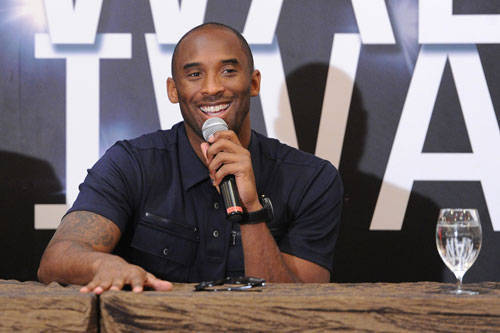 (SPOT.ph) Bad weather, and bad luck, marked his arrival-running into heavy rain at the airport in Beijing, getting delayed for two hours, and then arriving smack dab in the middle of supertyphoon Labuyo-but Kobe's an old hand at this. After all, he's already been in the Philippines five times before.
This time, Kobe Bryant was in town to promote his new smartphone endorsement, the Lenova K900, with a whirlwind one-day tour that saw him stop by Newport City and the Mall of Asia. The highly promoted event is backed by Lenovo's big tagline, "Walang iwanan," which Kobe also says-with barely a hint of an accent-in TV ads for the high-end smartphone. Before the big meet 'n' greets, however, he took some time to meet with the press. Read on for some highlights.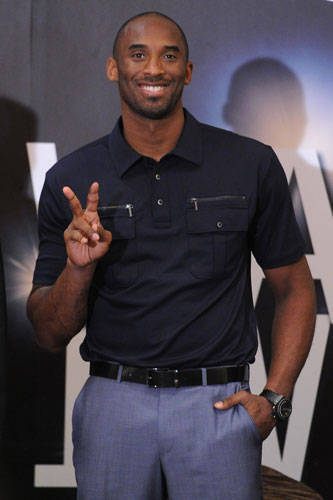 On what he loves about the Philippines: "[Your] passion for basketball, I think, is what drives me the most. The thing I enjoy the most whenever I come around is that there's so much passion for the game of basketball."
ADVERTISEMENT - CONTINUE READING BELOW

On the challenges facing him this season, compared to the last: "I don't know if it will be any more challenging than the last one. It was tough...we had a lot of injuries. It was stressful. I think I played every minute of every game for like six or seven straight games. That ain't easy, man. It was tough last year. Hopefully it won't be so tough this year. The big hindrance for me last year would be health. Then I think it would be chemistry. We've put some players together that fit very well together...hopefully that would translate into more wins."
CONTINUE READING BELOW
Recommended Videos
On recovering from last season's injury: "You have a dream, you want to accomplish something, then you have setbacks...you have to learn to get through it. If you continue to have setbacks, you continue to figure out how to get through it. It's the same thing with me. All of a sudden, this injury happens, and you're in a position, again, where you find yourself down. Well, I'm not only on track [to recovering], I'm way ahead of schedule. I'm doing very well."
On what spurred his quick rehabilitation: "Speedy surgery. Then I have a great therapy staff...my strength and conditioning coach as well. And I've been training nonstop. All summer long."
On doubters: "To me, if someone is doubting the fact that I can come back from this injury, it means that they had the same injury or the same situation...[and] they quit. They didn't think they would be able to come back. So when I hear that, I see someone's weakness. Me coming back, being stronger than I was before, hopefully will help the doubters see that you can actually accomplish anything that you think you can't accomplish."
ADVERTISEMENT - CONTINUE READING BELOW
On his recent "debut" in social media: "You're used to doing things a certain way, it takes a while to change. One day, I said, 'I might as well give it a shot.' One thing I said, though, is that if I do decide to do it, the most important thing about social media is transparency. You can't shy away from pressing tough issues, you can't shy away from being vulnerable. You have to let people see exactly what's going on inside your head and inside your heart. You just go out there and say what you feel. Some people like it, some people don't."
On the three things he wants to achieve next, ranked in order of importance:"Getting [a] sixth championship is number one. Then I would say, getting a sixth championship is number two. And then getting a sixth championship is number three."
On his advice for the Gilas team when they head for Spain: "It's not the strength of the individual. It's a team sport; it's [about] how well those individuals work together as a team. So just continue to work together, [with] constant communication, and when that happens, you can accomplish something truly special."
On his hobbies: "I love to swim, I love movies. I actually want to try skydiving. (Laughs) I'll keep that on hold until I decide to retire-the sixth or seventh [ring], whenever I decide to hang [my jersey] up! When I hang them up, I'll try the skydiving thing. I'll make sure I have a Lenovo, so I can record every second of it."
ADVERTISEMENT - CONTINUE READING BELOW
On what's driven him to keep at it in his career for 13 years and counting: "It's just the curiosity of how you improve, of how you get better. I don't look at it as, 'This is what I've accomplished.' I look at it as, 'How can I do better? How can I improve my game of basketball? How can I improve my defense? How can I improve this? How can I be better?'"


On what he wants his legacy to be: "The legacy of being a person who maximized his potential."
Share this story with your friends!
---
Help us make Spot.ph better!
Take the short survey
Load More Stories