On the Spot: Alexandria Crow, world-famous yoga teacher
The LA-based instructor was recently in Manila to teach a few classes, named by Urban Ashram Manila as one of the "best yoga teachers in the world."
(SPOT.ph) Alexandria Crow flits between posing for the cover of Yoga Journal, teaching yoga classes and teaching students to become teachers themselves, to traveling across the globe to spread the yoga love. This month, hosted by Urban Ashram Manila in their effort to bring the world's best yoga teachers to the country, she makes a return trip to Manila to spark interest in classes hinging on getting creative, while sticking to precise and proper alignment. Spot.ph sits with Alex to talk about how she came into making wellness her profession and how she's breaking every yoga stereotype, one by one.
Read our 15 Minutes with Bikram Choudhury, check out the 10 Best Yoga Studios in Manila, or 10 Yoga Classes to Try.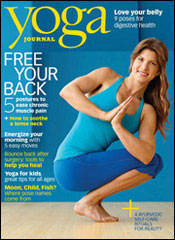 1. What was the biggest draw for you as far as yoga was concerned?
The physicality of it. Because I was a gymnast, I found that the poses were so closely mirrored in gymnastics and I don't like to exercise any other way. It simply didn't feel like exercise but it was.
ADVERTISEMENT - CONTINUE READING BELOW
2. How did you get into gymnastics?
My mother put me in it when I was two. I had no say in the matter! I did though, after the fact-I loved it, so I stayed and did it all through three years in college.
3. What are people's biggest misconceptions about yoga?
There's a lot of them. One, is that it's a religion. Two, is that you have to be flexible or that you have to conform to any of the stereotypes that people think of as yogis-chanting, vegetarianism, all sorts of things. Pretty much anything you can think of as "yoga," if you're not sure of what it is and you don't do it because of one of those myths or reasons in your mind, then it's probably not true.
CONTINUE READING BELOW
Recommended Videos
Fundamentally, all that practice is is learning how to pay attention to the present moment and realize that your mind is full of clouded thoughts that aren't real. Really, that's all it is. The poses are just a vehicle to get to that.
4. Do people get it though-that the physical practice is a vehicle towards staying in the present?
No, of course not. But I would never to explain it that way to a new practitioner either. To someone who's never done yoga before, the thing I would say is come and try it. I aim-and I'm not every teacher-but I aim to strip off everything that is extraneous or things that could be reasons why people don't do yoga. I leave out anything that I don't think is necessary, especially to a newer practitioner class. In a beginner's class, I strip down everything and teach simple poses and simple breath and make no mention of much other than that because all the stuff you need is in that.
ADVERTISEMENT - CONTINUE READING BELOW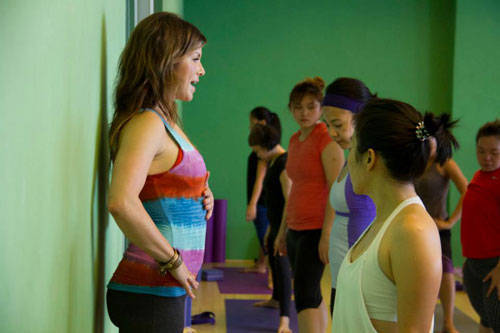 5. Do people box you in as a yoga teacher?
There's all kinds of cliches. When I was interviewed for My Yoga Works (www.myyogaworks.com), they asked me the same thing and asked me about which stereotypes I break. I said, "Every single one of them!" There's tons of them-you have to live in a hovel, you can't drive a nice car anymore, you don't wear makeup, you can't wear leather, you don't eat meat, you don't drink wine-there's just don't, don't, don't, don't, don't, don't, don't. And that's just not true at all.
You can completely keep who you are as long as you pay attention to why you're doing the things you do and if they're unhealthy and you feel that they're a detriment to you then you shouldn't do that, and if they're not, then you get to keep them. Anytime somebody points a finer to someone and says "Don't do that," I aim to point a finger back at them and say, "Who are you to say that that's the thing that's going to make you a yoga teacher or that means you're practicing?" You can be a vegetarian and be doing all those things and not be doing yoga at all.
ADVERTISEMENT - CONTINUE READING BELOW
6. What was your first class teaching like?
Oh my god, it was a nightmare. The first class I taught was in front of James (Brown), my teacher, and I barely remember it. It's not because it was that long ago but it was because I was so terrified that I pretty much blacked out the entire time! I know that I delivered a decent class because the sequence was prepared beforehand and I taught just that, but I mean, it's a long road-it doesn't come easy, being a teacher. I still change and grow every single time I get up in front of people.
7. How about the first class you ever took? What was that like?
It was actually a Bikram class in Tucson. I barely remember it except there was carpet and we did tree pose. That's all I remember, but I know I liked it. It was forever ago, when I was in college! I think there were two studios at that time, and that one was cheaper and I was a broke college student so that's where I went.
8. Have you had laugh-out-loud moments in class?
Every day! I laughed at you guys today-I laugh all the time. I laugh at myself, at the students, I laugh when I'm practicing, when I'm teaching. I don't take this seriously in terms of my behavior. I take what I say seriously in instructing and I take it very seriously how I sequence things and keeping people safe and teaching them the tenets of yoga. But I do not think it has to be presented in a way that is militant or boring, and I have a secret life where I really want to be a stand-up comedian so I laugh all the time and I try to make people laugh all the time.
ADVERTISEMENT - CONTINUE READING BELOW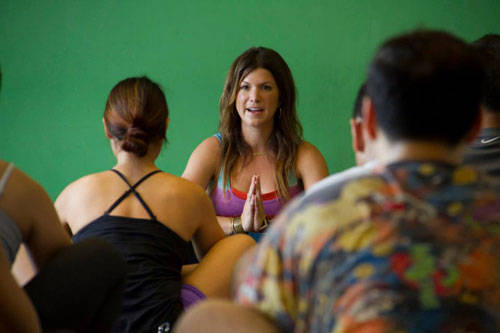 9. Do you ever practice with music? What's your go-to yoga playlist?
Oh yeah, I teach with music! The joke is that I like really depressing music. I try to play really ambient music that is reflective of music that I like and listen to so I don't have to compete and talk over it. A lot of it is the acoustic versions of Bon Iver, Radiohead or things like that. Then I play one really loud, annoying song with a beat and they just get to do whatever they like for five minutes and then it's back to doing what I like.
10. What's your guilty-pleasure yoga song?
Well right now, because it's everyone's guilty pleasure in the States, it's that damn Robin Thicke song, "Blurred Lines." But my guilty pleasure song from the past is by The Outfield. "Your Love"-it's a total '80s song-you'll love it.
ADVERTISEMENT - CONTINUE READING BELOW
Share this story with your friends!
---
Help us make Spot.ph better!
Take the short survey
Load More Stories