On the Spot: Melissa de la Cruz, New York Times bestselling author
We sat down with the author during her book tour with Alyson Noel and Margaret Stohl. Plus: An insider's look into their visit to Cebu!
(SPOT.ph) Filipino-American writer Melissa de la Cruz has made a name for herself by whipping up young adult novels that teens all over the world read ravenously. Moving on from summer nannies (The Au Pairs) and fallen angels-turned-vampires (Blue Bloods), the New York Times and USA Today bestselling author is back with a new fantasy series (Heart of Dread) co-authored by her husband Michael Johnston. Melissa chatted with SPOT.ph to reveal some interesting stories about her youth and her creative process.
Read on to page three for a behind-the-scenes look into Melissa de la Cruz, Alyson Noel, and Margaret Stohl's visit to Cebu, written by Town&Country Philippines editor-in-chief, Yvette Fernandez!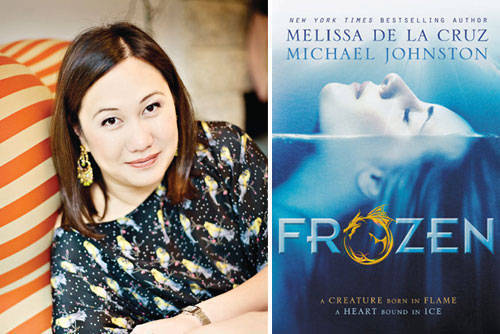 You were raised in Manila until you were 13 years old. Is this your first time back?
Yes, this is my first time [back] in 28 years. I feel a bit bad that it took me 28 years to come back, but I'm happy being here. I think it was just because when we immigrated, my parents really wanted us to assimilate and didn't want us to look back. They wanted us to go forward and be optimistic. I think it was a good decision, but then I felt like, couldn't we have gone back? It's definitely bittersweet in that way. I remember Manila from the '80s and it's so different now. And I think that actually makes me feel better? Because it's like, "Oh! My life went somewhere else. It didn't stop here."
ADVERTISEMENT - CONTINUE READING BELOW
Did you get to bring your family with you on this trip?
No, I didn't. I really wanted to, but my daughter's in first grade so it was a little hard for her to get out of school. And my husband and I, we've been traveling. This is like week number four of two months of traveling for our book, so he wanted to stay home and take care of her.
How do you feel about finally meeting your Filipino fans and signing books through National Book Store opposite two other best-selling authors, Alyson Noel and Margaret Stohl?
Oh! It's wonderful. It's the best. That is like the most enjoyable part of it.
CONTINUE READING BELOW
Recommended Videos
Growing up, who were your favorite Filipino authors and how did their books change your life?
I would say Jessica Hagedorn was a big influence because I'd never read something that was literary and Filipino. And I really related to her character in Dogeaters. It was just inspiring that she was a Filipino-American publishing in America.
Are there any Filipino authors that have caught your attention recently?
The woman who wrote When Elephants Dance-Tess Uriza Holthe. It was about World War II and the Japanese occupation.
Looking back, do you remember the first story you ever wrote?
I remember I wrote a book of poetry when I was eight years old, and I stapled it and gave it to my mom. She still has it!
That's so sweet! Has being Filipino ever influenced the way you write?
ADVERTISEMENT - CONTINUE READING BELOW
I think it's definitely part of my background. Blue Bloods was set in this kind of insular, elite, privileged world of Manhattan, and my dad always said New York was like Manila. With money. (Laughs) My dad was a banker and my mom was a little bit of a socialite, so growing up here and having that experience definitely just transferred easily to talking about the Upper East Side.
I wrote a book called Fresh Off the Boat about my experience as a Filipino-American immigrant. It was about the first year of our life, fictionalized.
Why did you decide to delve into young adult fiction writing?
That actually came later. I started out as a journalist, and started out in adult books. Then, my editor said that my voice kind of lent itself well to teens and asked if I would ever consider it. So I wrote the Au Pairs and I just loved it. It was the easiest writing I had ever done. And I say easy in a way that's easy for me. It's not something that comes naturally to a lot of people. I feel like a teenager. I feel like I'm stuck at 14. I remember that age so well. I sympathize with young people and I just never looked back. I enjoyed it.
When you conceptualize a story, do you immediately think of making it a three- or seven-part saga?
You know, I've always liked series books. I remember those as a child. I liked Sweet Valley High and even Flowers in the Attic. I really liked stories that continued.
ADVERTISEMENT - CONTINUE READING BELOW
How important is reader feedback to you? Have you ever changed the way a series ended or tweaked a subplot because of the fans' reaction to it?
No, not at all. I think writers can't do that. You write for yourself. I'm going to steal Alyson Noel's line and say that what readers think they want to happen is probably not the best for the book. I think if you respond to reader feedback then you're kind of writing fan fiction. So it's nice when people like it. I really enjoy it, but I don't think you can really allow that into your process.
How does your six-year-old daughter feel about having a mom who's a famous author?
We live in LA. Her friends-their parents are like directors, writers, producers, and designers-so I think she just takes it for granted. It's a little bit scary 'cause it is like everyone's mom's friend has a TV show or a movie, so maybe she's a little spoiled in that way. [But] I think she thinks it's pretty cool. She's pretty proud of us.
Speaking of TV, how excited are you about your book Witches of East End being developed into a TV show?
I picked the producer and met with him. I kind of feel like you pick the person and you kind of give him permission [to do anything], so I really trusted him. I liked the stuff he had done before. He had done I Am Legend, Constantine, and some really great sci-fi that I enjoyed. After doing that, I was just excited for the whole ride. It has just been really easy and [with] no anxiety. I just enjoyed being part of it and meeting the cast. Everybody who's working on it is lovely. It's been a really wonderful experience. A little surreal.
ADVERTISEMENT - CONTINUE READING BELOW
Would you be making a cameo appearance in it?
Not the first season. (Laughs) Hopefully at some point!
What did you think of the casting?
You know, it's funny. When I saw the cast, I was like, "Oh, yeah. Cool!" I thought it was so great.
Didn't you feel like actress Julia Ormond seemed too young to play the two leads' mother?
Oh, no! I kind of liked that kind of vision. 'Cause I imagine Joanna Beauchamp as like a sexier, older kind of lady so it was really exciting. And Jenna [Dewan-Tatum] is awesome-she is definitely Freya. Rachel [Boston] is so sweet and just personified Ingrid. They are just all perfect and awesome.
How easy or difficult was it working on Frozen (the first book in the Heart of Dread series) with your husband, Michael?
Oh, it was really easy. It was actually fun! We're really enjoying the process. Frozen is our baby. We worked on it for five years [while working on other books]. It had a long gestation. We had a lot of conversations on Frozen about the environment, epic fantasy, science fiction... There's so much in the books that actually comes from reading what's happening in China, Russia, or Syria. A lot of it is actually realistic-[what readers find] so outrageous. But those things are actually here in the world. Most of them happened.
How extensive is the research you do before starting on a story?
Oh, a lot! That's why it takes five years. 'Cause we spend like maybe just two years talking about it and researching.
ADVERTISEMENT - CONTINUE READING BELOW
When can fans expect the Heart of Dread sequel to come out?
Probably next year. We're working on it now. I would say that we'll see Nat and Wes again, but there will be an interesting way that they come back together. It's probably not what people expect. Like if you have a boyfriend and then you go away for Christmas or summer. When you see each other again, it's a little bit different.
Author photo by Denise Bovee, courtesy of National Book Store
Time Out with NY Times Bestselling Authors
By Yvette Fernandez
Three New York Times bestselling authors-Melissa de la Cruz, Alyson Noel, and Margaret Stohl- all on one stage in Manila. What a coup.  When I found out they were going to be speaking at the International School Manila early Thursday morning, I managed to wangle an invitation from sponsor National Book Store to listen to them speak.
It was an interesting, freewheeling chat with eighth and ninth graders. Margaret Stohl, co-author of the Beautiful Creatures series  (Amazon.com named the first book the  #1 teen book in 2009), talked about how terrible she was at Math, but how she overcame that hurdle by finding something she could excel in. "No one is terrible in everything!" she said.
Melissa de la Cruz, who with her family left the Philippines at age 13 in 1985, is the author of the Blue Bloods series, which has sold three million books worldwide.  "I felt so isolated and miserable in my new school in San Francisco, and later I put all that feeling into my books."
ADVERTISEMENT - CONTINUE READING BELOW
Alyson Noel, who has sold about eight million books worldwide, translated in 37 languages in over 50 countries, said growing up poor ("I got my first job at 12 and I've been working ever since.") pushed her to forge on with her writing in spite of all the obstacles she faced, no matter how many times she got rejected.
I myself was inspired along with the 14- and 15-year old students, and I went up to chat with them after the panel.
"We're off to Cebu for dinner tonight to have pig. Are you coming with us?" asked Alyson.
I laughed.
"Why not?" asked Margie. "Just do it!"
They were serious.
"But I have to go to work," I said, hesitantly.
I checked in with the office to see if I could do my work remotely, and I was told that yes, I could work on documents via e-mail, so that was no excuse.
"You coming? It'll be fun," said Mel.
"Well, if I can get a seat on the same flight, and if it won't cost too much to get a last minute ticket..." I said, tentatively. "And I have to cancel a few appointments..."
Soon I was on the plane with them to Cebu!
It was probably one of the most impulsive things I've ever done in my life.  Quite sad, but yes, I must admit I'm quite square.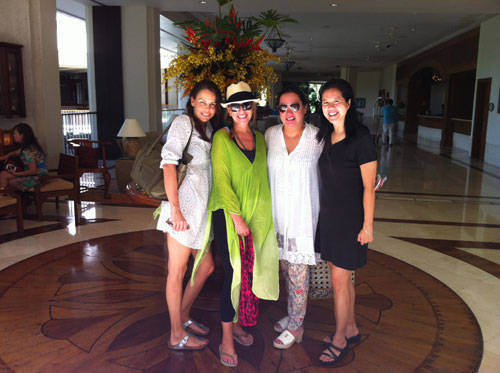 ADVERTISEMENT - CONTINUE READING BELOW
Margaret Stohl, Alyson Noel, Melissa de la Cruz, and Yvette Fernandez
We were soon ensconced in the plush environs of Shangri-La Mactan.
"Now this, right here, right now, this is what life is all about!" said Alyson.
"How could I have stayed away this long?" asked Mel.
"I think I may even have some pig," said Margie, who has been vegetarian (and sometimes even vegan) for years.
And she did. When Margie heard Marketmanila's Joel Binamira slice into  the crackling skin of the splendid Zubuchon that had been roasting for hours on a spit, she had to have a taste. It didn't matter that she had just seen its brethren hobnobbing at a pen nearby.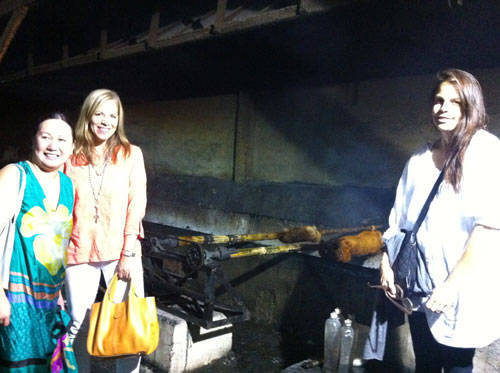 Cebu lechon!
Joel had prepared a menu that Magellan had eaten (according to documents by Pigafetta) when he sailed to the Philippines in the 16th Century. Kilawin, roast pork belly, crab, grilled fish, fingers of millet, biko, various pickled fruit atchara, among others, washed down with a sweet-sour kamias shake. It was drizzling so we sat under a tent beneath some old trees, the table laden with flowers and lit with candlelight.
ADVERTISEMENT - CONTINUE READING BELOW
Anthony Bourdain had called Joel's lechon "the best pig ever," and the three authors heartily agreed.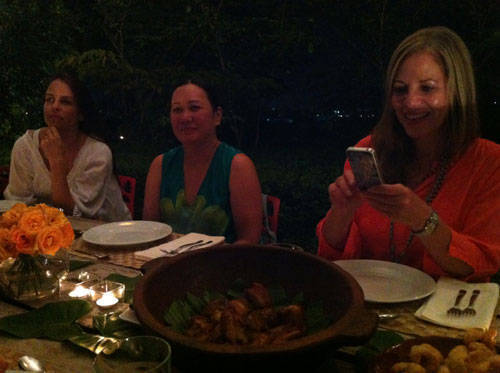 Dinner was a feast
The next day everyone was up bright and early, lazing on the beach. The dark clouds from the night before had since disappeared, and the horizon stretched on forever.
Mel and Alyson were charmed by the tiny tropical fish that circled them as they swam through the luxuriously warm, clear water.  Margaret, meanwhile, sipped a smoothie beneath a beach umbrella.
"Most fabulous book tour EVER," they all agreed as we headed off for massages at the Shangri-La's CHI spa.
Share this story with your friends!
---
Help us make Spot.ph better!
Take the short survey
Load More Stories