On the Spot: Gayle Forman, Author of If I Stay, on Writing and Being a Writer
Gayle Forman offers valuable advice to struggling young writers
(SPOT.ph) In movies, writers are almost always portrayed as gloomy, unsatisfied, morose, and mildly neurotic. Often with a cigarette and cup of coffee in hand, we imagine them hunched over a cluttered desk with crumpled pieces of paper everywhere. Gayle Forman, at first glance, doesn't fit that image. She's filled with the energy of summer (laid back but bursting with life) and a restrained sense of confidence that comes from people who know certain secrets about the world.
During her brief visit to Manila to do a book signing at National Book Store Glorietta on January 18, she sat down with us and shared those secrets.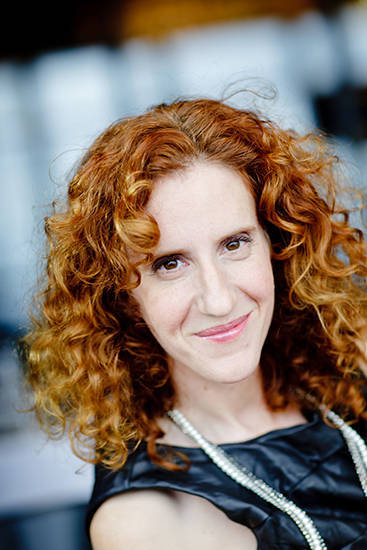 In your latest book, Just One Year, you talked about accidents and how they shapes people's lives. Did you by chance become a writer by accident?
I did become a writer by accident! It's funny that you phrase it that way! There are certain people who knew what they want to do from ye high [gestures to show the height of a small child] and for me, I kind of fumbled my way through journalism and then into fiction writing.
ADVERTISEMENT - CONTINUE READING BELOW
How did you shift from journalism to fiction?
I had been a journalist for about 12 years. I traveled and wrote a non-fiction book...and then I came home [to America] and I had a baby. We bought a new apartment and it was a bit more expensive than we initially thought it would be. We could not make ends meet and I could not find any magazine work, plus I had all of these pieces killed. I was freaking out. I called my agent and I asked her for anything, including ghost writing, because otherwise I wouldn't be able to make it. On a Thursday, she called me and she said that she had this young adult project that requires a ghost writer but it might not make much money.
CONTINUE READING BELOW
Recommended Videos
As soon as she said that-of course, I have been writing for young people for years-I thought about a story that I had written maybe 10 years ago that I had never forgotten about. It's about these behavior modification boot camps, like private prisons, where parents send their children believing that they're helping them. Kids get sent there for drinking too much, smoking pot, ditching school, and also, for being defiant, for being overweight, and even being gay. When they get to the camp, they're treated poorly. It's not therapeutic and it breaks them down. Within the first four days, I had the first 12,000 words of Sisters In Sanity written. That was my "aha!" moment and I knew that this is what I wanted to do. Not journalism, not adult novels. I wanted to write young adult books.
ADVERTISEMENT - CONTINUE READING BELOW
What was it about writing for a younger generation that clicked for you?
I love writing for the younger generation because they are just so completely generous and enthusiastic, and I knew that from Seventeen. But it's not just that, because I didn't know how they would react to my book. People find it hard to believe that Seventeen published the kind of articles that I wrote but they did. They were about international social justice issues, very nuanced, with all those shades of grey, but written with a conversational tone.
I'm not going back to high school when I'm writing YA (Young Adult). I think when you get older your emotions tend to be calcified. However, I think deep down, we feel the same things but we think that it's inappropriate to give in to them because they seem childish. You're numb to them and you hide them, but here, in YA, you're allowed to express the sentiments that you're grappling with in a less veiled way. I think in life, you're constantly coming of age. Life is a series of adjustments and calibrations. It doesn't stop.
There's a chapter in Just One Year where you have characters (Willem and Kate) discussing the nature of accidents. One of them argues that accidents aren't really accidents and that a person's will is still at play. Is that true for getting published?
If you're talking about the role of accidents or luck, it very much comes into play when it comes to books. I mean, you walk into a bookstore, you see the thousands of titles. You've never heard most of them and you'll never read most of them. Is it because they're all inferior books that you wouldn't like...or is it because they haven't broken through? Maybe it's a bit of both? But anyway, the books that do break through, they break through for a bunch of reasons but there's always an element of just alchemy and strange timing.
ADVERTISEMENT - CONTINUE READING BELOW
When If I Stay came out, it got optioned for a film by the studio that made Twilight. And then Twilight became this huge hit. Cathering Hardwicke came on as a director [for If I Stay] but she wound up leaving the project but that alone got the book attention that it otherwise might not have gotten. A lot of people read the book and reacted to it. If it had come out a different time, if [Hardwicke] wasn't attached to the project, if Twilight hadn't been so big...would the book, which is the same book, have the same impact on people? We don't know.
Traveling is such a strong device in Just One Year. Do you feel like seeing the world offers an advantage to people who have that privilege?
I did a lot of traveling but the thing that I love most about traveling is sometimes surprising. It's not about seeing beautiful places or tasting new cuisine. I mean, that's nice...but it was more about meeting people and discovering universality.
The other side of it is being thrown out of your comfort zone. At the time that you're [traveling], this sucks and you'll be asking yourself, "Why am I doing this? I'm so miserable. I hate this." The thing is, every time you go out of your comfort zone, you adjust and you expand your comfort zone. You feel more at ease with more things.
My husband and I traveled for a year in 2002. The best part of that was for an entire year, I felt like an asshole. I was always a stranger in a strange land, I was always lost, I didn't know how to do things, I was getting ripped-off, and I was a complete idiot, but you hit a point where you stop caring. You lose your self-consciousness.
ADVERTISEMENT - CONTINUE READING BELOW
Obviously, traveling is not accessible to everybody, but expanding your comfort zone is something you can do anywhere. Do things that make you uncomfortable and it'll feel weird for a while, but it will help you grow. It also helps you be more empathic, and seeing things from someone else's perspective is important to writing.
Do you always agree with the perspective of the characters in your stories?
There's this quote going around, from Just One Day, said by Allyson, "We are born in one day. We die in one day. We can change in one day. And we can fall in love in one day. Anything can happen in just one day."
You can see this quote everywhere on the internet and I disagree with it. I do think life can change in a day but more importantly, what I wanted to show with these books is that, yes, the catalyst for change can arrive within a day...but actual change takes work. In Willem and Allyson's search for each other, they are pushed to resolve things about their personalities...so it's more about growth than romantic love.
Forgive us the cliché but we have to ask, what's your advice to struggling writers who haven't had that lucky accident yet?
Always move on to the next and make it about the work. There's very little that you control in the publishing industry. All that you control is your own work. It has to be about the work and this may sound frustrating but all that is somehow ameliorated by the satisfaction you get from actually writing. If you're not taking satisfaction from actually writing, then you have trouble.
ADVERTISEMENT - CONTINUE READING BELOW
Don't worry about anything, just write the story that is burning to come out of you. That energy and passion will translate to the page, just make it as good as you possibly can.
Gayle Forman is the author of If I Stay (P345.89), set to be released as a film starring Chloe Grace Moretz. Her latest book, Just One Year (a follow-up to Just One Day, both selling for P495) is also available in National Book Store branches nationwide.

Share this story with your friends!
---
Help us make Spot.ph better!
Take the short survey
Load More Stories