On the Spot: Jason Crandell, Traveling Vinyasa Yoga Instructor
How did a skateboard-riding ice hockey player end up teaching yoga?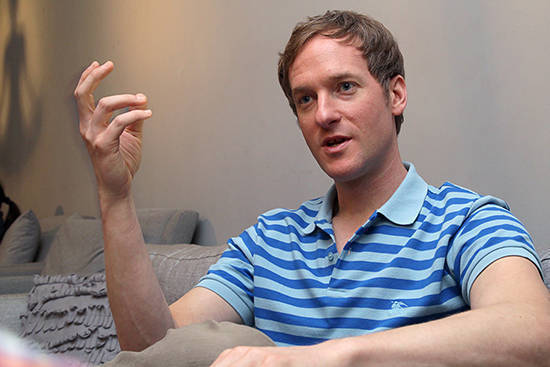 (SPOT.ph) "I came here at the perfect time," yoga teacher Jason Crandell said, referring to the cooler weather we've been having in the country for the past month. Crandell has been named by Yoga Journal as "one of the next generation of teachers shaping yoga's future." He mainly teaches vinyasa yoga, but applies his technique cultivated by his strong background in Iyengar yoga to every lesson and his practice.
ADVERTISEMENT - CONTINUE READING BELOW
CONTINUE READING BELOW
Recommended Videos
Crandell teaches at yoga conferences and holds international workshops every year, among others. For 2014, he's slated to hold more workshops overseas, such as a European tour in April and will also be teaching at the Asia Yoga Conference in Hong Kong in June. He was in Manila from January 24 to 30 to share his practice with the teachers and students of Urban Ashram Manila, and we sat down with him briefly to chat (and meditate!).
How was your yoga-teaching experience in Manila?
My experience has been so good. It's really interesting to be here for a couple of reasons. I've taught a lot in Asia, and I've taught students that are fluent in English. But I've never taught this many students that are this fluent in English. I'm a very verbal yoga instructor, and I try to make things very clear and precise. I feel very comfortable here on that level, because I don't have to work with an interpreter there isn't that layer of the teaching being lost in translation.
ADVERTISEMENT - CONTINUE READING BELOW
The students are incredibly attentive, sincere, engaged, and personable. So it's a really warm, comfortable place for me.
What brought you to yoga?
I had one credit hour at the university to finish, and the only department to offer one credit hour was Kinesiology. So my girlfriend at the time invited me to do yoga. I was very resistant to it, because at the time, I rode skateboards, listened to punk rock-it didn't feel like a cultural fit. But she convinced me. Yoga was really hard and uncomfortable for me, but it felt really good afterwards.
Did you immediately jump into yoga after that?
After I took that class, I tried to quit. I was so culturally identified as someone who didn't do yoga that I tried not to do it, because I was more macho, I wanted to play sports [editor's note: he played ice hockey for 15 years], I didn't want to lose what I perceived as that part of who I am. But after being exposed to yoga that whole semester, my body craved it. So I continued to immerse myself in the practice.
ADVERTISEMENT - CONTINUE READING BELOW
How long until you decided to teach?
I've been practicing yoga since 1997, and I started teaching a year and a half after I started. There weren't many teaching training programs at the time. Back then, a lot of teachers would just invite their students, the ones they trusted to embody the teachings of yoga, to teach.
What was your first class like as a teacher?
Terrifying. Teaching requires much more mental focus, it requires communication skills, and it allows you to be very vulnerable. You never know what the students think of you. My first class was funny. It was Introduction to Ashtanga, and it had two people. One had never done any yoga, and the other was an advanced Ashtanga yoga practitioner. That was a really raw introduction for me. But that happens in every class; all students are in different places or levels. Teaching yoga is rewarding but very dynamic-you have to deal with different people, personalities, and skills at the same time.
ADVERTISEMENT - CONTINUE READING BELOW
What's been the most rewarding experience for you as a teacher?

Basically sharing what I care about and express the teachings that are so valuable to me. I like traveling and engaging with people about what really matters to them. I get my satisfaction from the relationships that I build and having a job where I get to express myself. I'm also happy that what I teach makes people feel better in their lives, helping them alleviate suffering and be more comfortable with themselves.
What do you try to bring to every class?
I try to bring power, precision, and mindfulness. I want students to get a little bit of a workout, use their muscles, and challenge themselves. I also want them to learn enough technique for them to know that they can do this for a long time and build a sustainable practice. And for the mindfulness side, I want to teach students to pay attention to how their mind is responding to what they're doing, if they're happy when they're doing something, or frustrated, annoyed, distracted, or judging themselves or others. Yoga involves training yourself to be aware of what's going on inside of you.
ADVERTISEMENT - CONTINUE READING BELOW
You were here for just a few short days, but what did you manage to see?
As a traveling yoga teacher, I often miss many of the sights, but what I get to see is how people work and live, and I get to interact with them in a really deep way. I don't get the perspective that tourists get, but I get to see more of the culture and how people live. For me, that's an extremely satisfying way to see the world.
Load More Stories