On the Spot: 10 Questions for Filipino Novelist Gina Apostol
"People go around saying-gaah, Filipinos don't write novels. We write novels. People don't read them is all."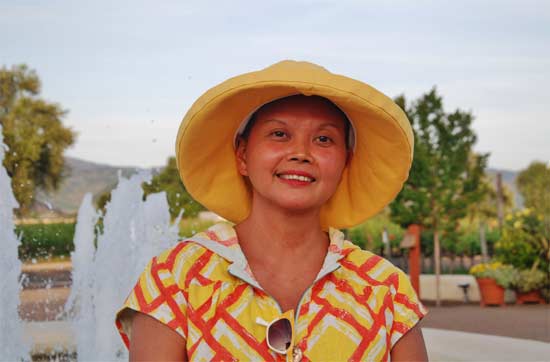 Cancer has not dampened Apostol's creativity. Photo from her Facebook page.
(SPOT.ph) She won the PEN Open Book Award for her American debut, Gun Dealer's Daughter, on the day she was diagnosed with cancer. New York-based novelist Gina Apostol, who is currently in Manila, discusses the medicinal properties of Boy Bawang and bibingka, our unfinished business in our politics and history, and how typhoon-ravaged Tacloban, her hometown, may become our future if we ignore climate change and ecological destruction.
1. You were born in born and raised in Tacloban, educated in Manila and Baltimore, and you live in New York where you teach in a prep school. How do you keep connected to the Philippines?
I am on Facebook! What other kind of commitment to the Philippines can I show, if not by liking posts about Vhong Navarro's foods and Kris Aquino's hairstyle? I look at everyone's selfies, since we are the capital of selfies. In any case, I have yet to write a novel set completely outside of the country-and which does not have at least one crazy Waray. And I am obsessed with Philippine history, especially the stuff we prefer not to talk about. So, no one likes to talk to me at dinner too much.
2. When did you decide to become a fictionist?
I looked up the courses at UP Diliman that had only one Math requirement. I chose between two: European Languages and English, major in Creative Writing. In a French class, I ended up talking about the problem of les squatters while practicing le subjunctif, so I quit Euro Lang. In creative writing classes, I became obdurately interested in fiction, but only fiction-I hated poetry, because mine were so bad. And the first novel I wrote, Bibliolepsy, was all about that time in Diliman when I first got kind of manic about books. Fun to write and fun to live through.
ADVERTISEMENT - CONTINUE READING BELOW
I loved being at Diliman, and the nostalgia its landscape evokes has offered me settings for two of my novels. But maybe if I had gone to UST, I would have had nostalgia too, about those buildings with the weird Gothic pillars, and of course the fact that they still stop for the Angelus at vespers, I think. I am a complete atheist, and yet I like the prayerful antiqueness of UST. So Diliman just happened to be an origin ground for fiction: contingent but not necessary, but as we know the contingent does endure.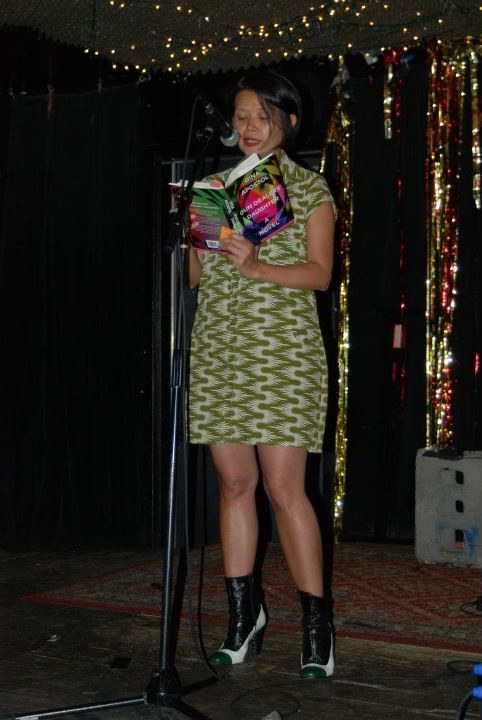 CONTINUE READING BELOW
Recommended Videos
The author does a reading of Gun Dealer. Photo from ginaapostol.wordpress.com
3. Could you say more about the social classes during the Marcos era and why they're still relevant now? The heroine of Gun Dealer, Soledad Soliman, is the daughter of a wealthy Filipino family that grew rich by selling arms to the Marcos regime. It seems the Filipino middle class and elites in your novel are witnesses, participants, and critics of government corruption and military violence.
ADVERTISEMENT - CONTINUE READING BELOW
Well, they sucked-the elite. The Marcos elite killed people, and they are still walking around, zombies that will never die. I should write a zombie novel about oligarchs, but that is just the news. As I have said before, you could have a Filipino horror novel with just three words: Juan Ponce Enrile. The end. To think of all the smart technocrats who upheld that regime: they are a who's who in contemporary Filipino intellectual life. No one went to jail. It is possibly because the people who upheld that regime are also our aunts, our ninangs, our cousins, our grandfathers, the people who pay us for our votes. Everyone is connected somehow to the dirt and scum of the Marcos years.
We are all in a way complicit. But some are more guilty than others. The political drama after Yolanda-Aquino/Romualdez, for instance-seemed almost like a denouement-a plot twist-crafted from the lack of closure we actually have regarding Martial Law. We didn't get justice-so instead we got melodrama. And the dead of Yolanda become the collateral corpses of unfinished business. People starved because the aunt of the one did not go to jail for the murder of the father of the other. Everyone in Tacloban knew at heart what the drama was, but all we could do was watch. And yet everyone knew the horror outside was the point. The horror of what happens to the rest of us always gets to be beside the point. All the young men and women in the killing fields of Martial Law. No one has gone to jail for their deaths. Though we have a history of unsolved murders that bedevil us, going back to Andres Bonifacio, if you think about it.
ADVERTISEMENT - CONTINUE READING BELOW
That was what my novel was about-the way we live with the lack of closure, justice for the unnamed that does not get done. I am fascinated by the way we live with unfinished business. I think it creates our heightened responses to political moments, where there are other layers of business behind, say, Tito Sotto's plagiarism or righteous anti-RH idiocy-psst, Pepsi Paloma-or, of course, Juan Ponce Enrile's continuing existence.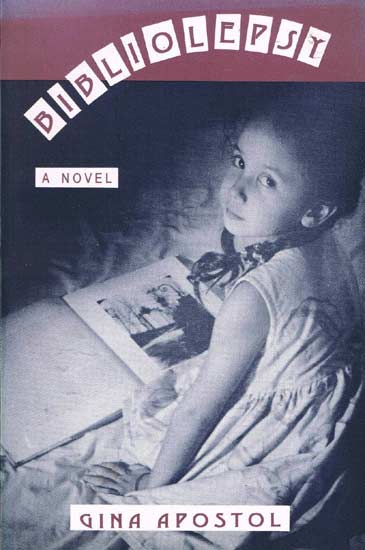 "The first novel I wrote, Bibliolepsy, was all about that time in Diliman when I first got kind of manic about books."
4. There's a lot of wordplay and absurd scenes in Gun Dealer. An American counterinsurgency expert wears a barong and looks like "a sorry piglet in piña fiber." And there's a Christmas party scene in the Soliman mansion that describes a French consul arriving "with two tarts, one chocolate, the other Cambodian, a gorgeous boy in velvet and feathers." Why include humor in a Filipino novel about Martial Law?
ADVERTISEMENT - CONTINUE READING BELOW
Haha, why not? Marcos himself, or his henchmen, created hysterical slogans-allying himself with history and revolution. "May Bagong Silang" may be a kind of pun on the historical Renacimiento, the great American-period newspaper [that was effectively shut down by a libel case]. We lived with fear, but also gross and constant irony, not to mention absurd scenes, under Martial Law. Imelda Marcos singing dahil sa iyo, ako'y lumigaya- what weird reality and ironic truth is there in that? She certainly became maligaya, all the way to the Swiss banks. And what is more terrible is that she is still not in jail and free to read this interview. Except I am still unsure if she is literate.
The problem of living with fear and irony all the time is that it is also by deflection that you survive. Humor is a deflective weapon; and puns, word games are our forms of criticism that give us release but also deniability. I would not call it passive aggression, because speech is quite active. And humor is a direct address-someone has to be in on the joke: the joke does not exist without the one who laughs, or is pikon. So it is intimate but aggressive. For instance, beki language could be called a form of warfare, exclusion, self-defense. But it also declares camaraderie among those who share it. So our joking makes sense in an oppressive regime. We relieve ourselves from the system's indecency and vileness with puns-and gossip. But, of course, wordplay is not as satisfying as justice.
ADVERTISEMENT - CONTINUE READING BELOW
5. Do you have certain authors whom you reread or turn to so you can study their language or form? Who are the authors you'd recommend for young Filipino writers?
Well, Gabriel Garcia Marquez just died. Maybe reread him for the way his prose style was always part of his storytelling-not to imitate him but to recognize he was not a man who relied on cheap wit for grace: you can't just quote a line from Garcia Marquez, you have to quote a whole paragraph or maybe even a scene. Study the translations of Garcia Marquez not for plots but for the way his sentences are always embedded in the scene. Then study Jorge Luis Borges for how he does summary. Geez, what a craftsman of the precise-you see, Borges, perhaps, seems to tell, not quite show, and he is just as marvelous as Garcia Marquez, who shows, rarely tells. So it is not that you show, don't tell: you should know why the hell you're doing either.
I'd also read as much Filipino fiction and nonfiction as possible-especially the very careful ones. I just finished Kerima Polotan's Hand of the Enemy and Carmen Guerrero-Nakpil's first volume of her memoirs. I've also just read Sabina Murray's first novel, Slow Burn- slim, but what sharp pitch. And she was only 20 at the time. The book did a lot of nice things with a monkey: so craftily minimal the monkey functioned maybe on at least eight levels. Now I am reading Ichi Batacan. Not yet done. Lovely, astute, careful writers. Of course, they are women. I'd really like to read the old ones, Juan Laya, Zoilo Galang. I just bought Clodualdo del Mundo-[who's also the renowned scriptwriter of Lino Brocka and Mike de Leon, among others]. Good to know our own prose, where we come from. We have a good solid history of fiction, for instance; but for some reason, we think we don't. So people go around saying-gaah, Filipinos don't write novels. We write novels. People don't read them is all.
ADVERTISEMENT - CONTINUE READING BELOW
6. You love Filipino food. What are your favorite comfort foods after hours of writing or teaching?
Thank you, Bino Realuyo, who sent packages of Boy Bawang from Queens during my chemo. Boy Bawang is a perfect toxin. And roscas, the Barugo, Leyte, cookie that's shaped like a gun. My sister mails bagfuls, and I never share them. So you don't know what it is. And I wish I could get good taho in America, but you need particularly pungent diesel pollution for that. I am crazy about Romy Dorotan's and Amy Besa's bibingka. Actually, anything that Purple Yam in Brooklyn makes. They're artists, coming soon to Malate. Fried chicken I get at Maharlika, in the East Village. I can walk to it from my apartment in the West Side now. Yay.
7. Did your struggle with cancer influence or change your current writing?
Well, chemobrain is weird. Gaps and ellipses in speech, just like our ways with history. Haha. I wrote throughout my diagnosis and my treatment, because I am unimaginative-the only way I have around inactivity is to read or write. I mean, I read history books about American surveillance practices during the Fil-Am War in the toilet. So I am very suspicious of my chemobrain, and I wonder what my novel will sound like to me when I actually read the typos and weird gaps six months on.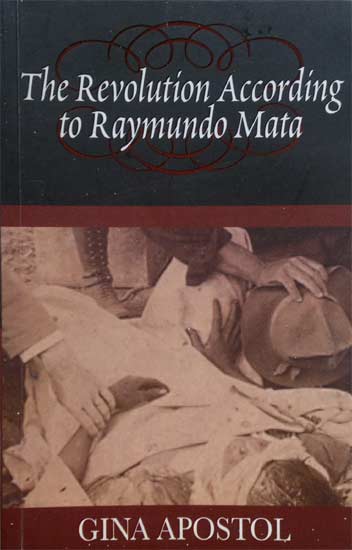 ADVERTISEMENT - CONTINUE READING BELOW
Historical trauma as fiction in The Revolution According to Raymundo Mata
8. You are known for your excellent fashion sense-mixing high and casual fashion, your asymmetrical bob haircut, and your signature red lipstick. Did you have any concerns about how to dress while you went through chemotherapy the past winter?
No, because I never went out. I did not even know there was a polar vortex. I was in quarantine. Avoiding germs. Writing about Balangiga. I thought about fashion in Balangiga though. Officers wore mohair collars. And the camisa dresses of the women apparently drove the GIs nuts. Maybe even killed them. Massacred for looking at flimsy outfits. Well. Beh, buti nga.
9. Could you tell us about your work with the recovery projects in Tacloban, after typhoon Yolanda/Haiyan?
That is an entire essay, because in Kusog Tacloban, the group we organized after Yolanda, we are constantly confronted with need or generosity. We just got a huge shipment of bras donated by H&M-some had weird sequin beadings on them, but, hey, it was free and brand new-and we had a breast cancer awareness day at UP Tacloban when we distributed them. Great volunteers on the ground, like Angie Lopez, tirelessly make things happen. Right now, though, our big push is transparency and aid watch-talking with different groups, say, the Presidential Communications Office, or a reconstruction official, or barangay captains, or NGOs-about the best standards for rebuilding, including communication and empowerment standards, so that people feel less helpless and more proactive about the changes that, of course, seem to happen to them rather than come from them.
ADVERTISEMENT - CONTINUE READING BELOW
I am very scared. No one can do enough-it's a long and arduous haul, and all of us need to be vigilant that rebuilding addresses the needs of people and not of the politicians who are running in the next elections. So I hope not just more humor and wordplay are coming our way as we brace for tragedies and heartache to come. I really hope not. I work with Kusog Tacloban so I am not merely hoping.
10. Your recent novels seem to return to historical traumas in the Filipino imagination: Spanish colonialism in The Revolution According to Raymundo Mata, and the Marcos regime in Gun Dealer. Yolanda is a new trauma. Does this calamity show up or affect your current writing or work?
Well, the minute I saw the pictures, sadly, even as I was looking desperately for my family on strangers' YouTube videos, I already knew I had been given the ending for my [next] novel, William McKinley's World. I am doing the Fil-Am War-an astonishing blind spot in our history. And I hate to note that writers are terribly, horribly opportunistic. It's a shameless reality and inescapable curse-that the world keeps being fodder for fiction. I knew that the trajectory of history I was studying, the occupation of the Philippines by America in 1901, leads right to the planetary damage that is Yolanda. I was doing the Balangiga incident-and, of course, Balangiga was one of the towns of Yolanda's first landfall. I mean, I did not blink-chemotherapy was rushing through me, it was my first session of chemotherapy, the day Yolanda hit-and all I could think of was my novel: this is the ending of my novel: how our apocalypse of memory is upon us, it is happening right now-and yet the mystery for me remains, an open wound for us and for my novel.
ADVERTISEMENT - CONTINUE READING BELOW
I've been rereading history, but the question remains, who are we to blame? Or maybe: why do we survive? Again, I imagine the answer is complex-and our complicity, the role of the reader in the novel of our country, makes the question difficult to face. The horror of Haiyan also is that it gave us a glimpse of what man's extinction looks like. Sorry, but that is so. If we do not respond to climate change, we are gone. But it also makes us, the Filipino, painfully relevant, in a world that must deal with the planetary ravage Tacloban embodies: the history of global disaster, wrought by greed, not just our own, that the Philippines faces, every day.
Nerissa S. Balce holds a doctorate on ethnic studies and teaches at the State University of New York at Stony Brook.
Share this story with your friends!
---
Help us make Spot.ph better!
Take the short survey
Load More Stories