Love Game: Top 10 Hottest Tennis Players
Also known as the 10 great reasons to watch Wimbledon 2014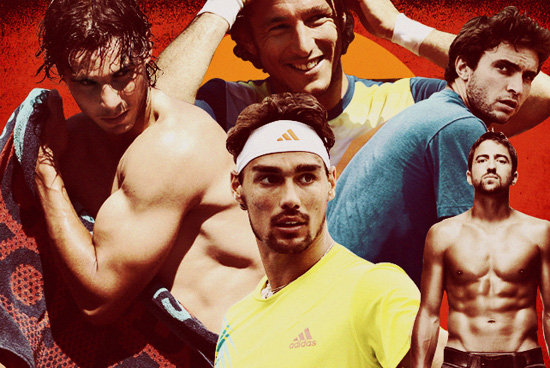 (SPOT.ph) This isn't about how good they are in the court. That would have been much simpler: all we would need is to look at their stats, see how many tournaments they've won-and that's it. But how do we measure the many hearts they conquered with that determined look in their eyes? How do we even begin to consider which well-sculpted arm we want to hold most?
It's not an easy task...but laboring over this list was time well-spent. We hope you enjoy looking at it (and reading it?) as much as we enjoyed going through yummy player upon player to complete this rather good-looking mission.
Only players from the Wimbledon 2014 roster were considered.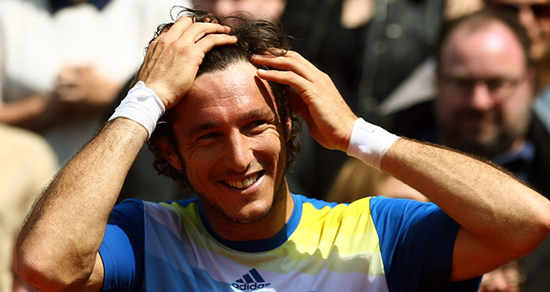 10. Juan "Pico" Mónaco (Country: Argentina, Age: 30)
You may know him as Rafael Nadal's occasional doubles partner and friend, but Pico is a (hot) tennis player in his own right. The matches between the two are thumping and their behind-the-scenes bromance only adds to their collective charm. He wears a headband to keep his soft curls away from his face, and we swoon when he takes it off and runs his fingers through his hair. We weep when he cuts it short-not that a cleaner cut makes him any less handsome.
ADVERTISEMENT - CONTINUE READING BELOW
Photo from SkySports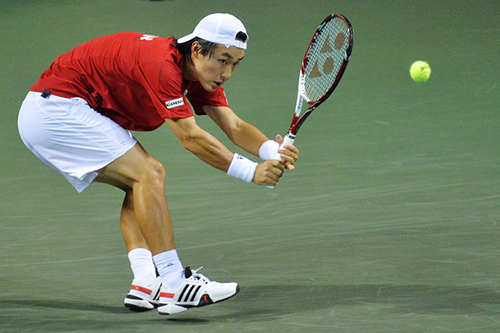 CONTINUE READING BELOW
Recommended Videos
9. Go Soeda (Country: Japan, Age: 29)
There are times when Go Soeda sort of looks like a real-life (older) Echizen Ryoma, the character from the hit manga series The Prince of Tennis. Maybe because of the trademark white hat? He looks good with it on, but we want to knock it off his head just so we can admire his beautiful face better. He ranks second to Kei Nishikori in the list of Japanese male tennis players, but the two are working racket-in-hand to inspire more Asians to join this sport. If he's not hitting balls, he's probably playing some hiphop song, likely by his favorite artist, Zeebra.
Photo from Zimbio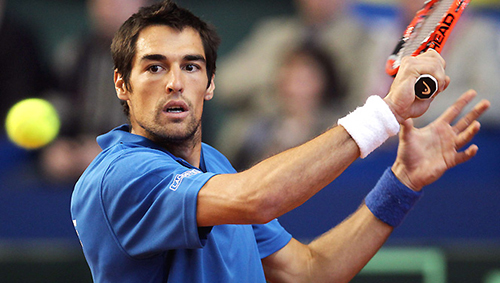 ADVERTISEMENT - CONTINUE READING BELOW
8. Jérémy Chardy (Country: France, Age: 27)
Chardy used to have longer locks, but he had a haircut this year and we love it. Show off those cheekbones, buddy (er, lover?). His now-exposed cheeks are practically begging for a kiss. Not that we didn't admire his dark eyes and the subtle crookedness of his nose before, but this neater do makes us want to take his shirt off...to replace it with something more formal and fitting.
Photo from Sporteology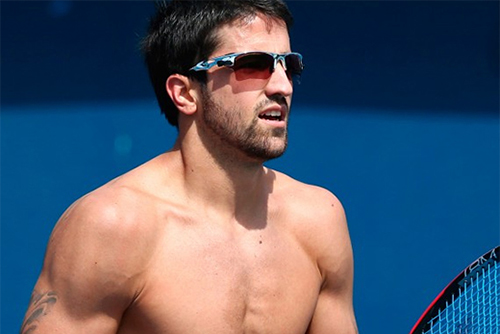 7. Janko Tipsarevi? (Country: Serbia, Age: 30)
The bespectacled player may look scruffy but his Instagram account shows a more adorable side. Sure, he's inked and looks kind of brooding, but he's such a proud papa to his baby girl that we can't see anything menacing about him. Oh, and his tattoos? Quotes from no less than Dostoyevsky and Schopenhauer. If his literary creds don't get to you, maybe his skills on the turntable will. Yes, he's also a DJ.
ADVERTISEMENT - CONTINUE READING BELOW
Photo from Woman and Home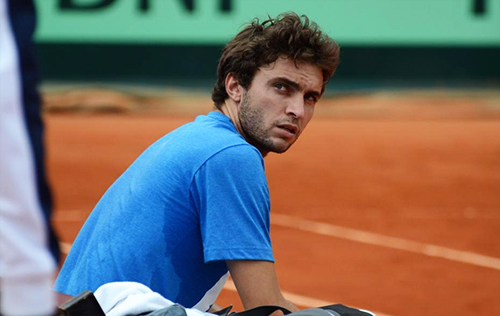 6. Gilles Simon (Country: France, Age: 29)
Is it his green eyes? Is it the soft waves in his hair? The passion to finally win the French Open? There are people convinced that he looks like Robert Pattinson. We are convinced that he looks better. In 2012, he argued that female tennis players should be paid less, because male tournaments are more attractive/entertaining. We demand he start dancing with his shirt off for us, to prove that claim!
Photo from Tennis-Pronostics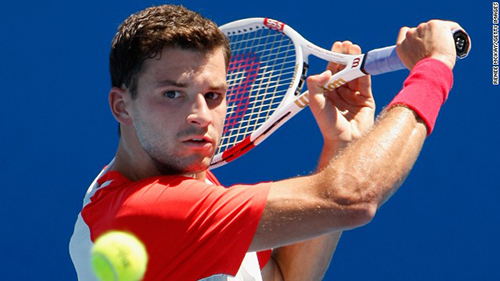 ADVERTISEMENT - CONTINUE READING BELOW
5. Grigor Dimitriv (Country: Bulgaria, Age: 23)
He's Serena Williams' ex, Maria Sharapova's current beau, and currently the youngest player in the Top 50 of the ATP Tour. If you go through his Twitter account, you'll find that he's sickeningly sweet to his girlfriend. Sickening because you're not his girlfriend. His Instagram account is equally amusing (in there you'll find a video of Andy Murray giving him a blow...dry) but he really should post more pictures of his face. Such a waste not to document those puppy-dog eyes more.
Photo from CNN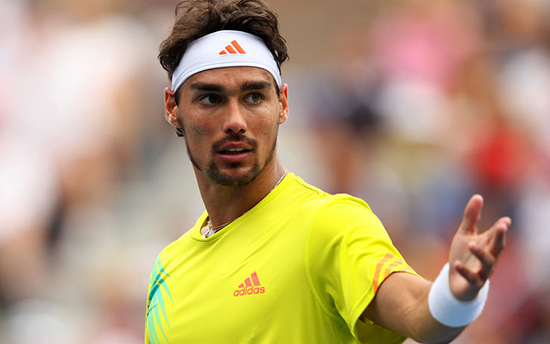 4. Fabio Fognini (Country: Italy, Age: 27)
He is a known prankster and a man who can make us laugh is about five times more attractive than a guy still struggling to make us smile. Aside from having a face that belongs in the pages of erotic romance novels, Fognini can also speak four languages (Italian, Engish, Spanish, and French) and is known for being quite expressive...so expressive that he couldn't contain his feelings of frustration (bordering on anger) in the Madrid Open. We want to officially offer to hug him when he feels bad and we'll whisper sweet nothings to him free of charge.
ADVERTISEMENT - CONTINUE READING BELOW
Photo from Zimbio
3. Ernests Gulbis (Country: Latvia, Age: 25)
The New York Times recently came out with an amusing article about how quotable he is. This, of course, fills our heart with glee. Staring at him for hours is more than enough, but beyond his good looks lies the courage to take on Roger Federer himself. Add to that a brain that never runs out of interesting things to say and you have yourself the perfect date. Seriously. Handsome, athletic, funny, and rich. That's everything right there.
Photo from AFP (Dawn)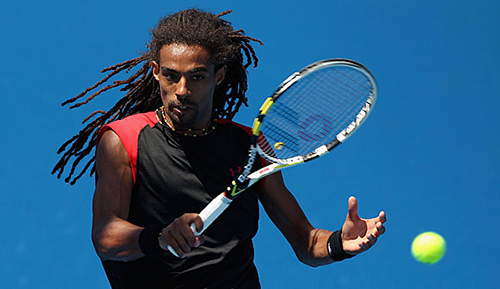 ADVERTISEMENT - CONTINUE READING BELOW
2. Dustin Brown (Country: Germany/Jamaica, Age: 29)
We want to refrain from making chocolate references, not because it will sound racist but because it would be too lewd. Instead we focus on his magnificent dreadlocks, the way he throws his racket around, and the way he defeated Rafael Nadal at the recently conluded Gerry Weber Open. He posts an insane amount of selfies on Instagram but with a face like that, we don't really blame him.
Photo from Spox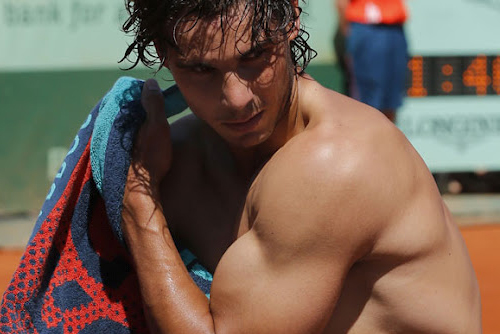 1. Rafael Nadal (Country: Spain, Age: 28)
He doesn't always look good in photographs. Exerting a lot of effort while playing tends to distort one's face...but his shoot for Armani in 2011 pretty much sealed the deal for us. He has only grown hotter since...and better at the game too. We can talk about how gorgeous he is but that's not really what anyone wants to do with their mouth when they think of Nadal. We want to keep typing too, but we'd rather be squeezing those muscles right about now.
ADVERTISEMENT - CONTINUE READING BELOW
Photo from The Wiki Mag
Share this story with your friends!
---
Help us make Spot.ph better!
Take the short survey
Load More Stories