On the Spot: Jenny Han, author of To All the Boys I've Loved Before
On her favorite music, the importance of sisterhood, and the first story she ever wrote.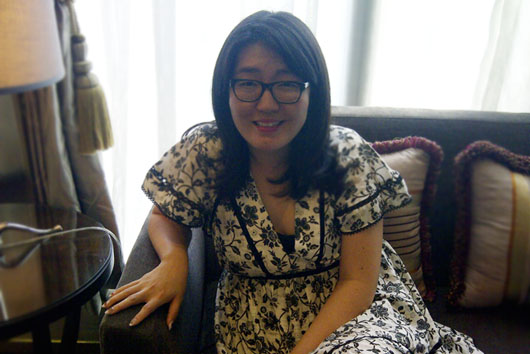 (SPOT.ph) New York Times bestselling author Jenny Han recently toured the country to promote her latest book, To All the Boys I've Loved Before. The book centers on half-Korean Lara Jean, who writes romantic letters to all the boys she has ever loved-without intending for them to be read by anyone. One day, she panics as her secret letters are mailed out and her once imaginary love life suddenly becomes wild and out-of-control, especially because one of the boys to whom she dedicates one of her letters is her sister's ex-boyfriend.
We sat down for a quick chat with Jenny Han and here's what she shared.
Could you tell us a bit about how To All the Boys I've Loved Before came to be?
The idea behind [To All the Boys I've Loved Before] was from my own teenagehood. I used to write letters to boys when I was trying to get over them and I never sent them. They're just for me. That's what happens with Lara Jean, the main character, of this book. She writes letters and she is trying to exorcise them from her heart. And it works great, but then all her letters get sent out.
Can you share with us a bit about the sequel, P.S. I Love You?
It starts almost immediately after the first book ends. I'm still writing it, so it's hard to know what it's going to be about. But I think  it's still very much about childhood and nostalgia and remembering who you were and who you are. So it will be more about [Lara Jean's] friendship with Genevieve, her friendship with Chris, her friendship with Peter, and all those people that she used to know.
ADVERTISEMENT - CONTINUE READING BELOW
Among  all the characters that you've written, who do you relate to the most?
I probably would say Lara Jean, just because I'm really close to my sister. The book is dedicated to her. As time goes on, you'll feel, as sisters, your roles can change. I'm the oldest, but my sister sometimes will take care of me. I used to take care her, but then she takes care of me more, or vice-versa. It's an ever-shifting dynamic. But it's an important relationship in your life. I think nobody else will ever know you the way your sister knows you. So I really relate to [Lara Jean] and her love for her sister.
CONTINUE READING BELOW
Recommended Videos
Do you still remember the first story you ever wrote? What was it about?
The first story I ever wrote was about a girl named Dawn, whose parents are getting divorced. And I started writing that when I was about seven and I would just write a chapter at a time. I never finished it, but she had a very annoying little sister.
How do you prepare for writing? Do you have any rituals?
I like to listen to music. I have my favorite beverages, a little snack-anything I can do to make it a pleasurable experience, because I think it's hard to sit down and focus.
You've mentioned that when you write, you usually have a playlist. With this book, what kind of music did you listen to?
ADVERTISEMENT - CONTINUE READING BELOW
I love Motown, I love girl groups. I listen to a lot of Beyoncé. With the new book, the sequel, I've been listening to Frank Ocean, more Beyoncé, and Lana Del Rey.
What are you reading right now?
I'm reading The Grisha Trilogy. It's by Leigh Bardugo.
If you could mail a letter to your high school self, what would you write?
I would say that you should be wearing a bikini all the time and you are not fat. I think that girls and weight, it's always such a thing. You never really feel like you're at your best, but then a few years later, when you've gained a few more pounds, you think, "Oh my god!"  Always bemoaning this or that. To me, all teenage girls look beautiful. Everybody has their own beauty, so we should celebrate that and enjoy it.
For teenage girls who are writing now and want to pursue a career in writing, what would you want to say to them?
I would say to keep writing and keep finding your own voice. And I would say to be sure to have adventures. You need all those experiences to write.
To All the Boys I've Loved Before is available at National Book Store.
Share this story with your friends!
---
Help us make Spot.ph better!
Take the short survey
Load More Stories