10 Questions for Xyza Cruz Bacani, a DH-turned-photographer from Hong Kong
On street photography, the prime vs zoom debate, and...dogs?
(SPOT.ph) In the last few weeks, street photographer Xyza Cruz Bacani has been the talk of the online community, owing to her being featured by the New York Times photography blog Lens. While her backstory is certainly interesting, it's the opinion of this writer that the focus has been on her situation rather than her craft.
Xyza conducted a talk/workshop at Relik Tapas Bar in BGC on July 12, where she gave a brief talk on street photography. Prior to this, we had the chance to ask her 10 questions about her lightcraft, which she enthusiastically answered.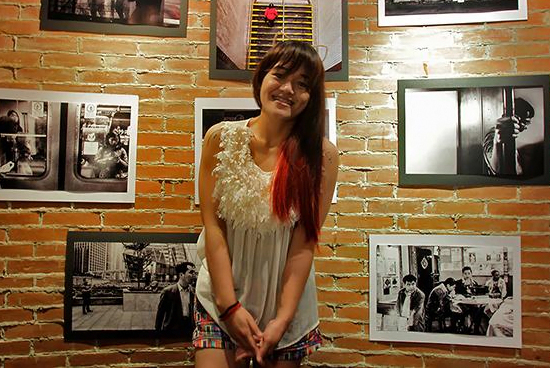 The photographer's current profile picture, shot by GMA News' Danny Pata after her talk
We went through your site and it seems that street photography (SP) occupies a huge space in your oeuvre. What makes SP appealing to you?
I love the adrenaline rush: the sound of the shutter when I know that I have immortalized a fleeting moment, the challenge of finding the extraordinary. It's my therapy, a sort of fantasy world where I'm just a recorder of things I see.
ADVERTISEMENT - CONTINUE READING BELOW
Have you done some SP in the Philippines? How is the experience different from photographing in HK?
Every time I'm home, I shoot streets in the Philippines. Filipinos are friendlier, and we tend to wave and smile when we see someone photographing us. The challenge of shooting candid and being a ninja is somehow harder. The architecture and the light here is different (compared to the Philippines) or maybe I'm just more used to HK.
What lens do you typically bring with you when you go around HK? Why that lens specifically?
I shoot with prime lenses, I never use a zoom lens because I like zooming with my feet. It means more walking, less fat, and a tougher challenge.
CONTINUE READING BELOW
Recommended Videos
What's the most dangerous situation you've been in when photographing?
SP here in HK is not really dangerous but being a girl, I can't go to dark alleys alone. I still have some reservations about going to those places specially places with dogs, haha!
Have you ever developed a close personal relationship to any of the subjects you've photographed on the street? Tell us about it.
No. I seldom talk to my subjects when it comes to street photography. I'm a fly on the wall. I shoot then I move on. But with the documentaries I've been doing, I've developed a sense of camaraderie with my subjects. I feel their pain, their joy and all their longings. It affected me in a huge way. I can't stop thinking about them.
ADVERTISEMENT - CONTINUE READING BELOW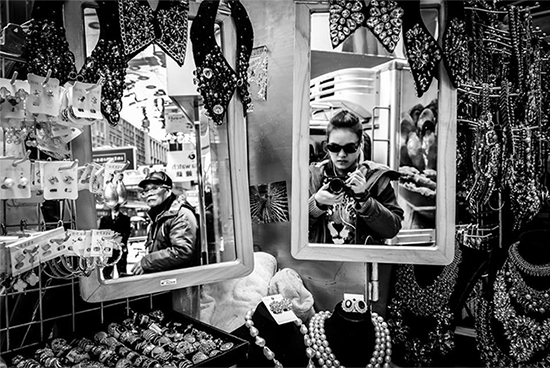 From her Street Vanity album. She puts all of our selfies to shame.
What's the best time of the year to photograph HK? And what time of the day do you usually go out and shoot?
Winter. The mood of winter is different. It's beautiful. I usually go out at noon. The light is wonderful during that time.
When you photograph, do you go out with a particular idea / concept guiding your shot selection, or do you just play it by ear and be extra responsive whenever a good opportunity to shoot arrives?
I empty the cup when I shoot. I just shoot anything that I see. I wander around with a pair of earphones and most of the time I just get lost. I don't force myself to "see" because forcing means being blind. I just go with the flow.
Henri Cartier-Bresson believed that cropping photographs (part. those taken on 35mm) are a big no-no in SP. What are your thoughts on this? Also, how much post-processing do you do with your photographs?
ADVERTISEMENT - CONTINUE READING BELOW
To each his own. I crop but most of the time I do it in the camera while shooting. I use a wide lens (20 mm) sometimes and fixing the distortion means I need to crop. I convert my photos to black and white in Lightroom. That's all.
Which photographer do you identify with the most, stylistically speaking?
I don't know-maybe you should answer that! Being a shooter, I really can't say if I have a style. Only the viewers can judge that.
Any plans of coming out with a book soon?
Maybe if someone will shoulder the cost of it. But not now, as I'm really busy. Also, I think I need to develop a better body of work.
To see more of Xyza Cruz Bacani's work, visit her Flickr site.
Marco Harder is a musician and documentary photographer. He plays for The Purplechickens and is part of Marcus Adoro's touring team for The Eraserheads. View his work at themarcoharder.com.
Share this story with your friends!
---
Help us make Spot.ph better!
Take the short survey
Load More Stories