The Punisher Speaks: 10 Quotable Duterte-isms
Rodrigo Duterte is one of a kind...which is good, because one is all that we can handle.
(SPOT.ph) All things considered, Davao City Mayor Rodrigo "Rody" Duterte probably has the ability to stand against fictional antihero Frank Underwood from House of Cards...and possibly even win. Both are fierce, ruthless, and willing to go the distance to achieve results. Mayor Duterte has the advantage of being real and not bound by the laws of drama to please an audience. Manila City may have had their own "Dirty Harry" Mayor Alfredo Lim, but what's a can of spraypaint and stencil? Duterte is not interested in shaming criminals-he intends to shoot them, much to the horror of the Commission on Human Rights.
He and his family are infamous for hardcore vigilance against all sorts of misbehavior (something comedian Ramon Bautista can attest to) but aside from punching people and raising their middle fingers, they also spew out statements that make people's heads spin. Sometimes in a good way.
ADVERTISEMENT - CONTINUE READING BELOW
CONTINUE READING BELOW
Recommended Videos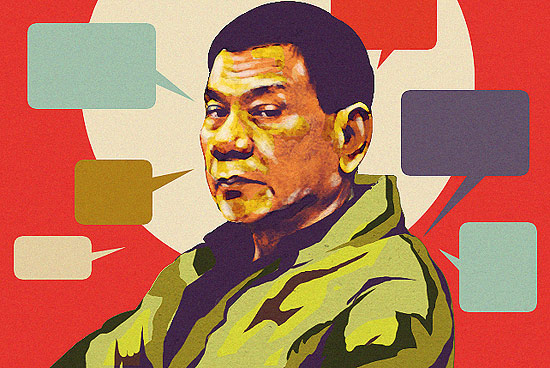 1. On the persistent rumors that President Aquino may run or should run for re-election, "The statement that says there must be a second term [for P-Noy] to save democracy is pure bull$hit."
2. On his the World Mayor Award he was set to receive from The City Mayors Foundation, which he declined, "Just like Marlon Brando, I did it because it was my job. I did it not for my own glory, but because that was what the people expected me to do."
ADVERTISEMENT - CONTINUE READING BELOW
3. On the calls for him to run for much higher office, "Had God wanted me to be president He would have offered the opportunity when I was younger."
4. On the Commission on Human Rights' criticism of his statements about killing rice smugglers, "Alam mo sa totoo lang, kung walang Pilipino na papatay para sa taong bayan, sa mga farmers, at takot mamatay, walang mangyayari sa bayan na ito...We have to defend the Filipino farmer."
5. On Ramon Bautista and the Hipon Scandal of 2014, "I'm trying to protect everybody here. When I protect everybody, it doesn't mean just their physical being-I protect their honor."
6.  On what would happen if he ever gets elected to the highest office in the land, "If I'm the president, I will declare a revolution. I will rebel against my own government and close down everything except your businesses and make a body to take care of your expenses."
ADVERTISEMENT - CONTINUE READING BELOW
7. On speed limits (and other laws), "Wala akong pakialam kung satisfied o dissatisfied kayo. It's not my law, I just implement it."
8. On what he will do for his family, "Kung hindi naman kayo tarantado, anak ko yan eh. I only know of one event yung tatay iniwan yang anak niya. God the Father allowed his only son to be crucified. The problem is I am not God the Father. But she is my daughter, period."
9. On...partying?  "I will not allow anybody to stop the young from partying."
10. On, of all things, nature, "I'm offended sa nature. Galit ako sa kanila. Galit ako sa mga tao[ng] responsible for global warming."
Load More Stories