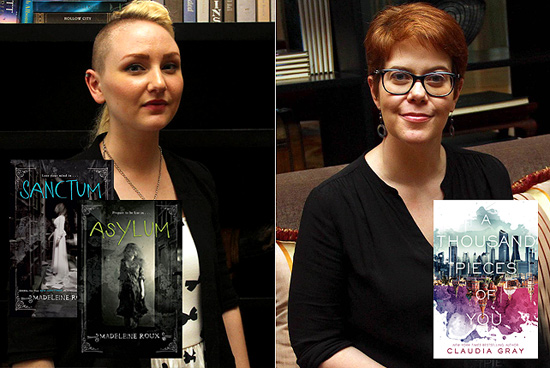 (SPOT.ph) If you've read enough about vampires and you're looking for a solid YA palate cleanser, pick up Madeleine Roux's Asylum and its sequel Sanctum, and Claudia Gray's A Thousand Pieces of You. The former is a horror story that unfolds in a haunted mental institution, accompanied by chilling photographs from real asylums and vintage carnivals; the latter, a tale of a daughter who chases her father's killer to the ends of the world (and other worlds besides). Roux explores spirit possession and mind control, while Gray uses physics and parallel universes to build her story.
Just for SPOT.ph, the two talk pseudonyms, their writing process, and the biggest perk of being a New York Times best-selling author. Take notes!
Claudia Gray is just a pseudonym and your real name is Amy Vincent. Why did you pick that alias?
Claudia: I picked the pseudonym just because I thought it would be fun. When I was a little kid, I heard people make up other names to write under and I thought, "Cool!" I'm a big fan of Roman history and I, Claudius was the thing that got me into it. It's an old mini-series about Rome. Gray just sort of went well with Claudia.
ADVERTISEMENT - CONTINUE READING BELOW
How did you come up with the idea for your books?
Madeleine: I felt like there was this void of horror fiction in YA. I remember in high school, every time a scary movie would come out, my friends would go right away. I felt like there was a big opportunity there. I also hadn't seen a lot of male protagonists. Growing up with two older brothers, everybody tells me, "When you write, you sound like a guy anyway." Plus, I've personally struggled with mental health issues, depression to be exact, so I wanted to put that front and center. I just love a character who has that and has real problems he's struggling with.
C: The story idea occurred to me while I was on a book tour. I was with two other authors and we were all over the US, in different parts of the country every day. We then flew to Australia to do book signings and interviews. I felt like I was in a different world but with the same people day after day. There are a lot of stories about parallel universes, but they either depend on one binary choice or they're about people visiting [a parallel universe]. They're looking in as strangers. The thing that will really make it interesting is if you go to a different dimension but you're in your own life. What's different about you? What's different about the people around you? What are the different emotions or relationships you might have? That was the part that seized me. I was still in Australia when I was naming the characters and I started writing the first chapter in Auckland, New Zealand.
ADVERTISEMENT - CONTINUE READING BELOW
Recommended Videos
Spirit possession and mind control figure prominently in Roux's novels.
Can you talk about your creative process?
M: I'm the worst person to emulate in this regard because I'm what people call a "pantser": You write by the seat of your pants and you just hope it works out. I've changed a little, I'm better about outlining now. With Asylum and Sanctum, Harper Collins was like, "We need to know what sort of images you need." So I had to submit outlines and ideas to keep them in the loop. But generally, I'm not a good planner. And even when I do plan well, I like to leave a lot of room for change because I don't think it's good to be too rigid. You lose excitement in your own work if you know literally every single thing that's coming.
C: I really think you have to be ready to work anywhere if you're going to do this for a living. I work on the plane, I work in hotels...you have to be ready to go. In the case of A Thousand Pieces of You, a lot of the universes were shaped by the non-fiction books I read on the really long flight across the Pacific. One of them was about Russian history; so Marguerite goes to a Russian world. One of them was about rogue waves; so they end up on an ocean station.
ADVERTISEMENT - CONTINUE READING BELOW
Do you remember where you were when you found out your book made it to the New York Times Best Seller list?
M: I remember it very vividly. I was [at] home visiting my parents. I was at my desk there in my tiny high school bedroom and I was working on edits for Sanctum. And then I get a flurry of calls and text messages! So I pick it up and it's my agent and she's like "Why aren't you answering your phone? Andrew's trying to get in touch with you." I called him and he was like, "Are you sitting down? I just want to tell you that Asylum is going to debut on the New York Times Best Seller list this week," and I remember running downstairs crying and my mom thought something had gone horribly wrong! I bought my parents some champagne and we had a nice dinner. My brother took me out as well, that was really sweet.
C: I was cat sitting for a friend, so I was eating takeout pizza with her cat, going, "Hey, cat. I made it to the New York Times Best Seller list." That was my big celebration. The day after that I think I went out for drinks with my co-workers, but the day itself, it was just me and the cat.
Any advice for writers?
C: Read everything you can. It's only by reading that you learn what kind of stories you love and learn so much about how those stories are constructed. Just soak it up. Also, you don't always know what's going to go into an idea. I didn't read that book about rogue waves thinking, "Oh, I'm going to write about a story about alternate dimensions and one takes place at sea." But that ended up becoming a part of it. The more things you read, the more interests you expose yourself to. Write as much as you can because it takes a long time to find your voice. If you're going to write 10,000 bad pages, just get started. Just write it out.
ADVERTISEMENT - CONTINUE READING BELOW
M: Just trust yourself. If you think a story's good, trust that it's good and really go for it. I think the hardest thing is just doing the work. Just sit down, day in, day out, and get the words on the page. I often tell people that the first draft is going to be bad. Just embrace that. Write your book like it is fan fiction of your book, so you're like, "Oh I know these characters, I know these places." It gives you confidence and keeps you from over-describing and doubting yourself. If you need to [do] research, either do it all before you start, or if you get caught up in something in the middle, just put a blank line and go back. Otherwise, you'll just get sucked into this black hole. It never ends. The description of a specific building is not going to make or break a book; it's the characters in the story. That's always what you have at your disposal.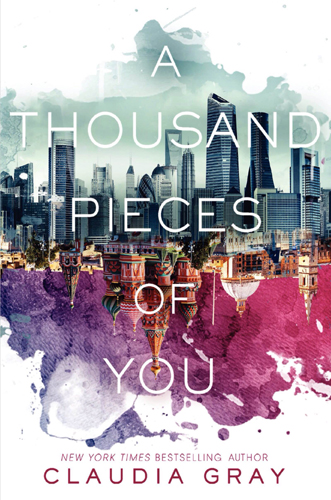 ADVERTISEMENT - CONTINUE READING BELOW
Gray's story is built on physics and parallel universes.
Is there anything left on your bucket list as a writer?
C: I don't really think that the Pulitzer committee is going to be seriously looking at my YA book about alternate dimensions any time soon and that's their loss! (laughs) There's no award [that I want to win], there's nothing like that. What I would like to be able to do, if I can remain a full-time writer for the rest of my life, that's the dream. Because unless you hit it really big, J.K. Rowling status, you can't tell.
M: I really, really, really want to write a book that gets made into a movie. That's always been my dream. One of the girls I was on tour with, Andrea Portes, she just came out with Anatomy of a Misfit and they're making it into a movie. She was telling us all these stories about going to set, then going to karaoke with these famous actors playing the characters in the book. And I was just like, "That's what I want to do! I just want to nerd out and watch people act in my movie/book." I'm also a big video game player. I'd really love to help write a video game. I just want this to be my job forever and I'll be very lucky if that's the case.
Because of your books, what countries or places have you been to that you never thought you'd be able to visit?
ADVERTISEMENT - CONTINUE READING BELOW
C: Philippines, Mexico, Colombia, Ecuador, Argentina, Spain, and I'm supposed to go to Uruguay, but it's not yet final. Several readers who show up at signings tell me, your books make me want to write, which is the ultimate compliment. It's wonderful.
M: That's a really good question. Well, here, obviously. I've gotten to go all over the United States. I've gotten to go to Michigan, New Jersey, Denver, Las Vegas, Austin, everywhere. I had a girl cry at one of the events last week and I was like, just hugging her. It's really exciting because I was like that as a teenager. I was a huge teenybopper! I stood in line to see the Backstreet Boys and when I met them, I was hyperventilating. So I totally get it. How great that people are like that with writers? They're so excited about books and that to me is the greatest thing.
Asylum (P625, hardcover), Sanctum (P345.89, paperback), and A Thousand Pieces of You (P435, paperback) are available in National Bookstore.
Share this story with your friends!
---
Help us make Spot.ph better!
Take the short survey
Load More Stories