On the Spot: Alessa Lanot of Life After Breakfast and Mansy Abesamis of Hey Kessy
The crafter friends talk about their creative process, dream collaborations, and more.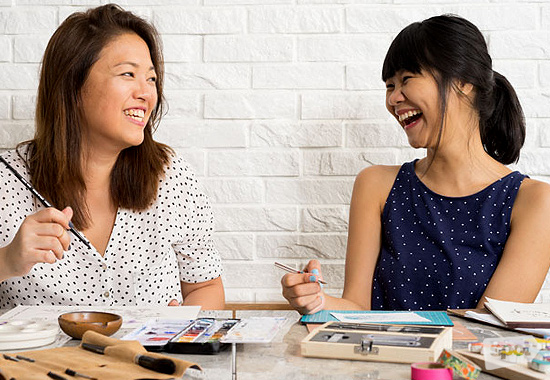 (SPOT.ph) There is no better time to be a crafter than now. What first started as a small community of people who shared a common hobby has now grown into something that everyone, young and old, can get into. There are workshops, craft fairs, books, and materials all devoted to the art, and the only two things that are required, at least to start out, are things that pretty much everyone has: imagination and the openness to learn. And when the result is something that you can proudly call your own, isn't it that much more rewarding?
We talked to Life After Breakfast's Alessa Lanot and Hey Kessy's Mansy Abesamis, supporters of the handmade movement, about the craft scene in the Philippines right now.
Photos by Patrick Martires
Shot on location at Hillside Café & Juice Bar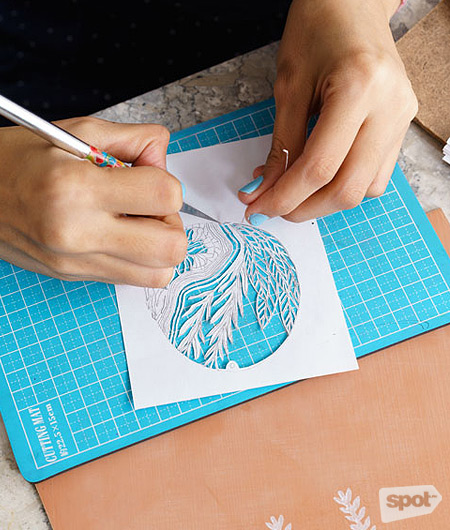 What are your current craft favorites?
Mansy Abesamis: My favorite is paper cutting. I'm collaborating with my mom for Dandy Ona. We turn my papercuts into jewelry!
ADVERTISEMENT - CONTINUE READING BELOW
Alessa Lanot: I really love watercolor and drawing using the calligraphy pen, dip pen doodles.
How did you two first meet?
Alessa: I organized a craft soiree and Mansy joined. Since May 2012, we've been collaborating, doing workshops together, and organizing events.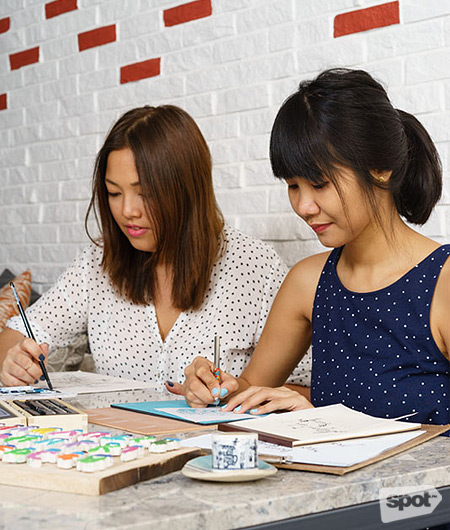 CONTINUE READING BELOW
Recommended Videos
Can you share some of your favorite collaborations with each other?
Mansy: Craft camp!
Alessa: Our first rubber stamping workshop.
Mansy: It was in September 2012 in a garden. It was a gathering and not just a workshop.
Alessa: Johnoy Danao was there to play live music while we were crafting.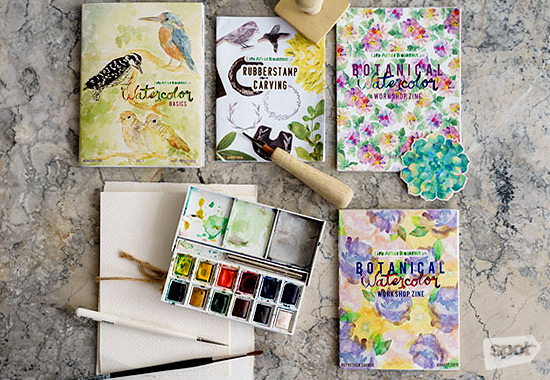 ADVERTISEMENT - CONTINUE READING BELOW
What is your crafting process like?
Alessa: I always have my materials with me. I have an extra bag full of art materials. So whenever the inspiration strikes, you make something. Sometimes, it sort of takes over your other work processes. Minsan kailangan mo muna mag-create before you can do anything else. It takes over your life.
Mansy: Mahilig ako pumunta sa Sagada, like I stayed there for a month. Then that's where I base my work, hindi mismo dun sa medium or craft. Kung ano 'yung nakita ko ano yung na-experience ko, ano yung na-observe ko. When I went there, I realized I could understand their dialect. So I used that and made a papercut based on language acquisition.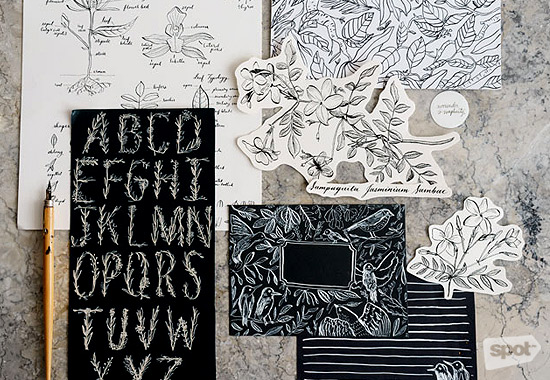 Is there a particular time of the day you feel you craft best?
Mansy: Late afternoon.
Alessa: Early morning.
Mansy: Okay nga 'yon. Since Alessa's a morning person, when we collaborate, I get inspired to wake up early. I even have a project called "Get Up and ____." Like get up and make or get up and sing. (laughs)
ADVERTISEMENT - CONTINUE READING BELOW
Where do you usually work?
Alessa: On the dining table. That's my favorite. I take over half of my parents' dining table sometimes.
Mansy: Sa floor.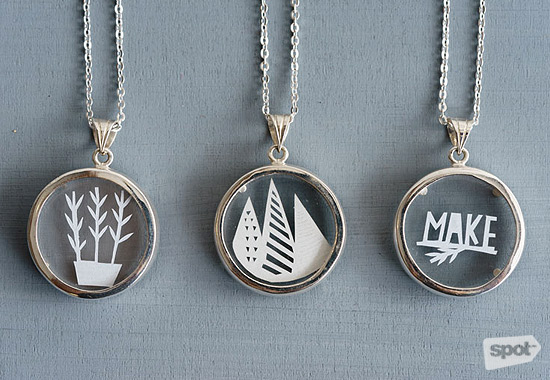 What do you love about the local craft community?
Alessa: In general, I love that Filipinos are so creative. It's much easier to teach here. Even if they say they're just beginners, may certain taste level ang Filipino for some reason. We can distinguish kung ano 'yung maganda, may eye for beauty. It's nice that people are getting into it. Today, everything has gone digital and you can't help it. Kahit kami, we're on social media, on our blogs. But having some time to do something handmade pulls you away from that and takes you to another place na parang—medyo romantic pero—sa'yo lang. It doesn't necessarily mean you have to share what you make all the time, but at least the process of creation is there.
ADVERTISEMENT - CONTINUE READING BELOW
Mansy: I've observed that people now identify themselves as crafters. Before it was more like "I'm going to craft" or "I'm crafting" but now, when people get asked what they do, they'll say "I'm a crafter." It says so much how crafting has evolved in our country. It's not just a weekend activity.
Alessa: And it's not just scrapbooking. Diba dati pag sinabi mong crafters, scrapbookers sila. But now, they've experimented with other tools.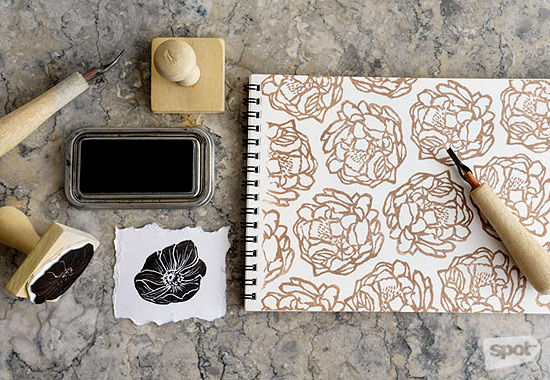 Are there any other local crafters you want to work with?
Alessa: I really, really want to work with more local artisans. It's always been my dream to help them creatively, the ones who already have an existing livelihood. Before, I went to San Vicente in Palawan and taught 50 women how to make things and products they can mass produce and sell. Gusto ko tumulong sa mga communities na may artisans.
Mansy: I want to work with makers and artists who use a medium or make art that's different than what I currently work with. For me, that's the only way you can make something original or something different. For example, I'd love to do something with stamp making and sign making—totally different things.
ADVERTISEMENT - CONTINUE READING BELOW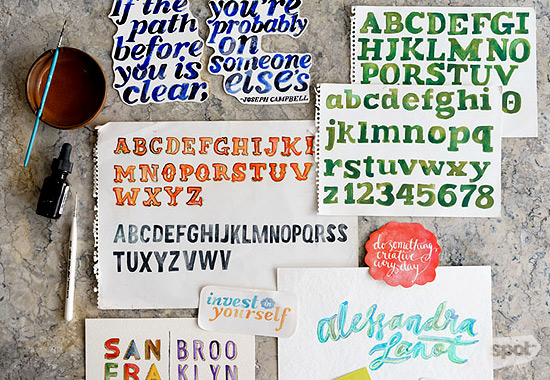 How about international collaborations?
Alessa: I have upcoming workshops with Poketo in Los Angeles. I'm just fixing my schedule for early next year.
Mansy: One of my heroes is Yoko Ono. Her works are different!
Alessa: I guess in the craft world, si Mansy talagang towards the arts. She's the artist. My background is in graphic design. So the work that I do, most of the time, meron na siyang pupuntahan. Hindi siya very process-oriented. The process is there, but I already know if I'm designing it as a wallpaper or a book cover. I always go towards the practical. I guess 'yung balance namin, yung work ni Mansy sobrang pure and raw and emotional.
Mansy: Parang laging may story. Kunyari may napuntahan akong lugar tapos may nakita akong bata or something tapos na-move ako, I use it. Kunyari yung pattern ng eyes. Si Alessa, yung work niya practical talaga.
ADVERTISEMENT - CONTINUE READING BELOW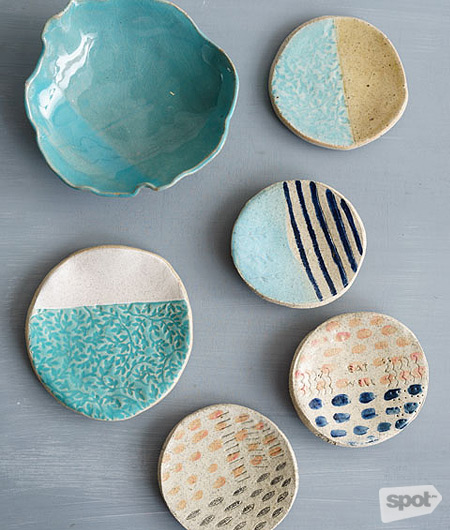 Alessa: I get inspiration from things local like local flowers, local food. I really want to bring the Philippine culture with me, as cheesy as it sounds. It's the opportunity to share so I always try to incorporate that even when I do workshops in other countries.
Mansy: I've been riding the MRT lately and I've noticed that it's a place where you see so many mean people. Maybe people just want to go home already, but even in the female coach, nagtutulukan 'yung mga tao. The Broken Windows theory says that your environment affects your attitude. So what if instead of just plain glass windows or dark paint, there's something happier like flowers, curved lines, or words like "Be Kind." That's what I've been planning lately, glass art with papercutting.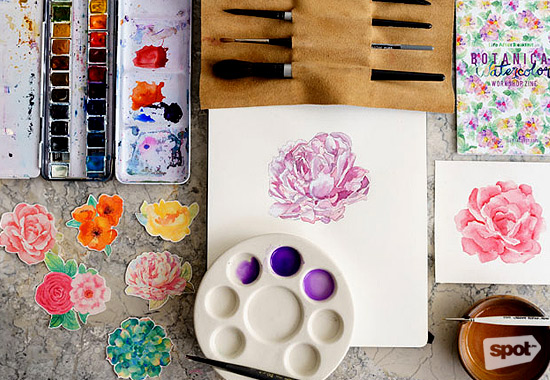 ADVERTISEMENT - CONTINUE READING BELOW
How did you start doing workshops overseas?
Alessa: It starts with a single e-mail. If you want to have a workshop there, plan everything from your end first then contact cafes and studios. A lot of times, they're willing to collaborate. You just have to ask for their terms—what they need from you and what they can give you in exchange for you coming to their studio to teach. Personally, I don't have a wide network in the U.S., my deal with Makeshift Society is they promote their workshops for me and I just show up to the class. They go through some screening process, but if you have the experience and the work to back it up, it's not that difficult.
Mansy: It starts with your intent to have a workshop abroad. I looked for a local crafter who had a studio in Singapore. They understand because they know you want to meet crafters and learn from them. And this September, she's coming here for a craft exchange. So she can get to know the crafting community here.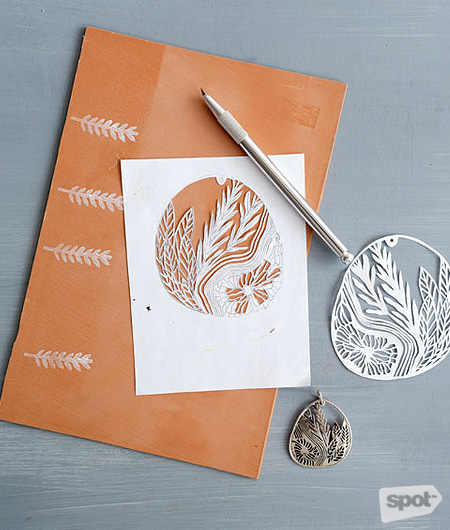 ADVERTISEMENT - CONTINUE READING BELOW
What are your hopes and dreams for the local crafting community?
Alessa: A huge, giant arts and crafts supplies store where everything is available. With Manila traffic, you don't really have time to jump everywhere from Makati to Quezon City. Sana one-stop shop for all brands for artists. With materials, it's nice that a lot of retailers are bringing in brands already. With material availability, it helps the community grow faster in terms of skill level. I really believe you're as good as your materials especially when it comes to painting. Malaking bagay 'yung meron kang fine quality materials.
Mansy: More readily available materials. The more you experiment with different materials, you can create more new things.
Alessa: I'm also planning something. I teach so many students. I teach about eight workshops in a month. I want to do something for the students who join the classes. Eventually, I want to turn their work into merchandise. It's kind of a collaboration in a way. And it's something that will help them go to the next level and make them see what they can do with their work. Their work doesn't have to stay on a piece of paper, they can do something with it.
Mansy: Or create an avenue for them to grow as crafters, so they don't treat it just as a weekend activity. On October 3, in an effort to promote Katipunan as a creative community and at the same time promote the different art forms and craft forms, we're organizing the Katipunan Art Festival. I'm curating an exhibit for the participants of my past papercut workshop so they feel that it's something special. Iba 'yong feeling 'pag nakita mo 'yong work mo na naka-hang sa wall.
ADVERTISEMENT - CONTINUE READING BELOW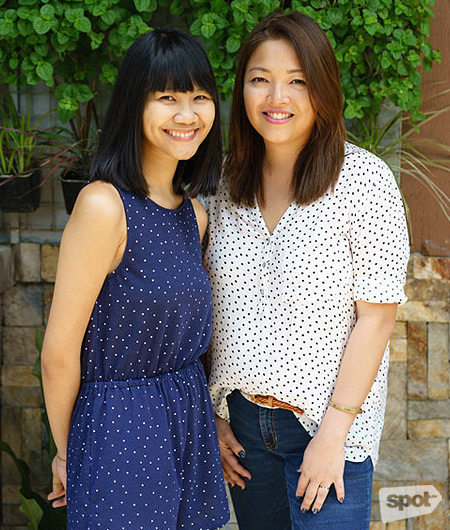 What can we look forward to from your brands?
Alessa: I'm designing a line called Follow Your Art. It's art accessories you use for painting like ceramic paint palettes, leather brush holders, pouches for your art making.
Mansy: With Hey Kessy, something beyond materials. Something that will help makers create bigger projects and allow them to try another medium.
Alessa: We're organizing the second Craft Camp [from] October 17 to 18. We're going to La Union. It's an overnight camp of gathering and making. It will be for a limited number of participants. Just like the first one, we'll be experimenting with different crafts and activities. We'll bond and relax at the beach. It will be much different because it won't be as intensive as the weekend workshops. We'll get to bond with the students more.
Mansy: We'll commune and gather. It'll be grounded with the more mundane, everyday things like meals, siesta time. Mas relaxed.
ADVERTISEMENT - CONTINUE READING BELOW
Alessa: It's a time to slow down.
Mansy: Sometimes, people are more focused on making. Like I have to make something now. Especially with social media, it's so fast. When you don't post something, parang hindi ka creative. Hindi na-a-appreciate 'yong process behind it. Hindi mo alam na two days kong pinag-isipan 'yong design n'yan.
Alessa: 'Pag wala kang pinost in one day, iwan na iwan ka na. It's not instant!
Keep up with Alessa Lanot on lifeafterbreakfast.ph and Mansy Abesamis on www.mansyabesamis.com and heykessy.com.
Share this story with your friends!
---
Help us make Spot.ph better!
Take the short survey
Load More Stories