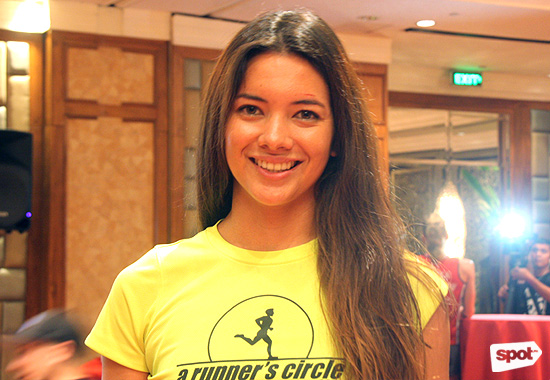 (SPOT.Ph) What happens when you run like a girl? For triathlete Kim Kilgroe, it's all about enjoying the sport and putting yourself into the fire at the same time.
The 26-year-old Fil-Am started joining triathlons in 2012 after moving to the Philippines to fully appreciate her Filipino roots. Carrying the Philippine flag, she represented the country in a number of triathlon events around the world such as the Chengdu ITU Triathlon World Cup 2015 in China, New Taipei ASTC Triathlon Asian Championships 2015 in Taiwan, Mooloolaba ITU Triathlon World Cup 2015 in Australia, and Hatsukaichi ASTC Asian Triathlon Championships 2016 in Hiroshima. She debuted as a pro only in 2016 during the Cobra Energy Drink Ironman 70.3 Asia-Pacific Championship, presented by Ford, held at Shangri-La Mactan Resort and Spa in Lapu-Lapu City, Cebu on August 7. Her total time was 04:51:10.
Prior to the big day, she took some time to chat with the press about her Pinoy roots, her training regimen, and her interest in the arts.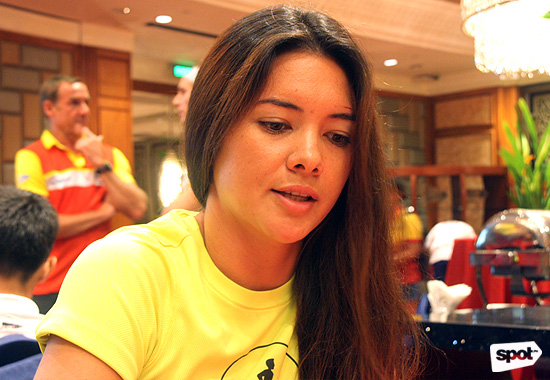 ADVERTISEMENT - CONTINUE READING BELOW
On pro-racing for the first time
It's my first time racing as pro. It's only my second 70.3. It will be different in the sense that I'm really pushing myself, and putting myself into the fire. I'm going after higher performance. It's a process but I know that by putting myself through these hard races and going against the best, it's motivation for me to keep training and keep putting in the work that is required of me to get to the level that I need in the next few years.
On preparing for the Ironman 70.3 Asia-Pacific Championship
I've been training in Switzerland for two months prior. I've been doing a lot of full-time training.
On adjusting to the weather in the Philippines
[Switzerland] is [at] high altitude and it's a bit cooler. So, of course, every time I come back there's a little bit of an adjustment period. But I feel that the heat is just something everyone has to deal with so once you get to the run, you feel it.
On becoming a triathlete
It was something I was kind of involved in. A few years ago, I did a little bit of swimming, biking, and running, but not really as part of triathlon. So I when I was here in the Philippines in 2012, I started doing triathlons, just for fun and with friends. And then last year, I started taking it up full time, seriously. Now, I'm training as a pro. I'm really trying to push myself to really get to the top level that I can get to in the next few years.
CONTINUE READING BELOW
Recommended Videos
On her favorite triathlon sport
The [most fun] for me right now is swimming 'cause I've really been putting in a lot of work into my swim to get it. I've been using a lot of equipment in my swim, so for me, it's really satisfying when you improve a lot in a discipline. It makes you feel good.
On being a Philippine representative
Well, I'm in the Philippines, I'm Filipino, I'm proud to represent my heritage. So training and racing in the Philippines and for the Philippines is...I consider it an honor and it's something that I plan to do in the 2020 Olympics and that's what I'm training for.
On training for the Olympics
I'll be going from camp to camp with my coach, Brett Sutton. I'll be in camp in Switzerland every year, Jeju [Island], I joined a camp in Australia early this year. So in between camps and here in the Philippines, and I'm doing [International Triathlon Union] Subic, I'll do Mt. Mayon after [Ironman 70.3]. I try to come back two to three times a year and hit the races and train here for good solid block.
On avoiding injuries
I just keep training. I think injuries happen when you stop training and you start again. Your body feels like it's been in a relaxed state and when you try to get back into training, that's when I think injuries can pop up. For me, knock on wood, I haven't had any injuries 'cause I'm very consistent and I never take time off.
ADVERTISEMENT - CONTINUE READING BELOW
On a typical day 
I typically start with a good solid swim, hour and a half. Breakfast. Nap. It's either a double bike day or a double run day. So it'll be a hard heel repeat session. And then lunch, nap. Then two hours on the bike.
On doing other workouts beyond triathlons
With my new program of training, I don't do anything supplementary because I find that I can do all the strength work I need with each discipline. I don't need to lift weights or do yoga cause it's also time consuming. So every single hour is really dedicated to [a] swim, bike, or run.
On her diet
It looks like everything. I don't have a strict diet or a strict plan I follow. Especially with travel, it's hard to be very strict. So I just eat healthy. For me, it's higher on the healthy fat. When I'm here, avocado and coconut. I try to keep it balanced and eat enough.
On her interests
I like to do things that are totally opposite from training, like art. I like to do painting and sculpting just to get my mind off things. [Hanging] out with my family and friends when I can see them.
On her toughest race experience
I've had some pretty tough races. The ITU races are very difficult because you have to be within the first or second pack of swim. On that note, I definitely had bad swims where I'm too far behind. That's why I've been working so hard on my swim, to really catch up. I'm doing two to three swims a day for a month. That's really helping me right now go to wherever I need to go.
ADVERTISEMENT - CONTINUE READING BELOW
On her most memorable race
The ITU race in Subic. That was pretty fun. It was very hot. It showed me what my improvements have been and I got second place. So it was a very fun race. I love coming back to Subic and training again.
Share this story with your friends!
---
Help us make Spot.ph better!
Take the short survey
Load More Stories