How Space Encounters Is Changing the Look of the Fast-Food Scene
The local design firm behind Hole in the Wall has also revamped Greenwich and Chowking.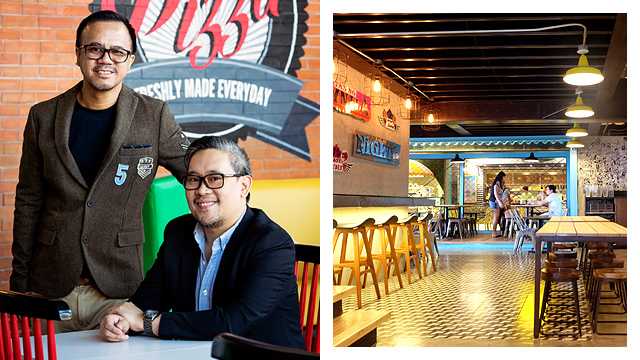 (SPOT.ph) Space Encounters has made a name in the local design industry by putting their mid-century modern stamp on residential spaces and restaurants all over the Metro. Inspired by both past and present style, music, art, and culture, their collection of furniture, home accessories, and décor has decked many spaces with distinct style and swagger.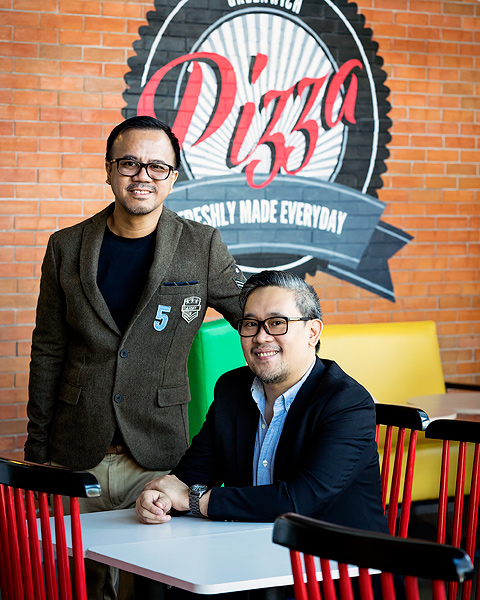 ADVERTISEMENT - CONTINUE READING BELOW
Wilmer Lopez and Thor Balanon
Apart from their commercial and residential work, Space Encounters has also been involved in one of the biggest nationwide campaigns—rebranding popular local chains Greenwich and Chowking. VP for Branding and Marketing Thor Balanon talks about the work and impact involved in changing the fast food arena and beyond on a national scale.
How long has your practice been up and how has the city changed since you started?
The interior design firm, W. Lopez Designs has been around since 1996. In 2009, the design firm put up a furniture store, Space Encounters, which focused on a very particular niche: mid-century modern furniture.
CONTINUE READING BELOW
Recommended Videos
We needed to expand the firm to accommodate the new staff and workload of the interior rebranding of Greenwich Pizza and Pasta, and Chowking—that's when Space Encounters became the main interior design firm.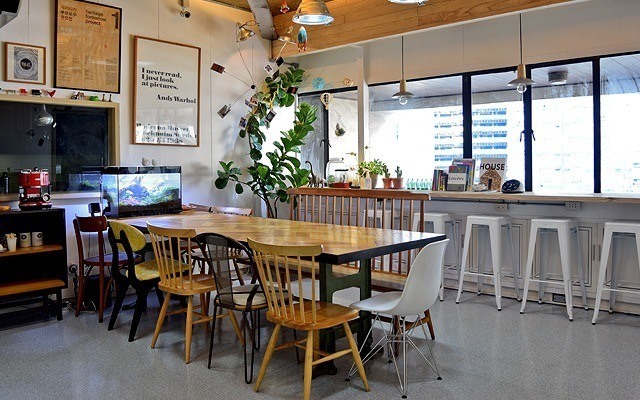 The Space Encounters Headquarters expanded to a second room in March 2016. We wanted it to be a lighter and brighter space, stripped from the heavy industrial of the next-door office. We created an airy, café-inspired conference area using mostly recycled materials. We wanted our employees to feel safe and secure in their place of work.
ADVERTISEMENT - CONTINUE READING BELOW
The urban landscape has changed a lot in the past 10 years. Design is more integrated in people's lives now and there is more interaction between design and living. Architecture and interior design have also been seamlessly integrated into businesses, which make these disciplines more accessible to the people.
How did you get involved in the rebranding of Greenwich and Chowking?
We were first asked by Greenwich to bid for its new interior design. We took the pitch a step further and delivered an edgier-than-usual interior rebranding design, which shows how the company can make its values come alive. We wanted the company values to become the experience itself.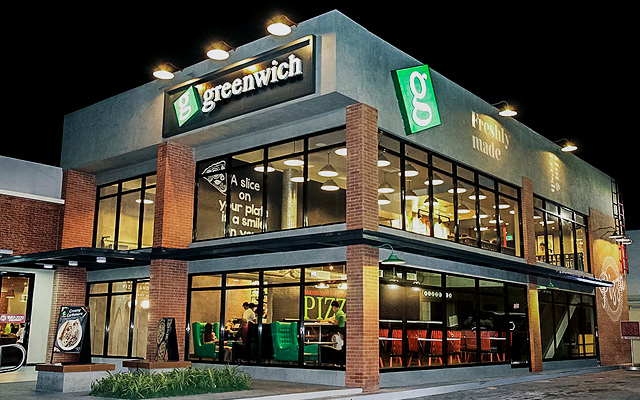 The Greenwich in Kanlaon is the first free-standing branch launched in 2015. Designing the architecture is part of the interior branding; the tall windows give passersby a glimpse of the new industrial pizzeria interiors.
We created a fun, young, hip, industrial pizzeria divided into five zones. Each area had a particular personality and addressed a particular market.
ADVERTISEMENT - CONTINUE READING BELOW
Chowking's concept is "food street" and we created this by recreating a Chinatown vibe: street lamps, neon and street signs, and pop art, in a more refined industrial space. It wasn't much of a big departure design-wise, but it taught us about zoning and paying closer attention to foot traffic and lighting.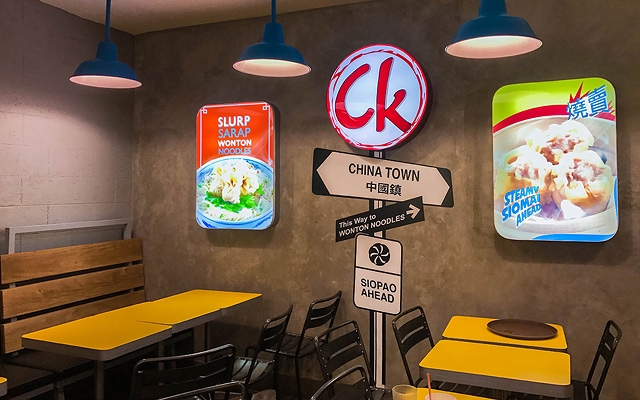 We continue to refine the design on our second year of rolling out Chowking. Polished cement walls have replaced the original white-painted walls for a more food-street feel while making the colors of the lamps and graphics pop out more.
We're grateful that both brands took the creative leap with us and were willing to introduce a new kind of fast food or QSR experience. We've actually gone as far as designing the staff uniform and packaging to create a cohesive design. The pioneering vision of Greenwich and Chowking will ultimately make other food chains learn to value design more as one of the keys to successful customer engagement.
ADVERTISEMENT - CONTINUE READING BELOW
What are your most memorable projects and what do you love most about each one?
Hole in the Wall is still our biggest and most ambitious project to date, and definitely the most memorable. It took us a year to finish the 2,000 square meter food hall. Our clients pushed us and challenged us to create something that had never been seen in the country. Creatively, this is when we threw in our wildest ideas; we didn't restrict ourselves with budget and we figured that we would just make adjustments when the concept was approved.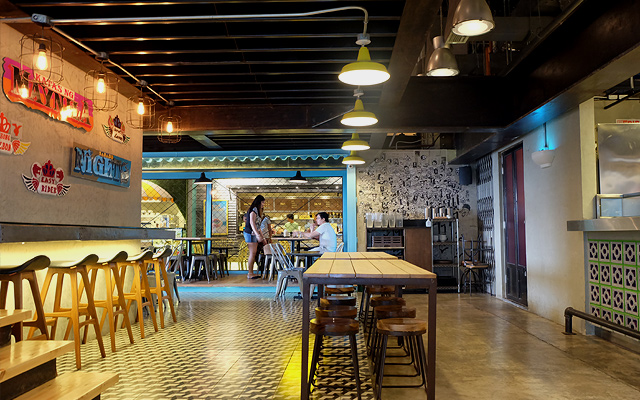 Hole in the Wall was the first food hall in Manila that had intricately designed interiors. This "street zone" makes people feel like they're exploring an alley, a hole-in-the-wall in Hole in the Wall.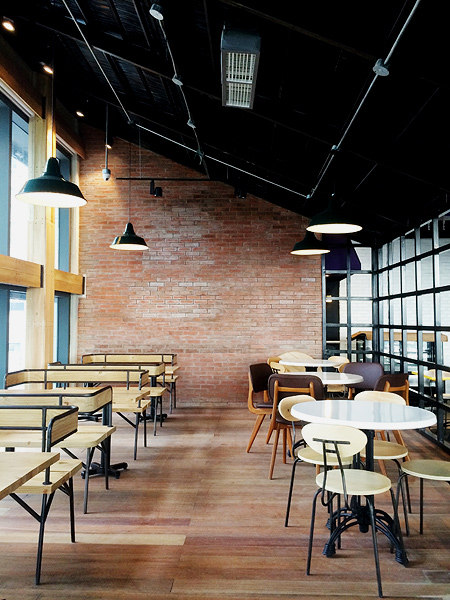 ADVERTISEMENT - CONTINUE READING BELOW
With over 2,000 square meters, there was a lot of different design motifs that went into Hole in the Wall. We took advantage of the high ceiling in this particular area and made it into an airy loft overlooking Makati.
We designed the main dining areas first. The umbrella concept was to create a community. Think: artisanal weekend market with flourishes of design, plus a mix of industrial and country. At the entrance we placed a frame of a house with a faux skull chandelier. Behind it is an open container van with Papa Bear couches and across that is an open dining that recreates picnics. Later on, we had to speak with each of the chefs to discuss the design of every stall. Each one had to be unique, and needed to reflect the particular cuisine while still matching the main dining.
Looking back, it seemed like a daunting task but we're extremely proud we were able to create something that contributed to a new urban landscape, where design is just as important as the food.
How did your work with restaurants start?
We've always done the occasional restaurant but it wasn't until the last five years that the work for restaurant design started pouring in regularly. Partially thanks to Hole in the Wall, Greenwich, and Chowking, businesses now recognize the advantage of having an intelligently designed space; a space that has quirks, is creative, unique, and offers a different dining experience. Being Instagram-able suddenly come into play. Since 2015, we have done the interior branding of John and Yoko, Sizzlin' Steak, Sprout, Abaca Coffeehouse and Phat Pho in Cebu, Sumo Sam, Mr. Kurosawa, and Jin Joo Korean Grill.
ADVERTISEMENT - CONTINUE READING BELOW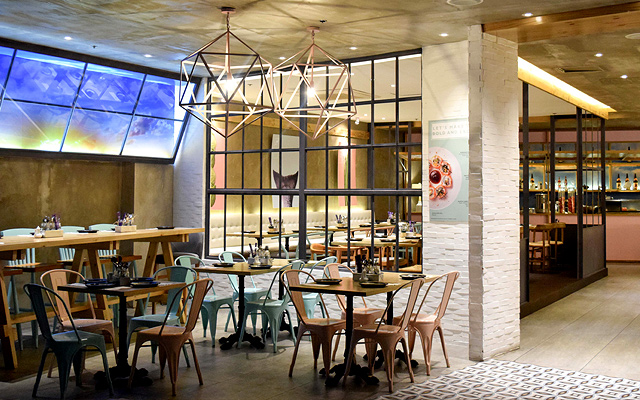 John and Yoko in Greenbelt 5 used to have dark interiors. We recommended a bright, organic design inspired by the magazine Kinfolk. The honesty of the cuisine should take center stage while the interiors and posters should exude lightness and authenticity. They opened in December 2015 and continue to enjoy high traffic.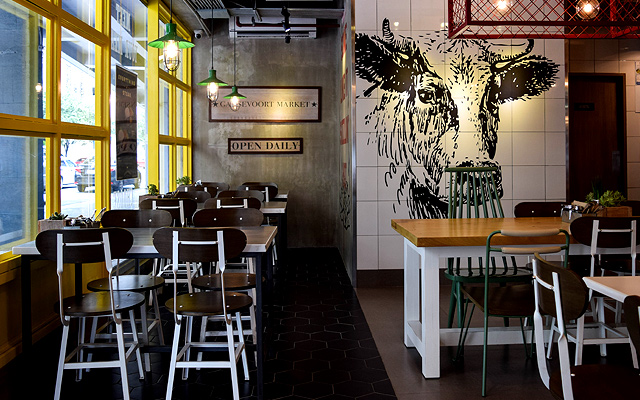 ADVERTISEMENT - CONTINUE READING BELOW
The main challenge with Sizzlin' Steak was to create a clear identity for the brand and make it stand out against its competitors. We simplified the logo and gave them a modern butcher, Meatpacking District look. The first new branch was launched in Vietnam and the second was on Valero Street. It opened during the second quarter of 2016.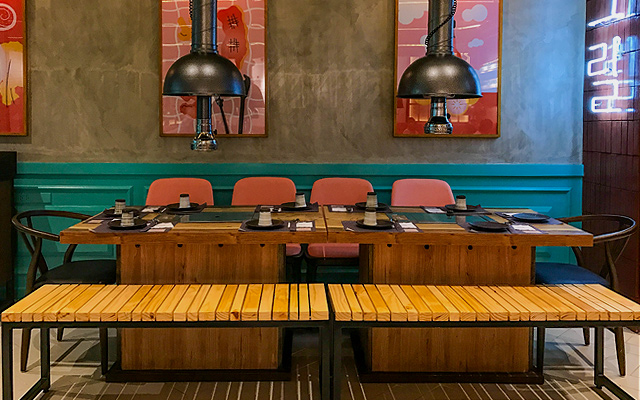 Going against the usual Korean grill restaurant, Jin Joo, which opened in SM Aura in January of this year, stands out with its K-Pop pastels in a more refined industrial space. Jin Joo offers variations of the popular Samgyeupsal dish and we wanted to reflect that sense of fun and adventure in the cuisine through the bright colors, bold graphics, and neon signs.
What would your dream project be?
Our dream project is to restore an old building and to convert it into a hotel. We love old structures, especially the ones in Manila or Escolta. We hope that someone would be brave enough to invest in restoration of old buildings so they can be given a new life.
ADVERTISEMENT - CONTINUE READING BELOW
What is the most exciting thing about the design scene in the Philippines right now?
Wherever you look, from Manila to Cebu, there are new restaurants and food halls cropping up, and a lot of them are very design-driven. Some retail stores are also integrating interesting details into their store interiors. We are in an age where sight is just as important as taste and feel. This opens up a lot of opportunities to be creatively daring and for all designers to up their game.
What challenges do architects and designers face in the local context?
Innovation is always a challenge. Interior designers and architects should always be providing solutions to make life better, which is as simple as going beyond aesthetics and focusing as well on craftsmanship. For a space to be well designed, it also has to be well made. Sturdy. Craftsmanship should be found in the furniture and finishing; it shouldn't just be pretty. Another challenge is connectivity. Designers and architects from Manila should also have the opportunity to explore, to work or teach in the other regions of the Philippines. Our recent trip to Iloilo taught us that there are venues out there for collaboration and learning, and Space Encounters hopes to explore this soon.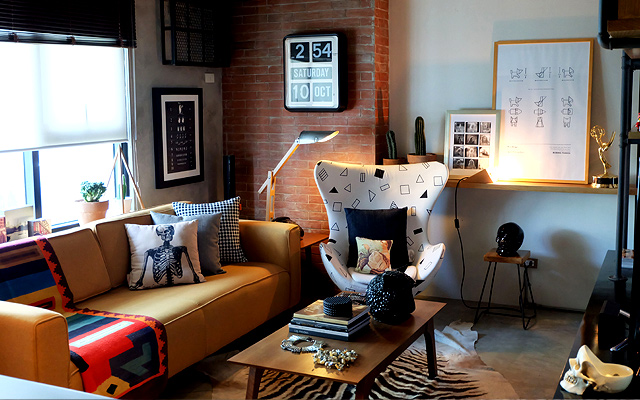 ADVERTISEMENT - CONTINUE READING BELOW
Emmy Award-winner Mike Carandang had a clear vision of what he wanted: the interiors and styling should reflect his story and his journey so far. It was a pleasure to design his space because of his eclectic taste in art and travel memorabilia. And we both like skulls. He moved into his new space early 2016.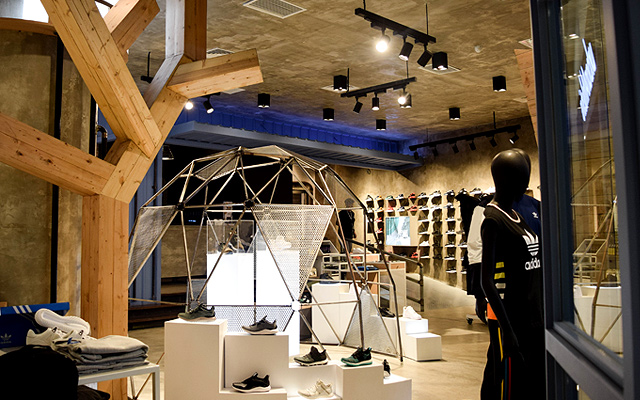 Described by one of our clients as a "Hipster Utopia," the new Urban Athletics is a mix of nomadic aesthetics and urban industrial. The result is a strong, memorable space, providing the perfect backdrop for collectible sneakers. The new Urban Athletics opened in S Maison, Conrad Manila late last year and will soon open in Greenbelt 3.
What are you currently working on?
We are currently working on a new brand of the local CBTL group. The concept is comfort food done better and the interiors play to our strength: a mid-century home. We are also working on an exciting, new concept for the Palace Pool Club group and the clients have given us free reign creativity-wise. As early as now, we can say that it will be nothing like any of the clubs in the country. Truly exciting times!
ADVERTISEMENT - CONTINUE READING BELOW
Your guide to thriving in
this
strange new world.
Share this story with your friends!
---
Help us make Spot.ph better!
Take the short survey
Load More Stories