Landscape architect Paulo Alcazaren is redefining the city as we know it
Our landscape is getting a much-needed makeover.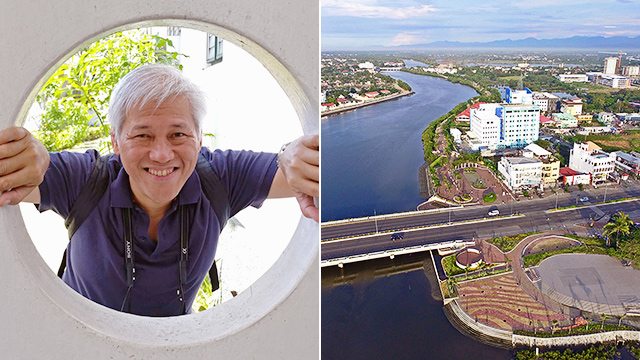 (SPOT.ph) Typically, Metro Manila's disgruntled citizens don't last a day without finding a thing or two to complain about when it comes to the urban landscape. Those with an observant eye, however, may have spotted a couple of improvements being implemented (however slowly) over the last couple of years. If you've been walking or driving around the Ortigas or Makati CBD, you may have experienced some roadwork, pruning, and overhauling that makes simple things like driving through corporate-clad F. Ortigas Jr. or even traversing some of Makati's parks just a little more pleasant. It's most likely that these facelifts are part of the efforts outlined and designed by landscape architect Paulo Alcazaren.
ADVERTISEMENT - CONTINUE READING BELOW
A staunch advocate for heritage architecture as well as forward movement in terms of urban design and planning, Alcazaren has played a big part in everything from reimagining provincial public areas to keeping our wildly diverse and unruly city as put together as possible. Here, Alcazaren shares some insights about his work in our urban environment.
How did your career in architecture and planning begin? 
I finished architecture and landscape architecture at UP in Diliman. I was a working student and apprenticed at the offices of noted Filipino architects Cesar Concio and Felipe Mendoza. I then worked full time for landscape architect and national artist Ildefonso Santos for four years from 1978 to 1982. I set up a firm with four partners in 1982, expanding it with a Singapore office in 1989, which I headed until 2002.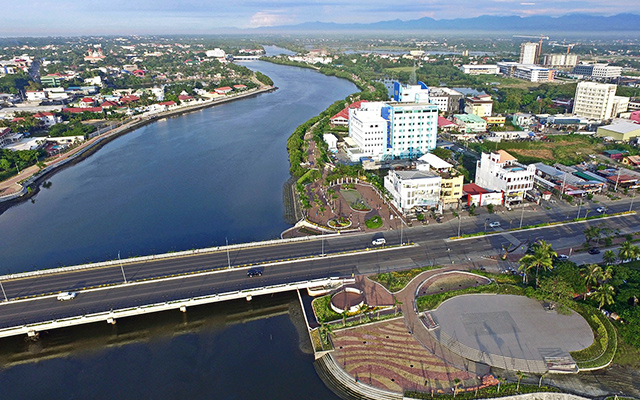 ADVERTISEMENT - CONTINUE READING BELOW
Iloilo Esplanade 1, 2, 3 and Aquino Boulevard in September 2016. Urban Design and Landscape Architecture by PGAA Creative Design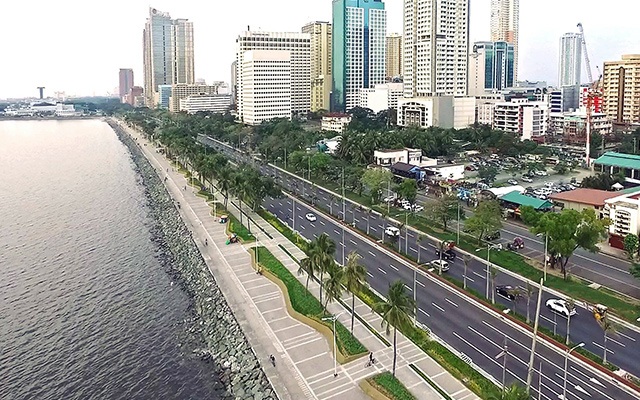 "Roxas Boulevard's makeover is generally complete—at least for this initial section from Rizal Park to the Manila Yacht Club."
What about the field fascinated you in the beginning and is it still what keeps you motivated and interested in it today?
ADVERTISEMENT - CONTINUE READING BELOW
The Philippines is in great need of good design, especially in the fields of urban design and landscape architecture. We have great world-class buildings but the moment you step out the doors of these, you get maimed, run over, or otherwise go from First World to Third World. My interest and advocacy stems from the urgency at which we need to reconcile the pressures of rapid urban expansion with the threats to heritage [and] our links to the past, without which we cannot build an identity that allows us to face a future based on cultural specificity and a vision of life we ourselves define.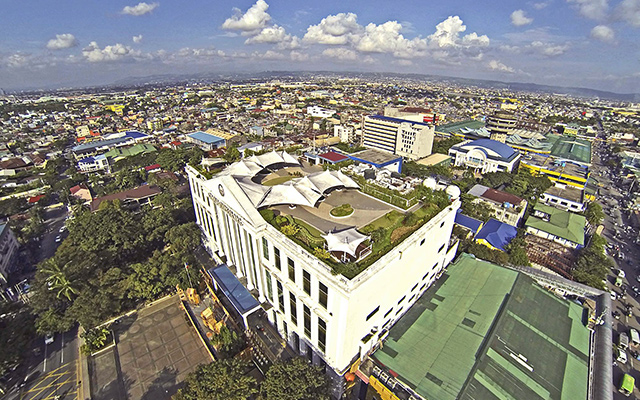 ADVERTISEMENT - CONTINUE READING BELOW
Pasig City Hall's "Panorama Park" (PGAA Creative Design)
What are your most memorable projects and what about them stands out to you?
These are mostly our projects in the public realm (or quasi-public realm)…the Iloilo Esplanade, the urban design improvements to the pedestrian, and park networks of Makati CBD, the urban design and pedestrian improvements to the Ortigas CBD, the three parks I designed for Singapore's National Parks Board, the urban design, greening and pedestrian improvements to Pasig City's historic core. They all stand out because they all benefitted the general public directly.
We're used to hearing people complain about our urban environment. What about it holds promise, amidst all the cons?
There's no way to go but up...but we have to start now.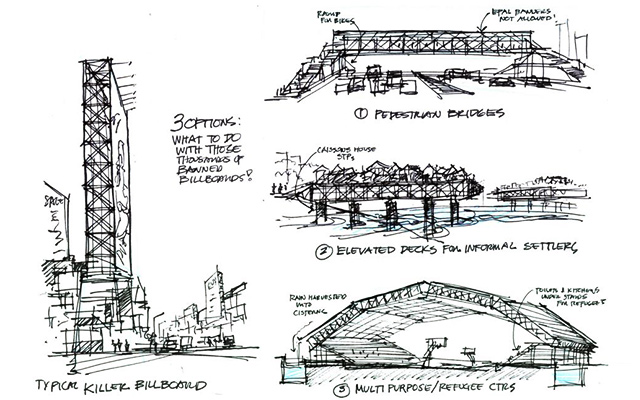 ADVERTISEMENT - CONTINUE READING BELOW
Alcazaren's proposed options to address "the problems of killer billboards...and the needs of informal settlers or refugees, and pedestrians."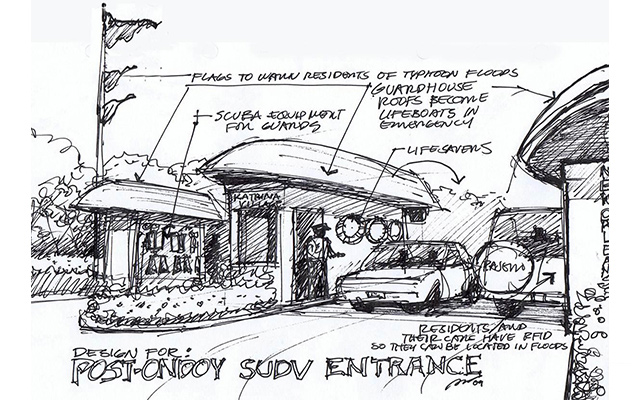 "Another sketch I did in 2009 after Ondoy. This time an intervention for exclusive subdivisions under risk from flooding."
What struggles do we face as a city today?
ADVERTISEMENT - CONTINUE READING BELOW
Mainly the lack of a governance structure (Metro governance) for Metro Manila that works better than 17 regimes cutting up what is basically a homogenous mass or urban sprawl. Without this, a metro transport system cannot be crafted and implemented. All other problems like flooding, crime, and lack of housing to address informal settlements have root causes and chances of intervention that comes for resolving the dysfunctional political framework of the metropolis.
How did your fascination with architectural history begin? What are your favorite old buildings?
I used to visit my lolo who lived off Rizal Avenue. They are all my favorites because there are so few left. All buildings have a story...which all need to be told.
What keeps you busy these days? What are you working on right now?
Too many projects, so little time.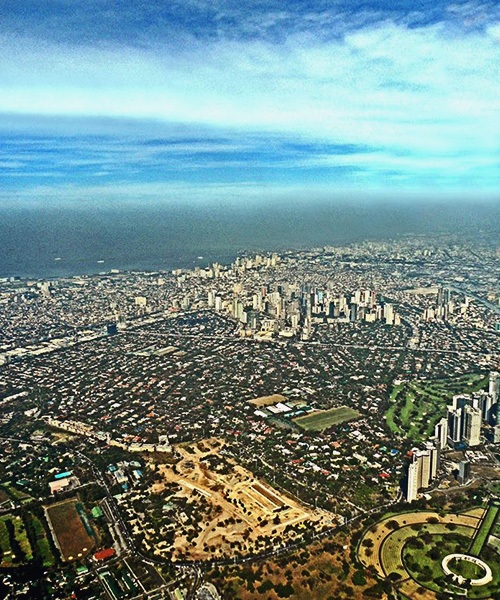 ADVERTISEMENT - CONTINUE READING BELOW
What is your dream project?
The Metro Manila makeover.
Recommended Videos
Load More Stories