A Day in the Life of Aling Puring, Segunda-Mano Vendor
Even before the term "decluttering" was coined, Aling Puring has been making this happen for households all over Metro Manila.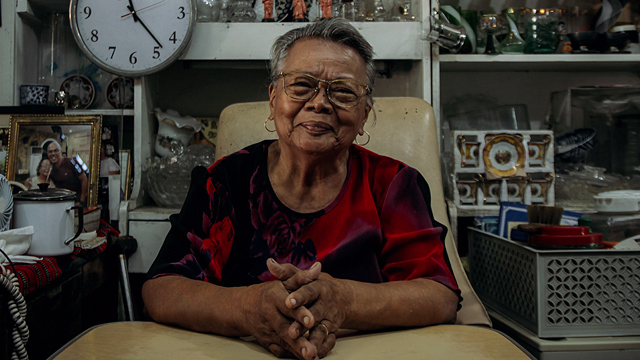 (SPOT.ph) Aling Puring sits in her office; surrounded by grand things—sets of unopened silverware, fine China, jars filled with old money. It's a place that you wouldn't expect to find in the middle of Tondo, but it's right there—a landmark of sorts. She states that to find her place, you simply need to ask anyone around Asuncion Street, and they'll point you right to her place. She says this matter of factly, and when we tried it out, everyone did point us to the right place.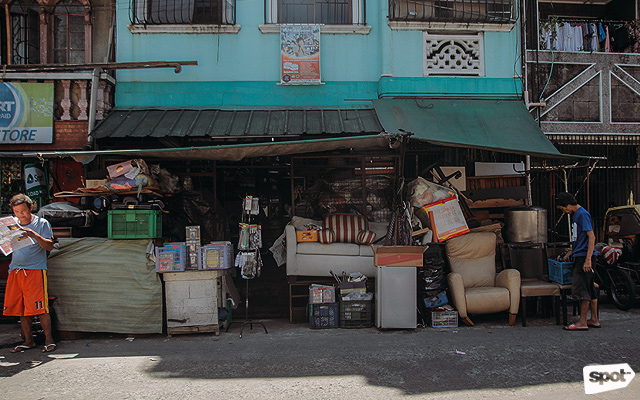 ADVERTISEMENT - CONTINUE READING BELOW
Her business space slash home has always been along Asuncion Street. There's no store signage to look out for—much like a speakeasy, its only giveaway is that they're the only place throughout the whole stretch of Asuncion Extension that sells an unusual collection of things. And like a celebrity or influencer, her name is her business.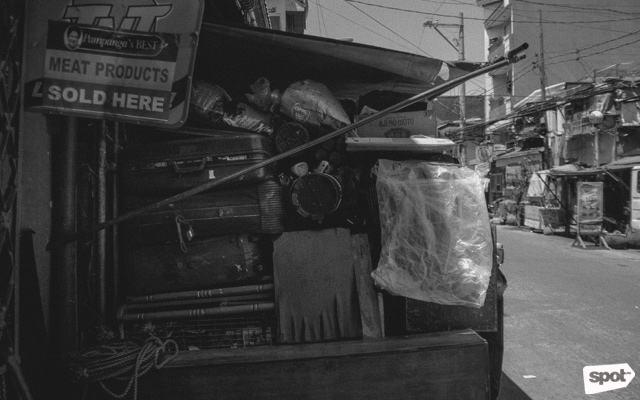 CONTINUE READING BELOW
Recommended Videos
Her office has a small storefront, selling a hodgepodge of things, like pocketbooks, neckties, cellphone chains, a basket of bras—small, affordable things that passerbys need and can easily purchase. There are unopened bundles of assorted clothes and shoes you can snap up for P3,000 a bundle—a super steal, but the catch is you can't open it up. The items that you find there are the very few things that Aling Puring decided to keep for herself to sell on her own or to display, while the rest is sold off to other stores.
ADVERTISEMENT - CONTINUE READING BELOW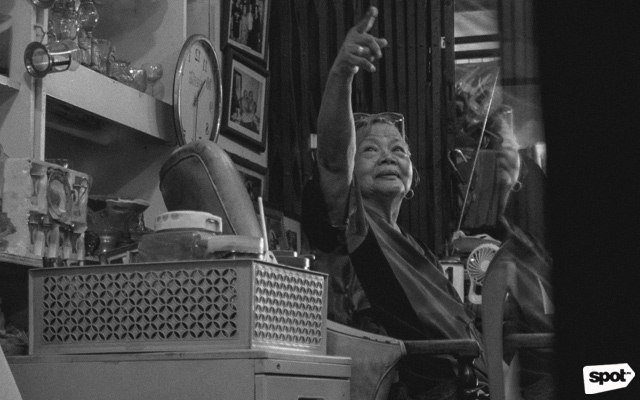 Aling Puring visits houses and buys items. But unlike the bote dyaryo collectors that we're familiar with, Aling Puring buys everything—literally, everything—that you're willing to sell her. Clothes, electronics, pieces of furniture, books, cookware—Aling Puring takes out the hassle of selling or disposing your items all in one go, plus she gives you a basket of fruits as a token of appreciation.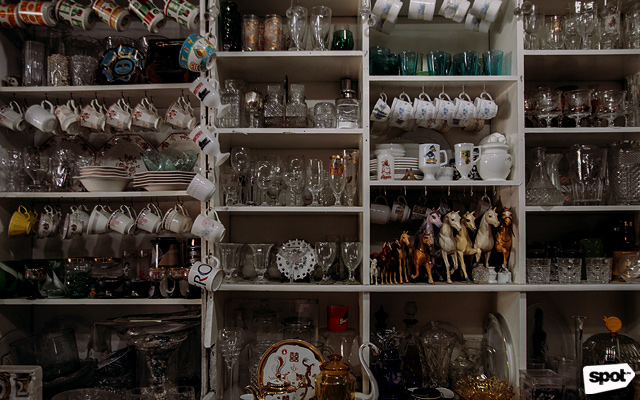 ADVERTISEMENT - CONTINUE READING BELOW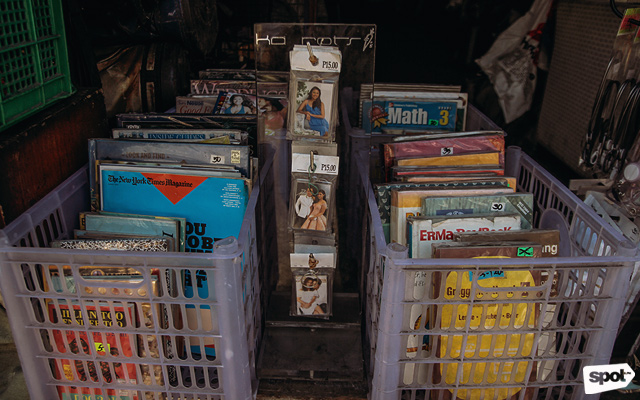 Even when she was starting out in the '70s, she had a sixth sense to simply look at a pile of things and instantly know how much to pay for them, and which items to pay for individually. As far as she could remember—and that's more than four decades worth of clients—no one has ever said no to her price, or even to haggle. "Tignan ko pa lang 'yan, alam ko na kung ano 'yong presyo pang pick all, at alin 'yong pang individual. Kung gusto mo ipaliwanag ko 'yong presyo, pwede naman, pero wala rin naman humihingi ng paliwanag."
She says that she's more comfortable talking to the owners themselves rather than their assistants or helpers, so that the owners will know exactly what she's giving away. The smallest amount she's paid is P2,500, and the biggest she's ever shelled out is when she wiped out the contents of a hotel in Makati for P90,000.
ADVERTISEMENT - CONTINUE READING BELOW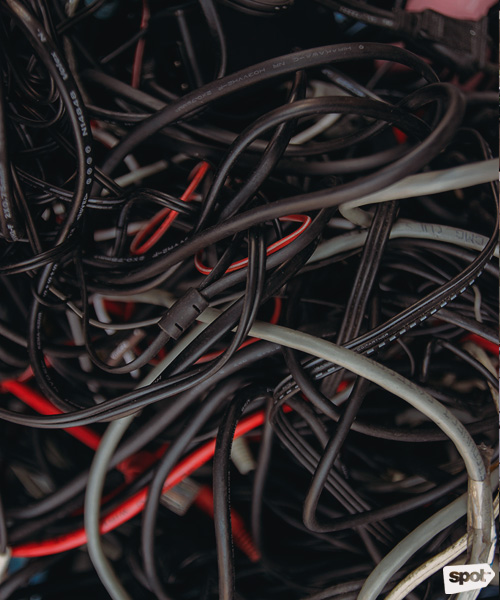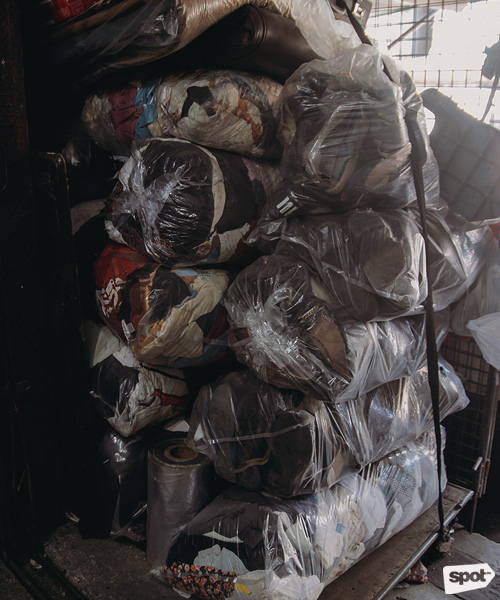 Once her men haul everything into the office, they immediately go through it like clockwork. There would be casual buyers who would snap up items, but the bulk of the items are sold to other surrounding junk shops and selected stores. A little of it is sold in the store front, and whatever Aling Puring fancies, she keeps and displays in her office.
ADVERTISEMENT - CONTINUE READING BELOW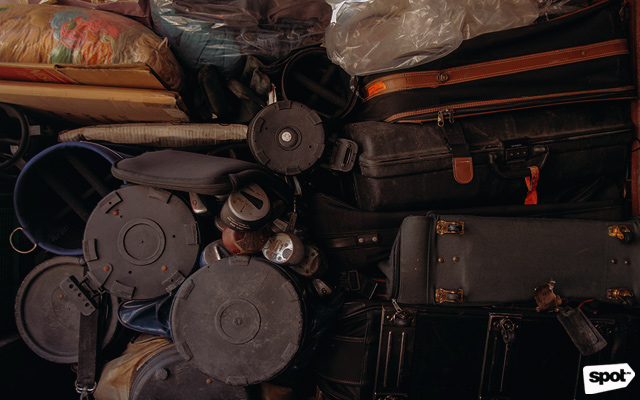 But today wasn't a busy day. Friday is coding day for Aling Puring, which means she's usually chained to her desk. Not only that, but she admits that business has been slow, and the calls from old and new clients have been few and far between. If before she would be out of the office by 8 a.m. to do three house visits in a day, with seven men hauling the items in her L300, nowadays it's just one house visit a day with only two men in tow. For the most part, she blames the traffic and heat for the lack of business.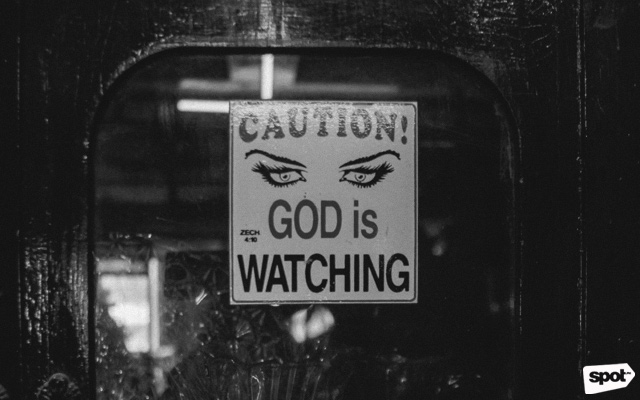 ADVERTISEMENT - CONTINUE READING BELOW
At 86 years old, Aling Puring has a walking cane by her side, and she has definitely earned her right to retire. But she insists that she gets sick when she's in the shop doing nothing, and she's not one to just sit idly by. She's up by 3 a.m., thinks about her schedule for the day, and she can be found at her desk before the break of dawn, reading her Bible.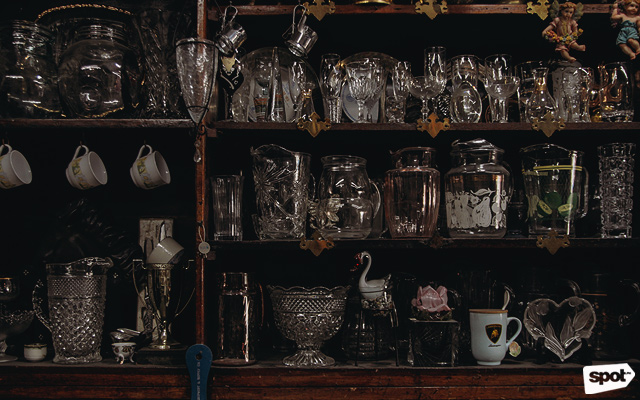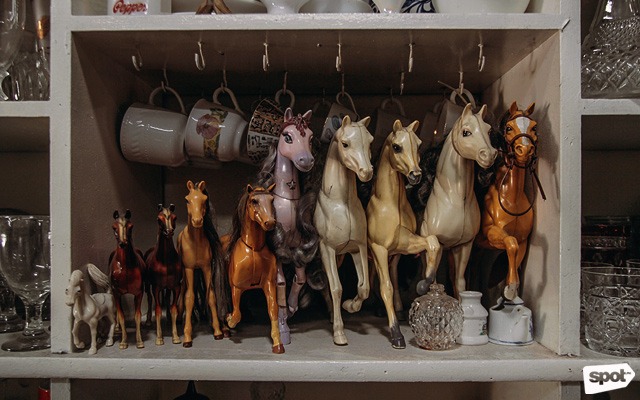 ADVERTISEMENT - CONTINUE READING BELOW
They open up the shop by 7 or 8 a.m., depending on the time her men get to work, and when there's a house visit, they leave straight away. If there's no house visit, she oversees the small shop from her place behind the desk. She closes shop by around 7 p.m., and is at bed by 8, but if she's feeling sociable and her friends come by to chat, she sleeps at 9.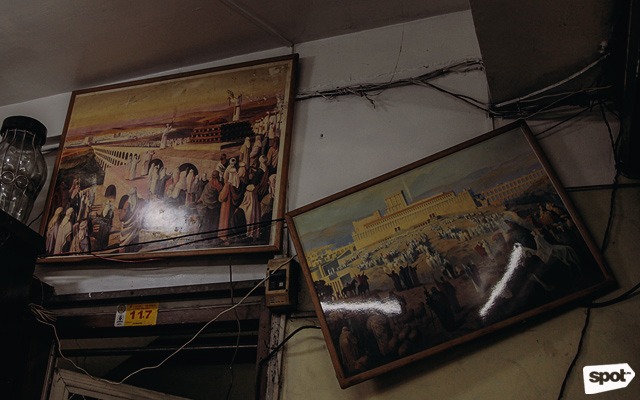 Selling is all that she's ever known to do, ever since she set foot in Manila in the late 1940s, when she was 17. She started out as a right-hand woman in a shop nearby, selling school supplies and other general merchandise within Tondo.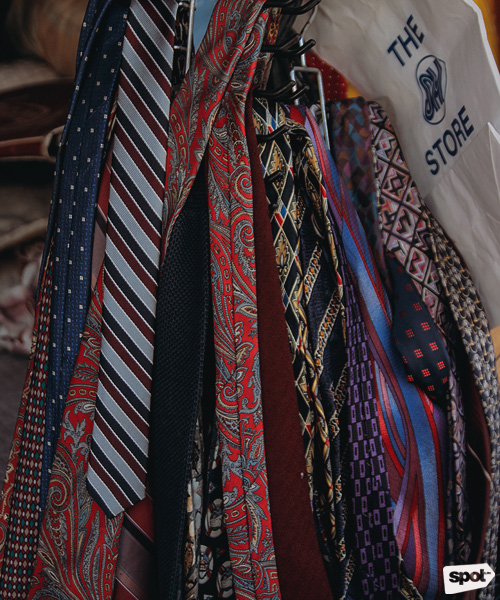 ADVERTISEMENT - CONTINUE READING BELOW
By her 40s, she had a husband and three children, and she wanted to make more money without sacrificing her time with the family. She thought of going into the segunda mano business, and asked one of her friends to refer her to a kumare. "Bawa't akyat baba ko sa mga bahay, nagtatanong ako kung pwede ako ipakilala. 'Senora, baka pwede pakilala mo ako sa mga amiga mo'. Pasa-pasa sa mga amiga."
The referral system worked for her, and she soon found herself hauling items from homes around Metro Manila, as far as Alabang to those in the North, some inside exclusive villages and condominiums. She swears that a daughter belonging to the one of the richest families in the country visited her Tondo office, with bodyguards in plain clothes, bringing along two big vans full of items for Aling Puring. She gave a pseudonym and it was only afterwards she found out her real identity.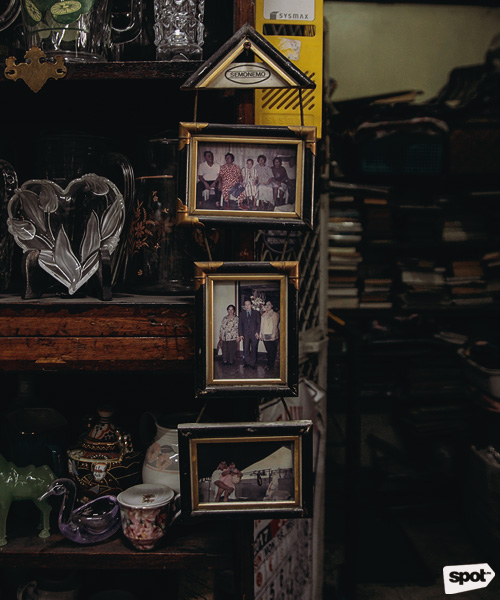 ADVERTISEMENT - CONTINUE READING BELOW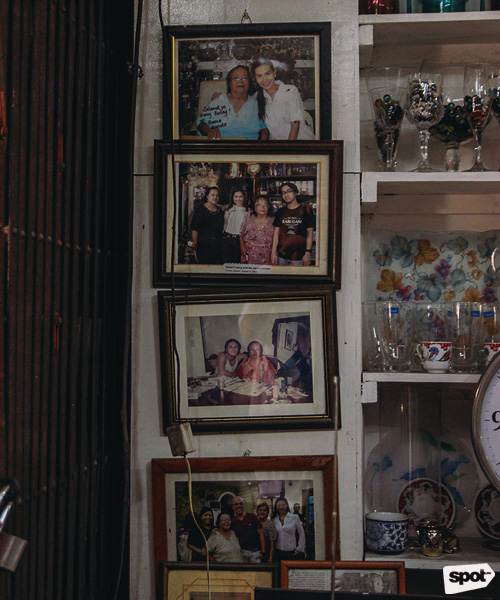 A decade ago, the TV stations found her and featured her in their shows, which explains her "wall of fame" in her office. Photos of Aling Puring with Boy Abunda and Korina Sanchez hang on the wall, a remembrance of Aling Puring's heyday. "Salitan dati 'yong dalawang network sa akin! Napanood pa yan sa international, galing! Meron pa sa Spain, thank you! Maraming tumawag noon." Tears well up as she remembers all that she's been through. "Limang daan lang 'yong puhunan ko dati. Pag naaalala ko 'yong pinagdaan namin dati, 'yong buhay na ganun, napapaiyak talaga ako, sa totoo lang." Her space has survived fires, theft, and numerous changes, and yet, she's still standing, thriving, and selling.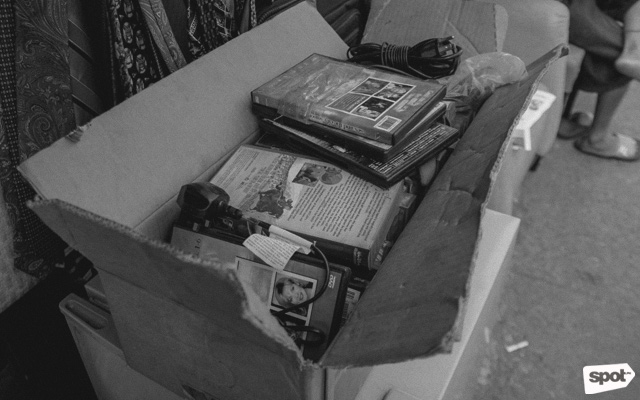 ADVERTISEMENT - CONTINUE READING BELOW
It's lunchtime and Aling Puring serves up a feast of hotpot soup, Chinese-style chicken, pancit, and rice. Her youngest daughter Malou joins in and tells us a little about her own buy and sell business—she sells used books through a group on Facebook. She's happy to say that she has around 2,000 likes. Malou was also the one who put up Aling Puring's Facebook page, calling her mom the "Declutter Diva," an idea Malou got from her own daughter to make the page sound more appealing. When asked why she wouldn't rather retire and hand her business over to Malou or to her two other children, Aling Puring grins and replies, "Alam nila 'yan na ayokong walang ginagawa sa bahay. At saka hindi nila kaya 'yong ginagawa ko."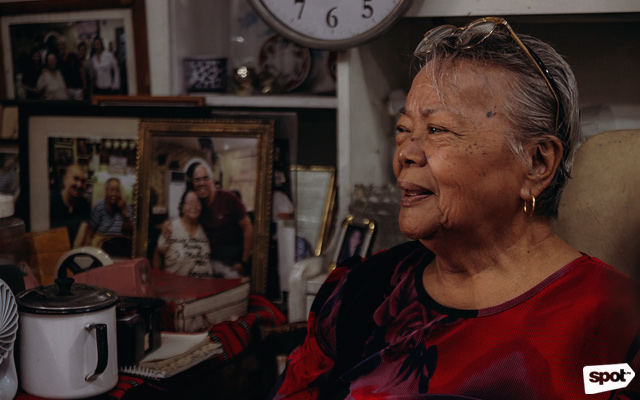 She says goodbye, but not without giving us a whole bilao of biko to bring home. It's her signature, she says, no matter their money situation, she still makes sure to give her all. People ask her all the time about where she learned to give gifts even when she practically has nothing extra to give, and again, she simply shrugs and says, "Tinatanong ako diyan dati, kung paswerte ba daw. Sabi ko hindi. Yan ang signature ko. Yan, love. Utang na loob sa mga tulong sa akin."
ADVERTISEMENT - CONTINUE READING BELOW
Aling Puring's office is at 1170 Asuncion Extension, Tondo, Manila. To contact Aling Puring for a house visit, call her at 241-6565, 925-0660, or 0917-333-7563. You can contact her daughter, Malou Dy Herrera at 0917-890-4799, or visit their Facebook page.
Your guide to thriving in
this
strange new world.
Share this story with your friends!
---
Help us make Spot.ph better!
Take the short survey
Load More Stories