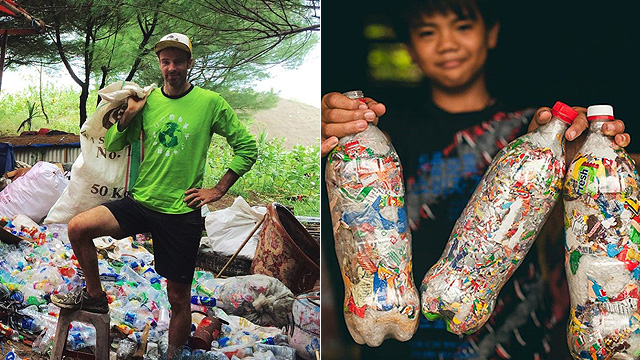 (SPOT.ph) We first got wind of Ecobricks—plastic bottles stuffed solid with non-biodegradable waste to create a reusable building block—through The Circle Hostel co-founder Ziggie V. Gonzales. But just like most people, he found out about it from Ecobricks.org—a global alliance with a mission to turn as much plastic waste as possible into ecobricks.
ADVERTISEMENT - CONTINUE READING BELOW
We dug a little deeper and got in touch with the founder himself, Canadian artist Russell Maier, who's currently in Indonesia working his Ecobricks magic. In this SPOT.ph interview, he narrates with enthusiasm how, while in the valleys of Sagada, he discovered a great way to solve our plastic problem—and how it has now turned into a global phenomenon.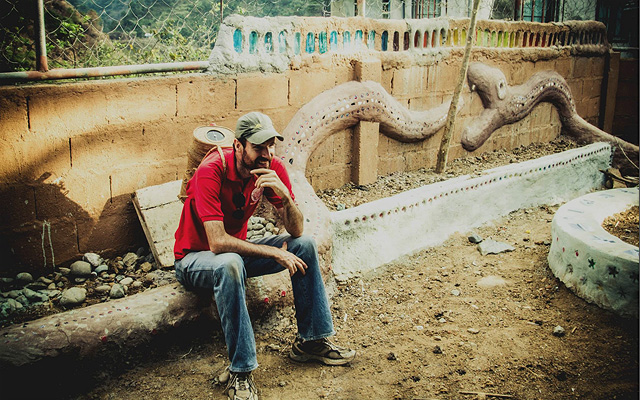 ADVERTISEMENT - CONTINUE READING BELOW
Recommended Videos
SPOT.ph: We know it's really bad, but just how alarming is our problem with plastic?
Russel Maier: Well, there's now, and there's what is coming.
First, there is the plastic that we've all consumed in the last few decades. It's already there, or on its way into the biosphere. I am here in Bali, Indonesia at the moment, and there's lots of all that washing up on the beaches—just like you see in Manila Bay every day.
But much more alarming is that as we keep going buying and throwing away, there's a vast tsunami of even more plastic on its way into the biosphere as we continue to consume plastic. Factories continue to make more. What I see on the beaches now is only a shadow of what it will be like in five years. The Guardian just did a story stating that the plastic pollution danger is as dire as global warming to the planet's ecological health.
ADVERTISEMENT - CONTINUE READING BELOW
There's just no industrial solution for plastic out there. [We have] recycling, dump sites, incinerators. But [still], the plastic molecules eventually make it into the biosphere and this causes problems. Plastic just doesn't fit back into the cycles of nature. Plastic chokes, clogs, and eventually poisons the life cycles that sustain us and our fellow species. You don't have to take my word for it, just take a glance at the ditches, the beaches, and the dump sites around the Philippines.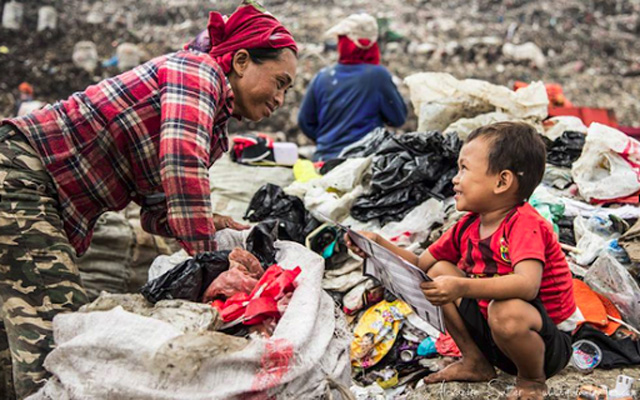 ADVERTISEMENT - CONTINUE READING BELOW
"Plastic has a heavy ecological and human cost," Maier says.
How important is it to repurpose plastic (and minimize plastic use)?
The situation is a little bit like the town of Auschwitz in the 1940s. The local town's people knew that something not-good was happening—train-loads of people were arriving and then disappearing behind the gray walls and barb wire. Nonetheless, most of the townspeople continued to go about their daily business—going to school, running their shops, taking care of their family.
Meanwhile, the worst atrocities were being committed behind those walls. We know that now as the Holocaust. Some people stood up, but it took almost a decade before the carnage came to an end. The Allied soldiers had to compel the townspeople to go inside and see what had happened literally meters away: Genocide.
Plastic pollution is one of the carnages of our times. We're in the midst of the greatest disappearance extinction of species in the last six million years—an effective ecocide of thousands of species. Have you heard about the Albatross baby birds in the middle of the Pacific? Or the recent beached whales in Canada? Many of these species are literally choking to death on plastic. My plastic is and will cause suffering to our children and the children of many species for a long time to come.
ADVERTISEMENT - CONTINUE READING BELOW
Just as the concentration camp was able to continue its carnage because the townspeople went on with their daily business, plastic pollution is perpetuated by our daily business. Our most banal actions, like buying lunch, drinking water, or sipping a soda. Personally, I don't want to have anything to do with that and try everything I can not to be part of the carnage. The choice is there each moment for each of us.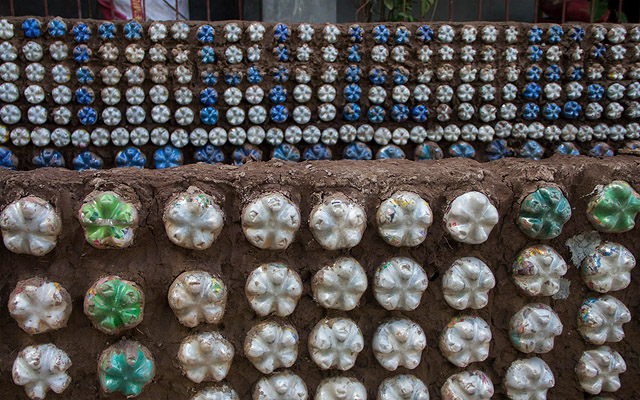 ADVERTISEMENT - CONTINUE READING BELOW
How did the Ecobricks project start?
Discovering Ecobricks was a joyous epiphany for me. Finally, a solution for plastic.
My story starts in the Northern Philippines, while I was stranded for four years in the remote villages of the Cordilleras. In 2009, I had made the small municipality of Sabangan my home after a heartbroken burnout of my personal plans. Sabangan is an incredibly beautiful village in the Chico River valley, surrounded by mountains and verdant terraced hills. It's about a three-hour hike away from Sagada. I rebuilt my life and regained my direction there.
In my country of Canada, it's easy to go about one's daily business and not see where one's plastic ends up (I am ashamed to say, a lot of it gets sent to the Philippines). However, in Sabangan there are no illusions of where plastic goes. I discovered, to my heart-aching dismay, that all my plastic was being taken by my neighbors to the beautiful Chico River and burned—right near where the children would play and the men would fish. It was a profoundly disturbing realization that my "daily business" was part of the carnage.
ADVERTISEMENT - CONTINUE READING BELOW
I began to experiment with all sorts of techniques and creations for upcycling the plastic, anything to keep it out of the Chico River. However, it struck me that even when we turned the plastic into upcycled bags, purses, mats—we weren't solving anything. Eventually, this stuff would break and be thrown out, too.
In 2010, my friend Sir Ernesto, a local councilor, let me experiment in his river-front farm with a Central American technique of putting sand into plastic bottles to make bricks. We gathered sand down by the river's shore, very close to where the plastic was being burned. Some plastic ended up in our sand bottle bricks and it didn't seem to be a problem. We decided to try a mix of sand and plastic. Still no problem—the bricks were solid and useable. Finally, we just stuffed in pure plastic and it worked just fine!
ADVERTISEMENT - CONTINUE READING BELOW
I remember just staring for a full hour at these plastic bottle bricks in sheer wonder. My soul had begun to sing with joy: "This is a solution for the plastic!" We rebuilt Sir Ernesto's house with them and visitors come from all over to see it. I have focused my life on developing and disseminating this joy ever since. "Ecobricks," as we came to name it, is [now] a global phenomenon. Others have stumbled upon and begun the technique in Ecuador, South Africa, Nicaragua, and more. Like me, they came to realize it was a deep solution for their plastic.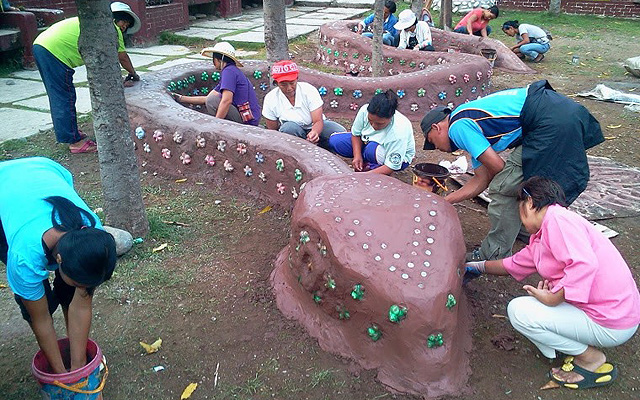 ADVERTISEMENT - CONTINUE READING BELOW
Women of the Bontoc Market Vendors Association builds a giant snake at the Bontoc Provincial Plaza with 600 Ecobricks
How much has your project evolved?
I first started putting my home plastic into soda bottles at my Sabangan house. I built a little garden. This worked great, so I shared it with the local San Alfonso secondary school. My friend Klaus and I, plus 250 students, cleaned out the garbage pit and built a compost area. This went so well that other Sabangan schools started doing it, too. The plastic in the streets started to evaporate and parents were in awe as the students ran around packing bottles. I applied my art of "mandalic collaboration," which is a way of involving many, many people in an ever growing self-empowered co-creative movement. Soon, I found myself visiting more schools to show them how to pack their plastic and build.
With the help of my friend Irene Bakisan, we developed a teachers' guide so that [we don't] have to visit each school one by one! The famous Filipino cartoonist El Tiburon Grande jumped in and the booklet became an overnight success. Thousands of copies were made. At the same time, the renowned Filipino healer, Pi Villaraza, happened to be passing through the Cordilleras. He saw Ecobricks as a way to heal the carnage done by the corruption by corporate capitalism on the food and lifestyle on the people of Northern Philippines. He helped me pitch Ecobricks to the Cordilleras Superintendent, Ma'am Ellen. A few months later, 1,700 schools had implemented into their curriculum.
ADVERTISEMENT - CONTINUE READING BELOW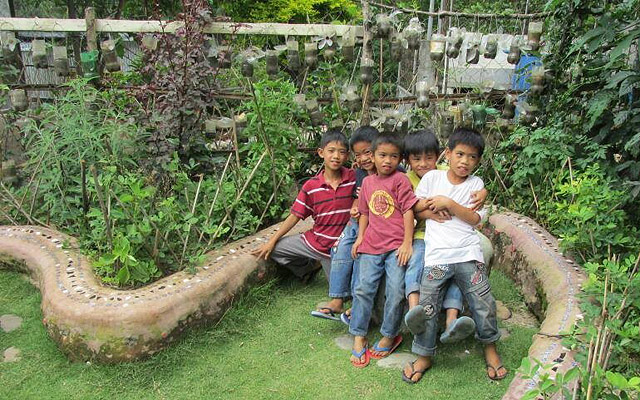 The completed Food Forest Play Park at Balili Elementary School, made with 1,000 Ecobricks and all edible plants.
The undersecretary of Education for Northern Luzon DepEd, Alberto Muyot, was paying attention at this point. Sir Muyot couldn't stand the sugar laden junk food and sodas that were poisoning young Filipino students in his region. He observed that the ecobrick phenomenon was getting people to talk about the problem (i.e. Should kids even be allowed to drink poisonous sodas in the school system?). Even better, the Ecobricks were ideal for building gardens where the students could learn to grow their own fresh food.
ADVERTISEMENT - CONTINUE READING BELOW
At a gathering of several dozen superintendents, with Sir Muyot's endorsement, we rolled out the Vision Ecobrick Construction Guide to all the school boards of Northern Luzon and their schools. In 2014, I had to return to Canada for my sister's wedding, by then there were close to 8,000 schools who had adopted the Vision Ecobrick Guide. Sir Muyot estimated that this amounted to a quarter million students. I am proud to say that through the efforts of all these young Filipinos, thousands of tons of plastic have been diverted from the biosphere. The Ecobricks are being used to build gardens and green spaces in coordination with Sir Muyot's school vegetable growing program.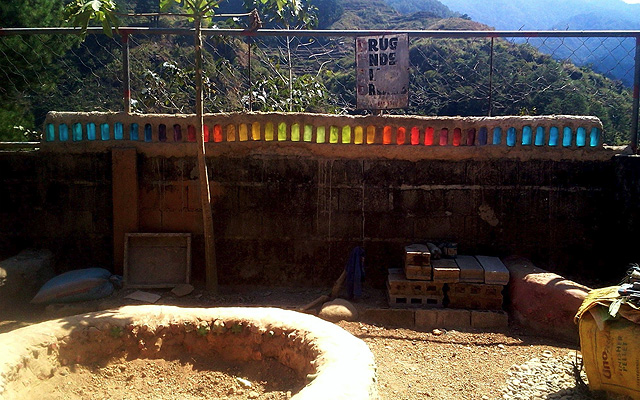 ADVERTISEMENT - CONTINUE READING BELOW
What is the current state of ecobricking in the Philippines?
Ecobricking continues to spread. Regular people realize this is a way for them to deal with their own plastic, because the government and industry just don't have a solution. Our original teacher's guide is now on its third version and translated into half a dozen languages. The Northern Philippines is now one of the furthest ahead in the world in terms of full societal Ecobrick adoption. Sir Muyot and Irene have spread Ecobricks to other DepEd [offices] around the country. Teachers and superintendents have been adopting ecobricking in the same way.
Earlier this year, Ecobrick Convergence was held in Sagada to review the progress, failures, and lessons of the widespread Ecobrick school adoption.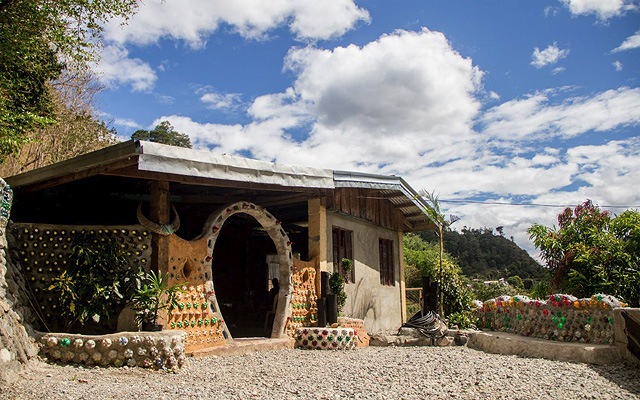 ADVERTISEMENT - CONTINUE READING BELOW
Pi Villaraza and Irene continue to lead Ecobrick workshops and demos around the country. Many cities are now following the example of DepEd Cordilleras at the LGU and mayoral level.
In 2015, I attempted to return back to the Philippines to resume my participation in the movement. But it turns out that I am blacklisted by the Department of Immigration from returning to the country. (I did not have the proper visa while staying for my first four years.) Unable to return, I was diverted to nearby Indonesia where plastic is also a problem.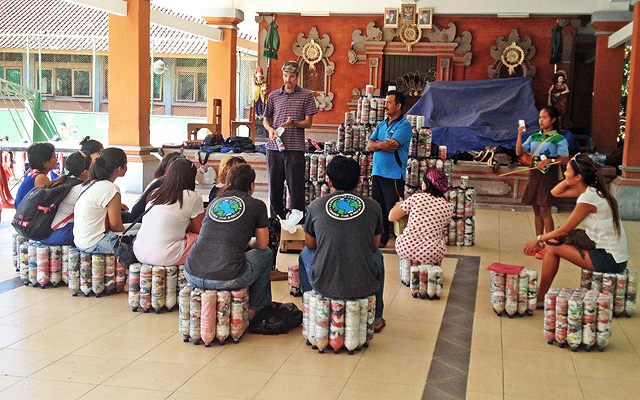 ADVERTISEMENT - CONTINUE READING BELOW
Using the lessons learned in my time in the Cordilleras and the same mandalic model of dissemination, I have been sharing ecobricking here in Indonesia. In June 2016, the city of Jogjakarta officially instituted ecobricking, with trainers spreading it to every neighborhood of the city. In the fall of 2016, the country's largest Muslim organization with a base of 90 million people, has officially adopted ecobricking. They are on fire disseminating ecobricking throughout their vast network of boarding schools and mosques.
For more information, visit Ecobricks' website.
Share this story with your friends!
---
Help us make Spot.ph better!
Take the short survey
Load More Stories