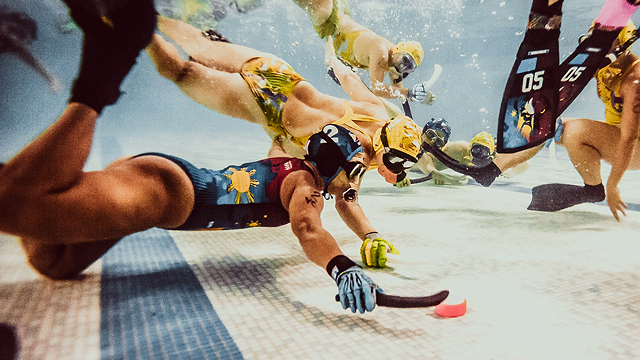 (SPOT.ph) Admit it: Your idea of hockey is probably based on The Mighty Ducks. But did you know that there's another kind of hockey that isn't played on ice? Underwater hockey has been played in the Philippines since 1980, but it was only 10 years later when the Philippine Underwater Hockey Confederation was officially formed. Not many people are familiar with this competitive water sport, so it comes as a surprise to most that our country has a designated national team competing all over the world. From September 22 to 24, the Philippine Underwater Hockey Team competed in the 7th Asian Underwater Hockey Championship held in Beijing, China where they bagged gold (women's team) and silver (men's team).
Those sports movies you grew up watching almost always had an inspiring message, and this real-life story is no exception. The members of the Philippine Women's Underwater Hockey Team come from different age groups and social backgrounds, but they formed a strong bond through constant training in and out of the water. Over the years, they've learned to prioritize team over self—sacrificing precious family time to train, conditioning the mind and body to learn new techniques, creating strategic plays that focused on each of their strengths, and outsmarting bigger and stronger opponents through skillful maneuvers. The proof of their successful teamwork lies in the five gold medals and two silver medals they've won in the past Asian Championships.
ADVERTISEMENT - CONTINUE READING BELOW
SPOT.ph sat down with Captain Chari Ongyanco, Vice Captain Nadja Buenafe, and newly installed Coach Amy Barry-Macaulay to discuss how they prepared for the competition, how they overcame challenges along the way, and how they felt after successfully holding their title for another year.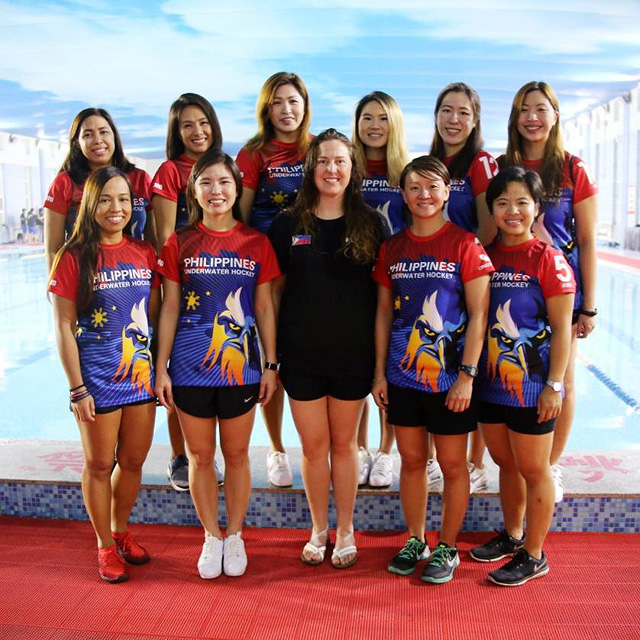 The Philippine Women's Underwater Hockey Team is comprised of (front row, left to right) Vice Captain Nadja Buenafe, Bem Lim, Melbourne-based Coach Amy Barry-Macaulay, Captain Chari Ongyanco, Bridget Josef, (back row, left to right) Ines Templo, Sheila Co, Jowi Uy, Jackie Joyce Chua, JV Lim, and Micheline Uy.
How long have you been a part of the women's national team?
Chari: I've been a part of the team since 2007. I first got into underwater hockey (UWH) back in 2002 after signing up for an introductory class. Since trying the sport, I have never stopped playing it.
CONTINUE READING BELOW
Recommended Videos
Nadja: I played in the women's division B for three years before finally making division A in 2009. We won the Asian championship that year (my first gold!), but we would lose two consecutive championships after that. The losses were heartbreaking but empowering at the same time.
Amy: There were a few new members who had not previously played at the Asian Championship. The team also had a new coach (me!), who didn't know everyone on the team, but everyone formed great bonds during the training camp and competition.
How do you select the members of the national team?
Chari: For the women's team, we do our selection process based on commitment to training, fitness level, skill level, game sense, and team gelling. We're all currently from the Polo Puck Pirates Underwater Hockey Club (3P), so we get to practice together during our regular club nights.
What challenges have you faced over the years?
Chari: The biggest challenge we have is not having enough players to choose from and be part of the national team. Not everyone plays competitively. Some just play for leisure and can't commit to training. Plus, it's difficult to get funding for these competitions. 
Nadja: A problem we've had over the years is the lack of a coach. I've been playing for 11 years, and it was only this year that we got a real coach.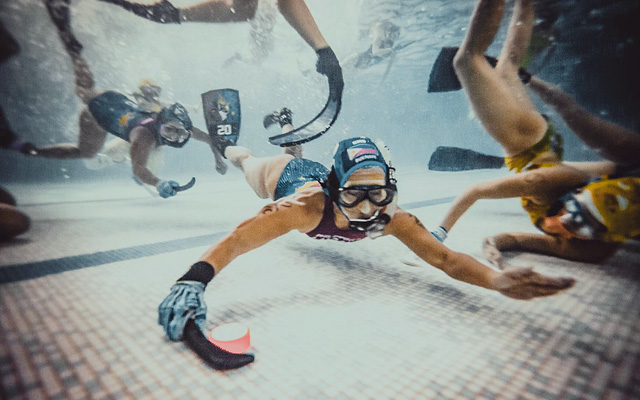 ADVERTISEMENT - CONTINUE READING BELOW
Coach Amy, could you share what made you agree to train the women's team?
Amy: Chari, Nadja, and I discussed the possibility back in March [2016], and then we seriously considered a proposal to coach remotely [since I'm based in Australia]. It was all confirmed about three to four months prior to the Asian Championship. Coaching the team was an opportunity for me to try and give a little back and hopefully support the development and progress of UWH in the Philippines.
How did the team prepare for the championship games?
Amy: Members of the team completed swim and gym programs, as well as other cross training sessions and regular weekly games. Everyone was swimming at least twice a week, and most were playing two to three games a week as well as two to three gym sessions per week. [In terms of coaching the team,] we shared training programs, game strategy, and skill drills online. We had a Facebook group where we shared information (videos, training plans, et cetera) and supported our peers through the training and competition preparation process. Prior to traveling to Beijing, we had a week-long training camp in Manila. Chari and Nadja did a lot of work with the team and individuals in the lead up to the training camp. They were brilliant leaders and really led by example.
What were the sacrifices you had to make while training?
Chari: It was hard to keep a training schedule while balancing work and family time. If I missed a swim session or a workout, I had to make up for it on another day. Sometimes, when things got busy at work, I ended up doing my workouts past midnight. I also missed out on events or trips because we couldn't skip training.
ADVERTISEMENT - CONTINUE READING BELOW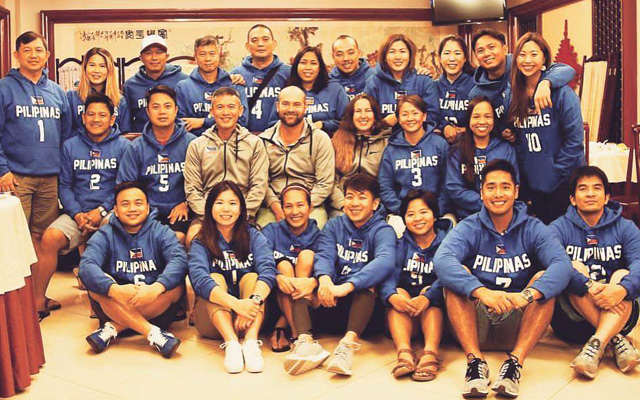 Most of the players from the national team are members of the Manila-based Polo Puck Pirates (3P) Underwater Hockey Club.
Was there more pressure on the team since you were there to defend the title?
Nadja: Whatever pressure I felt, it was the good kind! It motivated me to plan my training in advance, map out my nutrition early, and mentally prepare myself for injuries.
Chari: The pressure of performing well in a competition is always there, but there's added pressure when you have to defend a title! Previously, as the captain and "playing coach," I was the one giving instructions to the team—before, during, and after the game—which was very difficult to do. Having a coach this year really helped take away a lot of pressure from me. 
Amy: There may have been some pressure on them, but they managed that pressure with grace and determination. In one game, just prior to the finals, they had to play with nine players (they were one person down) and that did not affect them. They were strong and composed, and they won convincingly!
ADVERTISEMENT - CONTINUE READING BELOW
Did the team face any problems during the competition?
Nadja: I had problems with my ankles going into the competition, so I wasn't swimming as fast as I should. There were several games when I played with my long carbon fin on one foot, and a shorter, softer fin on the other. A teammate took to calling me Nemo because of that. During these times, it helps to reflect on all the hard work you've put in the past—your training then just magically kicks in and you forget whatever it is that ails you! 
Nadja, how does it feel to nab the top scorer award for two years? Are there particular tricks to achieving this feat? 
Nadja: I'm just grateful. The first time was a surprise, the second was completely unexpected. I don't think anyone goes into a championship aiming to become top individual anything. I was scoring because I know that so many things can happen during the last few seconds of a match. And that's the kind of pressure nobody wants. But every goal is a result of everyone's efforts. I'm lucky to be in a team of strong and determined women.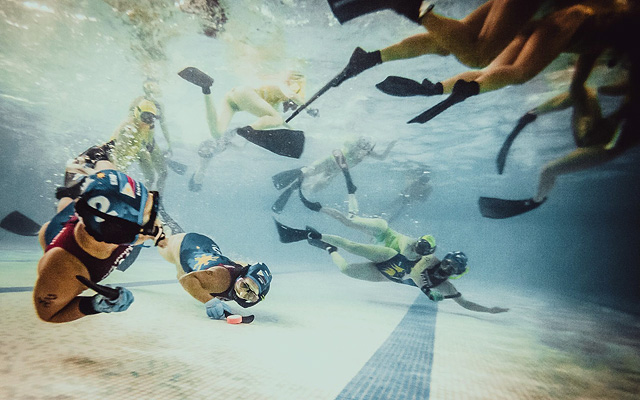 ADVERTISEMENT - CONTINUE READING BELOW
What do you love most about UWH?
Amy: Underwater hockey [is] a really dynamic sport. While it is fast-paced, it relies on more than just speed. It is very much a team sport, [so] you need to play smart and with your teammates. You're working with the whole team in the water to make plays and score goals! Also, being underwater is a leveler. It requires a different type of fitness, skill, and strength to some land-based sports.
Nadja: Aside from being a low-impact sport, it's a mental game as well. We can't talk underwater so there's a lot of pre-game strategizing involved. Being one of the shortest in my club, I had to teach myself skills that let me have my way with the puck. I like outwitting bigger, stronger players than me. Girl power!
What have you discovered while playing the sport over the years?
Chari: I learned what my physical capabilities are and realized that hard work really pays off.
Nadja: Filipino athletes need support. Whatever sport you play and whether you are winning or losing, moral and financial support are important. Private benefactors are crucial to some of our national sports teams. [In our case,] it's been great that the Philippine Sports Commission has taken an interest and been partially funding some of our competitions. We have the National Sports Association, Philippine Underwater Hockey Confederation, and our president and solid patron, Dennis Valdes, to thank for that. 
What are some misconceptions about UWH?
ADVERTISEMENT - CONTINUE READING BELOW
Chari: People think you have to be a very good swimmer to play. That's not the case! They just have to have the confidence to do it. Anyone can be better as long as they practice.
Nadja: The first thing people ask me is how long I can hold my breath underwater. So I guess it's common for people to assume that this is an important measure of our abilities as a player. There's so much more to UWH than just the length of our breath holds.
Amy: Underwater hockey is a small, niche sport. It's also not a spectator sport as it is played underwater. In Australia, there is some great work happening at competitions to improve video coverage of high-level competition games, making it more accessible for spectators at the pool and also making it available online via streaming on YouTube. This will make the sport more spectator-friendly, which will over time assist to increase awareness of the sport.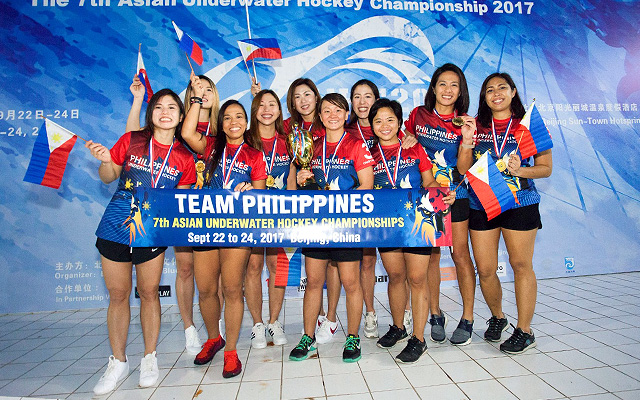 ADVERTISEMENT - CONTINUE READING BELOW
What are your hopes and dreams for UWH in the country?
Nadja: To see kids regularly play it or get schools to include it in their classes.
Chari: We hope to get more people interested in the sport and to have a UWH specific pool in the future. We also hope that the sport will officially get into the SEA Games and Asian Games because these are the events being prioritized by the Philippine Sports Commission.
What's next for the team? 
Amy: Hopefully the SEA Games in 2019!
Nadja: We have an outstanding appeal to be included in the SEA Games to be hosted by the Philippines in 2019. If we are accepted, it'll be a big boost for the sport in our region.
Share this story with your friends!
---
Help us make Spot.ph better!
Take the short survey
Load More Stories