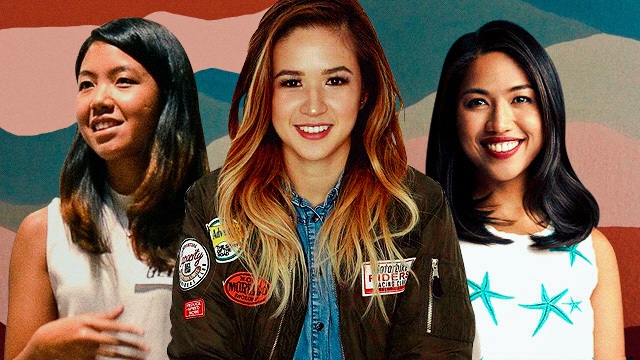 (SPOT.ph) Women warriors—of every kind possible until recently—weren't as popular in history books or popular culture as their male counterparts. Through Greek mythology, we know of the Amazons as mythical female warriors; in science, there's French-Polish chemist and physicist Marie Curie who shared her Nobel Prize for Physics with her husband; and in activism, Susan B. Anthony was one of the leaders of the women's rights movement in the late 1800s. But a heroine doesn't always have to wield a bow and arrow, there are some who fight with great passion to save the most important woman of all—Mother Earth.
ADVERTISEMENT - CONTINUE READING BELOW
Anna Oposa
With all the threats to the marine ecosystem—from the construction of a resort in a sea turtle sanctuary to the unchecked use of single-use plastic, Save Philippine Seas co-founder Anna Oposa always has her hands full. Describing herself as the "Chief Mermaid," she leads the group in protecting the country's coastal and marine resources through information dissemination, education campaigns, and community-based projects. Having earned a bachelor's degree in English Studies from the University of the Philippines in Diliman and a Master's of Science in Conservation Science from Imperial College London, she combines her passion for writing and environment conservation through publications and books such as a textbook for grade school students titled An Introduction to Climate Change for Filipinos.
Fiona Natasha Jean Faulkner
Fiona Faulkner facilitates Tribes and Treks as the environmental officer of The Circle Hostel, a chain of low-cost and eco-friendly accommodations popular in the surf towns of Baler, Zambales, and La Union. Tribes and Treks immerses guests in the Aeta communities of Zambales and help in the reforestation of at least 3,000 hectares of their ancestral domain. She also looks after the Plastic Solution, a Circle Hostel project that repurposes plastic bottles by stuffing them with cut-outs of non-biodegradable waste.
ADVERTISEMENT - CONTINUE READING BELOW
Miku Ebueza
Committed to becoming a "steward for Mother Nature," Miku Ebueza in 2013 started making handcrafted bracelets, jewelry, and accessories from objects found discarded on beaches and worn-out shirts and cloth. It later grew into what she now calls Tali Ti Amianan (Ilocano for "Rope of the North), a social enterprise participated by the women and elders of La Union. The bracelets also don't make use of glue, which could be harmful to the ocean.
ADVERTISEMENT - CONTINUE READING BELOW
Laura Riavitz
A marine biologist from Austria, Laura Riavitz immediately fell in love with the surf community in San Juan, La Union, and decided to move to the province in 2012. She now pursues her passion for reef ecology and conservation by working as a marine consultant for La Union. When not riding the waves or exploring the Philippines' marine wildlife, she makes sure that her community is well aware of the importance of caring for their waters by initiating mangrove planting and coral replanting workshops and teaching the locals how to avoid using plastic bags even in the wet market.
ADVERTISEMENT - CONTINUE READING BELOW
Jammy Ungab
Jammy Ungab is the woman behind Plastic Free Bohol, a movement based on the island in Central Visayas that aims to eliminate plastic pollution. Monthly beach cleanups and talks with the town mayor to ban single-use plastic often keep her busy. Aside from wishing for a plastic- and foam-free Bohol, she also dreams of a coal-free country.
ADVERTISEMENT - CONTINUE READING BELOW
Gela Petines
The Philippines has been blessed with rich marine ecosystems, so it doesn't come as a surprise that more people are becoming interested in skin diving. For Gela Petines, going underwater is about more than enjoying the sight of colorful corals and interesting sea creatures. She saw it as an opportunity to help clean up the ocean floors, and is spreading word on this movement by holding skin-diving tours aimed at marine conservation. (Sometimes, she would pick up diapers!)
ADVERTISEMENT - CONTINUE READING BELOW
Tina Antonio
La Union has one of the world's largest shorelines and is fast becoming a favorite weekend destination—and this means that garbage has become a real problem. But a group of residents, researchers, artists, and business owners are trying to keep it as clean as possible through a community-driven ecotourism movement called La Union Soul. One of the people behind this is Tina Antonio, who also volunteers for Coastal Underwater Research Management Actions and is the current president of the non-government organization La Union Conventions and Visitors Bureau. She helps organize weekly beach cleanups, pushes for the reduction of single-use plastic, and plans sustainable livelihood projects for the locals.
ADVERTISEMENT - CONTINUE READING BELOW
Marja Abad
Marja Abad is one of the co-founders of the Siargao Environmental Awareness Movement, a collective of individuals and groups who want to help preserve Siargao's natural resources. The organization tries to solve the town's waste management problem by pushing the local government to facilitate proper garbage collection. It also aims to raise awareness among residents to care for their own areas by putting up placards with eye-catching statements like "Ayaw Paglabog Ug Basura" (Don't Litter), "Barura Dili Marajaw" (Garbage is Not Good), and "Plastic is Not Fantastic" in public areas.
ADVERTISEMENT - CONTINUE READING BELOW
Camille Pilar
Camille Pilar's advocacy towards protecting the environment became more known when she created the Instagram account Banned from the Beach, which shames beachgoers who leave their trash behind, in April 2017. Aside from raising awareness on waste management online, she also promotes the use of eco-friendly products like reusable tumblers and bamboo or steel straws through a newly opened coffee shop in La Union called Clean Beach. This café that she co-founded with a bunch of eco-minded individuals does not only serve your much-needed caffeine fix, but also regularly holds coastal cleanups and encourages people to reconsider their consumption of single-use plastic.
ADVERTISEMENT - CONTINUE READING BELOW
Sanne Sevig
It was in 2012 when Sanne Sevig moved from Sweden to Siargao to live the laid-back island life. But she knows that the tropical paradise—especially with the growing trash problem caused by the lack of a sanitary landfill—will deteriorate if not taken care of. As a solution, she co-founded the non-profit organization Nature Kids of Siargao which teaches environmental awareness to local kids. One of her other recent projects is the Siargao Recycling Art Studio which upcycles trash into bean bags and eco-bricks. She also runs the eco-friendly Paglaom Hostel with Cocoy Davis.
ADVERTISEMENT - CONTINUE READING BELOW
Share this story with your friends!
---
Help us make Spot.ph better!
Take the short survey
More Videos You Can Watch
Load More Stories