How Being Bullied Helped This Fil-Am Author Become a Writer
Now, Erin Entrada Kelly writes award-winning books.
(SPOT.ph) Erin Entrada Kelly was the only Filipino kid in her childhood hometown of Lake Charles, Louisiana. As a result, she was often picked on for how different she looked. This feeling of isolation led her to seek solace in books. And now, the Filipino-American author is the 2018 Newbery Medal-winning author of the children's novel Hello, Universe, as well as the newly released You Go First, a novel about two gifted misfits learning that they're not alone. SPOT.ph caught up with Kelly on her first-ever trip to Manila for the upcoming Philippine Readers and Writers Festival from August 10 to 12 at Raffles Makati. She talked about how she went from bullied to best-selling, why she includes her Filipino heritage in her writing, and more.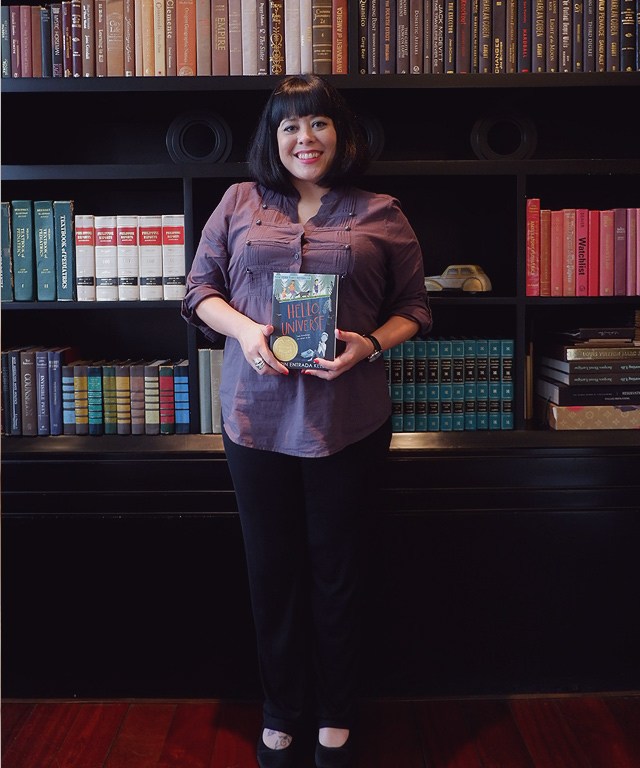 What started your interest in writing, and what challenges did you face along the way?
My mom's from Cebu and my dad is American. And when I was growing up in Louisiana, I was the only Filipino in my neighborhood. I had an older sister, but she didn't have any Filipino features. When I was young, the kids would ask me, "What are you?" and "Where are you from?" I'd get teased a lot, and bullied. I was very self-conscious. And I grew up feeling very lonely and a little bit sad. So, one thing I loved to do was read books. And then I decided, maybe I'll try writing a book. I started writing when I was very young—only about eight years old. I loved the idea of creating a world that was just for me. And I've been writing ever since. It's always been an escape for me. And that's what led me here. 
ADVERTISEMENT - CONTINUE READING BELOW
What did you read as a child?
I was reading a lot of Judy Blume. And one of the things I realized when I looked back on the books I was reading, was that there were certainly no Filipinos. And there weren't any Asians. Mostly, it was white kids. That's what I read. And even when I wrote stories for myself, the characters were always white. It never even occurred to me to make a character who was Filipino. My hope is that as more books come out, if there's a young Filipino girl writing stories, that her characters look like her.
CONTINUE READING BELOW
Recommended Videos
What advice would you give that young Filipino girl who loves to write stories?
I think a good writer is always a good reader. So, read a lot of books! But also, I think, whenever you sit down and write a story, it's important to look within yourself and ask, "What is important to me?" or "What do I want to say about the world?" It doesn't matter if you're writing science fiction, fantasy, or realistic fiction—we all have something we want to say. And my books are always about kids who are trying to find their place in the world. They're usually quiet and thoughtful kids who go unnoticed, and they're all trying to figure out, "What is my space in the world going to look like?" I think that's a question that we sometimes forget to ask as authors. We're always just trying to come up with good ideas. 
ADVERTISEMENT - CONTINUE READING BELOW
What attracted you in particular to children's novels?
When I started writing, I would write short stories for adults. But the short stories always had young characters. I started wondering why my characters were usually about 12 years old. And I think it's because, at that age, you're trying to figure out who you are. You're starting to look to your peers for answers. You want to fit in, but you want to stand out. You want people to notice you, but you also don't want them to notice. And all those things can make life really complicated. Which means there's a lot of potential to tell stories. But there's also a lot of potential to reach young people at a time when they need something to inform them about how they should go about their life.
Why do you write a lot about bullying?
Bullying is universal. It's always happening. The fact that kids today face things like school shootings and violence is partly because this idea of bullying and anger has always been there.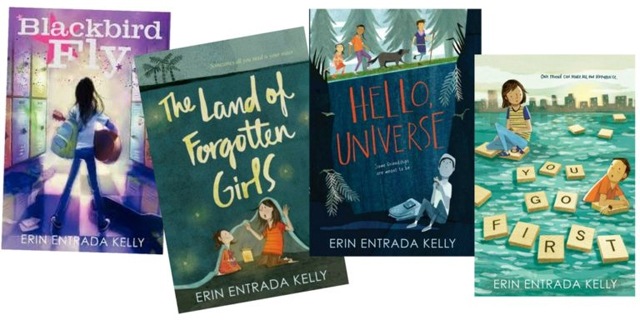 ADVERTISEMENT - CONTINUE READING BELOW
Why do you think it's important that kids read novels, like yours, which discuss issues that are somewhat dark?
I think there's two sides to it. I understand wanting to protect kids; I have a daughter. We don't want kids to experience pain or anguish, of course. But the fact is that they will, no matter what. So, I think we need to present these stories so that they know that they're not alone, that their struggles are not just theirs, and that other people have shared them. Especially when you're young, you think you're the only person in the world who's going through what you're going through. So I think it's important for kids to know that they're not. 
And the other side of it is that, if we are too pragmatic about protecting our young people, then whenever they're out in the world, they will have lost some ability to empathize with people who are struggling and to understand other points of view. They'll have a very one-dimensional view of how the world works. They need to be exposed to different kinds of experiences, especially experiences that aren't like their own. When that happens, you find what connects everyone, and then you can be a better person in the world. 
Why do you include a lot of diversity in your books?
One thing I'll never do is say, "I'm going to insert a Japanese-American or Filipino-American or a deaf character to try to be diverse." But, what I do say, is "I want to write the most honest and authentic story I can." And the fact is, our world is incredibly diverse. So, if I'm writing an authentic story, of course it's not going to be an all-white cast. Because that's not the world we live in. 
ADVERTISEMENT - CONTINUE READING BELOW
Are there any Filipino aspects readers can look out for in your new book You Go First?
Not in this book. But next year, I have a fantasy book coming out for the same age group. It's very much inspired by Filipino folklore. It's called Laylani of the Distant Sea. It's a fictional society but Filipino readers will see some things that are very familiar. 
Other than a good story, what do you want your readers to take away from your books?
A few things. One is that you can be small but mighty, and that there's more than one way to be strong. When we think of strength we think of someone who kicks down the door and is loud. But there is also strength in being quietly resilient. There's strength in patience. There's strength in kindness, compassion, and empathy. 
Another thing I want readers to take away is that you never struggle alone. At any age, loneliness is a very palpable feeling. You can feel lonely even if you're surrounded by friends and family. So, whenever I'm writing, I'm always thinking about that kid who feels alone. And I hope that at least for the period of time that they're with one of my books, they lose that heavy feeling of loneliness. And hopefully when they finish the book, it stays with them. I want misfit kids to love themselves and live an authentic life. It takes a lot of bravery to live authentically, especially if people around you say that the way you want to live is not the right way to live. 
ADVERTISEMENT - CONTINUE READING BELOW
I also want readers to take away that you don't have to be the prettiest, the smartest, the funniest—you just have to be the best version of yourself. 
What kind of feedback do you get from your readers or their parents?
Just a few days ago, I was in Los Angeles doing a book signing at a library. And there was this Filipino mother with her daughter, who was about 11 and very shy. The girl slipped me a note because she was too shy to say anything. And it said, "Thank you for writing about Filipino-American girls like me." That one note pretty much encapsulates everything. 
Do you plan to turn your books into movies?
There are things in the works that I'm not allowed to talk about yet. But there are discussions for Hello, Universe. Everyone should follow me on Twitter because I'm going to put an announcement out there soon. 
Any other projects we can look forward to?
I'm working on a chapter book series about a Filipino girl named Marisol. It's for younger kids, first to third grade. And I'll also be doing the illustrations for it! Yes, I also draw. I put my drawings on Instagram, if you want to follow me on there, too. 
Erin Entrada Kelly will have a talk and book signing on August 12, 1:30 p.m. at Raffles Makati as part of Philippine Readers and Writers Festival 2018. For more information, visit Philippine Readers and Writers Festival's website.
ADVERTISEMENT - CONTINUE READING BELOW
Share this story with your friends!
---
Help us make Spot.ph better!
Take the short survey
Load More Stories