LGBTQ+ Activist and Actor Nico Tortorella Breaks Down Barriers Through Poetry
The artist's first book All of It Is You. is available at the MIBF.
(SPOT.ph) Nico Tortorella isn't just making waves in Hollywood as an actor in the hit show Younger, but also as an LGBTQ+ activist. This multidisciplinary artist, who identifies as gender fluid, prefers to be addressed as "they." After speaking to them about their newest endeavor, a book of poetry called All of It Is You., it's apparent that, for them, the breaking down of binaries doesn't just stop at man and woman. Their book also questions divisions between civilization and nature, material and cosmic, author and audience, and much more.
Also read:
10 LGBTQ+ Artists You Should Already Be Listening To
10 Defining Moments in Philippine LGBTQ+ History
For Tortorella, the goal wasn't to produce a perfect collection of poetry, but to create a work that transforms people. We chatted with this first-time writer about how writing helped them grow, and what they expect their readers to come away with.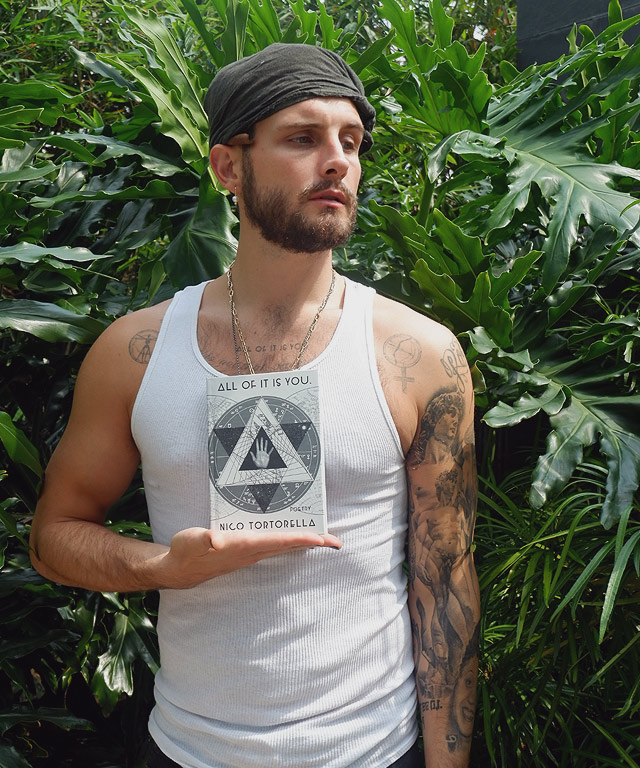 ADVERTISEMENT - CONTINUE READING BELOW
You describe All of It Is You. as your "realest work." Can you tell us how this book of poetry stands out from your work on film and television?
Well, it's mine. With film and television, as much as I love it, I'm playing somebody else's character. And as much as it is a real expression, it is somebody else's art that I'm portraying. And this book is mine, through and through.
You've never written a book before. What propelled you to take on this project?
I had a podcast for a couple years called The Love Bomb, which I wrote a lot of poetry for. And once I hit the end of the road with that, it was time to take the next step. This book offered itself to me, in one way or another. So I buckled down and just got to work.
CONTINUE READING BELOW
Recommended Videos
Where did the inspiration come from?
A lot of Khalil Gibran, the Lebanese poet. Ram Dass. Current LGBTQ+ activists like Travis Alabanza, Alok Vaid-Menon, Jacob Tobia, Adam Eli—just people that are really on the ground doing work. And also Russell Brand.
Russell Brand, the comedian?
What he's doing with consciousness right now is really fascinating. Jim Carrey, too. They're talking about things that nobody else is really talking about. And I think we're living in a time where, in a lot of the world, being outspoken about LGBTQ issues is somewhat normalized. But spirituality and next-level awareness aren't something spoken about in mainstream media. And I think this work is a conglomerate of the two.
ADVERTISEMENT - CONTINUE READING BELOW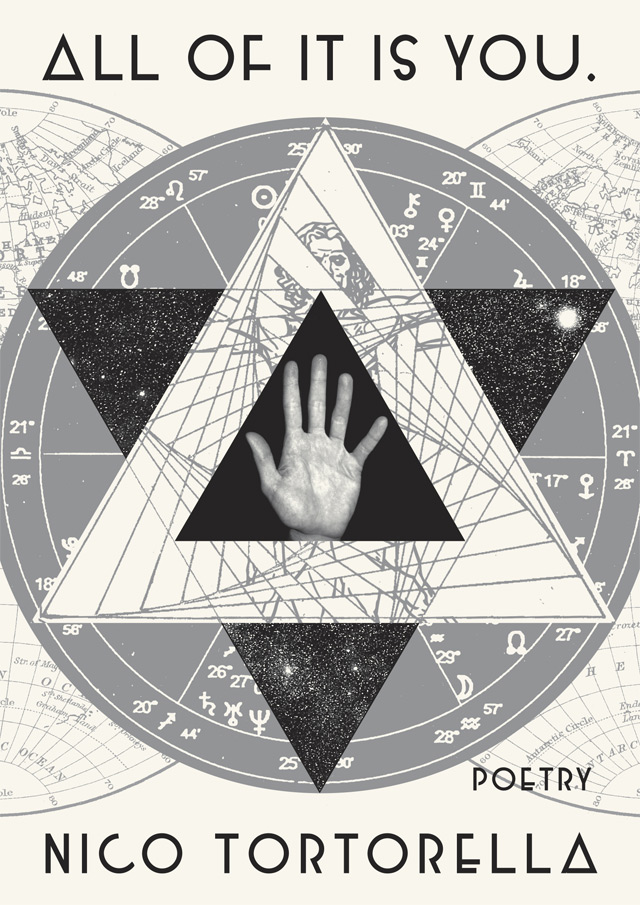 You described writing this book as a "transformative" experience. Can you give us insight into that transformation?
I think I'm still transforming. I think we all are. To really buckle down for 45 days and write this book—there's something biblical about taking 40 days and 40 nights to dedicate yourself to a body of work that's spiritual-based. And look, I now have a book to show for it. In one way or another, I found my own version of god in writing this book. Through the tour and in different ways that I have begun to perform this work in a creative way, I'm sharing this god that I found with people. If that's not transformative, I don't know what is.
You seem to have a very multidisciplinary approach to this work. It can be read, it can be heard, it even has a lot of visuals. What kind of experience are you trying to create for your audience?
I want them to know that there isn't a right or wrong way to approach art. That it isn't perfect. I say that in the introduction to the book—I was never striving for perfection. To me, perfection is flawed. And it's about being this physical manifestation of process and journey. So I'm working it out, figuring out what resonates with people, what doesn't. I'm figuring out what resonates with me, most importantly.
ADVERTISEMENT - CONTINUE READING BELOW
The language of the work reads one way off the page. It reads a different way, reading it out loud without any sort of technology. And then there's this third way, which is the show aspect that I do, where I use modulators to create an experimental, spoken word sound bath with high musicality—it just raises the stakes.
Cool! Are you doing that kind of reading in Manila?
Yeah. It takes this book and make it something totally different. It's still the same message. But this book is about breaking down the binaries, the collapsing of divisions, and recognizing the simultaneity of everyone and everything. And I think the binary that I speak of is obviously man and woman, masculine and feminine—but it far transcends that. It's everything. It's performer and audience. I'm not more of a poet because I have a book of poetry. I'm not more of a performer because I'm the one who's standing on the stage. Everything that happens on this stage is inside of you, is part of you. This is just a mirror. And it's up to us all how to tap into that.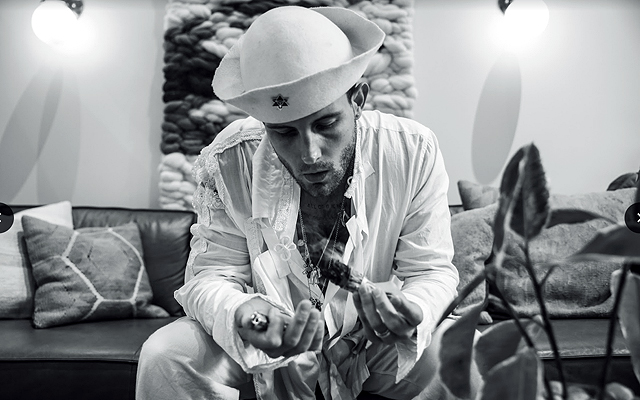 ADVERTISEMENT - CONTINUE READING BELOW
In certain Filipino contexts, breaking down barriers, especially with gender, isn't always acceptable. Do you foresee your book making an impact on that?
I don't know a lot about indigenous cultures here in the Philippines. But I'm aware that there is a lot more gender fluidity than in other cultures. The bakla, a third gender, has been recognized here since the beginning. But through colonialism, which this country knows so well, those ancient expressions were ripped away. But now, with the social media revolution, we're getting this reawakening of ancient expression in such a beautiful way. The language has changed, but this isn't something that just popped up out of nowhere. It's literally existed since day one.
Why is it important for you to champion LGBTQ+ issues?
For inspiration to normalize it. It's rare for someone who looks like me, in the position that I'm in, in mainstream Western media, with the color of my skin—to speak the way that I am about these things. I'm on TV, I make a great living—there's no reason for me to keep having this conversation. Except it's not about me at all. I realized that a long time ago. It's about everyone else.
When I walk out of my apartment in New York City and I'm wearing a dress, everyone's like "Yas, bitch, werk!" But my best friend, who is a person of color, will walk out in a dress, and they get spit on and hit every single day. And that's not okay. That's why I do these things.
ADVERTISEMENT - CONTINUE READING BELOW
Why is "all of it is you" your mantra?
It chants through my head all day, every day. It helps me start seeing everything in the universe as part of who I am. It would be very easy for a critic to look at this book and say, "Okay, all of it is you—that means you think you are the entire universe, so you think you are God." That's not what I'm saying. I'm saying all of us are. So now, I want people to ask, what does it look like for all of us to be equal? 
Do you have plans to write more?
The next book is a narrative-memoir hybrid of sorts. It's a much bigger book. It's called Love Y'all.
Nico Tortorella is having a book reading at the SMX Convention Center Main Stage on September 16, 2 p.m. as part of the 39th Manila International Book Fair. All of It Is You. (Crown Archetype, 2018) is available at National Book Store for P799.
Share this story with your friends!
---
Help us make Spot.ph better!
Take the short survey
Load More Stories