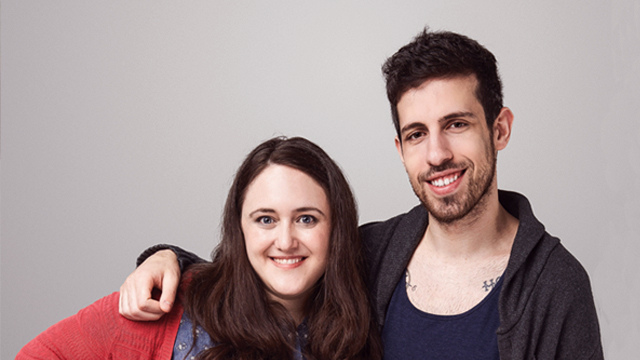 (SPOT.ph) For long-time friends and co-authors Becky Albertalli and Adam Silvera, their newest book is so much more than just a collaborative project. Four years in the making, What If It's Us has always been a big part of their friendship. Albertalli, who wrote Simon vs. The Homo Sapiens Agenda (adapted to film as Love, Simon), and Silvera, author of They Both Die at the End, have been planning Arthur and Ben's story since 2014, and their book finally hit the shelves in October 2018.
ADVERTISEMENT - CONTINUE READING BELOW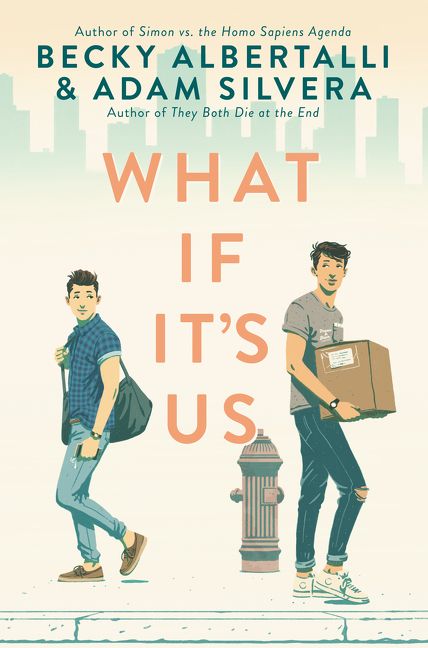 Much of What If It's Us is centered around the universe making things happen—or, in some cases, not happen. SPOT.ph had a chat with Albertalli and Silvera to know more about What If It's Us, their own meet-cute, and more. 
How did the collaboration start? What was the inspiration behind What If It's Us?
Adam Silvera: So Becky and I, we had the same literary agent, who sold our debut novels at the end of 2013. And we were so excited about each other's deal assignments that we traded books and we fell in love with them so much that, you know, we kept emailing after reading each other's books. A couple months later, Becky was telling me a story about a boy who she thought was super cute and she made eye contact with him. She tried to find him online and failed.
ADVERTISEMENT - CONTINUE READING BELOW
Recommended Videos
Becky Albertalli: This was in my 20s. I'm not, like, cheating on my husband. (Laughs)
Silvera: And it had me thinking about how cool it would be if we combined forces, if we write a book about two people who have that sort of meet-cute and they get separated and then find each other again.
What was the writing process like, considering this is a collaborative work?
Albertalli: It has [really been] a joy. Every book is challenging to write in its own way, and I will say that, while this book has been challenging like any book, this has been, by far, the most fun writing experience in my entire life. (Silvera: Same.) It's dual point of view, so there are two boys who tell the story. Arthur, who I wrote, and Ben, who Adam wrote. Logistically speaking, I would say, a lot of the work was actually done before we actually started doing the work, I guess?
ADVERTISEMENT - CONTINUE READING BELOW
We'd spent those years between 2014 when this conversation was happening, and when we actually sat down to write it in 2017. And so we were talking about who these boys were, what their story was. We came up with an outline—it was pretty detailed—but there was some fluidity to it that you could move things around. By the time we sat down to actually draft it, we had been kind of living with these boys for a very long time.
With the drafting itself, it actually worked like, I would write an Arthur chapter and Adam would know exactly what I was writing about. Then I'll send it to him. The most fun thing was [that] for the first drafts of each chapter, we would send them to each other and [text] our immediate reactions, like "this was so funny, I loved this." With Adam, we go ahead and do the same for the next chapter. So we would do it back and forth. We weren't trying to surprise each other. For some co-authors, [surprising each other] is like their process, but not at all for us.
ADVERTISEMENT - CONTINUE READING BELOW
What were the biggest challenges you encountered in writing What If It's Us?
Silvera: We have different editors for our solo books, but they came together to co-edit this book with us. And they're really brilliant. They really pushed us with their notes, when it came to trying to change the ending, four different times, and to keep bringing these characters to their greatest heights. It was a lot of work, and we didn't have a lot of time to do it either. But it was worth finding the time to do so because their notes were brilliant. It was important for us to find time to implement them.
So how long did you actually write the manuscript?
Albertalli: Just a couple [of] months.
Silvera: For the first draft, somewhere around three to four months. But then again, we knew the story and in the middle of writing it, our editors have also weighed in on it too. So we have that advantage. Including edits, it was all done in under a year. Probably like eight months maybe.
ADVERTISEMENT - CONTINUE READING BELOW
Albertalli: It was very fast. But we had all that, like, I think so much of that comes from how much planning we put into it. Also, we only wrote like half the book each.
How did you go about writing each other's characters?
Albertalli: That's such a great question. For me, that [challenge] didn't really sink in until we started. So that is something I kind of had to learn during the process, but it was fun for me. I loved doing it. Both of us come from a fanfiction background, so there's an element of trying to really embody a character created by somebody else.
Silvera: Those fanfiction muscles really came in handy here. Also, it was just so fun. I loved Becky's character Arthur so being able to write his dialogue was just, like, such a joy, such a challenge. It was intimidating for [me], because you want it to feel like Becky wrote it. And vice versa. Being able to write each other's characters was one of our favorite parts.
ADVERTISEMENT - CONTINUE READING BELOW
What fanfictions did you write back then?
Albertalli: I used to write a lot of [fanfiction based on] Harry Potter, and before that, even anime. This was when I was a teen. Mostly I was interested in Sailor Moon and also Ranma ½. It was definitely like an obsession for me when I was 16. At the time, I would put them on the internet. I had some of my fanfiction up under a pen name, and with no clues—I did not give anybody any direction, but I have said in some of my interviews that I [wrote] fanfiction—and a group of girls found them, and they were like, "Is this your fanfiction?" and I was like, "I will give you one week as your reward for finding it, then I'm taking this down. I don't want to know how you found it, I don't want to know what you pulled from my interviews." I still have no idea, up to this day, how they tracked it down.
ADVERTISEMENT - CONTINUE READING BELOW
Silvera: I was [writing] Harry Potter, and for TV shows: Charmed and Supernatural. So I was always big on magic. I also published online. And for one of my fandoms, I was actually, like, kind of a big deal? (Laughs) I had a story I never finished and I haven't checked in a while, but when I check over the years, I would get people asking, "Are you going to finish this?" I literally haven't updated in years. For all they know, I could be dead. It's under a pen name and I can't take it down. I'm just hoping that, by the grace of the universe, it all expires one day.
Do you consider yourself a planner or a pantser? How did you plan for What If It's Us?
Silvera: I'm a planner. I've become more and more of a planner in the past few books.
ADVERTISEMENT - CONTINUE READING BELOW
Albertalli: I think I'm somewhere in the middle. I'm always trying to plan and I always think I can just get one more notebook and one more perfect outline and this book is going to fix itself. But the reality is that part of my process has to do with a little bit of diving into the lake and the murky waterness of it and just sort of finding the voice. But I do like to have a structure to push up against.
Silvera: We had a frame but we didn't allow ourselves to stay glued to it. If the characters were screaming to go to different directions, we embraced it. And even with our outlines and all the various conversations we've had with our editors, we would have a bigger idea on how to take the story to greater heights and that has happened for all the book I've outlines myself. I've outlined books scene by scene from start to finish, and they changed significantly. I don't know a single person who has outlined a book where it remained true one hundred percent, or even ninety percent, to the outline.
ADVERTISEMENT - CONTINUE READING BELOW
The book explores the idea of what-ifs. What if you didn't pursue a career in writing? What would you most likely be doing now?
Silvera: When I was growing up, I wanted to be a teacher, I wanted to be an actor, I wanted to be a social worker. Those are things I was passionate about. My mom was a social worker. She likes to say that my books are still sort of me being able to do a lot of the same work that I probably could have done. So probably one of those things. I wanted to be a singer, but I cannot sing. Not that that stopped me from writing a couple songs in my youth that my mom uncovered recently. They're awful.
Albertalli: Mine's a little bit boring. I did have another career before I became an author. [I] was a critical psychologist for a very short period of time, and I'm no longer one. I deliberately let my license expire. But, chances are, probably, I would have found myself a job under that umbrella.
ADVERTISEMENT - CONTINUE READING BELOW
Arthur and Ben had do-overs of their first date. You mentioned you had to rewrite the ending four times. Would you consider that a do-over moment for the book?
Albertalli: Totally, yeah! We've even made that joke. We were all over that. It's interesting how the process has kind of mimicked the themes of the book. There have been a lot of like, "universe" kind of moments.
Are there other do-over moments of the book?
Albertalli: Yeah. This is one of the biggest things we've had to rework. When we initially conceived this whole story, Arthur was moving to New York. In the current version, he is in New York for the summer for, like, a concrete set of time. That changes everything about the story. Our editors were like, what about this? They suggested this time-limited thing to us and it completely clicked for us. It changed the way we thought of the entire love story for them.
ADVERTISEMENT - CONTINUE READING BELOW
Arthur and Ben's story revolves around their meet-cute. Can you tell us your meet-cute story?
Silvera: Literally, our connection came down to our literary agent selling our debut novels in the same week. We were e-mailing pretty soon after that. Even at the time that we first came up with the idea for this book, we haven't met in person, or even spoken on the phone. It was really cool, like, when we actually did meet for the first time in New York, it felt kind of like a date? Like you were talking to this person for so long, and you know so much about them. It was sort of like, hey, it's Becky. She's just up the block right there. She's real. (Becky laughs). That's our origin story.
I credit the universe for that too. A lot of the things we got to bond over initially was that we had books coming out in the same year. What if, Becky's book came out a year before mine or a year after. That would have completely changed our friendship. We were able to be there for each other as we're experiencing these things for the first time. What if we had a different agent? Like, would we have been comfortable sharing our works with each other in advance? Like, maybe not. Those things all had to click in place to get us where we are today.
ADVERTISEMENT - CONTINUE READING BELOW
Becky Albertalli and Adam Silvera will be in SM City Cebu on November 10 and SM Aura Premier on November 11 for their book signing tour. What If It's Us is available in paperback (P599) and hardcover (P775) at National Book Store.
Share this story with your friends!
---
Help us make Spot.ph better!
Take the short survey
Load More Stories