(SPOT.ph) The official UAAP trophies usually consisted of a sparkling crystal column, or a golden basketball or football crowning a metal base.
But for 2019, the UAAP trophies and medals are made out of trash. Weaves made of plastic waste wrap the body of the trophy, the wood pieces are carved by the Ifugao, and all metal parts are crafted out of iron scraps from Marawi. The gold medal, meanwhile, is made out of bullet shells from the Marawi Siege.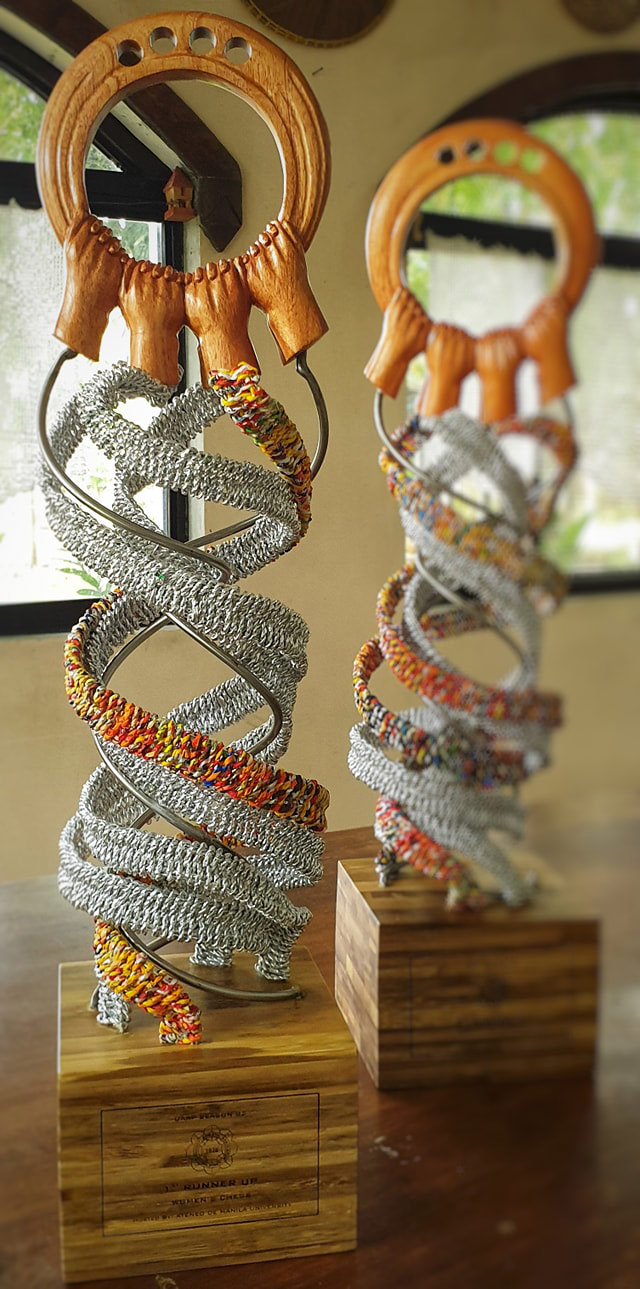 ADVERTISEMENT - CONTINUE READING BELOW
The trophies are by JunkNot Eco Creatives and its workers in Taal, Biñan, and Marawi, helping more than 80 people, collectively. The trophies and medals are meaningful not only for UAAP's winners this year, but also for the communities that worked on it, and waste products were put to good use.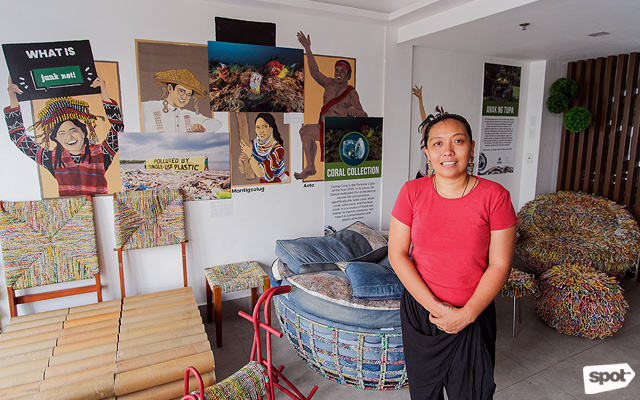 Saving the environment and helping out communities in need is second nature to interior designer Wilhelmina "Willie" Garcia, as she's made it her lifelong mission to create sustainable, ecologically conscious, and green design. Garcia founded JunkNot Eco Creatives back in 2009, employing underprivileged women to weave handbags and accessories out of discarded plastic wrappers in her backyard in Biñan, Laguna. JunkNot has since expanded its workforce to different provinces.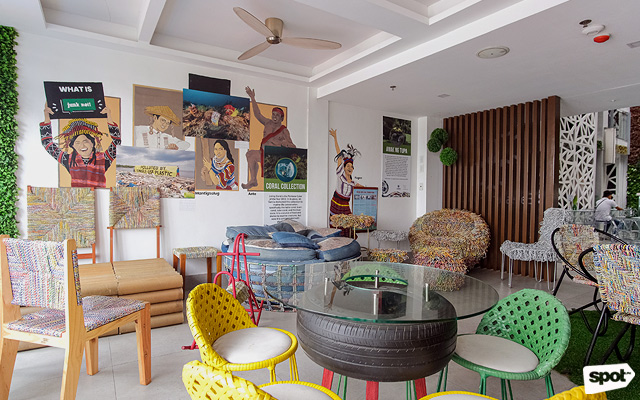 ADVERTISEMENT - CONTINUE READING BELOW
In 2018, Garcia set up her showroom at the Selah Pods Hotel in Pasay City. It is a charming showroom that also doubles as a lounge area for hotel guests, with posters showing the effects of climate change. The finishes are kept simple on purpose, to make sure Garcia's furniture designs stand out.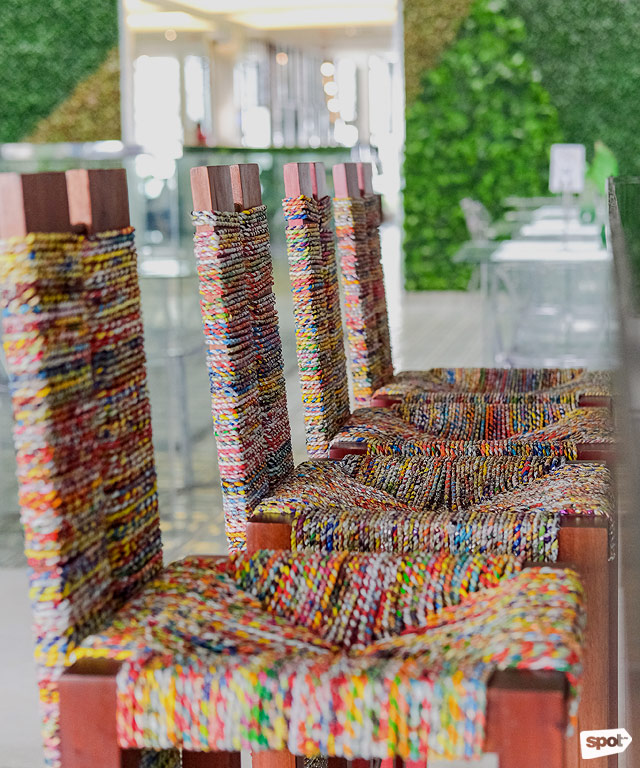 ADVERTISEMENT - CONTINUE READING BELOW
Most people assume furniture made of recycled trash would look like trash. Garcia's pieces, however, are whimsical, colorful creations that play on the textures of the recycled plastic wrapper weaves—her signature design touch. Wood rescued from demolished structures, scrap iron, and even leftover rolls of plastic cling wrap all find their way into JunkNot's chairs, sofas, tables, and rocking horses. Garcia continuously refines each product herself, tweaking the forms, and finding new materials to recycle for the next prototype.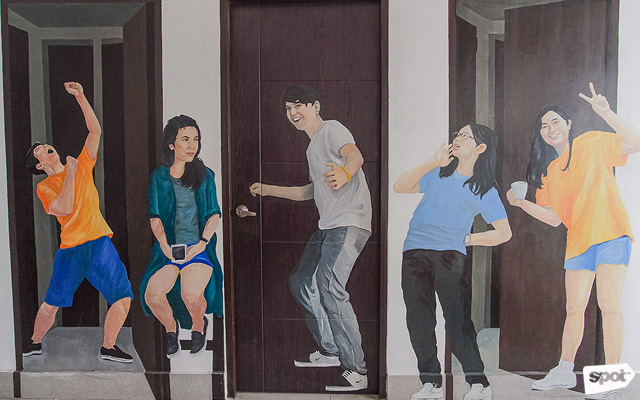 ADVERTISEMENT - CONTINUE READING BELOW
While sitting by a window with a view of Pasay City and the World Trade Center—one of the usual venues of her exhibits—Garcia tells her personal journey of making the most out of trash.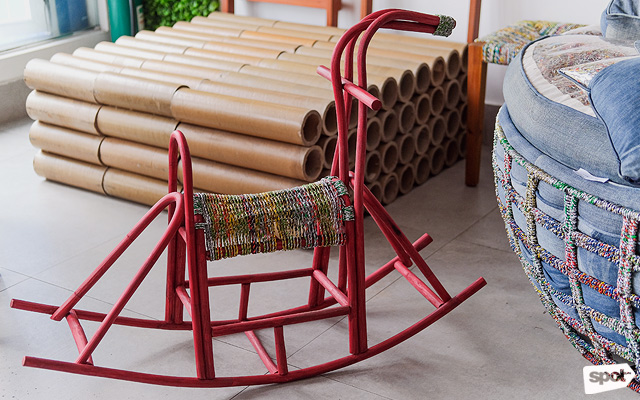 ADVERTISEMENT - CONTINUE READING BELOW
Nothing Goes to Waste
Garcia says that she has always embraced going green. "It was natural for me, because we lived on a farm, my dad was an activist, and we were always environmentally conscious, as a family."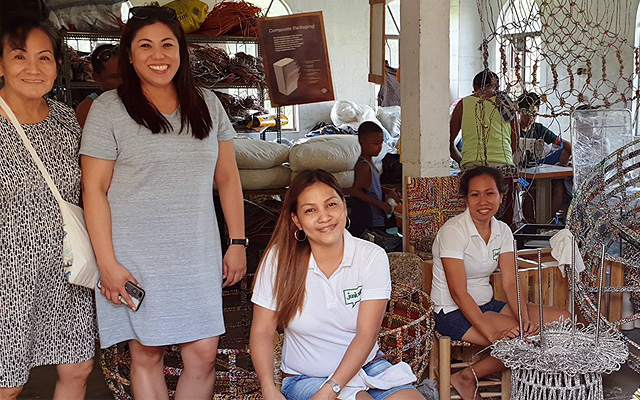 ADVERTISEMENT - CONTINUE READING BELOW
Garcia, who took up interior design at St. Scholastica's College, reveals that her school work and exhibits always had an eco-friendly slant to it. For the Metrobank MADE Awards in 2007, she created a room entirely made out of recycled materials, and getting recognition for the interior design category was her big break.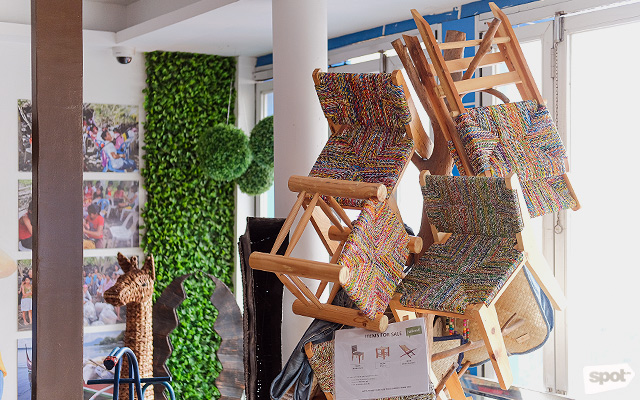 ADVERTISEMENT - CONTINUE READING BELOW
"Eventually, in 2013, I tried making an all-recycled commercial interior in my brother's restaurant in Davao and made a prototype of a chair with recycled plastic wrappers. That's how I started with furniture." Garcia eventually began experimenting with other waste materials, such as laminated newspapers for kitchen cabinets, and water lilies made into leather. And then the Department of Environment and Natural Resources called.
A Tale of Taal Trash
The residents of San Nicolas, Batangas, aren't really supposed to be living in their village. Its proximity to the mouth of the crater of Taal Volcano poses potential danger (the volcano's last reported volcanic activity was in 2011) yet the villagers refuse to uproot themselves. For decades, while the village men went fishing, the women stayed at home to dry the fish into daing or hold tours, and income was always seasonal. But now, because of Garcia, the housewives of San Nicolas are busy working and earning all year round.
ADVERTISEMENT - CONTINUE READING BELOW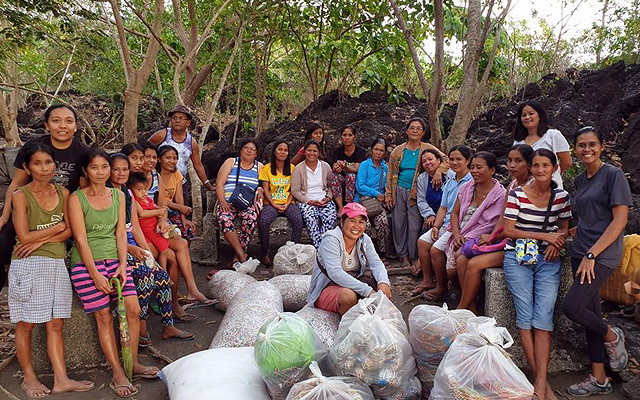 ADVERTISEMENT - CONTINUE READING BELOW
"In 2015, the DENR-TVPL (Department of Natural Resources-Taal Volcano Protective Landscape) hired me to do a livelihood project at Taal Volcano," Garcia recalls. "We did WACS (Waste Analysis Characterization) in the community, which was an audit of every house in the village, then we'd weigh the waste to characterize what was the most waste generated in each household."
The Number-One Pollutant
Garcia reveals that the majority of the waste generated in San Nicolas was made up of—as expected—residuals, or plastic packaging. "It was inevitable, kasi walang electricity sa Taal Volcano area, so they didn't have any refrigerators, and they would consume most of their food from single-use plastics," Garcia says. "They used to just bury the plastics in the ground, or burn it, because they didn't have any waste disposal facility on the island. Pati sa Taal Lake, may plastics din."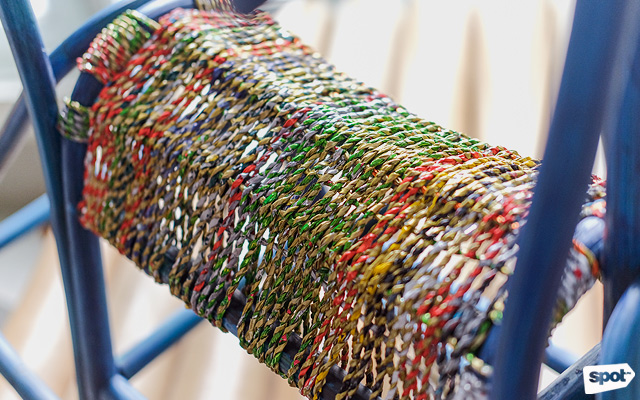 ADVERTISEMENT - CONTINUE READING BELOW
After the audit, the designer then taught the community how to do proper waste management. And because she needed the recycled materials for her furniture pieces and accessories, she also taught the women of San Nicolas how to gather the plastic wrappers and foil packaging of junk food and noodles from schools and houses, clean and process the plastic, then cut, and braid it into strips that will be used for weaving.
Empowering Women Through Green Methods
"After holding my workshop, out of 100 women, only four women responded afterwards to process the trash for JunkNot. I paid the four women P11,000 for their work, and after that, nainggit na ang iba," Garcia says with laugh. "Afterwards, more than 35 women pitched in, then 60, and now there more than 80 women processing the trash, and growing."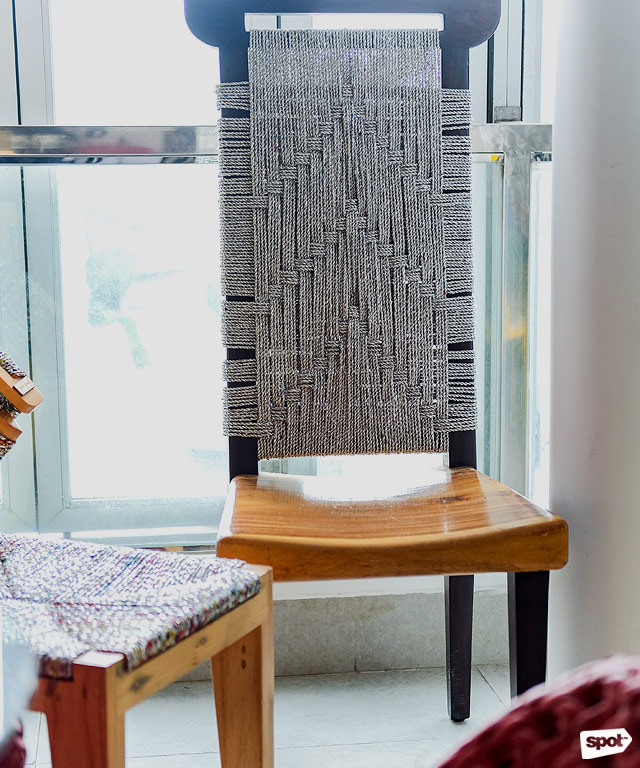 ADVERTISEMENT - CONTINUE READING BELOW
Garcia says that this trash-to-treasure move has empowered the San Nicolas women, who are actively earning income even during the slow tourism and fishing months. "The women now have the financial independence to save up to buy things that they really want, like a new sofa, or even buy small solar panels for their homes."
Another positive outcome of the San Nicolas project was that the overall waste in the town was dramatically reduced. "They built a Materials Recovery Facility before for the trash, but now they tore it down, because there is no more trash left because everyone recycles it already. They are now a zero-waste community," Garcia says proudly.
Trophies That Turn Their Makers Into Winners
JunkNot has recently been in the news with the release of the trophies and medals made out of recycled trash that they created for UAAP's 82nd season. The production of the entire order of these trophies and medals saved approximately 340 kilos of plastic waste from Taal, and 260 kilos of metal scraps that came from the structures damaged in the Marawi siege.
ADVERTISEMENT - CONTINUE READING BELOW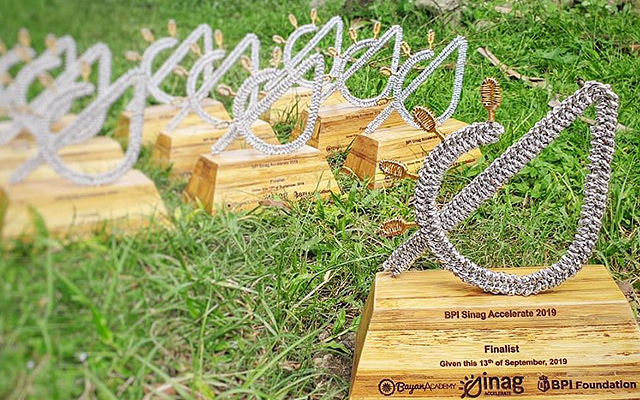 The recycled-material trophies concept, however, isn't new to Garcia. "We've already done these types of trophies before, for the Sinag-BPI Awards in 2018," she says. "Ateneo, the UAAP host, and they wanted the trophies to have social relevance. Because normally, they'll order the trophies elsewhere from a business. Ngayon, ang mga communities ang magbe-benefit."
ADVERTISEMENT - CONTINUE READING BELOW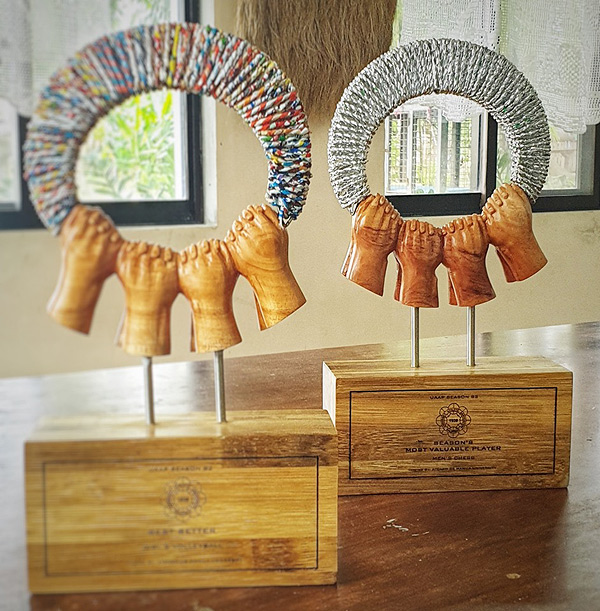 "The trophies and medals now have a social impact," Garcia continues. "Sa community ng Marawi, naging therapy nila ang paggawa ng trophies. For them, making the trophies from objects from the siege became part of their healing. It's also about preserving our cultures and traditions—the brass making, the weaving, the carving, and also, reducing the use of virgin materials."
ADVERTISEMENT - CONTINUE READING BELOW
A Consistent Drive to Embrace Eco-Friendly Design
The design industry has long been known for luxury and consumption—homeowners expect their designers to dress up their spaces with brand new, shiny things. This isn't the case in Garcia's residential interior projects, wherein she even encourages her clients not to buy new décor.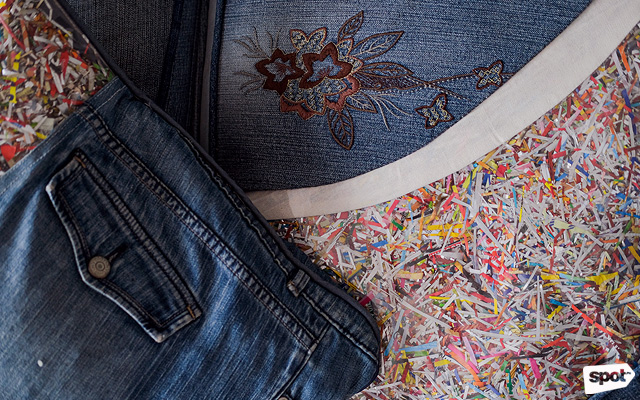 ADVERTISEMENT - CONTINUE READING BELOW
"I always ask first to see their existing pieces and refurbish them instead, or go through their travel souvenirs, artwork, and mementoes na nakatago lang. Go for upcycling so there's a story, there's personality." To convince homeowners to appreciate this may be a challenge, but Garcia says it's more of finding like-minded clients. "Mas aware ang mga tao ngayon," she adds.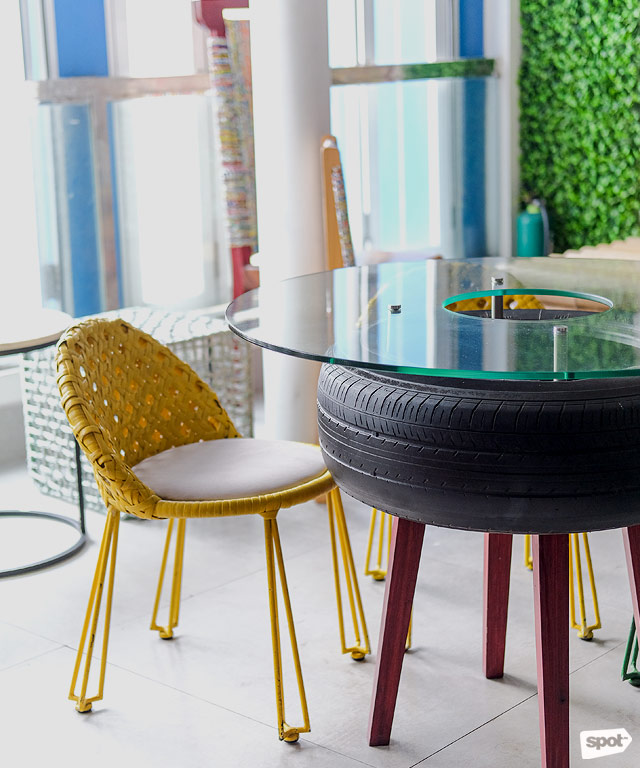 ADVERTISEMENT - CONTINUE READING BELOW
And her work, far from being merely decorative, has garnered recognition and awards, from the Katha Award for Eco-Design at Manila FAME, to being chosen as the sole foreign exhibitor at the Social Design exhibit at Paris Design Week, both in 2018.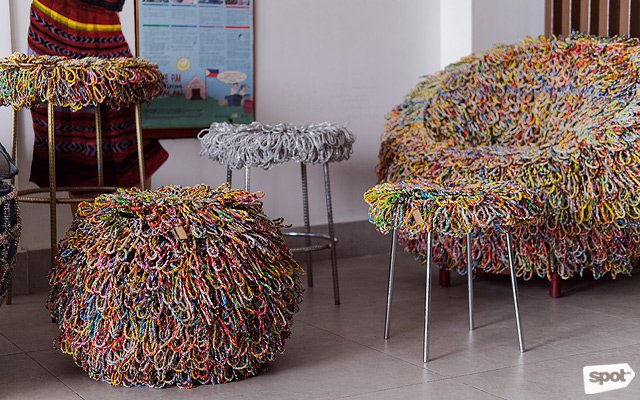 ADVERTISEMENT - CONTINUE READING BELOW
There have been a number of requests, both here and abroad, for Garcia to replicate this sort of social franchising in other communities. Ever cautious, Garcia put these on hold to study it further. "I'm still researching about it. It has to be done in a holistic way, because with social franchising, you don't think about instant profit," she stresses. "You should think first about its impact on the environment, and then how it will help communities."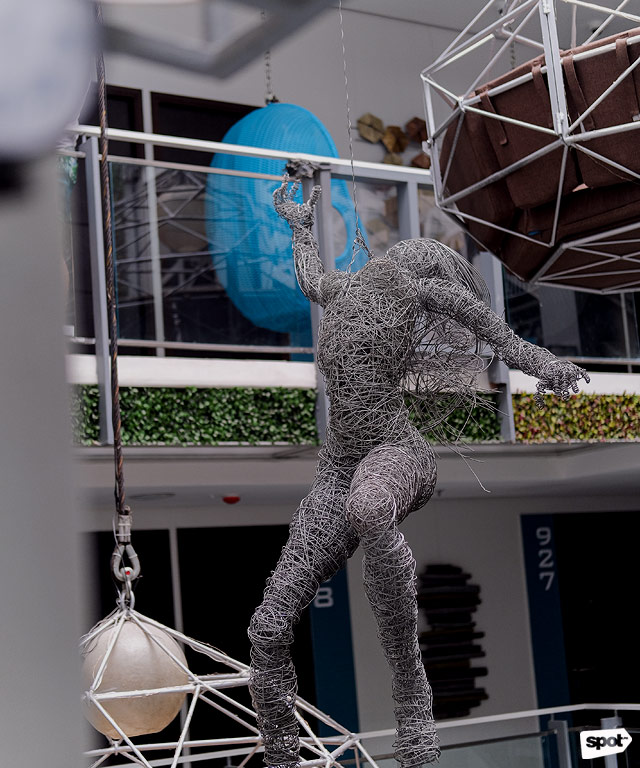 ADVERTISEMENT - CONTINUE READING BELOW
Garcia continues to explain that while greening has become a big market internationally, being ecologically conscious should always start with yourself. And in the middle of our interview, without skipping a beat, she kindly asks our waiter to skip the plastic wrap and straws for our food and drinks. "Mas okay na wala na po, kuya," she says.
For more information on JunkNot Eco Creatives and Willie Garcia's designs, visit the JunkNot Eco Creatives' website or follow their Facebook page. The JunkNot showroom is at the Selah Pods Hotel, David Street corner FB Harrison Street, Pasay City; message them on Facebook for appointments.
Rachelle Medina is a licensed interior designer, heritage enthusiast, and the former editor-in-chief of Real Living. She spends her free time exploring museums and decaying old buildings. Follow Rachelle on Instagram @goldosmom.
Share this story with your friends!
---
Help us make Spot.ph better!
Take the short survey
More Videos You Can Watch
Load More Stories