Top 10 Coffice (Coffee + Office) Spots in Metro Manila
SPOT.ph picks 10 coffee spots in the metro where you can run a mobile office.
The world has  gone digital and many people are now telecommuting, doing work out of the office. While some telecommuters work at home, there are those who have to set up shop on the go. Thank goodness for the coffice—a coffee-shop-cum-office—where the laptop-toting public can converge. Coffice essentials include Wi-Fi access, electric sockets, an environment conducive for getting work done, and of course, coffee. SPOT.ph lists the top 10 best places in the metro—from coffee shops to fastfood outlets—where you can run a mobile office.
10. Seattle's Best Coffee, Greenbelt 3
G/F Greenbelt 3, Ayala Center, Makati City
Tel. no. 757-4122 to 23
Open 7 a.m. to 1:30 a.m., Sunday to Thursday and 7 a.m. to 3 a.m., Friday to Saturday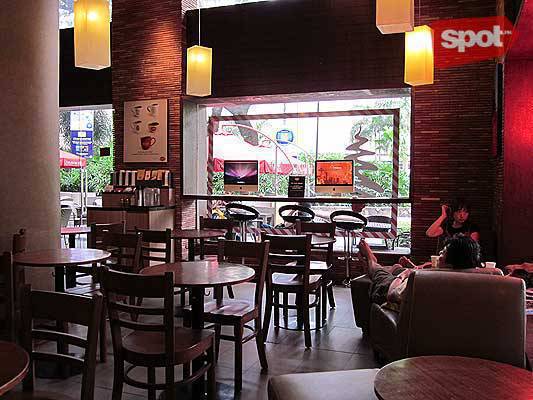 Working tips: Located at a prime spot in Greenbelt 3, this high-traffic Seattle's Best branch is for those who don't mind the company and secretly take pleasure in being seen. Otherwise, the best time to get work done here is during the odd hours of the day, when it's relatively quiet and not as packed. Be prepared to sit next to Greenbelt's night owls after 5 p.m.

Office perks: SBC Greenbelt has two iMacs at your disposal if you don't have a laptop with you. The coffee shop's surf station offers 30 minutes free computer-use and internet access if you spend P250, and one hour of free Wi-Fi on your laptop for P150. There's a nice row of small tables and chairs for casual board meetings and more secluded corners for more intimate sessions.

Food and drink: Expect the traditional American cafe fare found in coffee chains and a wide selection of lattes, hot teas, frapuccinos, and shakes made out of coffee and tea.
ADVERTISEMENT - CONTINUE READING BELOW
9. Starbucks, Fully Booked
3/F Fully Booked Bonifacio High Street, Taguig
Tel. no. 858-7000
Open 11 a.m. to 11 p.m., Monday to Thursday; 11 a.m. to midnight, Friday; 10 a.m. to midnight, Saturday; and 10 a.m. to 11 p.m., Sunday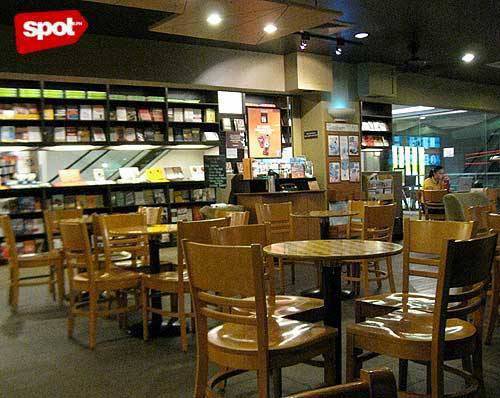 Working tips: The table right beside the wall-to-ceiling window is one of the prime spots here. Pick the one with the wooden chairs, not the one with the couches so you won't fall asleep on the job. There, you'll get to refresh your eyes with the nice horizon view (look down to ogle runners). The only thing about this spot is that it's too close to the counter with all the whirring coffeemakers and people placing their orders. Then again, the other areas aren't necessarily silence bubbles (think boisterous customers). Bring earphones to be sure. For smokers, there are a few outdoor tables.

Office perks: Wi-Fi cards are available for P295 per five hours. Not a lot of sockets here but you can ask the staff to help you out with an extension cord. If you need to use the restroom, there's one a few steps away from Starbucks. (You'd have to find someone to look after your things, though.) And, of course, the ultimate perk: four floors filled with books you can read for research or leisure.

Food and drink: Give yourself a jolt with a shot of espresso or an ice-cold macchiato. You'll find the usual Starbucks fare here: lattes, frappes, cappuccino and more. Pair your chosen drink with gourmet sandwiches, cookies, cakes and brownies. Note: Starbucks drinks are not allowed outside the store except for the third floor of Fully Booked.
ADVERTISEMENT - CONTINUE READING BELOW
8. Coffee Bean and Tea Leaf, UP-Ayala Land TechnoHub
Commonwealth Avenue, Quezon City
Tel. no. 738-4770
Open 7 a.m. to 1 a.m., Monday to Saturday and 7 a.m. to midnight, Sunday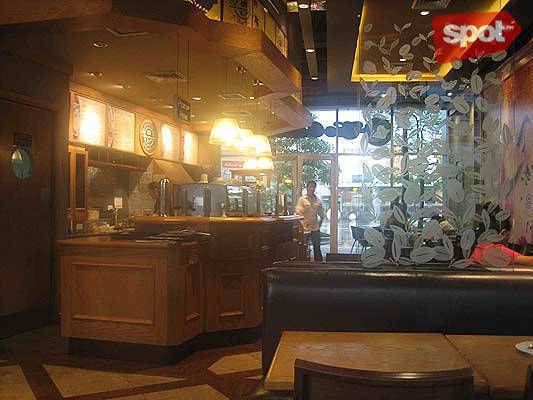 Working tips: It's best to get to this coffice before lunchtime if you want a prime spot to set up your laptop.  The coveted area, which is set apart by a glass partition, is situated near the back of the shop. It'd be wise if you bring your own extension cord, as well. The restroom is right outside the store--but you can entrust your gear to the staff when you have to go. The place is perfect for short working stints and meetings.

Office perks: The establishment's P195 lifetime Wi-Fi card gives you full access to the connection in all their branches. You just have to ask the cashier to swipe the card each time you purchase food or drinks and you're good to go.

Food and drink: You can have your pick of coffee, juice, tea, pastry, and sandwiches.
7. McDonald's, Matalino Street
Matalino Street, Barangay Central, Quezon City (near Sulo Hotel)
Open 24 hours daily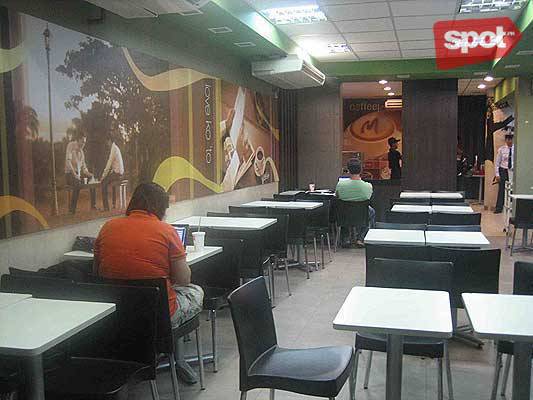 Working tips: This coffice only gets pretty crowded during lunchtime and around 4 p.m. Otherwise, you can choose your temporary office space at leisure. This is one of the most spacious McDonald's branches around so you won't ever feel cramped. It's best if you bring your own extension cord, as their power outlets are limited.

Office perks: It's free Wi-Fi for everyone-no questions asked as long as you've already bought your fastfood picks. The restroom is relatively clean and the staff isn't intrusive.

Food and drink: Burgers, fries, spaghetti, sundaes, and sodas may not do much for your health-but they will keep you awake. Their coffee isn't bad either. It tastes generic--but it's a caffeine fix all the same.
ADVERTISEMENT - CONTINUE READING BELOW
6. M Cafe, Ayala Museum
G/F Greenbelt 4, Makati Ave. cor. Dela Rosa St., Ayala Center, Makati City
Tel. no. 757-3000
Open 8 a.m. to midnight, Sunday to Wednesday; 8 a.m. to 3 a.m., Thursday to Friday; and 8 a.m. to 4 a.m., Saturday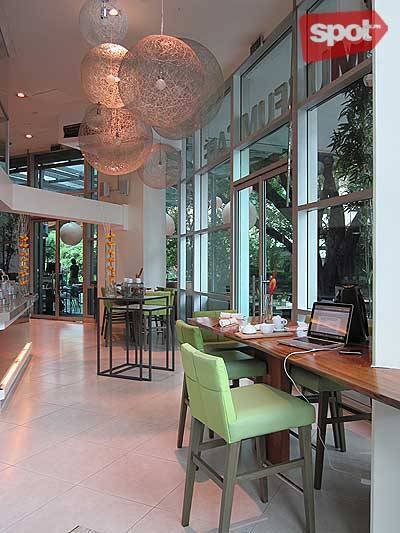 Working tips: The best seat in the house is at one of the high corner tables with sockets underneath. There aren't a lot of power outlets around so if you need to be plugged in, come early and stake your claim at one of the huge wooden tables. The glass-enclosed cafe lets guests enjoy 180-degree outdoor views (including a serene Greenbelt garden), that way you never get the feeling of being cooped up inside even if you spend the whole day working.

Office perks: High ceilings, ultra modern and spacious interiors, plus artful decor make a pretty swanky workspace. Take advantage of the cafe's huge tables for meetings and brainstorming sessions.  Wi-Fi is fast and free.

Food and drink: M Cafe has one of the most diverse breakfast menus in town. Aside from continental classics (P195 to P295) and traditional 'silog fare (P295), the restaurant offers an array of Asian fusion specialties like Japanese roasted gindara (P495), nasi lemak (P295), and a roti selection (P350). Refillable illy coffee (served with chocnut) is also available at (P110).
5. Alexandre
31st St. cor. 1st Avenue, Bonifacio Global City, Taguig City
Tel. no. 403-2907
Open 8 a.m. to 10 p.m., Monday to Saturday and 8 a.m. to 7 p.m., Sunday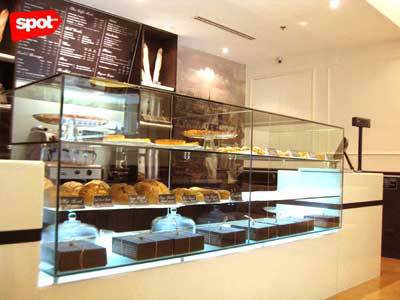 Working tips: The French café and patisserie gets crowded from brunch to lunch. For ambiance more conducive for working, try dropping by early in the morning or mid-afternoon.  Wine selections are also available on the menu for those who want a different kind of buzz.

Office perks: The chic interiors will get you in the mood for serious work. The Wi-Fi is free and some tables have electric outlets nearby where you can plug your laptop.

Food and drink: Try the Breakfast Bonjour (P250), an assortment of fancy breads and petits croissants in butter, chocolate, and almond flavors and accompanied by honey, strawberry and mango marmalade. Their Quiche Lorraine (P350 for a slice and P390 with bread and salad) with ham and goat cheese is also a bestseller.  Pair your meals with your choice of coffee: cappuccino, espresso, caramel macchiato, latte, americano.
ADVERTISEMENT - CONTINUE READING BELOW
4. UCC Coffee Shop, SM City North EDSA The Block
G/F SM City North EDSA The Block, Quezon City
442-0147
Open 10 a.m. to 9 p.m. daily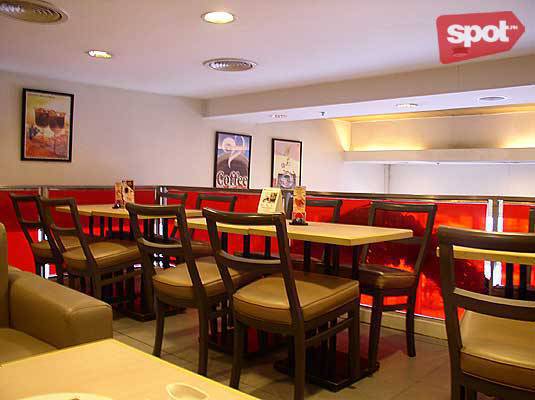 Working tips: Head straight to the second floor loft, which provides an ideal work space with two couch sets near power outlets. Servers don't hover over you; they only come 'round your table when you press the buzzer on the table.

Office perks: UCC Coffee Shop gets the free and fast Wi-Fi signal from the SM Mall so connection is never spotty nor do you have to pay extra. Coffee drinks and food items skew a little higher than your average coffee house, so people who come here to work or do quick meetings--usually entrepreneurs or businessmen--are not the type to hoard the couches and the tables all day.

Food and drink: This spot carries the whole UCC menu--from Blue Mountain brews, iced coffee concoctions, fruit shakes, lunch plates, pasta, and more. You won't run out of beverage and food choices while you're here.
3.  Burger King, Timog Avenue
Timog Avenue, Quezon City
Open 24 hours daily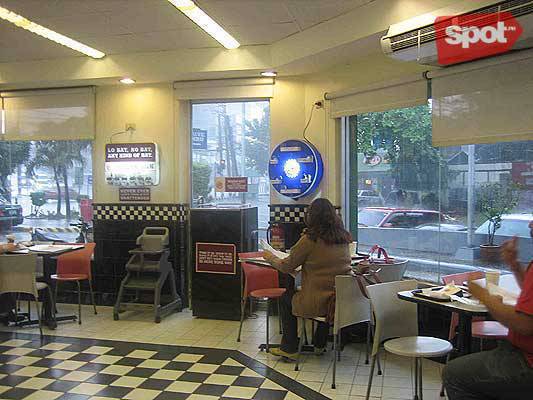 Working tips: If you're planning to pull an all-nighter, you have to be in this coffice before dinnertime. Employees from nearby TV networks and students flock to the place to brainstorm and do group work. Though there are plenty of electric outlets, you should bring your own extension cord since many coffice-goers are expected to arrive.

Office perks: The spot has two "charging docks," where you can charge your cellphones and other gadgets for free. There's also a masseuse going around to knead your stressed out hands and shoulders for free.

Food and drink: What else but the whole Burger King menu? You won't run out of fastfood for your all-nighter. Coffee addicts will be glad to know that they serve the Mocha BK Joe (P65) and the Mocha BK Joe Frost (P85).
ADVERTISEMENT - CONTINUE READING BELOW
2. Blenz, Megamall
2/F SM Megamall Atrium
Open 10 a.m. to 9 p.m. daily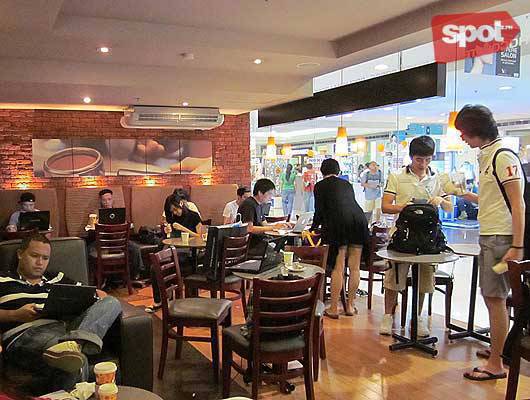 Working tips: Blenz can get a bit crowded but the good thing about this cozy coffee shop is that it seems to attract regulars who want to do serious work. Snag a spot early in the day to beat the afternoon rush. This is one of the few, welcoming coffice spots where nobody will give you the evil eye for overstaying.

Office perks: This blogger-favorite draws crowds mainly because it has a generous amount of electrical outlets. Small tables make the place ideal for individual seating, which means you don't have to share tables with strangers. Blenz offers their own free Wi-Fi on top of Megamall's free Wi-Fi zone, and a designated smoking lounge.
Food and drink: Peruse their extensive menu of hot coffees from Canada, and coffee alternatives like tea lattes, freshly brewed iced teas, and Belgian hot chocolate.

1. Bo's Coffee, Glorietta 5
G/F Alfresco Area Glorietta 5, Makati City
Tel. no. 403-4371
Open 24 hours daily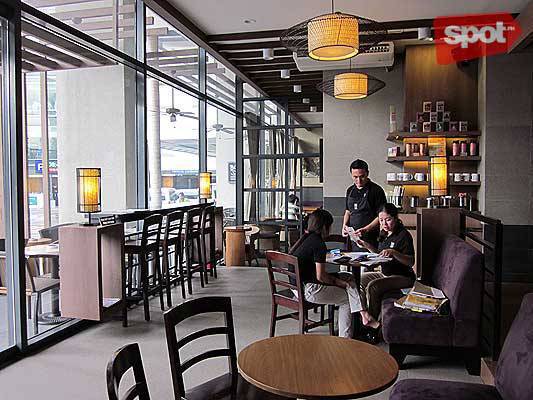 Working tips: Score a seat on one of the high chairs facing the window if you need to be plugged in. Busy hours are 4 p.m. to 2 a.m., and you'll most likely have the whole place to yourself in the wee hours of the morning.

Office perks: The Wi-Fi is free. Unlike its more commercial competitors, Bo's interiors are spacious enough that you never feel like someone's reading over your shoulder. Be careful not to let their plush purple couches make you feel too comfortable to get work done.

Food and drink: Try their coffee jelly (P140) or the tuna and adobo pandesal (P45). If you get one of their breakfast sets you can get drip coffee for P10 and hot chocolate for P20.
ADVERTISEMENT - CONTINUE READING BELOW
Load More Stories