10 High Society Scandals That Rocked Manila
Headline-making "rich stories" with stranger plot twists that put telenovelas to shame.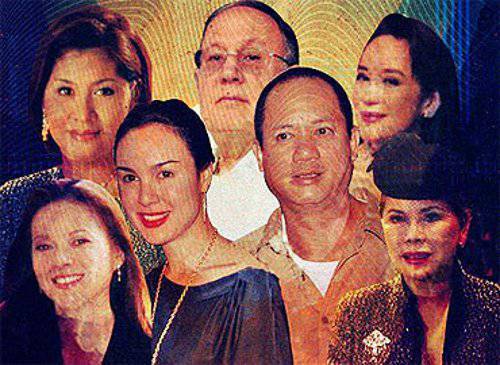 The rich aren't like you and me. Or are they? To those of us not born with silver spoons in our mouths, the world that the affluent and well-bred live in may seem surreal. We often imagine they have it way better than we do-that they don't really have to work, that they can go off to Europe when they're feeling blue, or buy clothes that cost more than an average Pinoy's annual income. From where we're standing, it sure looks like the grass is so much greener on their side of the fence. "What more can they ask for?" we wonder, but we may very well be wrong. Besides, a wise man once said, "The only reason the grass may look greener on the other side is because it's fake grass."
We've uncovered some much-publicized-not to mention disturbing-cases involving people whose lives seem, at first glance, like fairy tales. To avoid misinterpreting the often-dizzying details of these cases, we've quoted liberally from the news sources that discussed them and tried to cram as many details as possible into these complicated tales. As such, we also chose stories given extensive coverage by mainstream media or cases that actually involved lawyers. (If it made it to court, it must be real.)
ADVERTISEMENT - CONTINUE READING BELOW
So, if you're into stories with stranger plot twists than telenovelas, devour away. You may not know these people, nor will you ever hang out with them-but maybe you could learn a thing or two from their travails.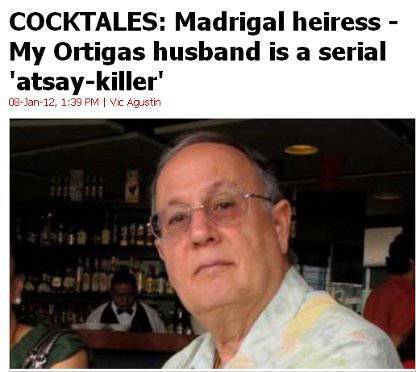 A photo of Francisco "Paqui" Ortigas III (Screenshot from Interaksyon.com)
RED-HOT SOAP OPERA

The characters: Heiress Susana Madrigal Bayot, 63, and her husband, former Philippine ambassador to Mexico, Francisco "Paqui" Ortigas III, 65
The connections: Bayot and Ortigas are both from very influential clans with numerous and vast business holdings.
Opposing sides: Susana Madrigal Bayot vs. Francisco "Paqui" Ortigas III, who have been married for almost 44 years
Conflict points: In a sworn statement filed at the Office of the City Prosecutor in Pasig in January this year, Bayot said:  "Paqui made Wilma (one of the dozen maids in the Ortigas house in North Greenhills) his 'sex slave' and engaged in perverted and depraved acts right in our conjugal home, in our den, in the master's bedroom and, worst of all, in the marital bed."
ADVERTISEMENT - CONTINUE READING BELOW
Bayot's testimony was backed by the sworn statements of five other household staff. She pointed out: "Perhaps exhibiting his utter moral depravity, Paqui did not even make any effort to hide his used condoms from the other maids." Bayot also alleged that one of the other maids saw Wilma performing oral sex on Ortigas while the two were inside a walk-in closet. Apparently, as Bayot intimated, Ortigas' dalliances with the household staff were a "common occurrence."
In a Manila Standard Today report, Bayot went as far as to say that Ortigas' indiscretions possibly "damaged" their son, Francisco IV ("Paco"). The report revealed: "Paco, according to his mother, made the mistake of confronting his father about the latter's affair with an employee of Concrete Aggregates, a sister company of the Ortigas and Company, where Paqui continues to be a partner."
Bayot explained in the Manila Standard Today report that "despite the father-son confrontation, Paqui still brought his mistress to the family's beach house in Calatagan." The report cited Bayot's statement that Paco "must have been visibly shaken [and] upset by the temerity of his father bringing the other woman to the family retreat that he set off in a huff on his jet ski." Bayot revealed that Paco's jet ski "hit a shallow reef, flipped, and [ended up crushing] his body." The report did not indicate the date of Paco's death.
On top of that, Bayot disclosed that her husband also had an affair with her Assumption College classmate, Ma. Antonia Legarda.
ADVERTISEMENT - CONTINUE READING BELOW
In another Manila Standard Today report, Bayot said that she had left their conjugal home in North Greenhills in July 2011 "to protect herself" from her husband, who she claimed subjected her to "insults, [his] foul temper, and baseless accusations." Back then, Ortigas allegedly prohibited Bayot from entering their conjugal home unless he was also in the house. He likewise prohibited her from getting her belongings.
Ortigas has not yet issued any formal statement in reaction to Bayot's accusations. The Philippine Daily Inquirer did publish a story about Ortigas on January 12 but, in it, he only said he was "trying to find peace" with himself and his loved ones. He referred to a "personal crisis" but the report emphasized that Ortigas "would neither confirm nor deny the concubinage and sexual perversion-related allegations" made by his wife.
The writer of the Philippine Daily Inquirer story,  Jerry E. Esplanada, disclosed: "Last weekend (referring to January 7 and 8), Ortigas told this reporter he would issue shortly a statement in reaction to the article on the scandal that appeared on Page 1 of the Philippine Daily Inquirer on January 8. He later asked for more time, saying he was waiting for the recommendation from his team of lawyers 'if it's timely or necessary to answer, or if there's any reply to the newspaper article that needs to be done.' On Tuesday afternoon (January 10), Ortigas called up to say he had been advised by his lawyers not to issue any statement or make any further comment on the issue."
ADVERTISEMENT - CONTINUE READING BELOW
[previous|page|next]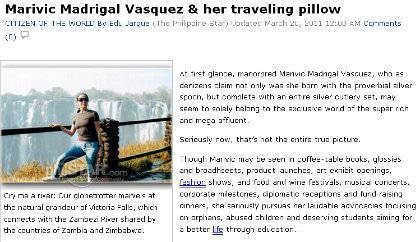 Marivic Madrigal Vasquez's glamorous life was the subject of this feature article (Screenshot from Philstar.com)
A FATHER-DAUGHTER SQUABBLE
The characters: Marivic Madrigal Vazquez  (a Madrigal clan heiress), Dr. Daniel Vazquez (her father), and Pacita "Baby" Cruz (described in reports as her father's friend and travel companion)
The connections: An  article published in The Philippine Star in March 2011 gives a brief description of Marivic Madrigal Vasquez: "The eldest child of Danny Vasquez and the former Ising Madrigal Vasquez, one of the legendary daughters of Vicente Madrigal who were the toasts of the old Manila's high society, Marivic started at the Assumption Convent and graduated from UP Diliman with long stints at exclusive girls' schools in Rome, Italy, and at a leading university in Washington DC."
Opposing sides: Marivic Madrigal Vasquez vs. Dr. Daniel Vazquez and Pacita "Baby" Cruz
Conflict points: In June 2011, Manila Standard Today reported: "Marivic Madrigal Vasquez has been locked out of her Madrigal office building for nearly three months now by, of all people, her octogenarian father."
ADVERTISEMENT - CONTINUE READING BELOW
The report went on to reveal that "according to the grapevine," the father did it because "the daughter allegedly snubbed his friend and travel companion, Pacita 'Baby' Cruz," when they ran into each other at the Urdaneta Apartments.
The report added: "It was not clear what exactly transpired between the father, a medical doctor who lately has been in and out of the hospital, and her free-spirited daughter that prompted the old man to allegedly order Marivic's office in the Ayala Avenue building shuttered."
The father-daughter tiff also affected investment banker Andrew Gan, who rented office space from Marivic.
[previous|page|next]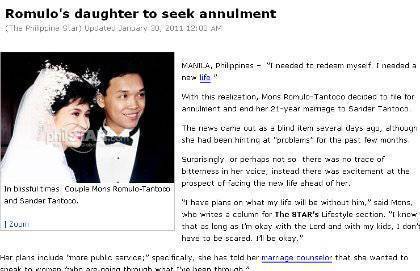 The couple's wedding photo accompanied the bad news. (Screenshot from Philstar.com)
THE LADY, THE HUBBY, AND THE PRAYER GROUP BUDDY
The characters: Mons Romulo (daughter of former Department of Foreign Affairs Secretary Alberto Romulo) Sander Tantoco (her husband) and Cita Revilla (her friend and prayer group buddy)
ADVERTISEMENT - CONTINUE READING BELOW
The connections: The Romulos are well-known in Philippine politics. Mons is the granddaughter of statesman Carlos P. Romulo. For their part, the Tantocos are recognized entrepreneurs. Revilla is part of a famous showbiz clan. Revilla was married to Ricky Yabut, the son of former Makati mayor Nemesio Yabut.
Opposing sides: Mons Romulo vs. Sander Romulo and Cita Revilla
Conflict points: In January 2011, Romulo bravely announced that her 21-year marriage to Tantoco was over. She cited his infidelity. She said she was also seeking an annulment.
A report published in The Philippine Star revealed: "For Mons, it was a double betrayal, because the woman involved with her husband was her friend, Cita Revilla, who was part of Mons' prayer group. She had repeatedly told Mons not to be jealous if she was frequently at her husband's office, since she was seeking his help for some project. And when Mons would be told that the two were seen at this and that restaurant, she would wonder if they were having an affair. She would be assured by mutual friends, 'Of course not,' especially since Cita had repeatedly said she'd never go with a married man because she knew what that does to a marriage and a family."
However, the report said that the so-called relationship between Tantoco and Revilla "became more and more public, to the point that the truth could no longer be denied-or ignored."
In the same report, Romulo also revealed that Tantoco had an eight-year-old love child. The report did not say who the child's mother was.
ADVERTISEMENT - CONTINUE READING BELOW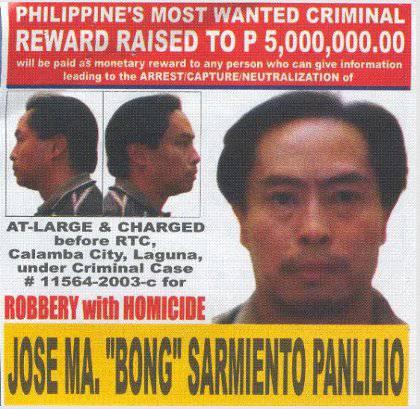 A poster advertising the P5-million reward for Panlilio's capture. The money was raised by lawyer Carmencita de Castro, mother of the two men reportedly killed by Panlilio. (Sceenshot of image posted on Photobucket by user tiuadmin)

 

THE JEWELER'S FUGITIVE SON

 

The characters: Jose Ma. "Bong" Panlilio, the son of celebrated jeweler Fe Panlilio, and brothers Albert Gutierrez and Ariel Real, who were car traders

 

The connections: Fe Panlilio was one of the grand dames of the country's pedigreed set and, at one point, she was identified as former First Lady Imelda Marcos' jeweler. Panlilio had European royalty, sultans, and sheiks as her clients.

 

Opposing sides: Bong Panlilio vs. lawyer Carmencita de Castro, the mother of Gutierrez and Real

 

Conflict points: According to an article published in The Philippine Star on June 12, 2010, "Court records showed that on the morning of July 15, 2003, Albert, who was a car trader, agreed to redeem Panlilio's Hyundai Starex van which was in hock for P250,000 in Laguna. The records stated that Gutierrez, 41, and Real, 38, withdrew the amount and met Panlilio somewhere in Makati City to go to Laguna, where the van will be redeemed. On the same day, De Castro said she received a text message from Ariel informing her that he and his brother, on board a Mitsubishi Pajero, were on their way to Laguna with Panlilio. That was the last time she heard from her children."

ADVERTISEMENT - CONTINUE READING BELOW

 

The report went on to reveal: "The (brothers' bodies) were later found [dumped] in a grassy area in Barangay Makiling in Calamba. Their Pajero was found 120 meters away. Police said Panlilio allegedly shot the victims with a .9mm pistol. Gutierrez sustained five gunshot wounds while Real was hit eight times in different parts of the body. Panlilio also allegedly took the bag containing the money intended to redeem the Starex van."

 

Panlilio was on the run for almost seven years. In June 2010, he was finally captured in Bangkok and then taken back to the Philippines.

 

<>  <>It's worth noting that in 1993, Sukarno, then 53 (going on 54, if the reports have her real age right), had her nude photos published in a book. In fact, the entire book contained her nude photos. The book was banned in Indonesia and is now considered a collector's item. (Well, it depends on what kind of things you collect, of course.) <>  <>  <>Art by Warren Espejo <>Image credits (all screenshots): DougieThompson.com (Minnie Osmeña), The Epoch Times Online (Dewi Sukarno), Interaksyon.com (Paqui Ortigas), Philstar.com (Mons Romulo), PEP.ph (Tonyboy Cojuangco and Gretchen Barretto) Pinay sa Amerika (Cita Revilla).
Load More Stories