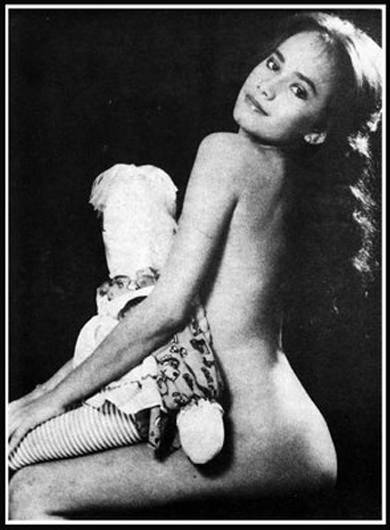 Paloma at the height of her fleeting fame. Photo from the Video 48 blog.
(SPOT.ph) Blame it on Sen. Vicente "Tito" Sotto's controversial support of the Cybercrime Law, along with his also neo-conservative stand on the Reproductive Health Law and the proposed legalization of marijuana. Amid his apparent moral crusading in these public issues, the Pepsi Paloma Rape Case has been suddenly revived in cyberspace-surely to the senator's chagrin. And so the netizenry has become reacquainted with this story, a generation after the death of the ill-fated actress.
Pepsi Paloma (real name Delia Smith) was one of the so-called soft-drink starlets of the 1980s. She was only 14 when she broke into filmdom with her all-out nudity in Celso Ad. Castillo's Brown Emmanuelle (1981). But her career was all-too-brief and limited to films with such revealing titles as Naked Island, Virgin People, and Room 69, her last film. It was a career marred, further, by the rape case she filed in 1982 against comedians Vic Sotto, Joey de Leon, and Richie D'Horsey (Richie Reyes), which in turn supposedly prompted Tito Sotto's alleged obstruction of justice in behalf of his brother and friends.
Months after her rape complaint, the three accused comedians reportedly made a public apology to Paloma, although there is no video footage of that apology on the Internet. Three years later, Paloma died in an alleged suicide. Some have questioned the circumstances of her death, but her friends have also attested to her personal troubles and past episodes, like her rape, taking their toll on her career and her life.
Here's a news clipping (from the defunct Times Journal) of Paloma's death that's posted on several blogs: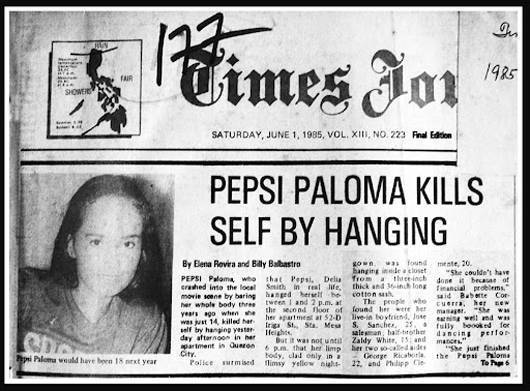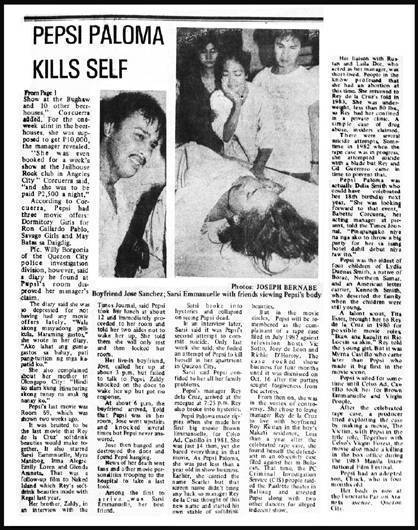 The rape case against Vic Sotto, de Leon, and Reyes is a blemish on the collective career of Tito Vic & Joey and their gang, which had been otherwise widely celebrated-and also derided-for their exalted low-brow comedy in films such as Bilibid Gays (movie poster below), released in Paloma's breakout year of 1981.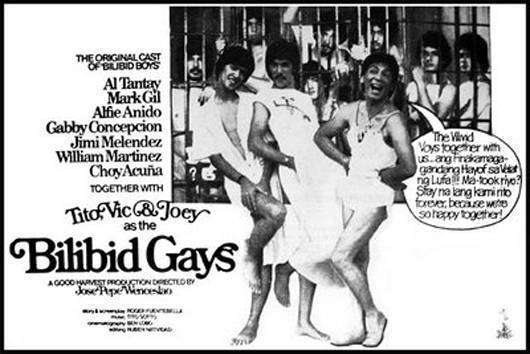 That and other films are as much distinguished, shall we say, for their lunatic humor as for their utter lack of sensitivity toward the themes parodied by this trio. Senator Sotto would sustain this flaw even in this more politically correct era.
To be sure, though, the Sottos have also earned praise for their earnest work in music (apart from their comedy-song series like "Tough Hits"). Long before his neo-conservatism today would contradict much of his showbiz career, Tito Sotto had been celebrated for his elegant work in film scoring (like the opening music to this Rio Locsin starrer, Kasalanan Ba?) and in songwriting (his songs for VST & Co. and even the People Power-inspired theme "Magkaisa"). Alas, this track record in showbiz has an indelible stain-apart from a plagiarism episode that finally shows that Tito Sotto the comedian and composer and Tito Sotto the senator are two different people.
Google Pepsi Paloma nowadays and you will find in the image section her movie posters, news clippings of her death, and satirical images of Tito Sotto, including this already widely circulated meme.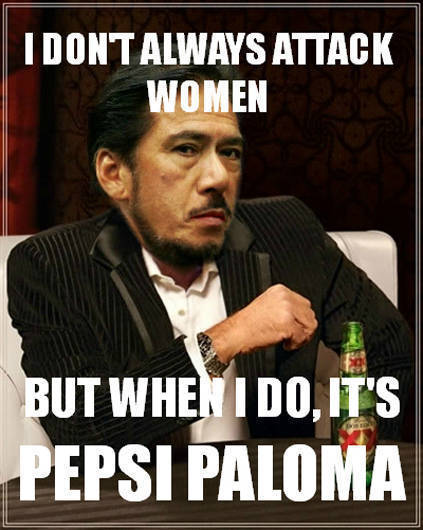 The late actress even has a Facebook page that wouldn't please the good senator.
Another entity from pop culture that has also sparked renewed interest, because of the revitalized Paloma rape case, is the Eraserheads pop-rock classic "Spoliarium," which is being widely referenced with the rape case particularly for its lines: "Anong sinulat ni Enteng at Joey dyan/Sa gintong salamin/Di ko na mabasa/Pagkat merong nagbura."
But Ely Buendia, frontman of the disbanded group, has emphatically denied that the song was referencing the Paloma case, saying that "Enteng" and "Joey" are actually a certain roadie and a friend of the band members.
Here's the video of "Spoliarium":
Going back to Senator Sotto's crusading these days, his critics will surely be interested to see how he wields his advocacies now, against the past that is suddenly catching up on cyberspace.
For more on Pepsi Paloma's story, log on to the Inquirer.
UPDATE (July 5, 2018): Following Senate Pres. Vicente Sotto III's request to take down Inquirer.net's stories on Pepsi Paloma, links to the news article "Tito Sotto denies whitewashing Pepsi Paloma rape case" and column pieces by Rodel Rodis could no longer be accessible. These, however, can still be accessed through Wayback Machine: "The Rape of Pepsi Paloma" and "Was Pepsi Paloma murdered?" 
Share this story with your friends!
---
Help us make Spot.ph better!
Take the short survey
Load More Stories