20 Things Only Those Who Grew Up in the Province Would Know
You may be a Manila veteran now, but you'll always have a little bit of the probinsya in you.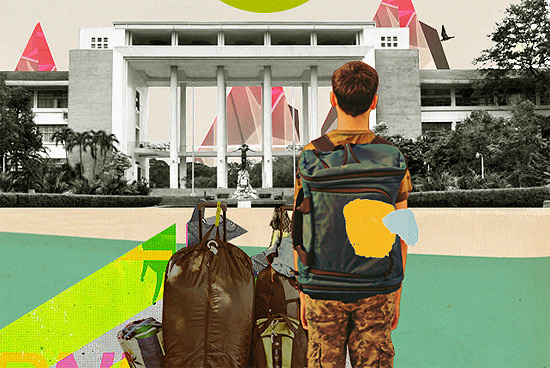 (SPOT.ph) Just because you grew up in a place other than Metro Manila, doesn't mean you don't know what cable is. Or that you have no cell phone service (okay, LTE's a little wonky). Or that you're suffering culture shock now that you're living in, shall we say, an urban landscape. Most promdis are actually pretty well-adjusted to city life. In fact, they have their own little "Probinsyana in the City" world, a unique perspective of living in both worlds. We're just giving you a glimpse of it.
ADVERTISEMENT - CONTINUE READING BELOW
Also read:
10 Things Only People Who Regularly Ride the MRT Would Know
10 Things Only People With Tattoos Would Know
20 Things Only NBSBs Would Know
20 Things Only Manila Drivers Would Know
1. "Ah, taga-La Union ka? Kilala mo ba si..." No. Just no.
2. Though it does go both ways. You know the person being referred to, and you have chismis. In a way, you sort of all know each other.
3. When you were in school, lunch time was something to get excited about because you could go home, eat home-cooked food, freshen up, and maybe watch a bit of TV, too.
4. You usually have a better grasp of Philippine geography, and find it amusing when people think you're from Bohol when it's Bicol, or Mindanao when it's Mindoro.
5. You've driven over rice spread out on the road. In Manila, bad traffic and road repairs cripple the lanes, but in the province, the impediment is palay being dried out on the street.
ADVERTISEMENT - CONTINUE READING BELOW
6. Getting to a beach in the province is faster than getting to Makati from Quezon City during rush hour. In fact, it's so close, you've probably swum in your PJs at some point.
7. You've gotten excited when a traveling carnival or circus came along during fiesta.
8. You've actually celebrated fiestas-the kind with majorettes, beauty pageants, and parades mixed with some religious celebration. Traditions like Pasyon, Easter Angels (little kids wearing wings suspended under a dome), and Penitensya are slowly winding down, but they're still pretty common.
9. Words or expressions from your local language sometimes get mixed up with your usually straight Filipino.
10. You're tired of people assuming you love spicy food because you're from Bicol or that you're obsessed with dried mangoes and Shamrock cookies because you're from Cebu. You haven't had them in a while-in fact, only when an officemate brings some from a weekend trip. The Kapampangans? Well, they really really love food.
ADVERTISEMENT - CONTINUE READING BELOW
11. When you were a kid, "new movies" would only be shown in your town months after its Manila release. You either traveled to the big city to watch it, or you waited. Very, very patiently.
12. After visiting the province, you end up with a punto for a couple of days or so. And it's really hard to shake off.
13. For your younger self, the huge billboards in Manila were majestic things of wonder.
14. You've been face-to-face with a carabao. Though your city isn't exactly rural (it's really, really modern, in fact), seeing carabaos mingle with cars on the road is a perfectly normal sight. They're usually pulling loads of wood or grazing at an empty grassy lot.
15. You know that the stars are bright, twinkly things. Because, you know, the lights aren't that bright in the provinces-yet.
16. You know exactly what a dish from your province should taste like. No, this is not how your lola makes it back home.
ADVERTISEMENT - CONTINUE READING BELOW
17. An out-of-town trip with the barkada usually means you're the designated planner, simply because they assume you'd know what to do even if you're not from said town. If all else fails, your last resort is your hometown. It's the easiest solution.
18. Going to college in Manila was a big deal back in high school.
19. Though your city isn't exactly rural now, traffic isn't always as bad as Manila during rush hour. Nothing really is.
20. Then again, you're sort of used to a really long commute home. A seven-hour bus ride, then a boat, and a tricycle ride? No problem.
Also read:
10 Things Only People Who Regularly Ride the MRT Would Know
10 Things Only People With Tattoos Would Know
20 Things Only NBSBs Would Know
20 Things Only Manila Drivers Would Know
Recommended Videos
Load More Stories