PHOTOS: Celebrities on Vintage Pinoy Magazine Covers
No Photoshop required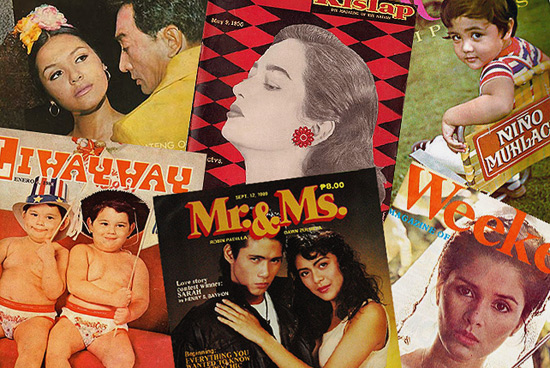 (SPOT.ph) Before the age of the high-fashion glossy, there were local weeklies printed in mostly black and white that made for some light reading. Entertainment titles featured local celebrities on their covers without having to deal with Photoshop edits, but they were still worth every centavo for getting the latest chismis. Here are some of the headlines that made it to the newsstands and the personalities that graced their covers.
ADVERTISEMENT - CONTINUE READING BELOW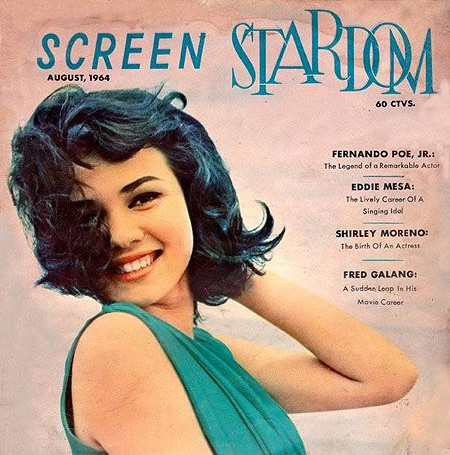 Blanca Gomez in Screen Stardom
Blanca Gomez is the sister of Daisy Romualdez and former wife of Crispa basketball player, Danny Pecache. She was known to be a good dancer and was part of a love team with actor Bert Leroy Jr. in the '60s.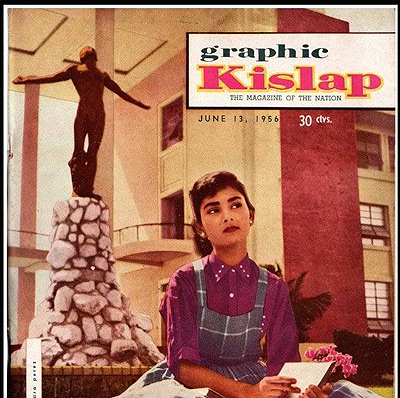 ADVERTISEMENT - CONTINUE READING BELOW
Barbara Perez in Graphic Kislap
Barbara Perez was said to be the Audrey Hepburn of the Philippines back in the day, particularly for having the same doe eyes and slim waistline as the Hollywood star. She most recently appeared in Budoy in 2011 and Kahit Puso'y Masugatan in 2012.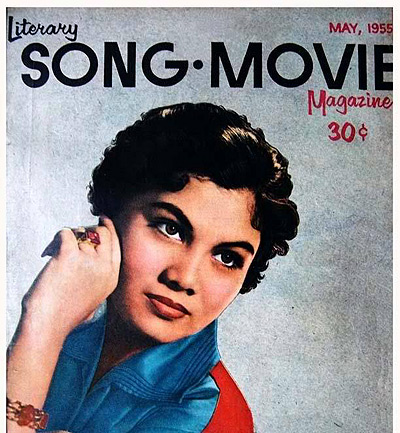 Celia Fuentes in Literary Song Movie
ADVERTISEMENT - CONTINUE READING BELOW
Celia Fuentes was a Sampaguita star during the '50s and '60s. She was often cast in action films and was praised for her onscreen agility.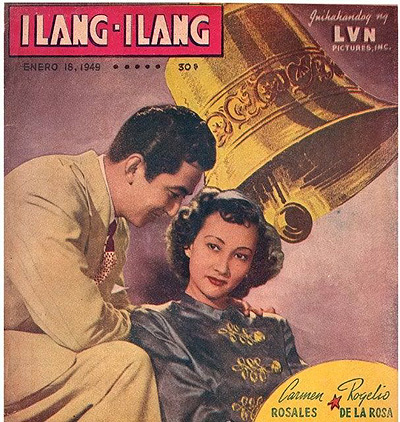 Carmen Rosales and Rogelio dela Rosa in Ilang-Ilang
Carmen Rosales and Rogelio dela Rosa were stars in their own right back in the '30s up to the '50s. They starred together in films like Maalaala Mo Kaya in 1954 and Ang Tangi Kong Pag-Ibig in 1955.
ADVERTISEMENT - CONTINUE READING BELOW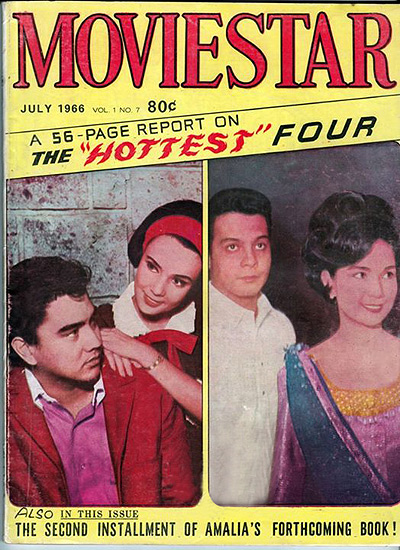 Fernando Poe, Jr., Susan Roces, Amalia Fuentes, and Romeo Vasquez in MovieStar
Dubbed "The Hottest Four" in the '60s, these two love teams were pitted against each other in the box office. Rabid fans would even get into physical fights just to defend their idols.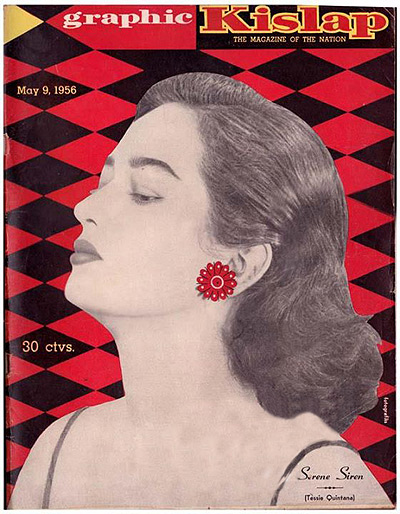 ADVERTISEMENT - CONTINUE READING BELOW
Tessie Quintana in Graphic Kislap
Sultry star Tessie Quintana won the FAMAS for Best Actress in 1962 for the movie Alaala Kita and was best remembered for her successful screen tandem with '50s matinee idol Armando Goyena. She died of breast cancer at the age of 38.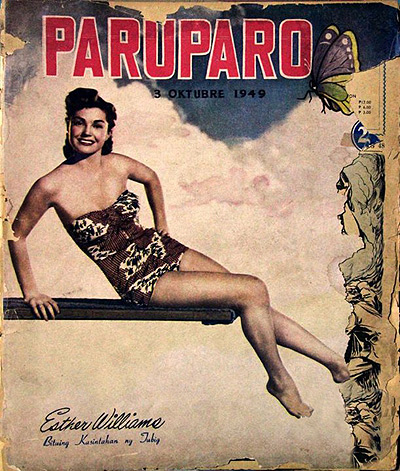 Esther Williams in Paruparo
Local magazines featured international celebrities, too. Here is Esther Williams on Paruparo magazine. She was a popular Hollywood actress and swimmer and the star of Bathing Beauty in 1942 and Million Dollar Mermaid in 1952.
ADVERTISEMENT - CONTINUE READING BELOW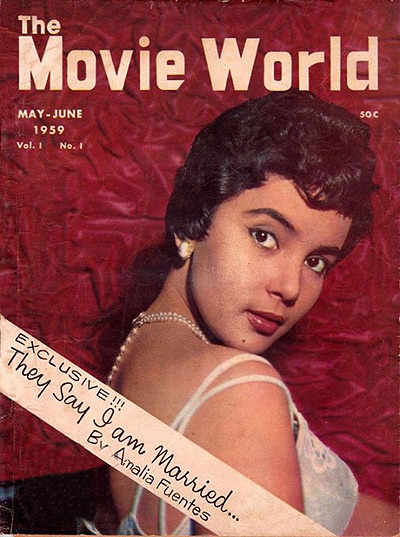 Amalia Fuentes in The Movie World
Amalia Fuentes was known as the Elizabeth Taylor of the Philippines. She was also the first Filipina model of Lux soap, which was considered as a high-end brand of soap back in the day. She was part of a showbiz family that includes ex-husband Romeo Vasquez, daughter Liezl Martinez, and nephews Aga Muhlach and Niño Mulach.
ADVERTISEMENT - CONTINUE READING BELOW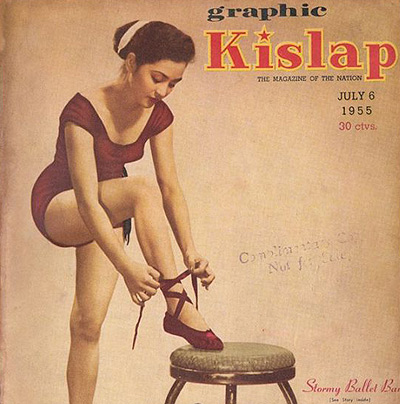 Nida Blanca in Graphic Kislap
Dorothy Acueza Jones, more commonly known as Nida Blanca, started her career in show business when she was just 13 years old when she joined a singing contest. Her first film with LVN pictures was Reyna Elena in 1951. One of her most popular films was Waray-Waray back in 1955 where she played a tomboyish, knife-wielding character.
ADVERTISEMENT - CONTINUE READING BELOW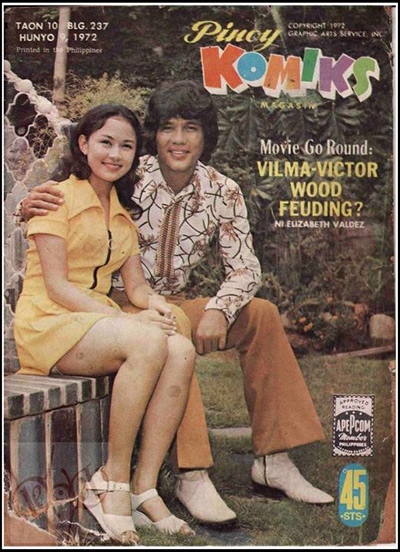 Vilma Santos and Victor Wood in Pinoy Komiks
The pairing of Vilma Santos and Victor Wood was memorable but short-lived. In 1972, they starred in Little Darling and there were rumors that Victor Wood wanted his name to appear first in the billing, which didn't happen.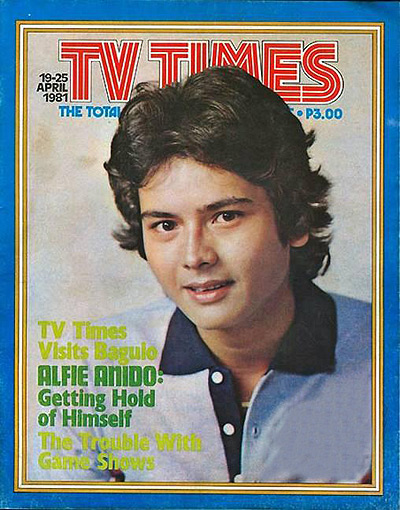 ADVERTISEMENT - CONTINUE READING BELOW
Alfie Anido in TV Times
"Regal baby" Alfie Anido starred in the 1980 classic film Temptation Island. He died on the night of his 22nd birthday and there were rumors that he was actually murdered, allegedly by a politician's son, the brother of his then girlfriend.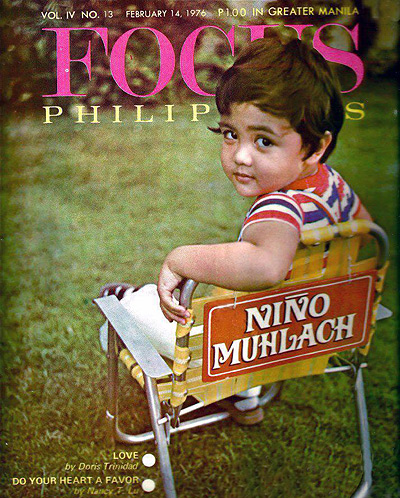 Niño Muhlach in Focus Philippines
ADVERTISEMENT - CONTINUE READING BELOW
Niño Muhlach was photographed for the cover of Focus at the age of four, when he was just starting his showbiz career. In 1976, he made films like Kutong Lupa and Bongbong.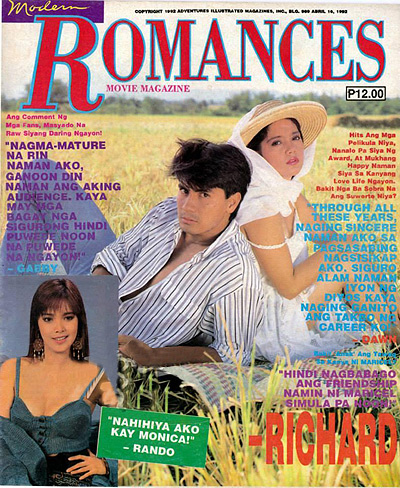 Richard Gomez and Maricel Soriano in Modern Romances Movie Magazine
This was taken in 1992 when Richard Gomez and Maricel Soriano were starring in the film Ikaw Pa Lang Ang Minahal, a critically-acclaimed movie adapted from William Wyler's The Heiress. Also on the cover is an inset photo of Monica Herrera, a sexy actress in the '90s.
ADVERTISEMENT - CONTINUE READING BELOW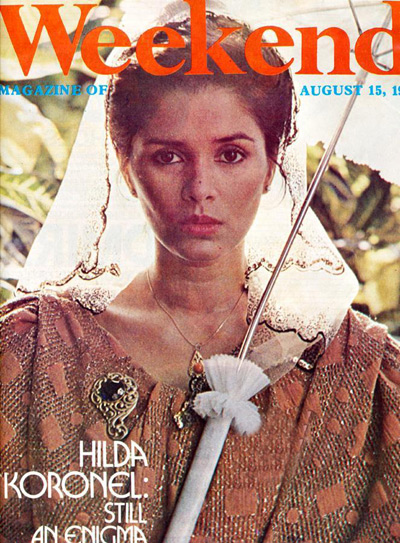 Hilda Koronel for Weekend
Hilda Koronel was one of the most sought after actresses in the '70s and '80s. She played iconic characters in critically-acclaimed films such as Ligaya in Maynila: Sa mga Kuko ng Liwanagand the titular character in Insiang. In 1982, she played Lydia in PX and Elsa in Gaano Kadalas Ang Minsan.
ADVERTISEMENT - CONTINUE READING BELOW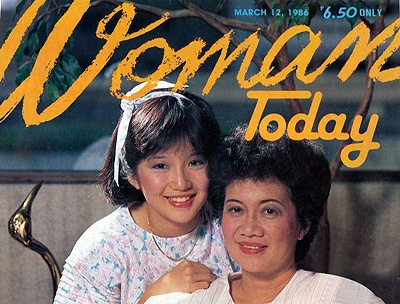 Corazon and Kris Aquino in Woman Today
Taken in March 1986 right after the EDSA Revolution, this cover shows the former president and a young Kris Aquino, who was just starting her career in showbiz as a variety show host for GMA. (Image courtesy of Raymundo Feliciano)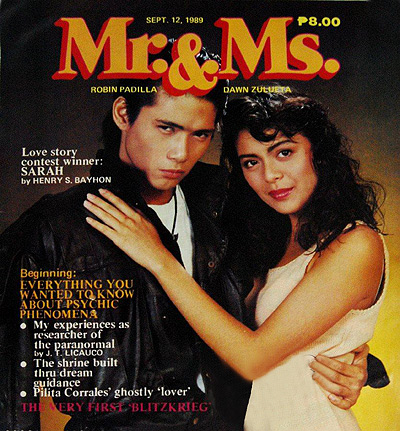 ADVERTISEMENT - CONTINUE READING BELOW
Robin Padilla and Dawn Zulueta in Mr. & Ms.
The two appeared on the cover of Mr. & Ms. magazine to promote their 1989 film, Hindi Pahuhuli ng Buhay. There were rumors that Padilla and Zulueta became romantically involved during the filming of the movie, which caused Zulueta's then boyfriend Monsour del Rosario to confront Padilla.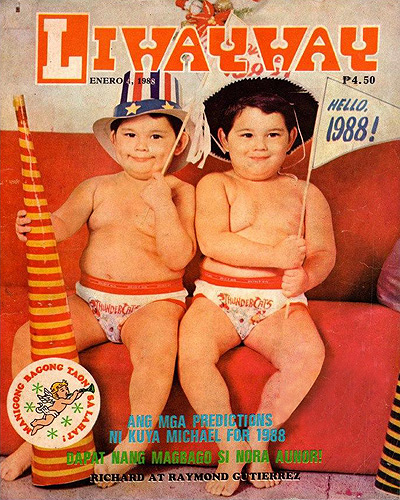 ADVERTISEMENT - CONTINUE READING BELOW
Richard and Raymond Gutierrez in Liwayway
Can you believe that this photo of the Gutierrez twins was taken when they were just three years old? In 1988, they both starred in Kambal Tuko with Susan Roces and their father Eddie Gutierrez.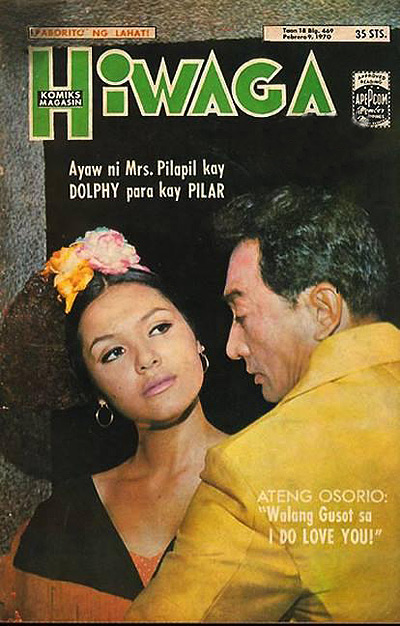 Dolphy and Pilar Pilapil in Hiwaga Komiks Magasin
These two stars were a hot item back in 1969 and 1970. They starred in Dolpe de Gulat and El Pinoy Matador. They were romantically linked but they were never married. Pilar Pilapil later confessed that Dolphy was her first love and was ready to marry him if not for her family who opposed the union.
ADVERTISEMENT - CONTINUE READING BELOW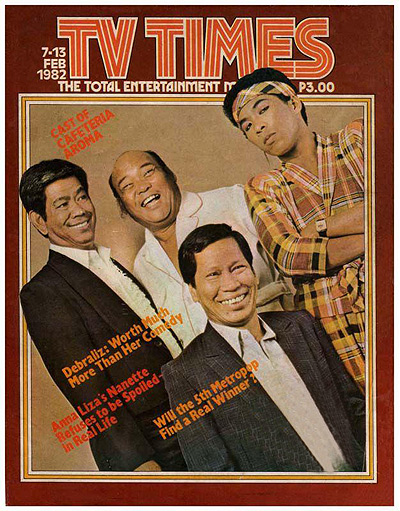 Apeng Daldal and the Cast of Cafeteria Aroma in TV Times
Cafeteria Aroma was a sitcom in the '80s featuring Apeng Daldal Manok, Miniong Villegas, and Johnson. The titular place was actually based on an actual restaurant called Café Aroma at the corner of Avenida and Rizal Avenue. This was where artists used to hang out, much like the hipster coffee places of today.
ADVERTISEMENT - CONTINUE READING BELOW
Photos from Memories of Old Manila and Video 48
Recommended Videos
Load More Stories