The Survival Kit Checklist
What should you pack in an emergency bag?
(SPOT.ph) You've seen enough disaster and apocalyptic films to know that you've got to be ready when disaster strikes. The metro-wide earthquake drill on July 30 makes it all too real, so it's never too late to prepare for the worst. We're giving you a list of all the things that you will need in case you need to flee or hunker down some place safe in the aftermath of a natural (or manmade or alien-caused) disaster.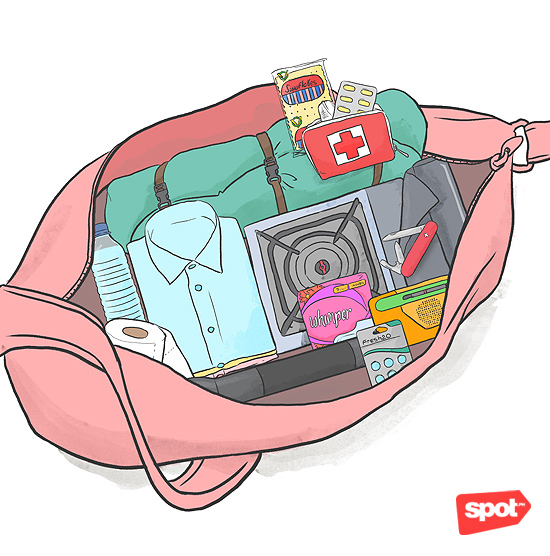 ADVERTISEMENT - CONTINUE READING BELOW
Your basic bugout bag
Need to get out of your house and head for higher ground or at least somewhere safe? Before you rush out the door, grab your bag packed with these items:
Water. You need it not just for drinking, but also for cooking and cleaning. And that's why you also need...
Water purification tablets, for when your water supply runs out and you're left to make do with whatever water is available.
Candles and matches (preferably waterproof matches).
A flashlight and lots of batteries. You can also get one of those hand-cranked, rechargeable flashlights at MC Home Depot.
A first-aid kit.
Toilet paper.
A transistor radio, preferably also hand-cranked and rechargeable (available at Ace Hardware). Just in case the stations are still up and running and you need to know what's happening.
Garbage bags. They have multiple uses: as temporary shelter, as ponchos, and as containers for items you need to transport. And of course, you can use them as they're meant to. Things can get pretty filthy when all facilities have broken down and you're living in crowded, uncomfortable conditions.
ADVERTISEMENT - CONTINUE READING BELOW
Sanitary napkins or tampons. Fleeing for your life and trying to survive is hard enough. It's even worse when you're fleeing and bleeding. Plus you can use napkins to patch up wounds if you're out of gauze.
A change of clothes. Make sure they're comfortable and hard-wearing, and bring sturdy shoes if you need to keep moving on foot.
A sleeping bag.
Food. Bring food that won't spoil so easily (think crackers and canned goods).
Portable stove or cooking set. You can get these at stores like Lagalag and Basekamp.
Basic tools, including a knife. A shovel would be absolutely essential if you decide to sit out the apocalypse in the mountains or the forest.
Note: Pack all these in a bag and make sure you can actually carry that bag. Time to start working out and lifting.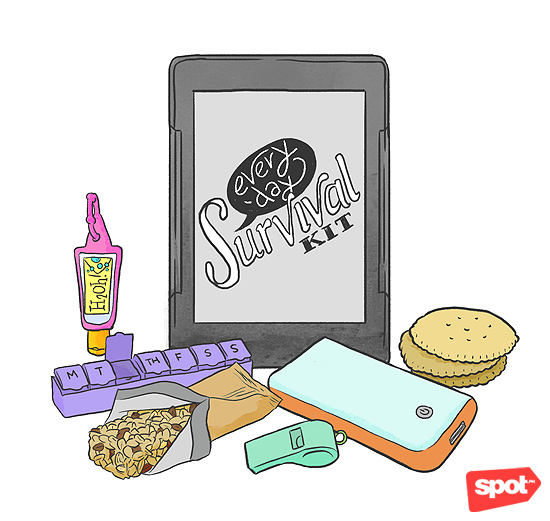 ADVERTISEMENT - CONTINUE READING BELOW
Your everyday survival kit
Disaster can strike any time, and it could happen while you're in the MRT, stuck in traffic, or in line to buy coffee. Point is, we can't lug around huge bugout bags everywhere, all the time (imagine how much more crowded the city's malls and sidewalks would be). Make sure to at least have the following items in your bag when you go out (these also deserve space in your bugout bag):
A whistle. You can use this to signal to rescuers and emergency workers. (Rose in Titanic had the right idea.) Three blasts of a whistle is an international distress signal.
A powerbank—and keep it juiced. Make that two powerbanks just to be sure.
Snacks. Crackers, a couple of chocolate bars or power bars, and a pack of peanuts or trail mix will keep you going.
Hand sanitizer, alcohol, tissue paper, and wipes...for cleanliness.
ADVERTISEMENT - CONTINUE READING BELOW
Medications you might need.
An e-book reader. Tablets can run out of power quickly, but an e-book reader on full charge can last up to more than a month. Fill it with all the books you've been meaning to read. Even without a disaster to live through, at the very least, it can save you from boredom during traffic or long waits.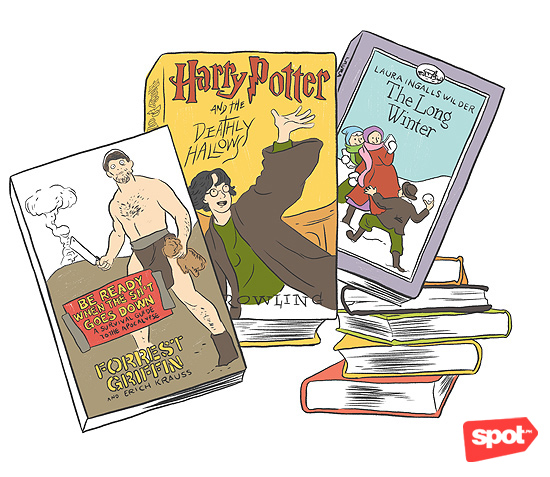 ADVERTISEMENT - CONTINUE READING BELOW
Suggested reads
Be Ready When the Sh*t Goes Down: A Survival Guide to the Apocalypse by Forrest Griffin. A bit over the top? Maybe. But there are some pretty good ideas here too (choose a good getaway vehicle! Map your escape route!). And you'll get some laughs out of it.
Harry Potter and the Deathly Hallows by J.K. Rowling. You would be able to relate to the trio's trek to find the Horcruxes and whatever challenges they had to face.
The Long Winter by Laura Ingalls Wilder. How could you possibly relate to the experiences of an American girl who lived in the 19th century? In this book, she and her family and the rest of their town was snowed in for seven months, and they all nearly starved. They survived, and so will you.
Whatever you've been meaning to read. With Internet service most likely shot to hell, you will have all the time you need to power through your reading list.
ADVERTISEMENT - CONTINUE READING BELOW
Illustrations by Elbert Or
CONTINUE READING BELOW
Recommended Videos
Share this story with your friends!
---
Help us make Spot.ph better!
Take the short survey
Load More Stories