Manila Traffic and Its Great Unequalizer
Clinton Palanca on outsmarting the usual Manila gridlock, at least for now.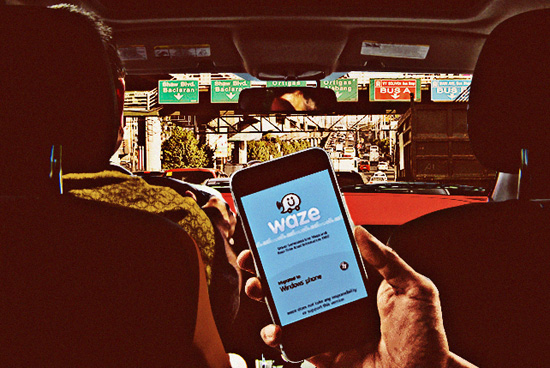 (SPOT.ph) Like most people who spend a lot of time commuting in cars, I love the traffic app Waze with great passion. Whether I'm at the wheel myself, or have a driver, I have complete faith that it'll get me where I want to go in the shortest time possible. Sat-nav has improved considerably since the early days when it took several minutes to acquire the satellites, and there were stories of drivers plunging into lakes or lorries making their way across Europe rather than to the next town because of a mix-up with the names. Most of this has to do with assisted-GPS, giving smartphones a head-start over more traditional GPS receivers, which have to acquire at least four satellites to get a fix; but most of the improvement has to do with the extensive mapping that Google has done.
If I have a driver I prefer to hold my phone and yell out directions from the back seat, partly because I have to translate that "J.P. Rizzle" is actually Avenida, but mostly because I have a constant argument going on with my driver, who is technology-averse, and won't let a computer lead him down the streets that he has been driving for 40 years. That's all very well, I said, you obviously have The Knowledge, but you are not clairvoyant. You don't know that traffic is building up in Quiapo and we're better off on Nagtahan (or what the computer, and the road signs, erroneously refers to as "Mabini Bridge").
ADVERTISEMENT - CONTINUE READING BELOW
At the moment, Waze is tremendously helpful. It relies not just on users reporting in on traffic conditions, but it tracks the vehicle's speed; I don't have to tell it that I am in traffic. It has found clever new routes that I would never have thought existed, and only a few times has it led me onto a road that was closed or was flooded. Like all good things, there are people who will find a way to make it not work. "Whenever I find a good shortcut," someone once explained to me, "I mark it on the map as being blocked for construction. That way, only I and my friends will be able to use that route." I hate to have to say it, but this seems to be an attitude to which our society is particularly (though not exclusively) prone: to take a perfectly good thing and screw it up, so that a few can benefit at the expense of destroying the system.
CONTINUE READING BELOW
Recommended Videos
Waze, as it is, is already inherently unequal. It privileges those who have the money to buy a smartphone over those who are using Nokia 3310s. It privileges the young and tech-savvy over those who are not comfortable with technology. And obviously, it requires you to have a car that can take its own routes, over a shared ride such as an FX, not to mention those who are constrained by the fixed routes of public transportation. (Waze has announced plans to move into ride-sharing, which might prove difficult to implement in a low-trust environment such as ours; but we will see.)
ADVERTISEMENT - CONTINUE READING BELOW
But what if everyone used Waze? If every single car had a smartphone and was connected to the Waze network, what would happen? In a place like the Kansas suburbs, where streets are on a grid and more than three cars at an intersection is considered rush-hour traffic, the result would be optimal, traffic would be evenly distributed along the various routes to get to a destination. In old, twisty cities like London, which are immensely complicated with one-way streets and roundabouts but have lots of little alleyways to duck down, it would ease the traffic around major conduits. In Manila it would redistribute the traffic evenly down all the possible routes. This is good from a utilitarian point of view, but bad from my point of view. So in a way I'm also selfish in the way that my friend is, except that I'm not willing to deceive to bungle the system. I pride myself on being an advocate against inequality, but real equality means we'd all be in equally slow-moving traffic.
There is another, more extreme, version of this. Many residential villages in Makati recognize each others' stickers, with the notable exception being San Lorenzo. Much of the traffic in Makati (and why Waze is less useful there than elsewhere) is caused by the fact that traffic has to flow in between the villages, squeezed onto narrow arterial roads that have no runoff if they're blocked at the end. Having a house in a Makati village isn't just about owning prime real estate; it allows access to private roads that forms a kind of tunnel for rich people. It's no wonder that these stickers go for P10,000 or more on the black market. (But in case anyone is thinking of running off to get one, not only are most of them fake, but one would be breaking the law to perpetuate an elitist system.) Homeowners from these exclusive villages, especially the most important pathway through Forbes and Dasmariñas that blocks off Edsa from the Fort, have been clamoring for a clampdown on issuing the stickers as well as the inter-village scheme that allows the riff-raff from less expensive villages to cut through their well-paved roads. The obvious, moral, and legal solution is to claim a path through the villages; this has been attempted in the past but was quickly shut down.
ADVERTISEMENT - CONTINUE READING BELOW
So much as I love it, Waze, at least in Manila, is a guilty recourse. In the long run, it is deleterious. It seems to offer a solution, but is little more than a stopgap to reduce extreme traffic to slightly less extreme traffic. It also encourages people to buy their own cars, which is not, as some would have us believe, good for the economy; not in the long-term. In the end, the traffic in Manila will overwhelm the algorithms of the app and no one will be outsmarting anyone. We'll just all be stuck in traffic, together.
Share this story with your friends!
---
Help us make Spot.ph better!
Take the short survey
Load More Stories