Coolest Offices in Manila: iflix
The company's playful nature shows in every corner of their new BGC workspace.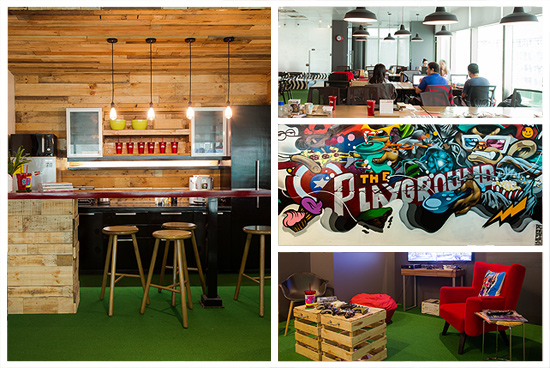 (SPOT.ph) As workspaces go, iflix—the entertainment content provider company, has set up a space that is worthy of a millennial's coming-of-age movie. Located in BGC, the iflix Philippines office is new, spacious, filled with natural light, and oozes fun. But it seems that it hasn't always been this picture-perfect for them. Sherwin dela Cruz, country manager of iflix Philippines, recalls the time when they were sharing space with their sister company Ensogo. "The Ensogo place was a very big space, about 1,500 square meters. Kasi nag-sto-stock room din sila and so on. Naki-squat kami in a certain portion and then we grew, grew, and grew."
(If the video appears blurry, you can change the settings in your player! We recommend a minimum of 360p.)
So when the time came when they had to get an office of their own, Sherwin had one vision in particular: an open office. "We're here to change the customer's behavior. We want to shape the way [our employees] are working."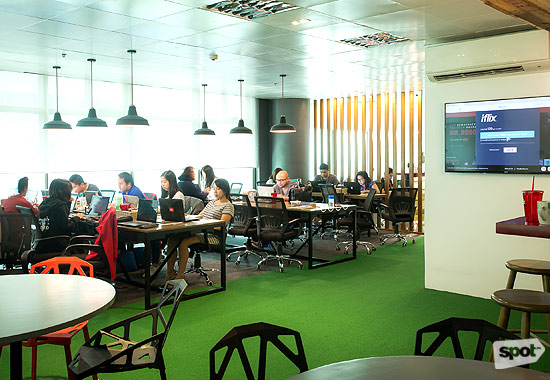 ADVERTISEMENT - CONTINUE READING BELOW
Yzabel Cagalingan, the interior designer who fleshed out Sherwin's vision, adds, "I always say that environment changes your character. That's what we did for the employees. We want to change their behavior—how an office looks like, how they should behave in an office."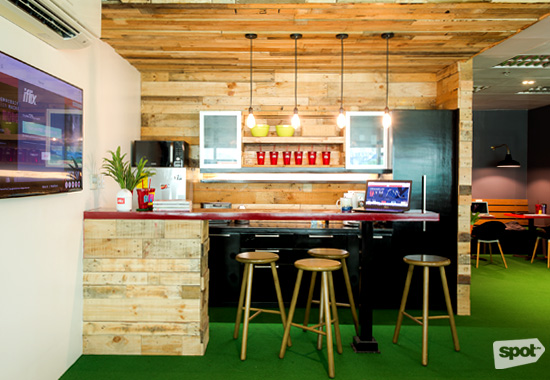 CONTINUE READING BELOW
Recommended Videos
Like any radical change, it starts from the top. For iflix Philippines, it was when Sherwin insisted that he didn't want a space of his own. "It started with him not having an office," Yzabel explains. "He just wanted this to be a big open floor like a big playground because their tagline is 'Let's play.' How can they translate that to their customers if they themselves cannot [play]? "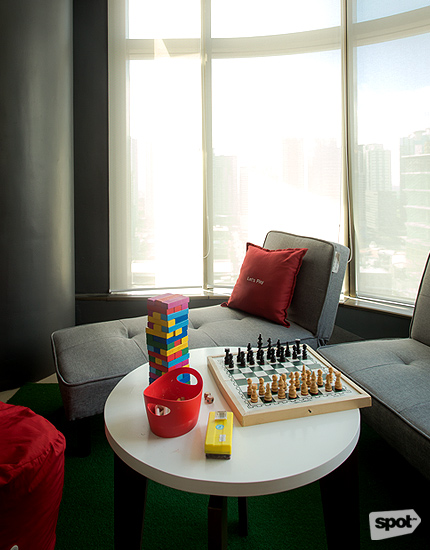 ADVERTISEMENT - CONTINUE READING BELOW
And it seems that this playground for an office is the prevailing theme for the rest of the iflix offices in the region. Zaya Pono, PR and corporate communications manager, explains, "We have five core values and being playful is one of our most important. So the theme, the playground, is actually a regional creative theme for all our offices. Whether you're in iflix Thailand or in iflix Malaysia, there is this kind of same feel—it's very fun, it's very playful. Being an entertainment company, we really want to embody that sort of feel in our culture as well. It's not your traditional workplace, not your traditional set up."
When they moved in June 2015, the space was still unfinished which had the entire staff working amidst dirt and dust. Worthy of a home makeover show, it only took Yzabel an entire weekend to finish the space.
"I told Sherwin, you just have to give me that weekend. I don't have to move anything. Furniture was here already. I just want it to be a gift for them that when they come in on Monday it was going to be clean and fixed. So everything was here. It was like, 'Surprise!'...I wanted to give them a drastic change in their environment."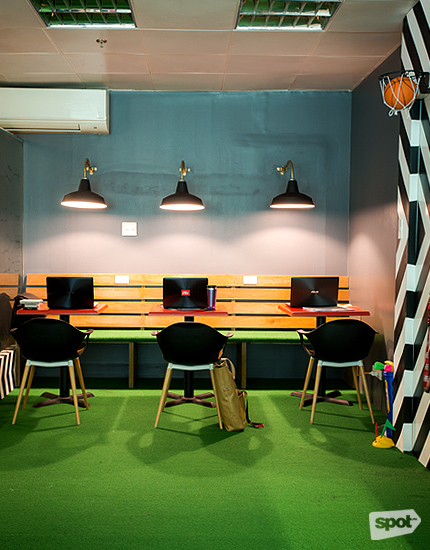 ADVERTISEMENT - CONTINUE READING BELOW
Planks of wood lend texture and casualness to different areas of the office, while the floor is covered with artificial grass (also called astroturf). The unconventional flooring encourages a few games of miniature golf and even a bit of bowling as seen in the reception area.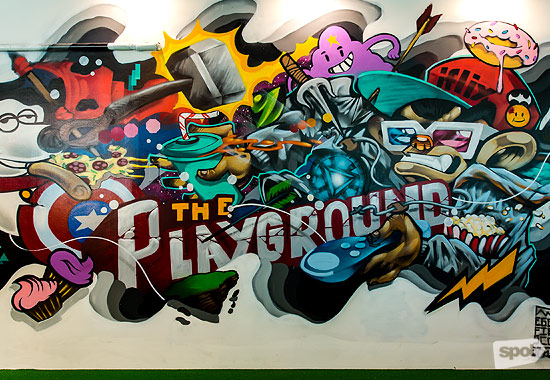 Reminiscent of urban art found around the city is the graffiti featured on the wall next to the front door. Created by Egg Fiasco, it spells the word "playground" and the five core values of the company.
There are no office cubicles in sight, just long tables. Anyone can sit anywhere and impromptu meetings can be held by just pulling up a chair or two. These long tables can also be transformed to gaming tables, as suggested by the drawings on the table top. One in particular converts for a game of beer pong.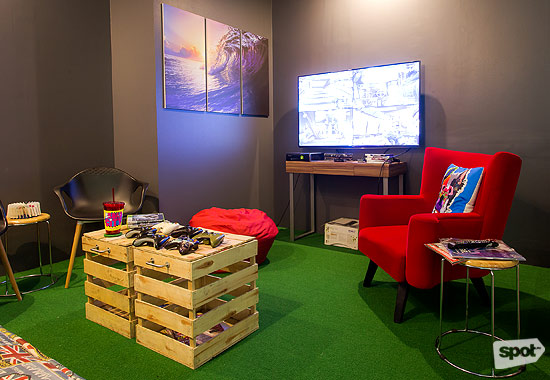 ADVERTISEMENT - CONTINUE READING BELOW
Tucked into a corner is the office game room that features a huge TV screen and video game consoles. Many hours have been spent here—during breaks, meetings, or while on the phone when some privacy is needed.
Next to the game room is a space they fondly call "the café from Friends." It's an area that lends some semblance of personal space, thanks to the individual tables and lamps. Anyone can just plop down, plug in his laptop, and work there for the entire day.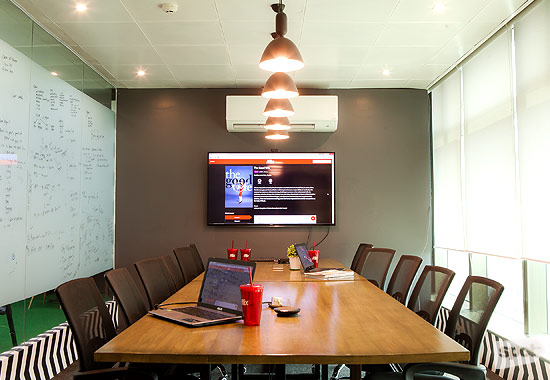 The conference room still proves to be the most popular area for meetings—both actual and virtual—which they have regularly. Lots of brainstorming huddles are also done here, if all the scribbles on the glass walls are any indication. This large room opens to a smaller meeting room next door, when more space is needed.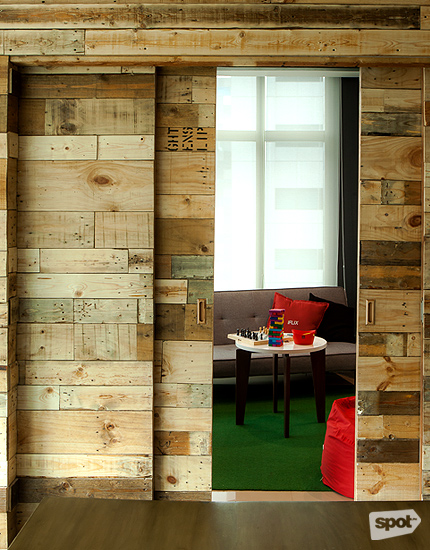 ADVERTISEMENT - CONTINUE READING BELOW
With the emphasis on play and fun, it might be a surprise that actual work is done around these parts. Sherwin explains, "The keys are respect and consideration. There's a lot of trust and respect. Every so often, you'll see three or four people on the phone talking to whoever. And you'd just [say] "guys, excuse lang ha?" He further elaborates,"We have 250 million minutes streamed which is a lot like we're inching towards where Netflix was super mature, five to six years after they launched their service. On our part it is five months." To have provided that much entertaining minutes, it appears that iflix's non-traditional set up is working. Really working.
Check out the gallery for more photos of the iflix workspace:
Photos by Dairy Darilag; video editing by Marlon Salazar
Also read:
Coolest Offices in Manila: Ace Saatchi & Saatchi
Coolest Offices in Manila: Penshoppe
Coolest Offices in Manila: Migo
Coolest Offices in Manila: Avida Land

Share this story with your friends!
---
Help us make Spot.ph better!
Take the short survey
Load More Stories