10 Times Duterte Said He Would Not Run for President
Guess what he's saying now.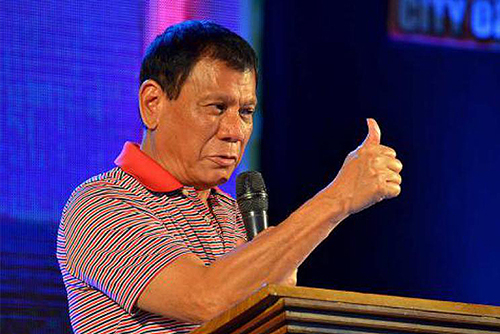 (SPOT.ph) Though he has yet to file his Certificate of Candidacy (COC), Davao City Mayor Rodrigo Duterte shocked the nation by declaring on November 21 that he is, finally, running for president in the 2016 national elections. The Mayor said the Senate Electoral Tribunal's (SET) decision on Sen. Grace Poe's case pushed him to pursue the presidency. "I am running for [president] because I am so disappointed and sad sa ruling na 'yan," Duterte said. This made us look back on months of mixed signals, being #Dutertezoned, and his public declarations that nothing could change his mind. Here are 10 times "The Punisher" said he would not run for president.
ADVERTISEMENT - CONTINUE READING BELOW
CONTINUE READING BELOW
Recommended Videos
After Vice President Jejomar Binay said he was eyeing Duterte as his running mate for the 2016 presidential elections: "I am not running for any national position. As I have said before, my daughter would be willing to run again. I will retire from this term from public life... I am old."
On the 17th anniversary of the Volunteers Against Crime and Corruption (VACC) at Camp Gen. Emilio Aguinaldo: "Ako, had God intended me to be president, I said He would have opened the door for me when I was 55, 50. It's too late in the day to be dreaming."
On a membership meeting of Junior Chamber International (JCI) Philippines: "Hindi ko na panahon. Binay, Poe, and Mar, sa inyo na 'yan."
In a roundtable interview: "I have never thought of what I would do if I become President because I never intended to be one. Wala akong ambisyon...If you can't choose between Grace, Mar, and Binay, then don't make me an excuse. Why me?"
ADVERTISEMENT - CONTINUE READING BELOW
In a press conference at Grand Hotel Menseng, Davao City: "I would like to categorically state now... na 'di ako tatakbong president...Wala akong ambisyon mag-presidente. In 2016, I will retire from public life. I believe it's no longer my time. I will retire after my term."
On the first day of filing certificates of candidacy, he said in a press briefing: "There was no ambition for me to aspire for the presidency. The country does not need me and I find no need for it. I guess it is fate that wills that our long journey together should end this way."
In a press briefing at a firing range in Davao, the same day he filed his COC for mayor: "I never said anything about wanting to be the next president even from the start. People wanted it but I never did. I already filed my COC, that's final."
ADVERTISEMENT - CONTINUE READING BELOW
He said that supporters and critics have been asking the wrong questions: "It's not a matter of deciding. The appropriate question will be something like this: Have you decided, or have you not yet decided to run? Ayaw ko kasi. Sabi ko, hindi pumasok 'yang bakukang sa ulo ko na gusto mag-presidente...It's naked ambition. The problem is, I do not have it in my system."
In his Sunday morning show Gikan sa Masa, Para sa Masa ("From the Masses, For the Masses"), less than a month before declaring otherwise: "My stand is still the same and nothing has changed, I am not running for president. I am not interested in the position. I have no ambitions to become president. How many times do I have to say that? I do not have the stomach for it. It is not appealing to me. It is not to my liking."

In an interview during the 23rd Defense and Sporting Arms Show: "I've dedicated many years of my life to government and if you add another six years I'll die...If you believe me, okay. If you don't it's still okay. The truth is I have no ambition to be president."
ADVERTISEMENT - CONTINUE READING BELOW
Photo from SunStar.com.ph
Load More Stories